Democrats lead first-quarter congressional fundraising as traditional campaigning hits pause amid coronavirus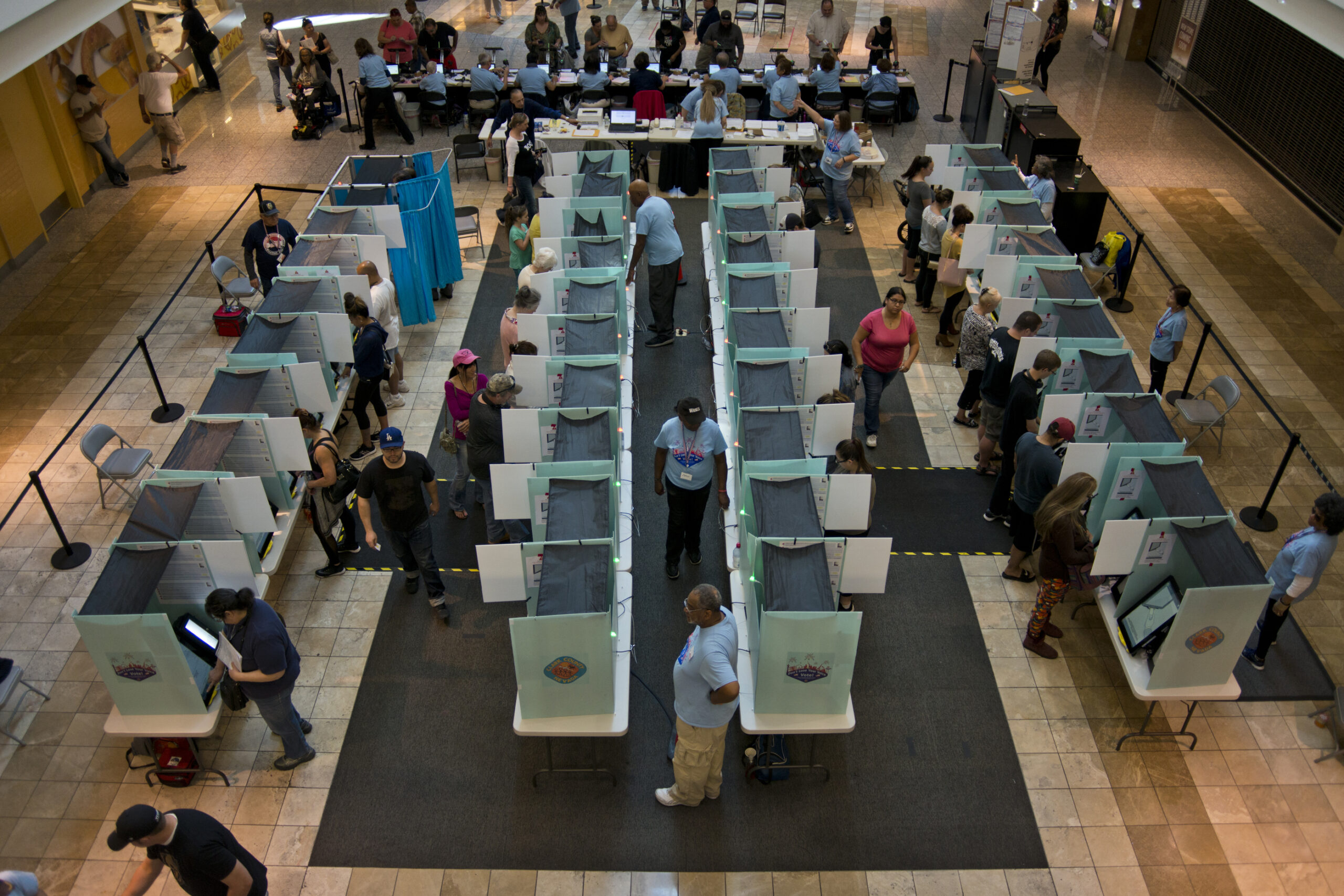 Nevada's congressional Democrats continued to open up a wide lead in the fundraising race through the first quarter of 2020, even as widespread shutdowns amid the coronavirus pandemic largely shuttered campaign efforts in March.
The numbers come as part of the final filing deadline before Nevada's June 9 primary, an election that will for the first time be conducted largely by mail-in ballots.
Below is a breakdown of that fundraising by district, ordered by fundraising totals from greatest to least.
DISTRICT 3
A district that covers much of the southern half of Clark County and includes many of the Las Vegas metro area's wealthiest suburbs, the so-called swingy District 3, has switched hands between the two major parties since its creation in 2002.
The district has most recently been controlled by Democrats, following a narrow win by now-Sen. Jacky Rosen in 2016 and a 9 point victory by Susie Lee in 2018. Still, a narrow victory in the district by Donald Trump in 2016 and small voter registration gaps have marked District 3 as one of a few-dozen nationwide that may become key to deciding which party controls the House in 2021.
Susie Lee - Democrat (incumbent)
Q1 Receipts: $512,000
Q1 Spending: $162,000
Cash on Hand: $1.89 million
Freshman Democrat Susie Lee continued to lead the fundraising race among Nevada's congressional candidates, raising more than $200,000 from individual donors and another $164,000 from political action committees. Lee rounded out the quarter with an additional $123,000 in authorized committee transfers, extending her fundraising lead and outpacing the entire Republican field by more than $200,000.
Some of Lee's notable donors this quarter include former Las Vegas City Councilman Bob Coffin and the corporate PAC for Caesars Entertainment. As usual, Lee's biggest checks were cut to consultants, including Colorado-based 4Degrees, which received more than $20,000 for digital advertising, consulting and email hosting.
Dan Rodimer - Republican
Q1 Receipts: $164,000
Q1 Spending: $136,000
Cash on Hand: $323,000
One-time pro-wrestler turned Fox News regular Dan Rodimer reported raising nearly $164,000 in the first quarter, including, for the first time, no new candidate loans. His campaign had previously received $165,000 in loans.
Still, Rodimer spent nearly all of the money his campaign brought in, boosting his cash on hand by only $28,000. Like other candidates, Rodimer spread much of that spending between a variety of consultants, but unlike the field, Rodimer has concentrated a notable portion of spending on advertising. That includes nearly $8,000 spent on more than 30 separate Facebook ad-buys.
Dan Schwartz - Republican
Q1 Receipts: $143,000 ($43,000 in contributions, $100,000 in loans)
Q1 Spending: $166,000
Cash on Hand: $424,000
Former Treasurer Dan Schwartz continued to supplement his war chest this quarter with two large personal loans of $50,000 each, adding another $100,000 to a campaign that has now received nearly $530,000 in candidate loans.
Among the 26 donors who gave to Schwartz this quarter, seven gave the maximum $2,800 contribution, though none of the seven came from Nevada. In terms of spending, Schwartz spent more than $20,000 than he raised this quarter, with much of the sum falling to consultants BrabenderCox LLC ($97,000) and McShane LLC ($26,000).
Mindy Robinson - Republican
Q1 Receipts: $3,547
Q1 Spending: $148
Cash on Hand: $3,399
A last-minute entry into the Republican primary, activist and actor Mindy Robinson did not organize her campaign until March 14, just days after Gov. Steve Sisolak issued his first statewide shutdown order and as concerns around the impacts of the coronavirus on normal life began to accelerate.
One candidate who filed in District 3, Republican Corwin Newberry, did not file a campaign finance report with the FEC. Other candidates who have dropped out or did not qualify for the race include Republicans Zach WalkerLieb and Tiger Helgelien, Democrat Richard Hart and independent candidate Alex Pereszlenyi.
DISTRICT 4
A geographically sprawling district that encompasses parts of Las Vegas, North Las Vegas and much of the state's central rural counties, District 4 has been held by Democrats for all but one cycle since its creation in 2012. That exception came in 2014, when Republican challenger Cresent Hardy unseated then-freshman Democrat Steven Horsford in an upset win.
Horsford retook the seat in 2018, defeating Hardy in an open race after incumbent Democrat Ruben Kihuen declined to mount his own re-election bid amid a sexual harassment investigation.
Steven Horsford - Democrat (incumbent)
Q1 Receipts: $309,000
Q1 Spending: $156,000
Cash on Hand: $1.18 million
Incumbent Democrat Steven Horsford continued to open up a fundraising lead over his possible Republican challengers through the first quarter, raising more than $309,000, spending $155,000 and ending the quarter with nearly $1.2 million cash on hand.
For comparison, the six Republicans still campaigning for the chance to challenge Horsford in November have roughly $548,000 combined in cash on hand heading into the last few weeks before the June primary.
A little more than half of Horsford's total, $158,000, came from individual donors, while another $146,000 came from PACs and $2,200 came from authorized committee transfers. Much of Horsford's $156,000 in disbursements went to consultants and staffing, including $25,000 to the Strathdee Group out of Washington, D.C. and $20,000 to 4Degrees, Inc., among others. 
Jim Marchant - Republican
Q1 Receipts: $100,000
Q1 Spending: $78,000
Cash on Hand: $231,000
Former Republican Assemblyman Jim Marchant led Republican fundraising efforts in District 4 for the first time since the third quarter of 2019, and for the first time he did not supplement his fundraising efforts with candidate loans.
Of the $100,000 Marchant raised this quarter, most of it — more than $64,000 — came from just 15 donors giving between $2,800 (the maximum contribution for a single campaign) and $5,600 (the maximum contribution for a single cycle, including both a primary and general election).
Marchant spent the single-largest chunks of money on consulting, including $18,500 on local firm McShane LLC, but a majority of his campaign spending was dozens of small operating expenses.
Lisa Song Sutton - Republican
Q1 Receipts: $79,000
Q1 Spending: $68,000
Cash on Hand: $198,000
After leading Republican fundraisers in the crowded race for District 4 last quarter, former Miss Nevada Lisa Song Sutton fell to second place this quarter with $79,000 raised, including $72,000 in individual contributions and $6,000 in PAC contributions.
Unlike Marchant, however, many of Song Sutton's individual contributions — more than $47,000 — came through the online fundraising platform WinRed, an attempt by Republicans to mirror the success of the Democratic fundraising app ActBlue.
Like the rest of the field, Song Sutton spent the largest sums of money on consultants, including $11,000 to Reno-based J3 Strategies, $10,000 to Texas-based Amplify relations and $5,000 to Las Vegas consultant Greg Bailor.
Sam Peters - Republican
Q1 Receipts: $62,600 ($47,000 in contributions, $15,000 in loans)
Q1 Spending: $90,000
Cash on Hand: $60,000
Veteran and local business owner Sam Peters raised the third-most among the crowded Republican field, though he continued to boost his campaign coffers with an additional $15,000 in candidate loans. To date, Peters has loaned his campaign more than $84,000.
Most of the individual contributions were small, with just one reaching the $2,800 maximum. Peters also drastically outspent his fundraising in the first quarter, eating into his reserves by roughly $30,000. Like the other candidates, that spending flowed largely to consultants, including $9,800 to Henderson-based Osambela and Associates, $9,000 to right-wing radio host Wayne Allen Root and $8,300 to Massachusetts-based Tuesday Associates.
Randi Reed - Republican
Q1 Receipts: $54,000
Q1 Spending: $60,700
Cash on Hand: $27,100
Business owner Randi Reed narrowed the fundraising gap with the leading Republican candidates in the first quarter, raising more than $54,300, including more than $50,800 from individuals and roughly $3,500 from PACs. Among Reed's notable donors are Michael and Paula Gaughan, co-owners of the South Point hotel who each gave the $5,600 maximum, and several dozen contributions made through WinRed.
Still, Reed outspent her fundraising and ate into cash reserves by roughly $6,000, leaving just $27,000 amid the final campaign push before the June primary. Of that money, nearly all of it, $48,700, went to 10 campaign consultants.
Charles Navarro - Republican
Q1 Receipts: $5,800
Q1 Spending: $14,100
Cash on Hand: $24,500
A distant fourth in the fundraising race, veteran and ex-congressional aide Charles Navarro raised just $5,800 in the first quarter, though not all of those contributions were itemized. Among the four contributions that were, just one — a $2,700 donation from Weston Lee Adams, owner of the Western States Construction company — approached the maximum.
Spending nearly $14,200, Navarro also cut deeply into his cash on hand, leaving a little more than $24,500 in reserve. Those reserves were largely built up through more than $78,000 in loans Navarro made to his campaign in 2019.
Rebecca Wood - Republican
Q1 Receipts: $5,100 ($2,100 in contributions, $3,000 in loans)
Q1 Spending: $4,700
Cash on Hand: $4,100
Small business owner Rebecca Wood reported just three itemized contributions in the first quarter totaling a little more than $1,000. Wood received another $1,000 in unitemized donations, and buoyed her bottom line with a $3,000 loan. 
Wood spent nearly all of that money, $4,700, with more than $780 going toward loan repayments and an additional $2,000 going toward the payment of country musician Trey Taylor, who held a fundraising concert with Wood in February.
Leo Blundo - Republican
Q1 Receipts: $4,900
Q1 Spending: $1,500
Cash on Hand: $8,300
With roughly $4,900 in contributions, Nye County Commissioner Leo Blundo trailed the rest of the Republican field for the second quarter in a row. Among Blundo's contributors is Ahern Rentals CEO Don Ahern, who gave Blundo $2,000, as well as roughly a dozen small contributions made through WinRed.
Blundo reported just three expenses in the first quarter, including two email marketing bills and a $1,000 payment to marketing consultant Lisa Mayo.
Jonathan Royce Esteban, a Libertarian Party candidate for District 4, did not file a financial report with the FEC.
DISTRICT 2
A district that includes Reno and the remaining areas of rural Nevada, District 2, holds the distinction of being the only remaining Republican stronghold in the state. The one-time seat of former Sen. Dean Heller and former Gov. Jim Gibbons, both Republicans, the district has been held by incumbent Republican Mark Amodei since 2011, when he defeated Democrat Kate Marshall in a special election to replace the outgoing Heller.
Mark Amodei - Republican (incumbent)
Q1 Receipts: $89,700
Q1 Spending: $129,700
Cash on Hand: $293,400
Amodei continued to burn through his campaign war chest in the first quarter, spending roughly $40,000 more than he brought in in the first three months of 2020.
Some of that spending came in large chunks, including $30,000 to the National Republican Campaign Committee for dues and $31,000 to the firm Wyman & Associates for advertising. But Amodei also spent several thousand on operational expenses, as well as nearly $6,900 on meals and entertainment for "contributor relations."
Still, the congressman ended the quarter with nearly $300,000 in the bank, no challenger for the Republican nomination and a wide fundraising head start over any of his possible Democratic challengers. 
Ed Cohen - Democrat
Q1 Receipts: $52,151 ($20,651 in contributions, $31,500 in loans)
Q1 Spending: $19,900
Cash on Hand: $32,100
A former newspaper reporter who now directs marketing for the National Judicial College in Reno, Cohen surged to a fundraising lead among Northern Nevada Democrats in the first quarter, raising more than $20,000 and boosting his war chest with an additional $31,000 in loans.
Even so, Cohen — or any Democrat — will likely face a longshot bid against Amodei in November. In 2018, a year when Democrats swept dozens of House seats amid a Republican push to repeal the Affordable Care Act, Amodei won his reelection by more than 16 points.
Patricia Ackerman - Democrat
Q1 Receipts: $40,300 ($27,600 in contributions, $12,700 in loans)
Q1 Spending: $21,000
Cash on Hand: $23,300
Ackerman, who tried and failed to unseat Republican Assemblyman Jim Wheeler in 2018, rose to second place among competing Democrats in the first quarter, with more than $40,300 in contributions, including roughly $12,700 in candidate loans.
Clint Koble - Democrat
Q1 Receipts: $27,700 ($18,300 in contributions, $7,700 in loans)
Q1 Spending: $22,800
Cash on Hand: $4,200
Amodei's 2018 general election opponent, Clint Koble, burned through nearly all of his campaign reserves this quarter as he looked to once again secure a shot at Amodei in November. Much of that spending fell into operating expenses, but nearly half — $9,800 — went to loan repayment.
Rick Shepard - Democrat
Q1 Receipts: $2,670
Q1 Spending: $2,630
Cash on Hand: $11,650
Local business owner and self-identified progressive candidate Rick Shepard trailed the other two Democrats in District 2, raising just over $2,600 and spending nearly all of it through the first quarter of 2020. Still, with $11,650 left on hand, Shepard will enter the home stretch of the primary with the third-most cash on hand among Democrats.
Two other candidates, Republican Jesse Hurley and Democrat Steven Schiffman, did not file reports with the FEC.
DISTRICT 1
As District 2 goes red, so does District 1 go blue. Located in the urban core of Las Vegas, the deep blue district has been held by incumbent Democrat Dina Titus since 2012. Titus ran for the seat after losing her previous reelection bid in nearby District 3 in 2010, which she had held for one term after a win in 2008.
Dina Titus - Democrat (incumbent)
Q1 Receipts: $48,000
Q1 Spending: $59,000
Cash on Hand: $330,000
Entering the 2020 race with no intra-party challenger and at little risk from a Republican challenge in November, Titus finished the first quarter with the least money raised of any Nevada incumbent, just $48,000. Most of it, $29,000, came from a handful of contributions from PACs, while the remaining $19,000 came from several dozen individual contributions.
Citlaly Larios-Elias - Republican
Q1 Receipts: $3,000
Q1 Spending: $1,600
Cash on Hand: $1,700
Army veteran Citlaly Larios-Elias, the lone challenger to Titus, reported raising just $3,000 from five contributions through the first quarter, with no contribution hitting the $2,800 maximum. Larios-Elias also reported spending about half that money, $1,600, on a number of operating expenses including printing and consulting.

Featured Videos
Comment Policy (updated 4/20/2021): Please keep your comments civil. We reserve the right to delete comments or ban users who engage in personal attacks, use an excess of profanity, make verifiably false statements or are otherwise nasty. Comments that contain links must be approved by admin.