Homeless encampment along the Truckee River on Wednesday, April 15, 2020 (Tabitha Mueller/The Nevada Independent)
Department of Transportation suspends homeless encampment cleanup in Reno following criticism
April 15th, 2020 - 2:57pm
The Nevada Department of Transportation called off the scheduled cleanup of a homeless encampment along the Truckee River in Reno on Wednesday morning, and said it would suspend cleanings on highway rights-of-way throughout the pandemic — the decision aligns with the City of Reno's suspension of homeless camp cleanups in mid-March. 
The cleanup was announced to campers through flyers passed out on Tuesday morning that indicated any belongings found by crews would be discarded, not stored. The plan drew criticism from advocates who noted that the Centers for Disease Control and Prevention discourages sweeps of homeless camps that force people to move and could accelerate the spread of the virus.
Some people at the camps heeded the flyer and left the property, while others, including Christina Edwards, remained behind.
"We don't bother anybody. We want to stay away from people because we don't want to get sick. And everywhere that we go, we are shoved out and pushed away, and we're not making a mess, we're not defacing property or anything like that," said Edwards. "So, I really don't understand, but to find out that we don't have to leave now is this big giant relief."
Edwards, who is pregnant and became homeless for the first time after she could not pay motel rent because of COVID-19 layoffs, said she was unsure of where she would have gone if the department had not stopped the cleanup.
"We're practicing social distancing and I feel like we're safer on the outskirts of town than we are in the inside of town because everybody that I know that's at the shelter is coughing or sick, and I don't want to be," she said.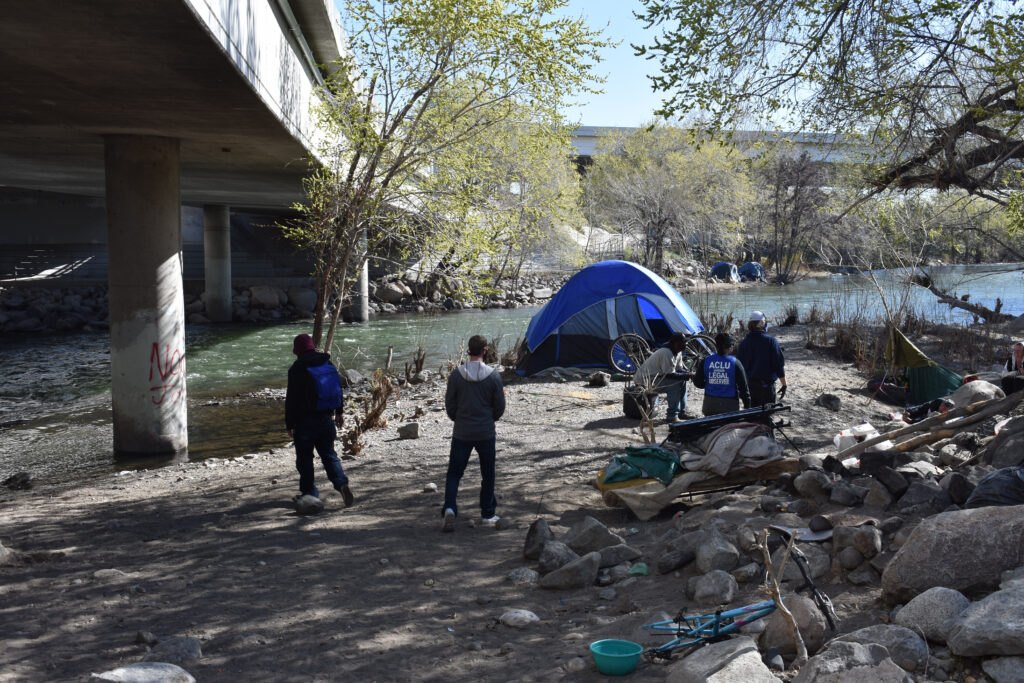 Holly Welborn, the policy director for ACLU Nevada, came to the site where the cleanup was supposed to take place as a legal observer for the ACLU. She said that she was appreciative of the department's quick response to criticism surrounding the cleanups.
"We are highly disturbed by [the notice to vacate] because the CDC guidelines or recommendations are quite clear that we shouldn't be doing any type of enforcement along encampments," Welborn said in an interview. "Encampments should be able to sustain themselves because it's a better, safer approach for people who are unsheltered."
In an email to The Nevada Independent, state transportation officials said that the cleanup was part of an effort to protect public and water quality safety, but that they had suspended it to reduce movement and potential virus spread.
Welborn acknowledged the importance of environmental safety but said there are better ways to address those issues.
"If there are environmental concerns, then I think that we need to provide proper sanitation services near encampments so people can utilize those and keep themselves safe," she said.
Even though the agency informed Welborn and other advocates that the cleanup was no longer happening, many residents of the encampments were unaware of the suspension until Welborn spoke with them while handing out "know your rights" pamphlets.
Stories
Candidate Trackers
Endorsements, Ads, Policies, Visits
& More
visit now
Comment Policy (updated 10/4/19): Please keep your comments civil. We reserve the right to delete comments or ban users who engage in personal attacks, use an excess of profanity, make verifiably false statements or are otherwise nasty.