Designed to educate: A look at how architecture and amenities foster learning in new schools
A large window in a fifth-grade classroom at Rex Bell Elementary School overlooks the famed Las Vegas Strip, capturing the city's economic engine in its frame.
Despite the scenic view, the design feature isn't purely aesthetic. It's part of the school's mission to bring more natural light into the building — a strategy that studies have shown improves students' test scores and creates a more positive environment.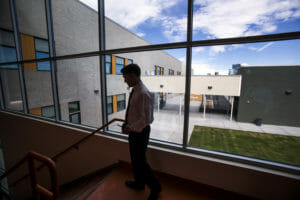 "You'll see every single classroom has windows," Principal Jaymes Aimetti said while giving a tour. "I think that's going to make a significant difference."
The elementary school, tucked behind Palace Station Hotel and Casino, is one of nine new buildings debuting across the Clark County School District this month. Six are entirely new schools constructed to ease overcrowding in growing parts of the Las Vegas Valley, while Rex Bell and Lincoln elementary schools are "replacement" buildings on the same plot of land an existing, aging school once stood. The list also includes a new building to house elementary students on the campus of West Prep Academy.
The Legislature in 2015 authorized funding to extend the district's capital improvement program for another decade, hence the flurry of new buildings welcoming students this year.
The schools, which ranged in cost from $23 million to $28 million, contain the hallmarks of any traditional school: desks, chairs, whiteboards, lunch tables and playgrounds.
But they also boast modern amenities that architects and district officials hope carry the schools into the technology-centric future and give students a cutting-edge education.
"I don't want to say it's night and day, but the buildings are far more advanced," said Jeff Wagner, the district's director of construction management.
On a recent morning, Principal Jennifer Boccia led a group of students and parents down a hallway of Jan Jones Blackhurst Elementary School, a new building located near Chartan Avenue and Pioneer Way in the southwest valley.
She pointed out two labs flush with new computers, extra-large kindergarten classrooms, an outdoor amphitheater and even non-slip floors in a hand-washing area outside bathrooms.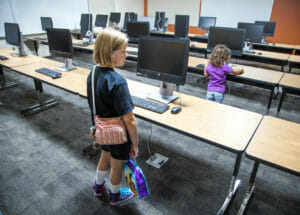 "Can I try slipping on it?" a 6-year-old boy wearing black-rimmed glasses asked.
His request granted, the incoming first-grader slid his feet across the shoe-gripping floor to no avail. He didn't slip.
What students may not have noticed on the tour: 96 security cameras scattered throughout the building.
Enhanced security has emerged as a trend in school design and architecture, a grim reality after school shootings increased in frequency and heightened the need for built-in protections. In 2012, a lone gunman entered Sandy Hook Elementary School in Newtown, Conn., and killed 20 children and six teachers.
Since then, school designers have put more thought into making the buildings as resistant to intruders as possible, said Windom Kimsey, president of Tate Snyder Kimsey Architects, the firm behind four of the new elementary schools in Clark County.
Rex Bell and Jones Blackhurst elementary schools have segmented entryways that route visitors directly to the main office before gaining access to another set of doors.
"It doesn't look like a prison, but it's a lot more controlling than it appears to be," Kimsey said.
At the same time, schools are considered community hubs, where neighborhood residents can congregate or obtain services. It's especially true for Rex Bell Elementary School, a Title 1 school wedged in an older neighborhood that receives extra federal funds because a large number of students come from low-income families.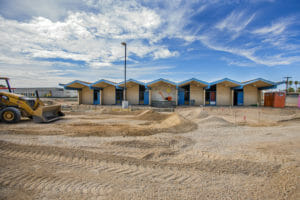 The new building contains an expanded kitchen with larger appliances and a walk-in freezer because the school intends to start serving dinner to any child, age 3 and older, who lives in the neighborhood and needs a meal, Aimetti said. In addition, crews preserved a portion of the older building to serve as the family engagement center, which provides services such as English classes for parents.
While safety and community needs weigh heavily in school design, the buildings' primary purpose is educating students. So how does building design influence the learning process?
A consulting firm called 21st Century Schools considers the physical environment — the facilities and schoolyard — a critical piece of the overall learning atmosphere, along with the social/emotional and academic environments.
Anne Shaw, director of 21st Century Schools, said the organization advocates for moving away from the traditional "cells and bells" design that features hallways lined with classrooms and lockers.
"In a 21st Century facility, there are no 'cells and bells,'" she wrote in an email. "Hallways are incorporated into the learning space. There are a variety of learning spaces within the school, and they are designed to support 21st Century learning."
The school district's new buildings may not be as progressive as those championed by 21st Century Schools, but they do weave in some of the forward-thinking amenities, such as flexible learning space.
For instance, Rex Bell Elementary School features an outdoor classroom on the second floor, which Aimetti envisions as a place where students can learn by doing projects or experiments that aren't necessarily compatible with a traditional classroom design. The school also has grassy courtyards and gardens for each grade level — a continuation and expansion of the school's garden program, which yields student-raised crops of okra, strawberries, tomatoes, squash and onions.
Aimetti said the outdoor learning environments complement his teaching philosophy: "If you're teaching an objective, it has to be associated with real life."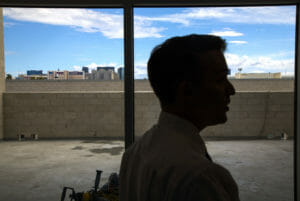 The United States has 98,000 to 99,000 public schools, with buildings opening and closing each year, according to the National Center for Education Statistics. In the 2013-2014 academic year, 1,737 public schools closed for various reasons.
A report issued last year by three education organizations — the 21st Century School Fund, National Council on School Facilities and The Center for Green Schools  — estimated that the United States should be spending $145 billion annually to maintain, operate and renew its public K-12 facilities, but historic spending falls closer to $99 billion per year.
Given the demand for upgraded or new buildings nationwide and locally, staff at Jones Blackhurst and Rex Bell elementary schools expressed gratitude for their new dwellings.
"It's just exciting for them," Boccia said. "If you don't have the staff excited, you're not going to have the students excited."
The former Rex Bell school, built in 1963, suffered frequent problems with air conditioning, heating and plumbing, forcing staff to shuffle students around some days, Aimetti said.
In less than two weeks, teachers and students will be entering a 107,842-square-foot, new building — filled with bright colors, larger spaces and student artwork — that staff helped design. Aimetti said he can't wait to see their expressions as they navigate their new educational home for the first time.
"Hopefully, they'll have a sense of pride and ownership," Aimetti said. "I want my teachers to feel valued and like it's their school."
Below are some additional photos of Jones Blackhurst and Rex Bell elementary schools. Both open later this month.