Development project stirs heated debate among Las Vegas City Council candidates
Las Vegas City Council candidates vying for the chance to represent Ward 2 and Ward 4 squared off Tuesday night during a forum that covered everything from a contentious development plan to sanctuary city status to illegal fireworks.
The event at Temple Sinai brought together Councilmen Bob Beers and Stavros Anthony — who are seeking re-election in Ward 2 and Ward 4, respectively — as well as some of their of competitors. Beers has served on the city council since April 2012, and Anthony has held his seat since June 2009.
Christina Roush and Steve Seroka are running for Beers' seat in Ward 2, which includes Queensridge, Peccole Ranch, The Lakes and parts of Summerlin. Sean Lyttle was the only other Ward 4 candidate who participated in the forum. Deborah Harris and Jon Edge, who are also running for the seat representing Ward 4, which covers a portion of the northwest valley, did not attend.
Howard Beckerman, a member of Temple Sinai who organized the event, said he's a big proponent of candidate forums despite often-lackluster voter turnouts for municipal elections. Early voting in the primary election begins Saturday, March 18.
"I believe in the voting process; I believe in Democracy," he said. "I believe that forums like this are the best way for candidates to meet the people and for the people to meet candidates."
And so for more than an hour, Beckermen read aloud questions submitted by attendees and moderated the forum. About 95 people attended the event.
The question that drew the most heated debate concerned a development project near the Queensridge neighborhood. Last month, the City Council narrowly approved a plan to build 435 condos at the edge of the now-closed Badlands Golf Course, which borders the gated community. Beers voted in favor of the plan, drawing the ire of many residents.
Roush planted her flag in this race as the candidate who's running to fight for those upset Queensridge residents and protect against sprawl and high-density projects.
"We're in a situation where he have citizens' rights that have, quite frankly, been taken away from them, and I will not tolerate it," said Roush, who has a real-estate background. "I think it's time the city be held accountable for the decisions it has made."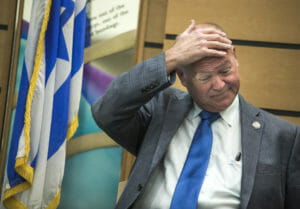 Seroka fired a direct shot at Beers regarding his vote for the development project, saying it was possibly the result of him being "too cozy with big donors."
As attendees booed, forcing Beckermen to hush the crowd, Beers defended his vote. The incumbent said city council gave the golf course owners the right to build homes on that property more than three decades ago, rendering it legally impractical to usurp their rights now. Doing so, he said, could result in "inverse condemnation" — a situation in which a property owner sues a government for just compensation of any seized land.
During rebuttals, Roush and Beers quibbled over whether the city attorney believes there is a realistic legal threat facing the city if it were to deny development on the property. The tug of war between the two candidates set the stage for what likely will be a frequent topic of conversation over the course of the campaign season.
But candidates also addressed issues concerning all city wards, including whether to designate Las Vegas as a sanctuary city for immigrants.
Lyttle came out in strong support of keeping Las Vegas a welcoming city for all people but didn't directly answer yes or no, citing the less-than-clear definition of the term.
"We are a city of people from someplace else," he said. "We are a city that has always opened its doors to people far and wide … I think that's a part of the fabric of our culture as a city — that we are a welcoming place and we are a safe place for people to come."
Former cop Anthony, on the other hand, said he would "absolutely not support" making Las Vegas a sanctuary city because he believes in following all the laws of the land. Beers, Roush and Seroka took a more measured approach to the issue, saying that immigrants who engage in criminal activity should not be protected by any sort of sanctuary city label.
It wasn't just big-ticket issues like land use and immigration that got candidates riled up, though. A question about fireworks also exposed deep divides among them — underscoring the fact that in municipal elections, the seemingly small issues can matter significantly to residents.
Anthony characterized the current policy as "pretty good" because powerful fireworks aren't sold in Clark County.
"If you want the illegal stuff, you go to another county, you buy it, you bring it back here, you shoot it off and probably nothing is going to happen to you," he said. "That's kind of how it works on the Fourth of July. We're not really going to be in a position where we're making mass arrests for people who bring in illegal fireworks."
Even so, Anthony said residents should be aware of the dangers illegal fireworks pose to themselves and others.
Lyttle disagreed with that stance. He said illegal fireworks are a "public nuisance" that lead to animal shelters full of pets who ran away after being spooked by the noise.
Candidates for the term-limited Steve Ross's Ward 6 city council seat did not attend the forum. The primary election is April 4, followed by the general election June 13.
Caption: People watch the City Council candidate forum Tuesday, March 14, 2017, at Temple Sinai, 9001 Hillpointe Road. Photo by Jeff Scheid.