Drugmaker sues, asks court to block use of its product in Nevada execution on Wednesday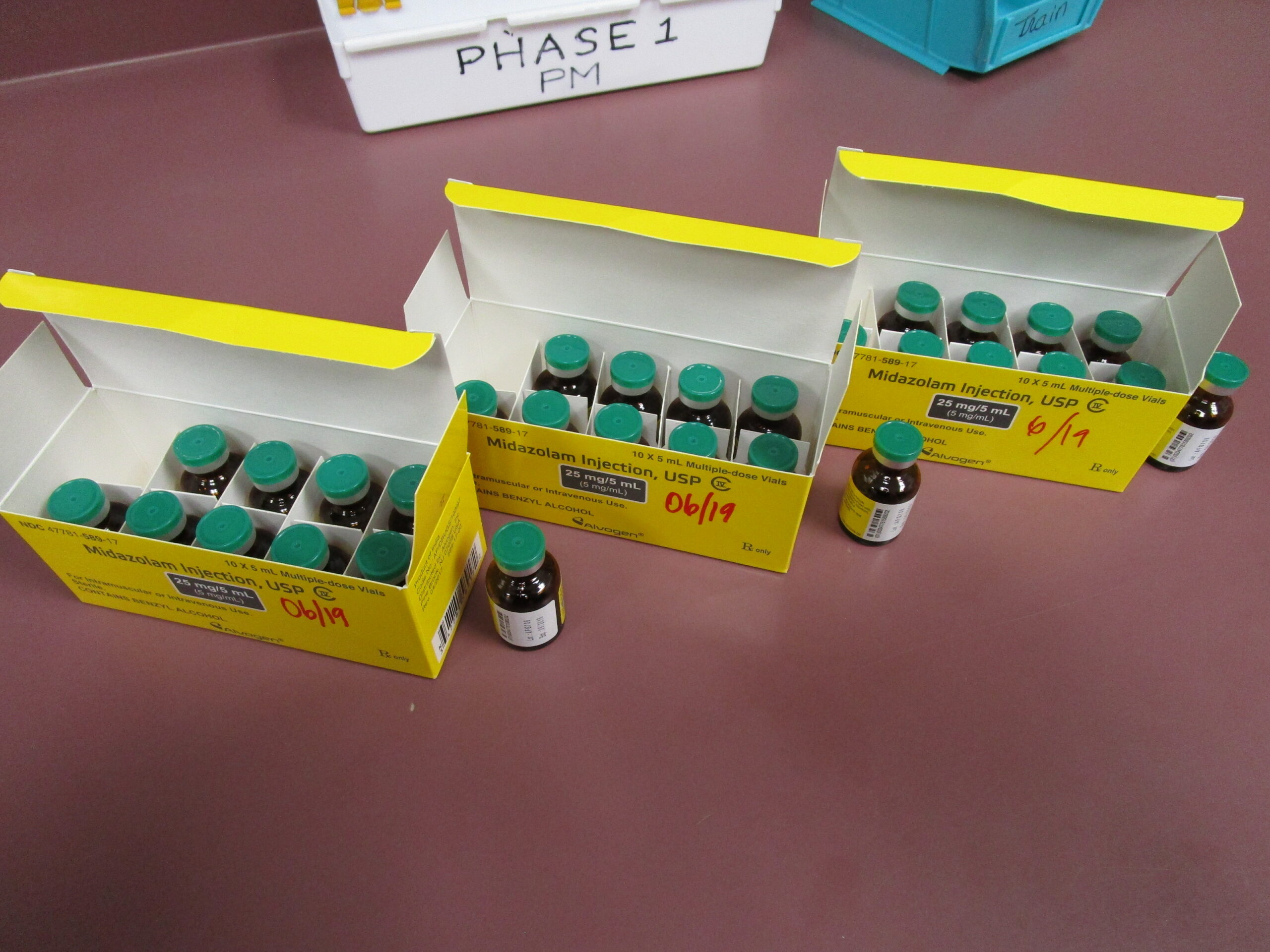 The maker of a sedative set for inclusion in a Nevada execution on Wednesday — the state's first in 12 years — is suing to stop it from being used to kill Scott Dozier.
American pharmaceutical company Alvogen filed a lawsuit Tuesday in Clark County District Court, saying the Nevada Department of Corrections purchased the drug on false pretenses even though they knew Alvogen objected to its use for executions. The company is asking a judge for a temporary restraining order, for the drug midazolam to be impounded and for it to be barred from any use in capital punishment.
"Defendants intentionally defrauded Alvogen's distributor by, on information and belief, concealing the April 2018 letter from the distributor and/or the fact that Defendants intended to use the Alvogen Midazolam Product for purposes of an execution," the lawsuit said. "Defendants omitted relevant information and implicitly made the false representation that they had legitimate therapeutic rationale to purchase the Alvogen Midazolam Product."
A spokeswoman for the Nevada Department of Corrections said the agency had been advised not to comment on the situation. District Court Judge Elizabeth Gonzalez scheduled a hearing on the request for 9 a.m. on Wednesday, less than 12 hours ahead of the scheduled execution. 
Alvogen says on its website that it tries to prevent its product midazolam from use in executions. But the Nevada Department of Corrections announced last Tuesday that it was adding midazolam to its three-drug lethal injection combination after another drug expired, and on Friday it distributed photos of the packaging with Alvogen labels — a response to a request from the American Civil Liberties Union of Nevada for more information about the drugs' origins.
The pharmaceutical company said it learned its product would be used when it started to receive press inquiries on July 7.
"Alvogen does not market, promote or condone the use of any of its approved prescription drug products, including midazolam, for use in state sponsored executions," spokesperson Halldór Kristmannsson said in a statement on Monday. "To avoid any improper, off label use of our products, Alvogen does not accept direct orders from prison systems or departments of correction. Alvogen works with our distributors and wholesalers to restrict any resale, either directly or indirectly, of our midazolam product to any prison system or department of correction."
Alvogen's suit said the state has refused to return the products, and added that the prison agency "was aware of and actively fought disclosure of certain execution-related information because such information had been used to persuade manufacturers to cease selling their products for executions."
NDOC's actions "have caused, and will continue to cause unless enjoined, substantial and irreparable injury to Alvogen, its reputation, and its goodwill," the lawsuit said.
Nevada prisons purchased execution drugs through wholesaler Cardinal Health, which has previously said it works to fulfill manufacturer's wishes.
"As a wholesaler, we hold ourselves to the highest standards of accuracy and safety and have robust controls in place," Cardinal Health spokesman Geoffrey Basye said in November, when it was first revealed that the company was supplying some of the drugs. "We follow every manufacturer's specific instructions to ensure the safe distribution of their products."
Basye didn't respond to a request for comment Monday about the Alvogen situation.
Midazolam has been used in other executions around the country, including some that were prolonged and involved the inmates gasping for air. Alvogen said it would work to prevent the midazolam from making its way into Dozier's execution.
NDOC has previously declined to acquiesce to manufacturer's specifications about drugs in executions. Pfizer asked the agency to return the drug diazepam after it was revealed the drug would be used in Dozier's execution when it was first scheduled last November, but the agency said at the time that it was under no obligation to return a product it had purchased.
Updated at 3:50 p.m. on July 10, 2018 to add information on a hearing and a response from NDOC.
Alvogen suit vs NDOC by Riley Snyder on Scribd
The Nevada Independent is raising $200,000 by Dec. 31 to support coverage of the 2024 election.
Tax-deductible donations from readers like you fund this critical work.
If you give today,your donation will be matched dollar-for-dollar.
Give + Get Matched
Featured Videos