Clark County School District deans stand during the Board of Trustees meeting on Thursday, June 13, 2019. (Jeff Scheid/Nevada Independent)
Educators air concerns about elimination of deans, but superintendent stands by his decision
Outrage over Clark County Superintendent Jesus Jara's decision to cut dean positions spilled into a School Board of Trustees meeting Thursday night, highlighting a damaged relationship between the district's relatively new leader and his employees.
Attendees — including many deans and principals — filled the board room to capacity more than a half hour before the meeting began, forcing an overflow viewing area in the lobby. The massive turnout followed four days of angry social media chatter and a heated town hall discussion prompted by Jara's announcement Monday that he was eliminating deans at middle and high schools to shore up the district's $17 million deficit for the upcoming academic year.
The criticisms were largely the same inside the wood-paneled board room. Principals, teachers, parents and at least one dean expressed safety concerns and lamented the lack of transparency regarding the decision.
Tam Larnerd, principal of Spring Valley High School, said it was a dean who rescued his son from bullying. He asked Trustee Deanna Wright, a longtime friend, for help persuading Jara to rethink the move.
"I'm asking you to put the pressure needed on the superintendent to reverse this decision and consider other options," he said.
Board President Lola Brooks said trustees never voted to eliminate deans because it's an operational decision under the superintendent's purview. After the meeting, she told reporters that trustees were briefed on Jara's decision as it related to collective bargaining. She said they knew before the video announcement.
Her public comments didn't appear to assuage the Clark County Association of School Administrators and Professional-Technical Employees (CCASAPE), which represents deans. Executive Director Stephen Augspurger said the union intends to file a complaint with the state in the coming days alleging the board violated the Nevada Open Meeting Law by not publicly discussing the decision.
Seventy-two secondary principals took a vote of no confidence in Jara on Wednesday. CCASAPE President David Wilson, who is principal of Eldorado High School, said hundreds of administrators back the no-confidence vote, even if they were unable to participate Wednesday.
"We are looking forward to finding solutions to this problem because we are solution-driven, and there are solutions," he told the school board.
Trustee Linda Young requested a future agenda item to review the budget cuts and decision-making process. She said the decision could hamper efforts to diversify the leadership pipeline given that 25 to 27 minority candidates were in the dean pool.
"What happens to them?" she asked. "What are some options?"
But the superintendent doesn't appear to be backing down. Asked after the meeting whether he may rescind the decision, Jara said "no."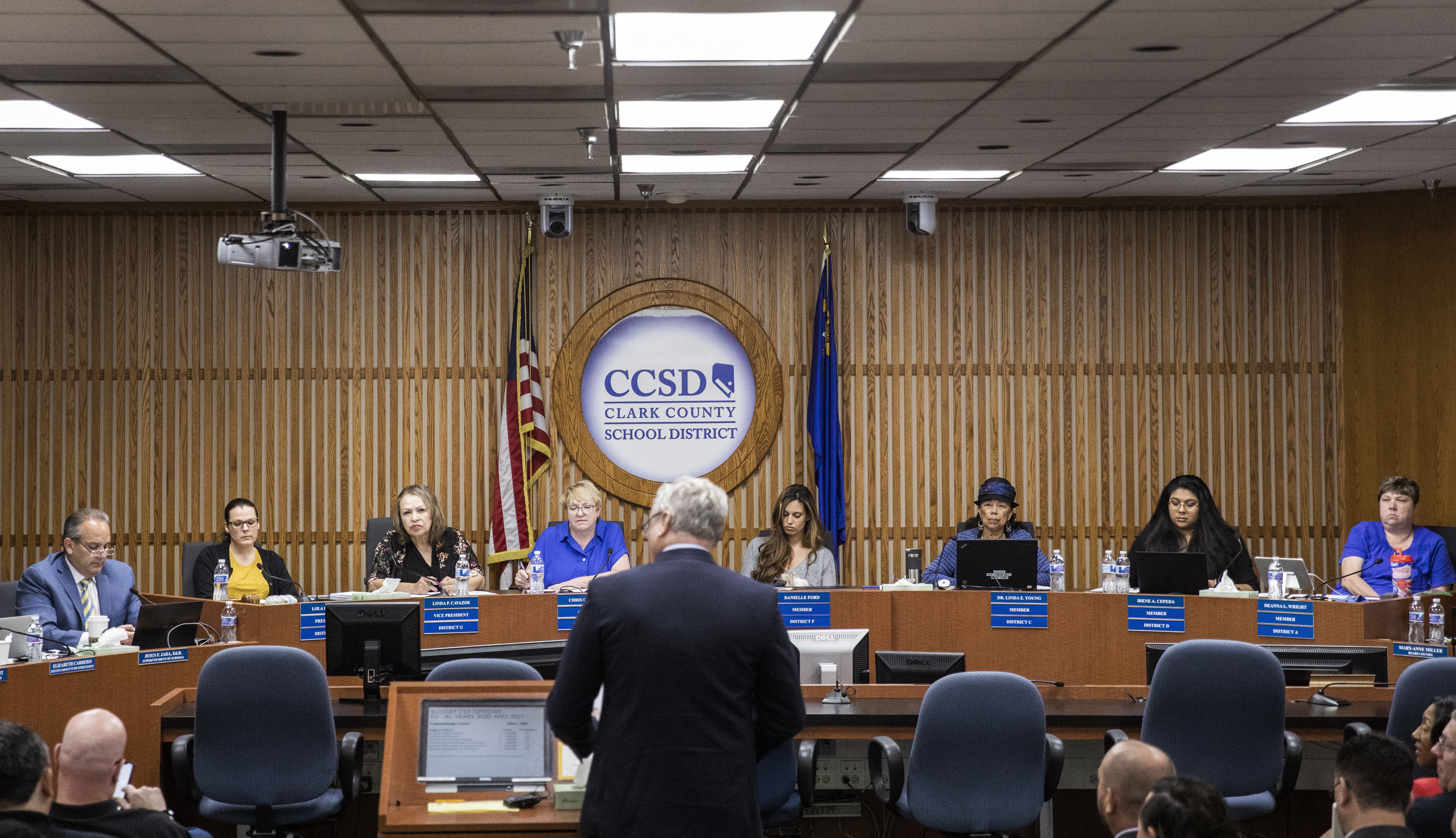 Perspectives from the field
The budget decision set off a maelstrom this week, irking educators up and down the career chain. A high school dean, who asked not to be identified, said he experienced mixed emotions upon hearing the news — grateful to have a job as a teacher but devastated a role he views as crucial would no longer exist.
The dean, who spoke to The Nevada Independent before the meeting, said he paid special attention to acclimating ninth-graders and students returning from alternative schools to the campus environment. He hoped starting them off on the right path would pay dividends later in the form of a diploma.
"At our high school, one of the first things we start with is you've gotta get to class on time," he said. "Everything starts there. Why? Because it maximizes instructional time. We can keep our babies safe if we know they're in class under the supervision of a teacher."
The fallout from the decision, if nothing else, has heightened awareness about the many hats deans wear. They often handle disciplinary matters, bullying investigations, attendance and campus safety issues along with supervisory responsibilities.
The high school dean worries how those duties will be absorbed and said he was "hurt on a deep level" that district leaders didn't solicit their feedback before making the decision.
Ryan Fromoltz, a teacher at Canyon Springs High School, said the absence of deans would be a "big blow" to secondary school campuses. While teachers need classroom management skills, he said deans provided an extra layer of support for the toughest situations.
"I had fights in my room, and I called it in," he said during an interview Wednesday. "They were down very quickly to break it up."
But Fromoltz said they weren't solely the campus disciplinarians. He said deans often forged bonds with struggling students in ways that teachers — who may have hundreds of students — were unable to do.
Now, schools will grapple with filling that nurturing void, he said.
"The deans were well-liked. They were well-respected," Fromoltz said. "(Students) may not have liked being sent up there, but they were treated with respect."
The decision also has stoked fears at a school community rocked by racist threats targeting students this past year. Arbor View High School teacher Meghann Peterson said she no longer feels comfortable telling parents or students that the district is working to keep the campus safe. She called the elimination of deans "a slap in the face."
"It will ultimately affect the positive campus environment we were working so hard to rebuild," she said during the board meeting.
The superintendent's response
Jara, who is days away from his one-year anniversary as superintendent, apologized again Thursday night for the way he announced the dean decision — by video message. He vowed to trustees that he would improve the way he communicates information, especially to employees.
The other options he considered were eliminating magnet programs, performing arts programs, athletics and transportation. The superintendent said state money allocated for school safety will be put toward funding licensed behavioral specialists. It's unclear how much money the school district will receive from the state for that purpose, though.
Jara also said he has spoken with the district's police chief to ensure there are at least two school police officers at every high school.
"The decisions I had to make were unfortunate, but it's due to the lack of funding," he said.
But the funding situation could have been worse. Jara said the district was facing an $80 million shortfall over the next biennium 24 hours before the legislative session ended. Ultimately, lawmakers allocated more money, leaving the district with a roughly $33 million deficit over the biennium instead.
Gov. Steve Sisolak's office did not return requests for comment about the school district's budget challenges.
During the board meeting, Jara also said he intends to cut about $7 million from the district's central office.
This isn't the first decision made by Jara that has met resistance. In January, Jara announced a policy change that diverted federal Title I funding to the neediest schools while yanking it from 55 other campuses for the 2019-2020 academic year. While that move ruffled some feathers, particularly among principals losing the federal money, others agreed with his equity-based decision.
Comment Policy (updated 10/4/19): Please keep your comments civil. We reserve the right to delete comments or ban users who engage in personal attacks, use an excess of profanity, make verifiably false statements or are otherwise nasty.