Student Frances Sevilla solves a math problem during her AVID elective, which involves group tutoring sessions, at Spring Valley High School on Thursday, Jan. 30, 2020. (Jeff Scheid/The Nevada Independent)
Despite funding cut, educators tout college-prep program for 'kids in the middle'
February 6th, 2020 - 2:00am
Frances Sevilla, a junior at Spring Valley High School, filled a whiteboard with numbers as she solved an equation on a recent Thursday morning.

The actual calculations came after deliberations with several fellow juniors and a senior serving as a volunteer tutor. They had brainstormed Sevilla's question — "How do I multiply matrices?" — and were helping her through the problem. Afterward, she wrote down the step-by-step process on the board.

The team effort produced an answer to this pre-calculus problem that would leave most adults scratching their heads. Similar conversations occurred around the room as these study groups tackled different math problems. This is no typical study hall, though. The students assembled in this classroom are part of AVID (Advancement Via Individual Determination), a college-preparation program for students who have drive and ability but need a little extra support.

"This is the real deal if you are truly committed to access and equity for our most challenged populations to develop and cultivate the skills they need in order to be successful in college," Principal Tam Larnerd told a group of educators last week.

But the college-focused program has gained more attention recently given Superintendent Jesus Jara's decision to cut Title II funding for it. During a December school board meeting, Jara said the funds would be rerouted to leadership development, but he said schools could continue providing the program if their budgets allow.

Spring Valley High School leaders call program participants "the kids in the middle." They're not necessarily the valedictorians or students who grew up enrolled in advanced classes. Nor are they struggling students. Instead, they tend to be students from low-income families or underrepresented groups in higher education. Many come from households where parents or siblings didn't attend college or, in some cases, finish high school.

So while these students may dream of attending college, they need a little guidance getting there. AVID places students in challenging environments — honors, Advanced Placement or International Baccalaureate classes — but gives them academic support through a study-focused elective. Teachers also walk students through the process of applying for college, requesting financial aid, building a resume and interviewing for a job.

"It's the kind of support you wish you could offer every student," Larnerd said.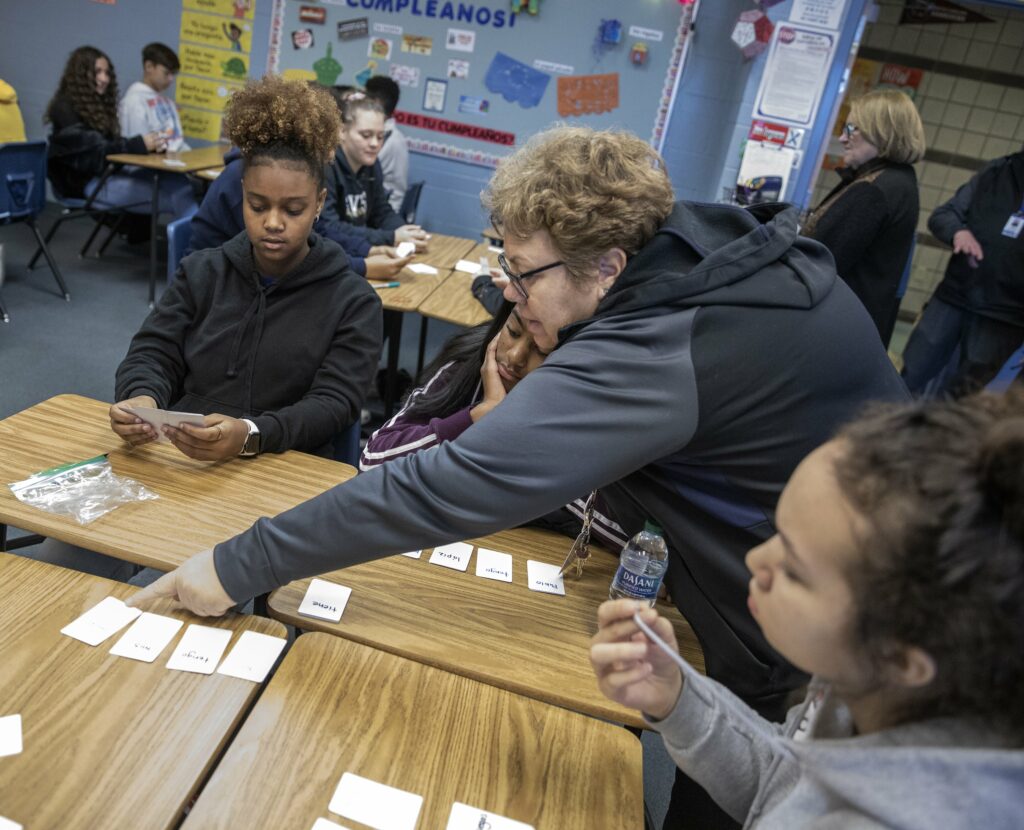 AVID isn't new to the Clark County School District. The national program exists in 47 states and has been a mainstay in some Southern Nevada schools. Spring Valley High School, for instance, has offered the program for 16 years and is a national demonstration school — meaning other educators travel here to see how it operates.
Jara's funding decision generated criticism, especially given his equity and access push, but it also highlights the ongoing tug-of-war over resources. When one worthy initiative needs funding, another — sometimes equally worthy — program loses out.

In this situation, it appears Jara cut AVID's funding under the auspice of the greater good.

"Part of the recommendations in the Superintendent's Student Equity and Access Commission report involves making sure every student has equal access to quality programs," district officials said in a statement. "AVID is a valuable program but is not offered at every campus. Leadership training is something that can benefit a wider range of CCSD schools."
District officials also noted they were working with principals and school organizational teams at the 26 schools with AVID programs on funding methods through their strategic budgets.

Last week, staff members from Legacy High School toured the program in action at Spring Valley High School. They saw the group tutoring sessions in the AVID elective and program hallmarks sprinkled throughout other classes as well — a Socratic discussion in a sports leadership class and binders full of stylized notes in a math class.

Legacy High School has been trying to grow its own AVID program and, so far, Joana Lal, an English teacher, has been pleasantly surprised by her students' enthusiasm.

"They're so disorganized," Lal said, describing many of her teenage students. "They lose everything. They just forget, forget, forget."

But Lal said AVID provides students with the organizational skills to make them better note-takers and deeper thinkers. After a recent lesson that encouraged more analysis and critical thinking, Lal said she had students coming up to her and voicing their approval.

"I've honestly been so shocked that kids really like it," she said.

Spring Valley students joined the praise as well. Keiana Davis, a sophomore, said the mock interviews during AVID helped her land a summer job.

"It really helped build confidence," she said. "I will take that experience with me for the rest of my life."

Spring Valley leaders point to numbers as proof of the program's power. Last year, 97 percent of the school's seniors enrolled in AVID went on to college. The school currently has 540 students in AVID, and all are meeting four-year college entrance requirements. Program dropouts are rare, said Melanie Wilkerson, the AVID program coordinator for Spring Valley High School.

The continuation rate is perhaps a result of a fringe benefit —the camaraderie established among the students.

"It's like a family. They've been together for years," she said. "They help each other. They know what classes are hard. They study together."

Some of those bonds persist after high school. Wilkerson said she keeps in touch with students, including twin brothers who came from a family of five children. Their parents and siblings had dropped out of high school, she said, but the sports-minded brothers enthusiastically joined AVID. Now, they attend the University of Southern California and the University of Nevada, Reno.

"That's just one story," she said.

AVID won't be shuttered at Spring Valley. Larnerd said the program itself isn't necessarily costly — there's a roughly $4,000 site fee — but sending teachers to the related professional development could be trickier for schools.

Still, he hopes other schools — especially elementary and middle schools, which tend to have less flexible budgets — can weather the funding cuts and keep AVID alive.

"You make a good school great by challenging those kids in the middle, but if not AVID, then what?" he said.

Comment Policy (updated 10/4/19): Please keep your comments civil. We reserve the right to delete comments or ban users who engage in personal attacks, use an excess of profanity, make verifiably false statements or are otherwise nasty.