Ginger Gould, eighth-grader at Pinecrest Academy Inspirada in Henderson, seen here on Tuesday, Dec. 18, 2018, opted to not have a cell phone. (Jeff Scheid/The Nevada Independent)
Eighth-grader says no to cell phone in favor of more 'social interaction'
December 21st, 2018 - 2:00am
Ginger Gould gets antsy easily.
The 14-year-old prefers to stay busy outside of school, whether it be playing volleyball, conquering strategy-based video games or crocheting stuffed animals, hats, bracelets and hair ties. She's not a fan of idle time.
"I need to be productive," she said. "I need to be doing something."
But unlike most teens her age, you won't find her tapping away on a tiny screen to pass the hours. She doesn't own a cell phone, nor does she want one. The eighth-grader has taken a philosophical stance against the palm-sized devices that have become so ubiquitous among students that some classrooms contain cell-phone pockets as a way to keep them out of sight and out of mind during lessons.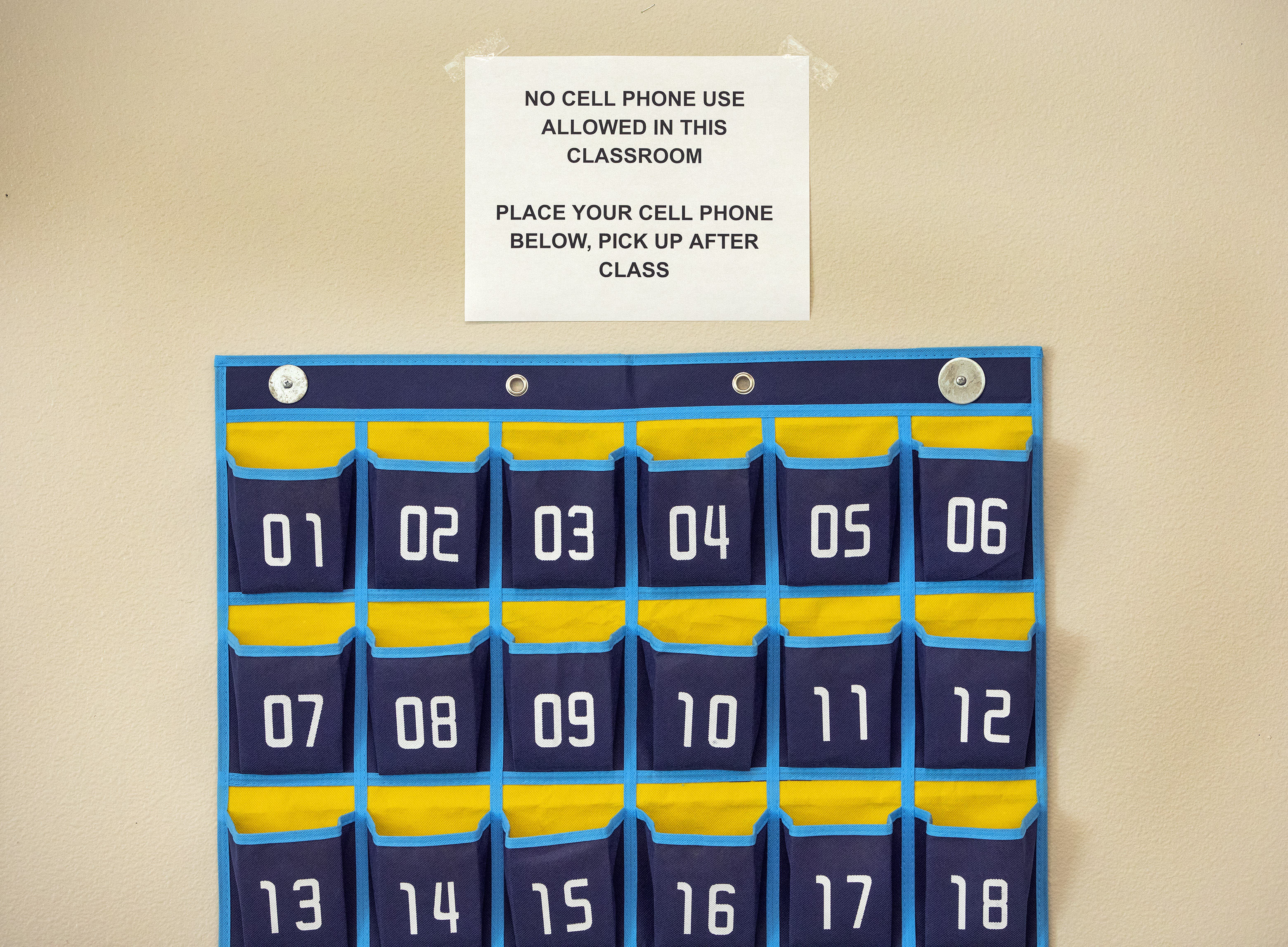 If you ask Gould for her rationale, she doesn't miss a beat: "I don't want one because it's going to take my social interaction away."
It sounds like something an adult might say, but Gould, who attends Pinecrest Academy Inspirada, isn't parroting a line uttered by her parents. In fact, they wanted to buy her a cell phone when she started sixth grade at a different middle school and would be walking there each day.
Gould refused and hasn't wavered since then. If her parents had insisted, she said the cell phone would spend much of its time untouched, abandoned on a counter somewhere.
"I tell people all the time, I don't want a phone," she said, explaining that it's a statement often met with disbelief, especially among her peers. "I've been fine without a phone. I'm still here."
Her decision bucks the technological trend that's seen younger and younger children receive their own digits. A Nielsen survey conducted in late 2016 found that 45 percent of children who have cell phones with a service plan got them between the ages of 10 and 12. When asked why they bought their child a wireless service plan before age 13, parents pointed to communication as the top reason: Ninety percent of respondents said they wanted to be able to easily reach their children and vice versa.
Even so, the decision to equip children with a smartphone doesn't come without related fears. Nearly two-thirds of parents worry their teens are spending too much time in front of a screen, according to a Pew Research Center survey conducted earlier this year. Teens, too, share that concern. Roughly half of teens ages 13 to 17 expressed worries about spending too much time on their cell phones, the survey found, and almost the same amount had tried to cut down their screen time.
Without a cell phone, Gould said she doesn't have to worry about becoming addicted to the device or social media. She's not on Instagram, Snapchat or Twitter. The only social account Gould has is Facebook, which she checks about once a month to keep in touch with relatives.
She's aware what the applications entail. A friend showed her all the Snapchat filters that can be applied to selfies, and she acknowledged "it looks fun." But it wasn't enough to break her anti-cell phone pledge.
"Honestly, I don't want to put my face on there," she said.
There wasn't necessarily a defining moment that led to this choice. Instead, Gould said she observed cell phone-related patterns over time: Friends would invite her over but then immerse themselves in their phones. Couples at restaurants would sit silently while engrossed in their handheld devices. And her peers at school would mimic "mean" or "inappropriate" things they discovered online via their phones.
As an added bonus, Gould said being cell phone-free has protected her from cyberbullying. Gould, who was homeschooled much of her childhood, said she experienced bullying in the form of nasty comments thrown her way when she began attending brick-and-mortar schools. She figured online bullying could be worse.
"That's pretty much where it all branches from," she said.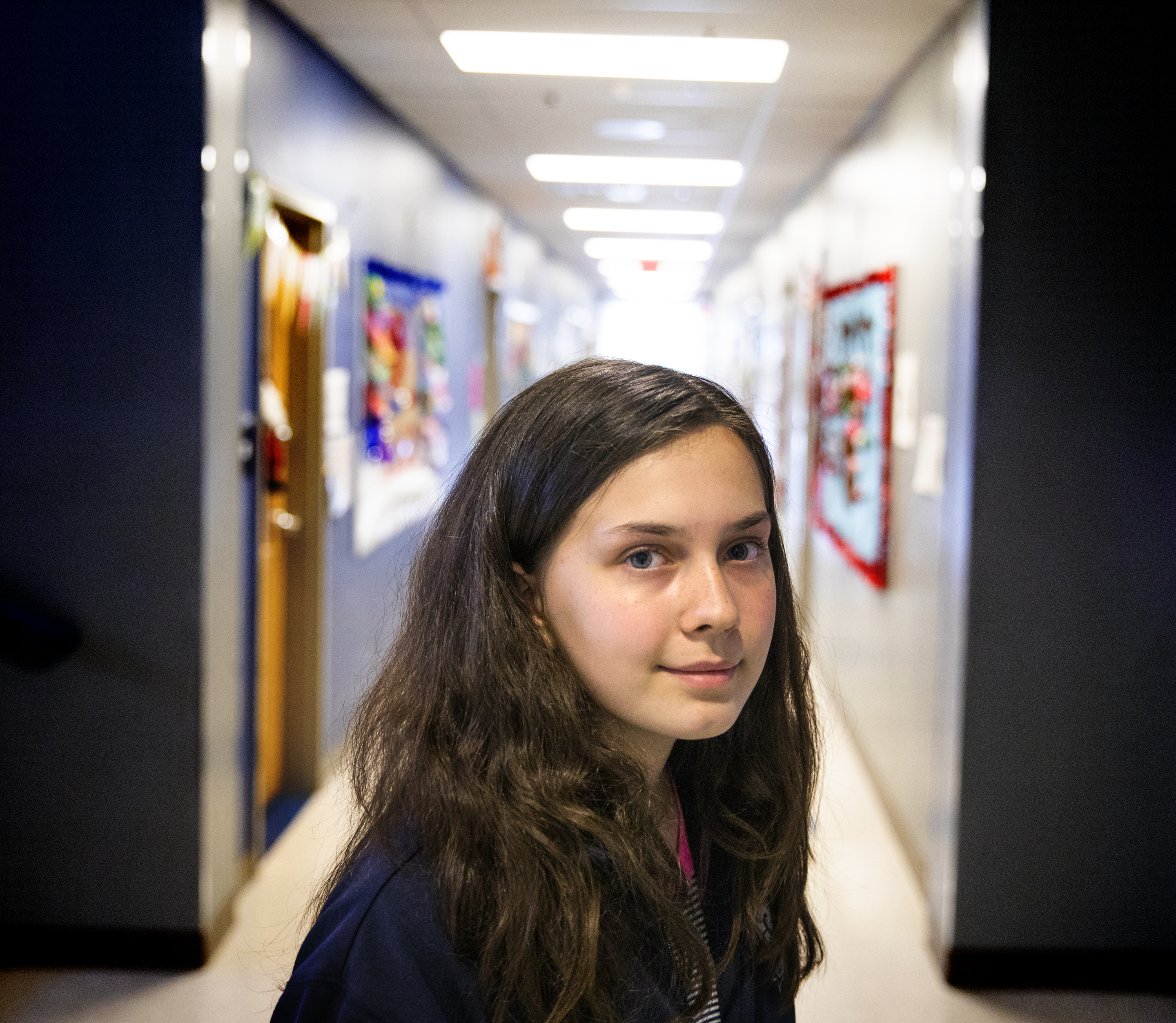 Her mother, Terri Gould, doesn't pester her about getting a phone. The only disadvantage she sees is an occasional communication barrier with her friends.
"I think the only thing is some kids won't reach out if they can't contact her by her cell phone," Terri Gould said.
But her daughter doesn't view it as an insurmountable obstacle. Gould said she has several close friends at school and, although most have their own cell phones, they coordinate plans via her mom's cell phone or the home land line. (Yes, the latter still exists.)
Terri Gould considers herself lucky. While other parents are battling their children's clinginess to phones, she doesn't have that problem. She suspects family getaways to Bass Lake in California, where cell service is unreliable, may have shown her daughter the benefits of being disconnected, but no one prodded her into forgoing phones.
Her mom said Gould always has been level-headed and perceptive of the world around her — two traits that may have helped her draw this conclusion.
"We've always told her you're a winner, and you have a choice to either succeed in life and be positive," Terri Gould said. "Or you can make choices that make things far more difficult for yourself."
As for when Gould will take the leap into cell phone ownership, that's still to be determined. The teen said she knows it will be necessary upon entering the adult work world. Gould also hasn't ruled out getting some kind of phone when she starts driving.
For now, she's content not partaking in this particular characteristic of her generation. Gould often jokes that she would fare well in any electrical or wifi outage. Her peers? Maybe not so much.
"They don't know what to do," she said. "Their phones tell them what to do."
Comment Policy (updated 3/21/19): We welcome reader comments on our stories. However, in keeping with our general policy of transparency, accuracy and accountability, we do not accept comments from anonymous accounts. Anonymous accounts are those without a valid first and last name. Any such comments will be deleted, and anonymous users will be blocked from commenting further. We also will block commenters who use offensive language, engage in personal attacks or state things that are verifiably false.
get our morning newsletter, The Daily Indy
INDYMATTERS PODCAST
CAFECITO CON LUZ Y MICHELLE
@TheNVIndy ON TWITTER