Ethics Commission fines Lombardo $20K for use of badge, uniform on 2022 campaign trail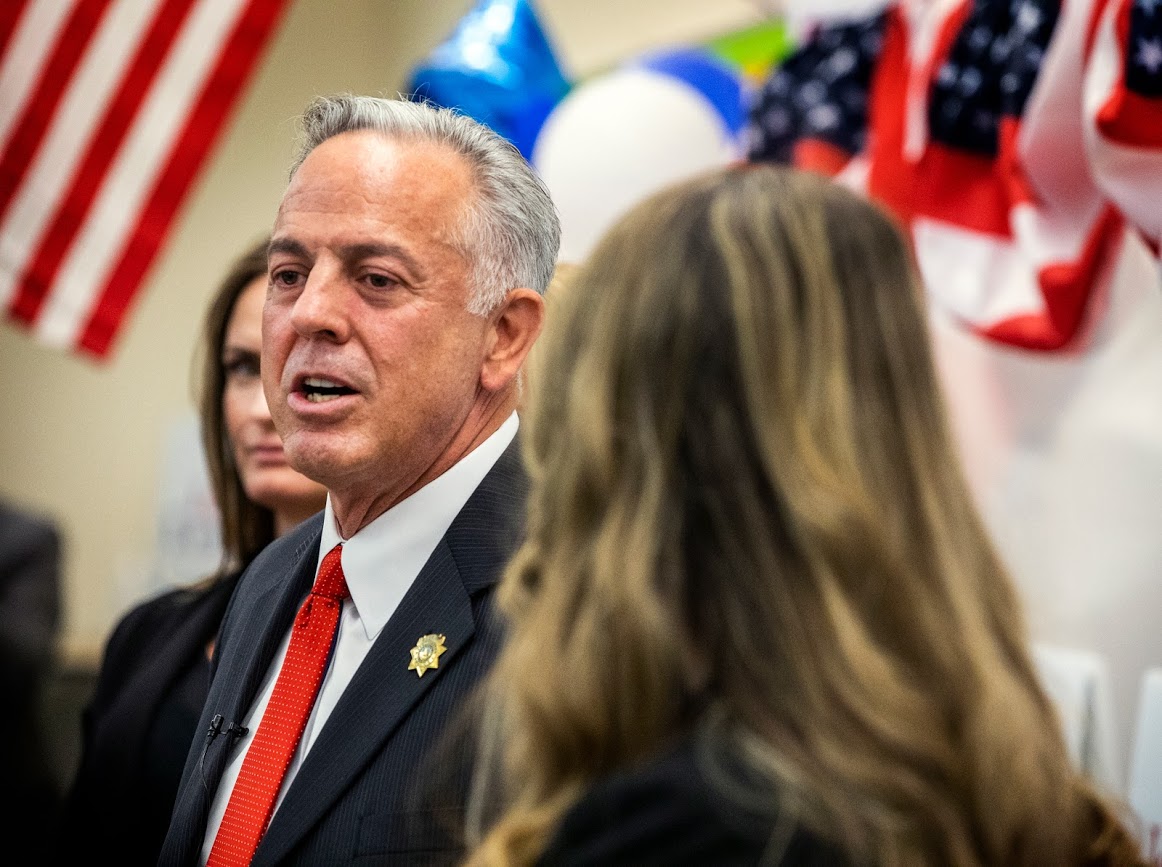 The Nevada Commission on Ethics voted to censure and fine Gov. Joe Lombardo $20,000 for using his Clark County sheriff uniform and badge while the Republican was running for governor in 2022, but declined to levy the proposed full $1.6 million fine.
The 4-2 decision, issued after a three-hour hearing and a two-hour private deliberation on Tuesday, is substantially less than the recommendation attorneys for the commission made earlier this year to fine the governor an unprecedented $1.6 million for allegedly violating state ethics laws. It came in the wake of complaints over Lombardo's use of so-called accoutrements (such as a uniform or badge) in campaign social media posts and election materials during his successful 2022 gubernatorial bid.
"I further move to adopt a finding of willfulness and to impose civil penalties in the amount of $20,000 and issue a censure to Gov. Lombardo," Commissioner Amanda Yen said in her motion to adopt the decision. "All other penalties requested by the executive director are denied."
The two opposition votes came from a pair of newly appointed members with law enforcement connections — former Henderson and Las Vegas Metropolitan Police officer Stan Olsen, and the grandson of former Clark County Sheriff John Moran, John Moran III. Both were appointed to the board by Lombardo earlier this month, and emphasized ahead of the hearing that Lombardo was a professional acquaintance and said those connections would not affect their decision-making.
The four votes in support came from two Democrats, one nonpartisan and one Republican on the commission — all of whom were appointed prior to Lombardo taking office. Four were appointed by state lawmakers and the rest appointed by former Govs. Steve Sisolak and Brian Sandoval. Commission Vice Chair Brian Duffrin, a nonpartisan, and Commissioner Barbara Gruenewald, a Democrat, were precluded from voting because they served on the preliminary review panel on the case.
Moran and Olsen declined to comment about their decision to vote against the ruling when approached by a reporter after the meeting.
Tuesday's decision is the culmination of a multiyear investigatory process by staff of the eight-member commission, with members appointed by the governor and Legislative Commission. The commission is charged with interpreting and enforcing Nevada's ethics laws for local and most state employees or elected officials outside of the legislative and judicial branches.
The decision has thrust the typically quiet state ethics board into the spotlight, and marks the latest ruling by the commission in a long string of cases where sheriffs have used their uniforms and badges in campaigns despite a lack of clarity in state law.
Lombardo still has the right to appeal the commission's decision through the state court system. To do so, he would need to file a petition for judicial review that would be heard by the Carson City district court.
An attorney representing Lombardo said in an email that they were "gratified" the commission did not impose the full proposed fine, but added "we're disappointed in certain aspects of the Commission's ruling and are in the process of considering all options."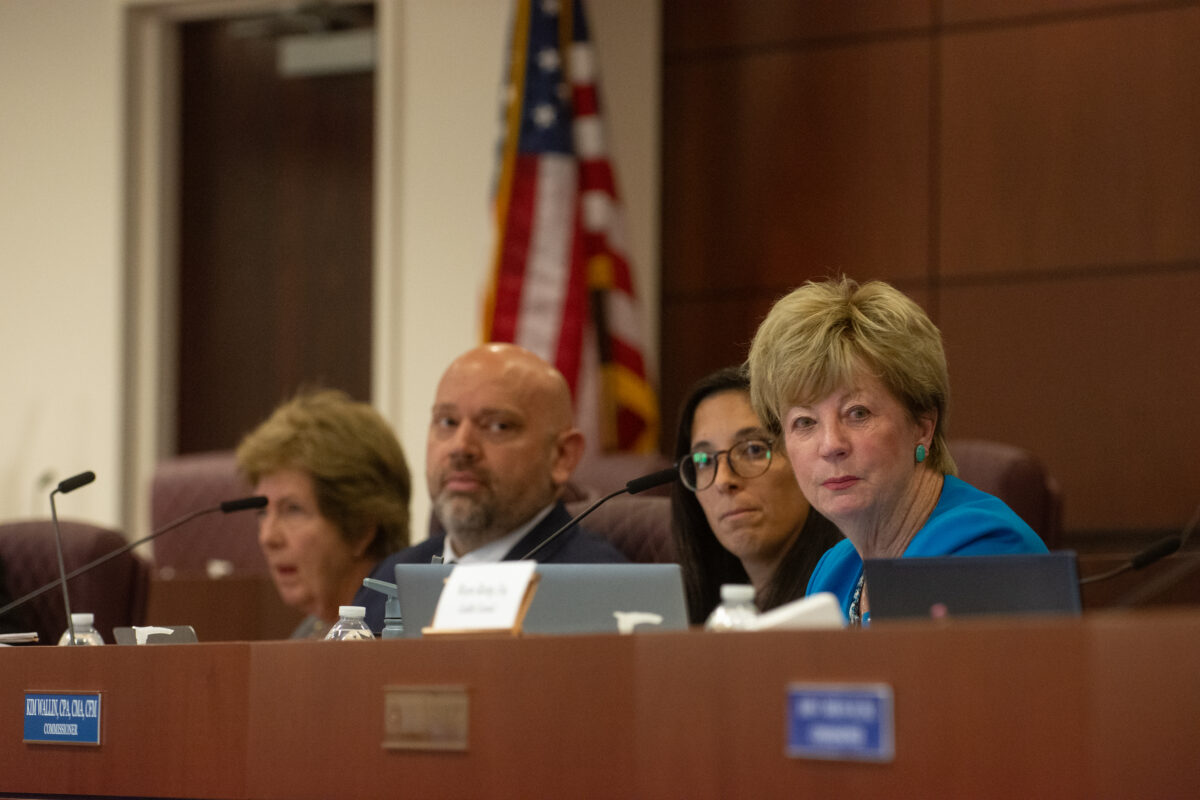 Under state law, the commission can fine up to $5,000 for a first willful violation of state ethics law, $10,000 for a separate willful violation and $25,000 for a third violation. Commission staff proposed imposing a fine for each time Lombardo's campaign posted an image, published a video or used imagery of Lombardo wearing his uniform, badge or gun in campaign materials. The calculations of those 34 instances led to a total proposed fine of $1.6 million — significantly larger than the second largest fine of $15,000.
In her presentation to commissioners Tuesday, commission attorney Elizabeth Bassett cited Lombardo wearing his sheriff's badge during his announcement that he was running for office, saying that in doing so he violated a provision within state law stipulating that public officials and employees cannot use government time, property, equipment or other resources to benefit themselves or anyone else.
Bassett said the commission has in the past definitively concluded that no law enforcement official may wear his or her uniform, badge or other physical accoutrement of office in support or opposition of a political campaign.
"The subject was aware of the ethics law and chose to violate the law nonetheless," she said, later noting that it gave Lombardo an unwarranted advantage by giving voters the "improper and incorrect impression that the subject has been endorsed by a government agency by using government property to campaign."
During the hearing, Lombardo's attorney J. Colby Williams said the charges and proposed penalties were a "gross overreach" of the commission's authority.
Williams added that Lombardo did not violate state law because he neither "secured an unwarranted advantage" nor "benefited from the limited use of government property," noting that Sisolak's campaign also used images of Lombardo in uniform in attack ads.
"There is no proof in any of these stipulated facts, that these 34 postings, of the same four images, caused anyone to vote for Gov. Lombardo to give him a campaign contribution, or to provide him with any other benefit," Williams said.
Pushing back against Williams, Bassett said they limited their assessment of violations to only the time period for which the complaint was filed, even though there were other photos posted of the sheriff in uniform after they notified him of the investigation. Specifically, she said the investigation only took into account violations from or before September 2021 — when the complaint was filed.
"The election wasn't over until November 2022," Bassett said. "I know from my own review of social media yesterday, many more instances of the use of the photographs of the uniform and the badge."
Williams said that prior decisions from the commission addressed sheriffs making limited use of their uniforms and badges while running for re-election. But those instances are different than Lombardo using his sheriff's badge while running for a different partisan office, he said, adding that the photos only reiterate Lombardo's position as sheriff.
In response to a question from Moran about what kind of "unwarranted advantage" Lombardo received from using his uniform or badge during the election, Bassett said Lombardo had taken and used photos of himself in his sheriff's uniform specifically for the purpose of campaigning.
"So it's very different than someone going about their normal job ... or happen to be seen on the news. It's an extremely different circumstance than that," Bassett said.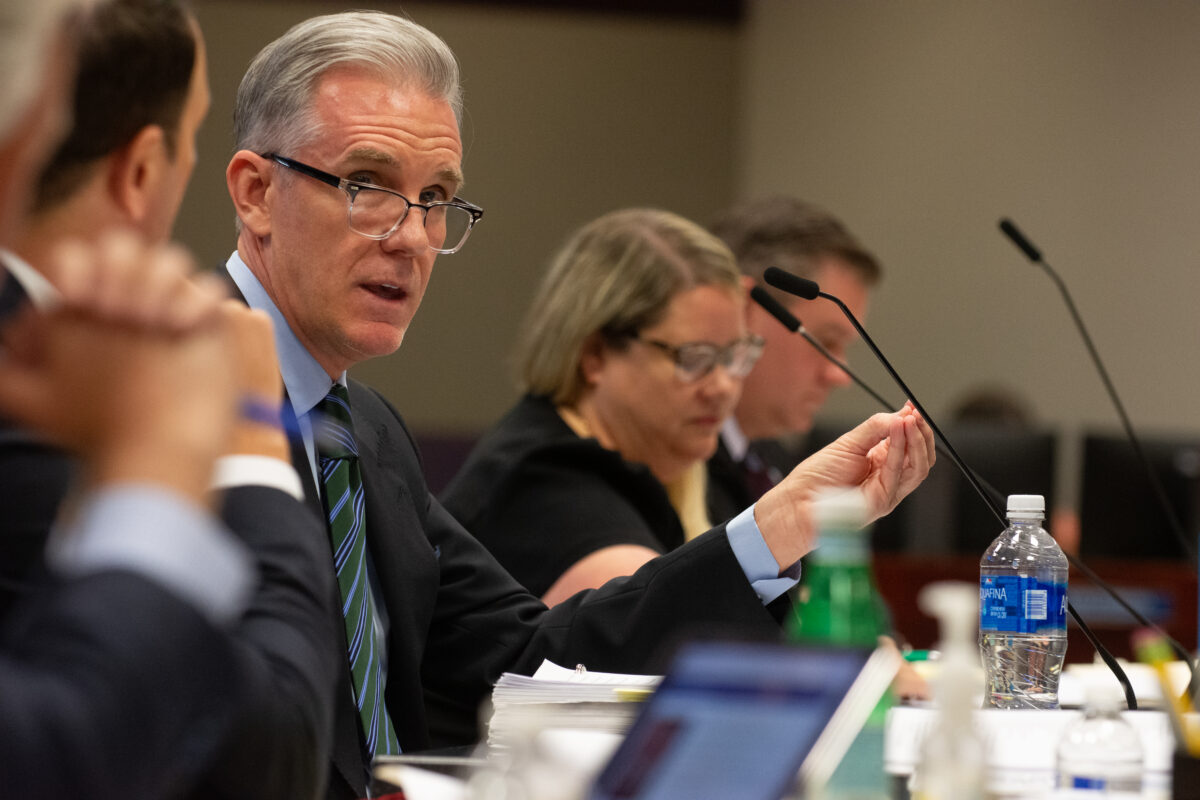 Two new appointments
The commission's decision arrived after Lombardo appointed Moran and Olsen to the commission.
Moran, a Democrat, previously served as the chairman of the Nevada Commission on Ethics under former Republican Gov. Jim Gibbons and was a member of the Nevada Board of Regents from 2017 to 2023.
Ahead of the hearing, Moran said Lombardo had intended to appoint him to the Ethics Commission with a term starting in October 2023, but the "unexpected resignation" of a commissioner led the governor to bump up his start date.
Moran is filling out the remainder of former Commissioner Damien Sheets' term. Sheets is an attorney who was appointed to the commission by Sisolak in January 2020 and resigned on May 17.
In a resignation letter obtained by The Nevada Independent, Sheets called the investigation into Lombardo "unacceptable" and wrote that though the commission is "supposed to investigate complaints without bias, prejudice, or preference, the Commission's recent actions have shown it has little desire to do so."
Moran said his connection with Lombardo was as a "professional acquaintance" and therefore did not affect his independent judgment and did not require disclosure or abstention from the matter involving Lombardo.
"I have known Gov. Lombardo in a professional or public capacity for a number of years, although none of my work directly involved him, either formerly as sheriff or presently as governor," Moran said. "I would categorize our current relationship as professional acquaintances rather than a personal friendship."
Previously, Olsen served as a Republican state senator in 2010 when he was appointed by the Clark County Commission to fill a seat vacated by Sen. Warren Hardy, who resigned to avoid conflicts presented by his job as a lobbyist. Olsen did not seek re-election.
He also addressed his connection to Lombardo, noting that he worked at the Las Vegas Metropolitan Police Department and though he was aware of who Lombardo was, he never worked with him.
"I would categorize our current relationship as former co-workers and professional acquaintances," Olsen said.
Though their terms began July 1, Lombardo's office announced the appointments on July 19.
"Personally and professionally, John and Stan both exemplify the core values of the commission, and I'm confident that they will dutifully serve their fellow Nevadans through their bipartisan service," Lombardo said in the press release.
Though the judgment hearing was originally scheduled for June 13, it was delayed multiple times. Commission Chair Kim Wallin granted a request from Lombardo's attorneys for an extension in June because the only commissioners available to weigh in on the matter were either Democrats or Sisolak appointees — details Lombardo's attorneys claimed as unfair.
"At a minimum, such an arrangement appears inconsistent with the Legislature's intent that the Commission's composition not be unduly balanced in favor of any one political party," read a filing from Lombardo's attorneys.
Wallin also granted another delay after the unexpected scheduling of a special session following the end of the 2023 legislative session that coincided with the date the rescheduled meeting was supposed to take place.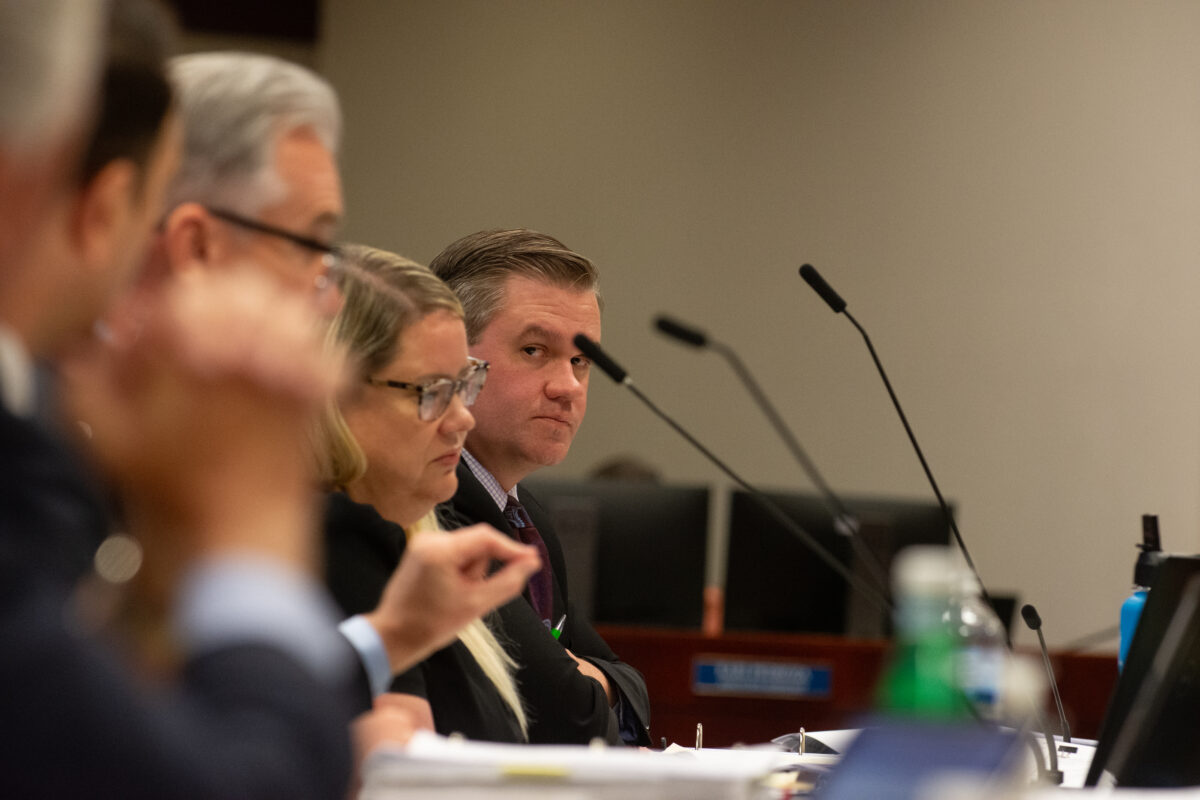 Past rulings
Ethics concerns around former or current law enforcement officers using their position to gain favor in elections is nothing new. During the last seven years, the commission has made at least four other ethics recommendations related to Nevada law enforcement using their badge or other accoutrements of office on the campaign trail.
Most recently, the commission investigated Henderson City Councilman Jim Seebock in late June for sending mailers to voters with photos of himself in his Las Vegas Metropolitan Police Department uniform when he was running for city council in February. The panel found there is sufficient cause for the commission to render an opinion on the matter, but a formal opinion has yet to be published.
In 2018, the commission reviewed a complaint revolving around then-Storey County Sheriff Gerald Antinoro wearing his uniform during debates and in campaign materials when he was running for re-election. The Ethics Commission ruled that Antinoro had not violated ethics laws, citing prior precedent and Antinoro's lack of knowledge on the rules and regulations.
In this decision, the commission noted an elected sheriff's use of official physical accoutrements during an election creates an "appearance of impropriety" and violates state ethics laws. The panel emphasized this point in a letter to the Nevada Sheriffs' and Chiefs' Association recommending the group inform its members of the Ethics Commission's position on the matter.
In 2016, the panel dismissed the same issues raised against then-Elko County Sheriff Jim Pitts, because state law does not explicitly prohibit an officer from using their uniform or badge during a campaign.
The Ethics Commission found then-Washoe County Sheriff Tim Kuzanek's use of his uniform and badge in his 2014 campaign provided visual endorsement and an unfair advantage. However, the commission did not punish Kuzanek because it determined his actions were not a willful violation of the law.
During the 2021 legislative session, then-assemblywoman and current state Sen. Robin Titus (R-Wellington) proposed AB218 in an attempt to clear up ambiguities in state statutes around law enforcement using accoutrements on the campaign trail. The bill would have allowed sheriffs to use badges and uniforms in campaigns, but died without receiving a vote.
This story was updated on Tuesday, July 25, 2023, at 5:18 p.m. to indicate that John Moran III is the grandson of former Clark County Sheriff John Moran. It was updated again at 7:35 p.m. to correct the commission's vote total and to note that one commissioner was precluded from voting. It was again updated at 8:59 p.m. to include a statement from Lombardo's attorneys. This story was updated on Wednesday, July 26, 2023 at 11:50 a.m. to reflect the proposed fine of $1.6 million was significantly larger than the second largest fine of $15,000. Updated again at 2:43 p.m. to clarify Brian Duffrin was also precluded from voting because he was on the review panel on this case.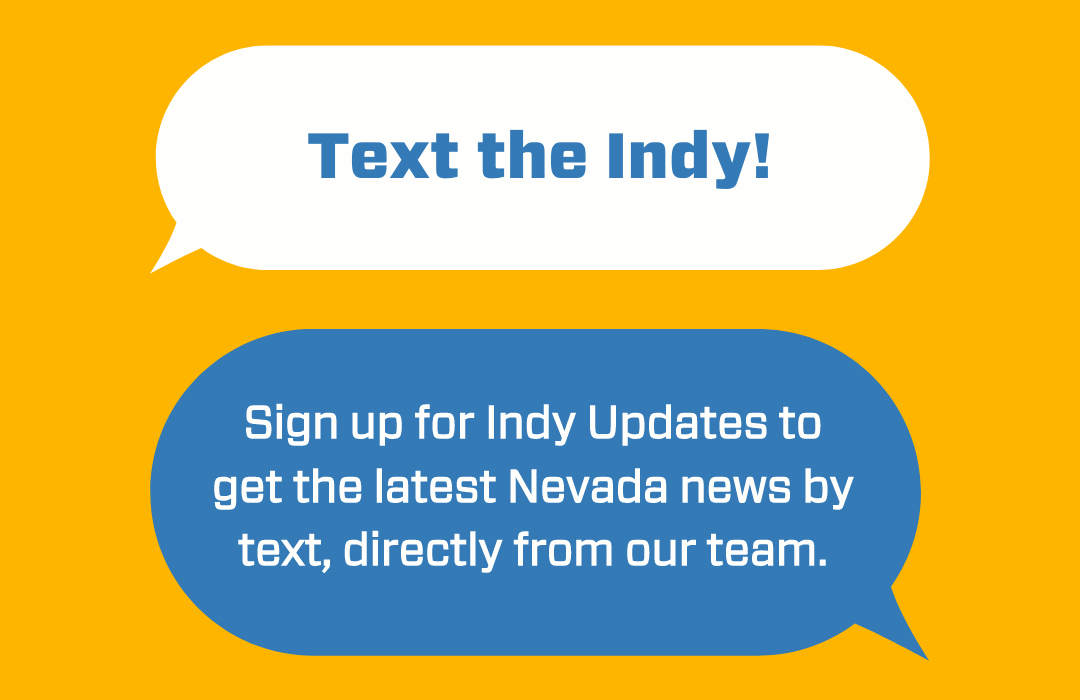 Featured Videos