An expanding footprint: How downtown Las Vegas continues to evolve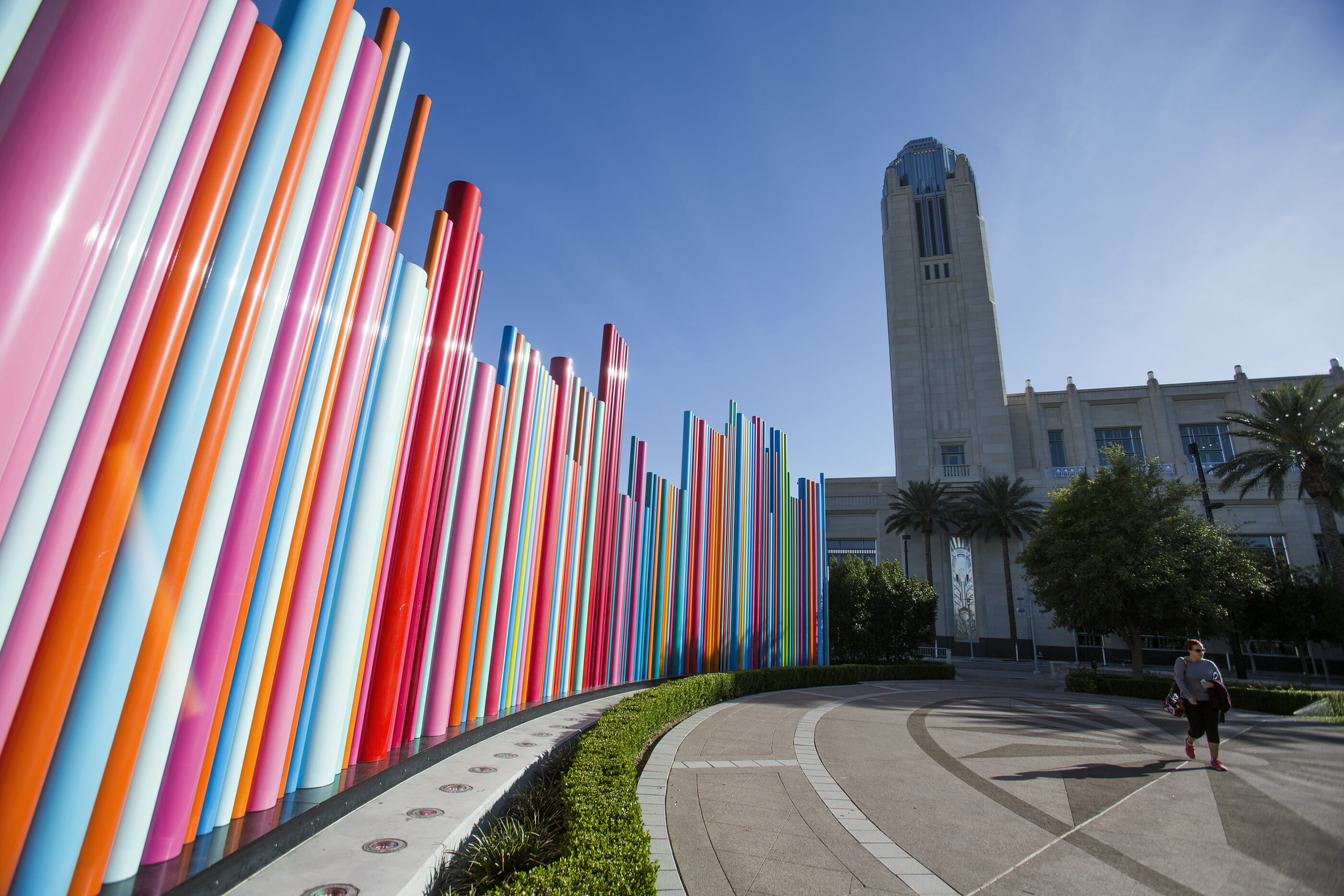 When Marc Abelman spotted a Jaguar and Rolls-Royce parked outside an Arts District coffee shop recently, he shuddered a bit on the inside.
"There goes the neighborhood," he told his wife.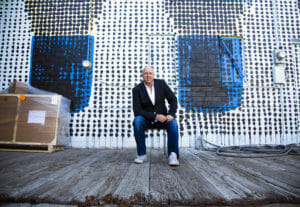 He was mostly kidding, but the sight was more proof of change sweeping across the downtown blocks dedicated to the community's arts scene. These days construction equipment whirs, groans and beeps in the area bounded roughly by Hoover Avenue to the north, Colorado Avenue to the south, Commerce Street to the west and 4th Street to the east. The activity is giving way to new coffee shops, restaurants, a hair salon and even a marijuana dispensary — some within refurbished buildings and others in new builds.
Abelman and his wife, Jill, own InsideStyle, an interior design firm on South Main Street. They chose the location based on its proximity to artists, but when they moved in six years ago, the foot and vehicle traffic was significantly smaller. Now, it's not uncommon to find people browsing Arts District shops on a Sunday evening. The area even played host to a group of Centennial High School students earlier this week who were touring art galleries and viewing outdoor sculptures.
"Is it the Arts District's time?" Abelman pondered aloud, while bicycling through the neighborhood recently. "It is."
But while growth brings excitement and energy to the Arts District, it also creates a degree of fear among longtime business owners: Will revitalization mar the area's character?
"Gentrification is inevitable," said Abelman, former president of an Arts District neighborhood association. The key, he said, lies in how growth is managed. "That's where we're at right now."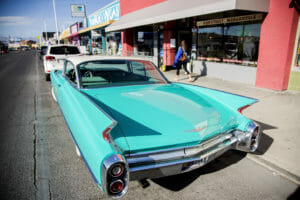 A decade ago — before the recession battered Southern Nevada and before a visionary named Tony Hsieh entered the downtown realm — a construction wave in the Arts District may have seemed unthinkable. But then 2012 happened.
Declared the "Year of Las Vegas," that's when several downtown anchors opened, including the Smith Center for the Performing Arts, the Mob Museum and a new Las Vegas City Hall. It's also the same year that Hsieh, the CEO of online clothing and shoe retailer Zappos, founded the Downtown Project and injected $350 million into an ambitious effort to transform the city's drab urban core.
Five years later, a host of new businesses and residents have made downtown Las Vegas home. But city officials and business leaders alike say the transformation is far from complete — especially given downtown's expanding footprint.
The Downtown Project effect
With a combined $87, newlyweds Carolyn and Oscar Goodman bid goodbye to Philadelphia and moved to Las Vegas in 1964. Most of the city's roads didn't exist back then and, of those that did, many were dirt.
"Downtown Las Vegas was alive and well," now-Mayor Carolyn Goodman said, describing her initial impression of the city. "In fact, that's all there was."
Fast forward several decades. Oscar Goodman, an attorney who famously represented Las Vegas mobsters, became the city's mayor in 1999, bringing his larger-than-life personality to the leadership role. Often flanked by showgirls and holding a martini at news conferences, Oscar Goodman continually professed his love for the city. But downtown's image had changed dramatically since the couple first moved to town. As the Las Vegas Strip grew, downtown faded from the limelight and became more associated with urban problems such as drugs, prostitution and opportunistic crimes.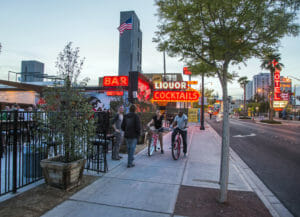 As Goodman's three-term run as mayor neared its end, Hsieh approached him with the idea to move his company to the old City Hall building downtown. The move actually happened by the time Carolyn Goodman had succeeded her husband as the city's mayor.
Carolyn Goodman credits her husband with planting the seeds for downtown's renaissance, but she said Hsieh's bold plan — and personal investment — to revitalize the area served as a game changer. He invested $200 million in real estate, $50 million in small businesses, $50 million in education and $50 million in technology startups.
"I'm sure there would have been other things, but he was really the catalyst," she said recently. "He was the new boy in the country talking about millennials … and creating happiness, which really began to resonate with developers around the country."
Hsieh invested a portion of the technology money in VTF Capital, a separate venture launched in tandem with Downtown Project, that focuses on commerce-related companies. The company website notes that, as of January, roughly 10 percent of its investments are based in Las Vegas. It also explains why that figure isn't higher:
"If we can do for Las Vegas what Brad Feld did for Boulder, everyone wins. And we can't do that by only investing in companies with Las Vegas ties." (Feld is a venture capitalist known for helping bolster the tech startup scene in Boulder, Colo.)
Even so, there's no denying the Downtown Project's effect in Las Vegas, particularly along East Fremont Street and neighboring blocks. Walk through that corridor any weekend night, and the bars and restaurants are buzzing with patrons.
An economic impact report produced by local firm Applied Analysis earlier this year estimated that the Downtown Project created or supported 1,571 permanent jobs. Its annual economic output: $209.2 million.
In addition, the Downtown Project spurred 407 ongoing or completed construction projects and 61 small business investments in Las Vegas, according to the report.
And there's room for growth: The Downtown Project owns 45 acres downtown but has only developed about half of that, said Michael Downs, who heads its operations. He expects revitalization efforts to continue along East Fremont Street, with involvement from local and national developers.
As the years progressed and the Hsieh-backed initiative gained steam, the pendulum shifted and the Downtown Project began fielding inquiries from people interested in opening businesses or investing in the area, Downs said.
"They see the momentum that's happening," he said. "They still believe it's a low barrier of entry versus what you see in Portland or Seattle or Los Angeles."
But that doesn't mean every business thrives. Downtown has seen its fair share of enterprises shutter in recent years, including a number of restaurants that opened with considerable fanfare. (For instance, Glutton, located on Carson Avenue, closed its doors in December, followed by Itsy Bitsy Ramen and Whisky in January. The latter occupied space on the ground floor of the Ogden a high-rise tower at the corner of Las Vegas Boulevard and Ogden Avenue.)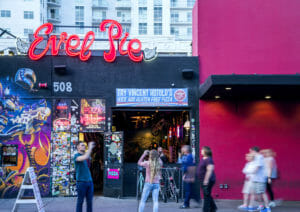 Seth Schorr, who chairs the communications committee for the Downtown Las Vegas Alliance, blames business failures on bad concepts more than anything else. He's speaking from experience: Schorr and his business partners created a fondue-style restaurant called F. Pigalle at 508 Fremont St. It didn't last very long.
"What we learned is fondue is a little too specific," said Schorr, who's chairman of the Downtown Grand hotel and casino. "It wasn't a great concept. It wasn't a great brand. That's not downtown's fault. It's my fault."
Schorr and his partners have since opened Evel Pie — a pizza joint named after daredevil Evel Knievel — in that space, which he said has proven to be a better fit. And when a business succeeds, that bodes well for its neighbors, too.
"There's no question that everybody roots for each other," he said, referring to the downtown business community. "We realize that if the person next door is doing well, it drives traffic."
Downtown casinos, however, may be the area's biggest business success story in recent years. The Gaming Control Board in January announced that downtown casinos posted the largest year-over-year total revenue gain — 6.1 percent — in 2016 compared with the state's other gaming markets. Downtown casinos' gaming revenue alone was up nearly 4 percent in 2016 as well.
The influx of tourists migrating to downtown speaks volumes about the area's revitalization efforts, said Derek Stevens, owner and CEO of the Golden Gate and D Las Vegas properties.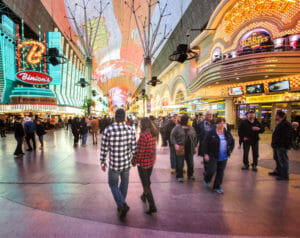 "Now there's just a lot of sweat equity and passion downtown," he said.
Stevens hopes to add to downtown's entertainment offerings. In August 2015, he purchased the Las Vegas Club and plans to demolish the tired-looking building and construct a new hotel and casino in its place. The project is in the design phase right now, he said.
"That's a huge deal," Schorr said. "For somebody at this point to build a casino-resort from scratch shows a huge level of confidence downtown."
Residential woes and opportunities
As downtown experienced its growth spurt the last few years, one crucial element lagged behind — housing. As city planners and private investors look toward the future, they're focused on increasing the number of residential units.
Downs acknowledges that if the Downtown Project made any errors along the way, it was not moving ahead fast enough with residential projects. "We have a significant amount of demand for residential downtown, and we don't have enough inventory," he said.
Downtown boasts about 11,000 multi-family units, which includes rentals and condos, said Bill Arent, the city's economic and urban development director. The city hopes to add 1,500 housing units by 2022 — or roughly 300 per year, he said.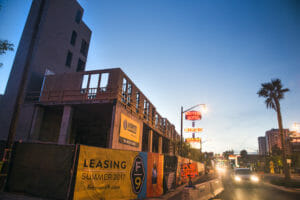 There are several projects already underway downtown. One is Fremont 9, a five-story building next to Atomic Liquors that will feature 231 apartments, 15,000 square feet of retail space on the first floor, a resident lounge and resort-style pool. The Downtown Project and the Wolff Company, an Arizona-based real estate investment firm, have partnered to develop Fremont 9, which is expected to open later this year.
The Downtown Project also is remodeling a 15-unit complex near Bridger Avenue and 10th Street as well as talking to other developers about multi-family housing projects, Downs said.
City officials have been fielding inquiries from developers interested in constructing mid- or low-rise apartment buildings, Arent said. Many of the proposals feature three-to eight-story buildings — a far cry from the elaborate towers pitched before the recession, many of which never came to fruition.
The growing interest in downtown housing comes at a time when some rental properties are being converted to condominiums. Later this month, the Juhl — a loft-style community with 344 residences — will begin selling some units, said Uri Vaknin, a partner at KRE Capital, whose company purchased Juhl as part of joint venture called DK Las Vegas. Prices will range from $160,000 to just under $1 million, he said.
But the group is taking a more staggered approach to selling the units. As leases expire and tenants move out, the owners plan to renovate those units and put them up for sale, Vaknin said.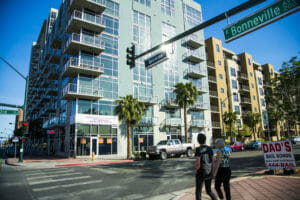 "We're doing a very strategic and thoughtful approach to bringing these condos to market," he said. "We will only have a handful of vacant condos for sale at any time."
Continued excitement about downtown's transformation and expanded financing options for condo buyers spurred the decision to sell residential units at the Juhl, Vaknin said.
"There's just so much going on," he said.
The group also owns the Ogden. Sixty-four percent of the tower's units have been sold, and only 10 percent are rentals, Vaknin said. The remaining units are either undergoing renovations or are up for sale.
A collection of neighborhoods
So what do city leaders and business leaders hope to see downtown in another five years?
Many say they envision downtown growth continuing in areas outside the Fremont corridor, such as the Arts District, Symphony Park, the Las Vegas Medical District and land near Cashman Center. The city's 355-page master plan, which charts a vision through 2045, identifies those areas as ones ripe with opportunity.
The planning document looks at an area totaling 13.2 square miles, which is more than four times the size of the study area for the previous master plan.
With UNLV planning to plant its medical school building across from University Medical Center, city officials expect that area to flourish in the coming years. And the medical district growth could spill over into nearby Symphony Park, which is home to the Cleveland Clinic Lou Ruvo Center for Brain Health, the Smith Center and Discovery Children's Museum, Arent said.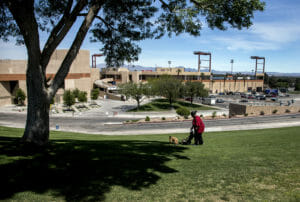 The city recently dissolved a development agreement with Newland Communities, the original master development consultant for Symphony Park. The move essentially frees up the city to work with other developers interested in that area.
"Newland was sort of stuck," Mayor Carolyn Goodman said. "They wanted to go ahead, but they had all these parcels and the council said, 'You know, we're ready to start moving on.'... They have a parcel and they have an open-ended time lapse with that, but we have taken back the other parcels."
Arent said the city is talking to developers about creating a mixed-use medical campus at Symphony Park that could potentially house a clinical building for the UNLV medical school as well as office space, senior or assisted-living residences and a non-gaming hotel.
The Las Vegas Convention and Visitors Authority agreed last month to transfer management of Cashman Center — with the exception of the baseball field — over to the city of Las Vegas. The move allows the city to ramp up its efforts to pursue redevelopment options for that site. The Las Vegas 51s, the triple-A affiliate of the New York Mets, have a lease at Cashman Field through 2022, but the team has long discussed moving to Summerlin.
Carolyn Goodman hasn't given up her crusade to lure a professional sports team to the Cashman area. Asked what she envisions there, she didn't hesitate to respond: "I definitely see Cashman built out with major league sports."
And then the mayor threw out the idea of adding sports medicine-oriented businesses to the area, which she said could provide a nice synergy with the forthcoming medical school.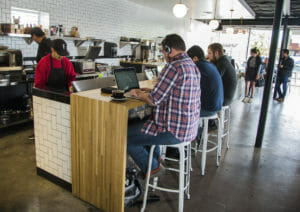 Given the expected change in these downtown neighborhoods, city officials have been examining transportation options, including a "circulator shuttle," that would link the areas.
"It's going to connect all these different districts together to make it easy for tourists and locals to experience all of downtown Las Vegas — not just one block," Schorr said.
Meanwhile, Abelman welcomes the organic growth taking shape in the Arts District, fueled by a diverse set of property owners. He just hopes the area retains some of its artistic character, such as the murals decorating building walls, in the process.
Abelman doesn't want to see his beloved Arts District become a homogenized, sterile version of its former self. He likens the area to fancy cheese, which may put off a repugnant odor but contains some of the richest flavor profiles.
"The beauty of it is that it's raw," he said.
Feature photo caption: Pipe Dream by artist Tim Bavington on display at The Smith Center for the Performing Arts on Tuesday, April 4, 2017. Photo by Jeff Scheid.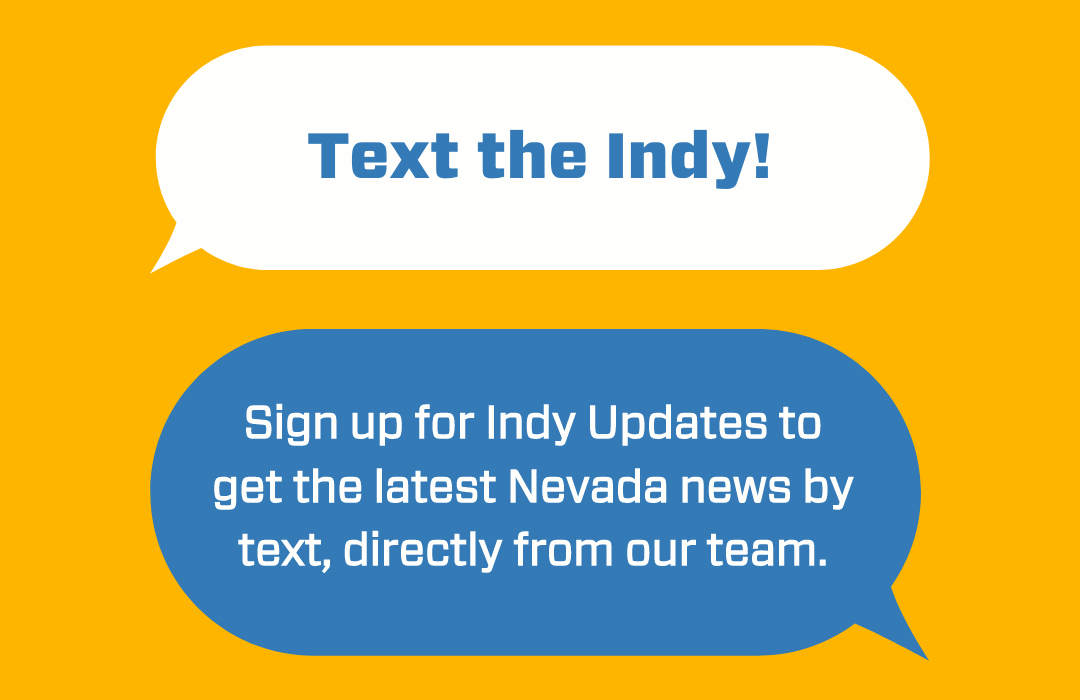 Featured Videos