Extended bonding authority could breathe new life into old schools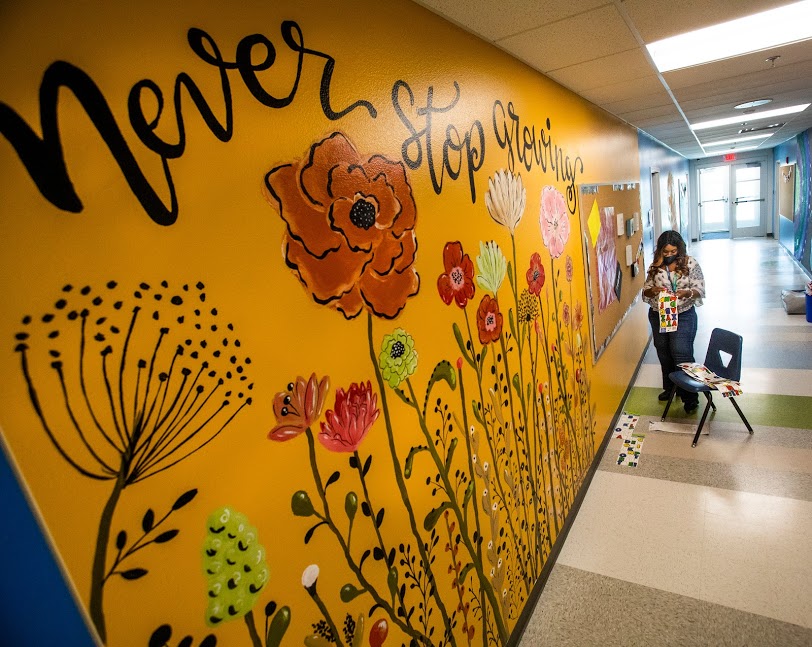 Goodbye, portable classrooms. Goodbye, aging plumbing, air conditioning and roofing systems.
Myrtle Tate Elementary School will celebrate its 50th birthday this year by welcoming students to a new building. The northeast Las Vegas school — home of the Tigers — has traded its drab, largely windowless building for a sleek, modern upgrade that features plenty of natural light, colorful murals, improved technology and more wiggle room.
The $32 million project left some teachers in tears when they toured the new building last month. After a disrupted year and a half of learning, during which time COVID-19 tore through the school's surrounding lower-income community, the new building offers a fresh start despite the pandemic still lingering in the background.
"When you look around town, you see the new schools being built in the new subdivisions … and charter schools being built in some of the more affluent areas," said Sarah Popek, principal of Myrtle Tate Elementary School. "And our students deserve the same opportunities."
Myrtle Tate is one of five replacement schools opening for the 2021-2022 academic year, all financed as part of the Clark County School District's 2015 Capital Improvement Program. Two new schools — Hannah Marie Brown Elementary School and Barry and June Gunderson Middle School — are opening this year in southwest Las Vegas and Henderson as well.
The Las Vegas Valley is no stranger to school openings. Decades of growth have meant a steady drumbeat of bonding campaigns, architectural renderings, construction sites, school-naming committees and ribbon-cutting ceremonies before the yellow buses arrive and backpack-toting students pour into the hallways.
The cycle is poised to continue: At the end of the recent legislative session, state lawmakers approved SB450, which grants school districts the authority to issue general obligation bonds without voter approval for a second 10-year period. The period will begin in 2025 after the district's current bonding authority ends.
District leaders hailed the bill's passage and approval by the governor as a victory that will enable the school system to continue chipping away at the $10.8 billion worth of needs identified in the 2015 Capital Improvement Program. But the bond rollover also signals a pivot in the district's overall capital improvement strategy.
After years of keeping up with the region's suburban sprawl, the district is eyeing more projects like that of Myrtle Tate Elementary School. Modernizing and replacing aging schools in older neighborhoods represents a different type of academic equity.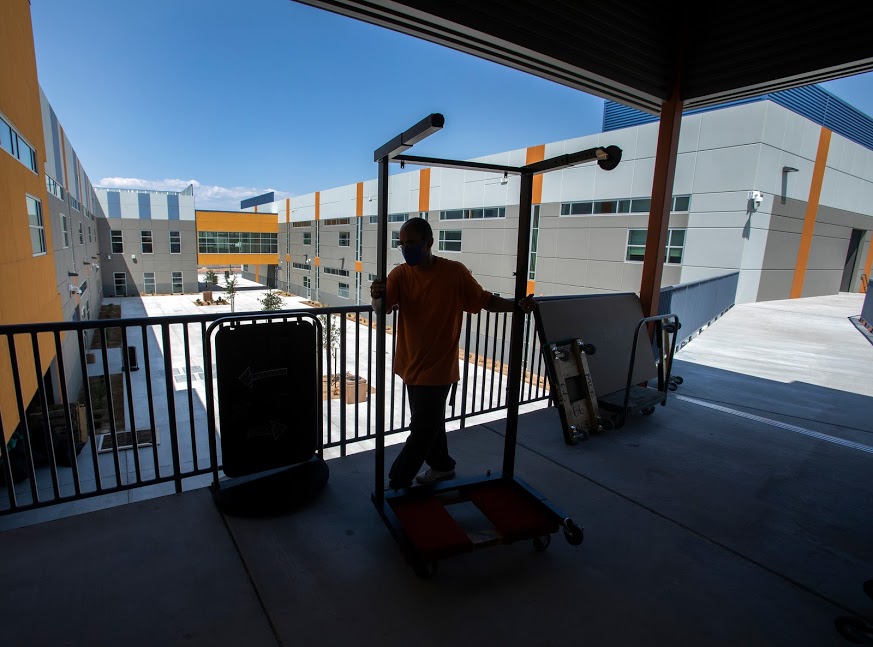 ---
In 1974, Clark County voters gave the green light to a $39.4 million construction program that resulted in eight new schools and improvements or additions at multiple other buildings. Every few years after that, voters granted approval for another round of construction projects.
Legislation approved in 1997 substantially changed the game for financing school construction projects by providing more revenue sources. The next year, in 1998, Clark County voters approved a mammoth capital improvement program funded by real estate transfer taxes, hotel room taxes and property taxes. The 10-year program generated $4.9 billion in bond proceeds, paving the way for 120 new schools. Almost 60 percent of that money went toward building new schools as opposed to replacement schools or modernization projects.
As those funds began to expire, the Legislature granted an extension that, without needing voter approval, created the 2015 Capital Improvement Program. It's expected to funnel another $4.1 billion toward construction projects over the decade. Some of those projects are already complete. Others are underway.
The problem, however, is a lengthy to-do list. The Clark County School District estimates it needs $10.8 billion to accomplish modernization projects, build new schools, replace old ones, construct additions, update equipment and pay for bus satellites.
That's how district officials found themselves lobbying for the passage of SB450 this year.
"We were at the execution phase of all these projects. We weren't planning new projects," said Jeff Wagner, the district's chief of facilities, while referring to the 2015 Capital Improvement Program. "We're all aware we have a huge need, so [the bond rollover] is going to give us, really for the first time, the opportunity to do some strong strategic, long-term planning for the district and hopefully put the district in a much better place for facilities."
On average, Clark County schools are at 99.8 percent capacity and more than half — 59 percent — of schools are at least 20 years old, according to a presentation the district gave at the Legislature. Sixteen percent of schools are more than 50 years old.
Facilities staff plan to bring forward a 2025 Capital Improvement Plan, which will include options for prioritization, this fall, Wagner said. But a spreadsheet shared with lawmakers outlines the projects that SB450 could help bring to fruition.
Among them: 13 new schools, 32 replacement schools, two phased replacement schools and four building additions. The estimated cost for those projects is $3.39 billion.
Wagner said the bond rollover is expected to generate $2.9 billion, which he called a conservative estimate. Prior bond initiatives, he said, have ended up generating more money than originally calculated.
"The 2015 program was very successful at addressing capacity needs, especially at the elementary level," he said. "This is the appropriate time in our I guess collective history to begin aggressively renewing that capital resource, so schools that were built in the 50s, 60s, even the early 70s have lived their useful life."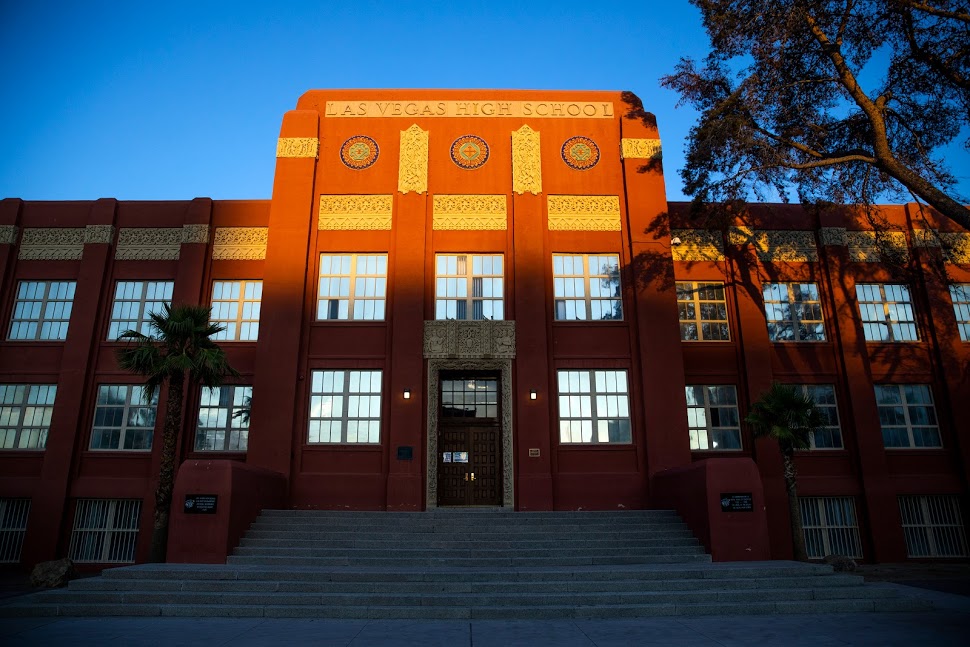 ---
The stately red-brick building commands attention in downtown Las Vegas. With Art Deco-style touches and palm trees flanking its entrance, Las Vegas Academy of the Arts conveys a Hollywood-esque representation of schools.
But age-related problems come with its beauty. Built in 1930, it was the original site of Las Vegas High School. Principal Scott Walker, who is entering his 11th year leading the now-magnet school, rattles off the issues: The air-conditioning system either freezes students and staff or provides no heat respite at all. There's only an on-off switch. Plumbing failures have created flooding in the outdoor courtyard and sewage smells inside. Hallways are dark and ceilings are low. There are no ramps or elevators. And the occasional passerby wanders onto the campus, which includes the main building, gymnasium, theaters and other smaller, detached buildings.
Las Vegas Academy students don't complain much, he said. They've accepted the quirks of the old school.
"Our kids deal," he said. "They know that there might be a day that's too hot or too cold in here."
The bond rollover, however, could grant the school what Walker sees as long-overdue updates. Las Vegas Academy of the Arts is listed as one of the buildings slated for a phased replacement. But the replacement won't involve any bulldozing.
The main academic building and gymnasium are listed on the National Register of Historic Places.
A handful of years ago, students, alumni, parents, staff and community members came together to talk about how to upgrade the campus without sacrificing any historic integrity, Walker said. Several architecture firms proposed plans, which the group mulled. Ultimately, one firm created a model rendering, which sits in the school's library to this day.
Blue figurines in the model represent new or modernized buildings, excluding the main academic building and gymnasium, which would be untouched given their historic status. A new six-story building, which would house a student union, anchors the proposed changes.
For a while, Walker never thought he would see the model — or something like it — come to life. But the bond rollover has given him more optimism.
"I still think it's ideal," he said, referring to the architectural model. "However, I'll take what we can get. I'm so thrilled that this passed because I'm hoping that I could at least see it before I retire."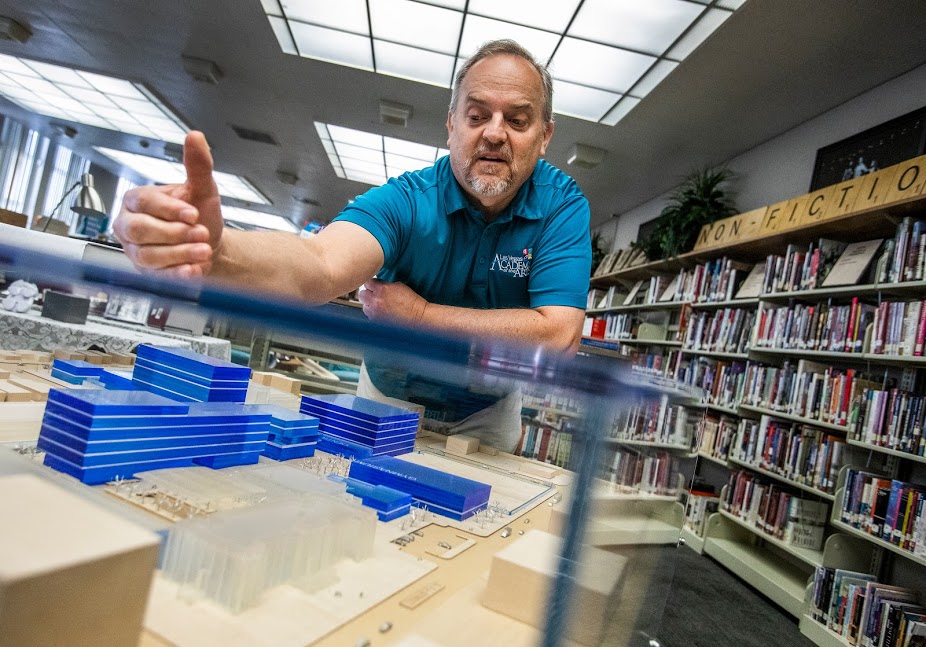 His enthusiasm for an upgraded campus isn't solely about aesthetics or creature comforts. Walker said it could allow him to increase enrollment to 2,200 — up from roughly 1,700 — allowing more students the chance to attend the arts magnet school. He also envisions more laboratories for engineering and technology-related courses, giving his students a boost if they want to enter production-oriented jobs.
The possibilities, he said, seem endless.
"I can imagine," he said, his voice trailing off.
It's a situation that educators are experiencing five miles away at Myrtle Tate Elementary School. Last week, they were busy unpacking boxes and injecting their rooms with colorful decorations, wondering what the new year in a new building would bring.
Popek, the school's principal, said she plans to closely monitor student data to see whether the upgraded environment leads to improved academics.
Ginger Stevens, the music teacher, has observed a different potential ripple-effect: landscaping and home improvements in the nearby neighborhood. Her own four kids attended the original Myrtle Tate Elementary School. They took photos outside before it was razed to make way for the new building.
But Stevens — surrounded by a sea of bass bars and xylophones — said she is already feeling at home in the new building.
"My storage is ginormous," she said. "And I'm filling it up really quickly."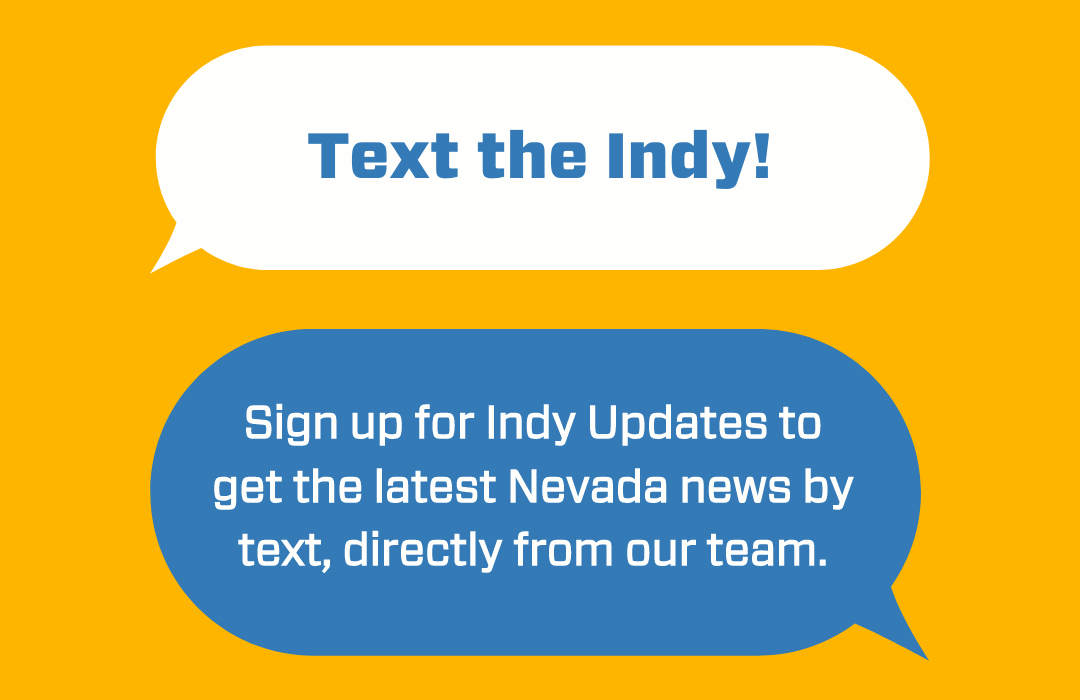 Featured Videos
Comment Policy (updated 4/20/2021): Please keep your comments civil. We reserve the right to delete comments or ban users who engage in personal attacks, use an excess of profanity, make verifiably false statements or are otherwise nasty. Comments that contain links must be approved by admin.