Extremism, with roots in the West, casts unease over Inauguration Day festivities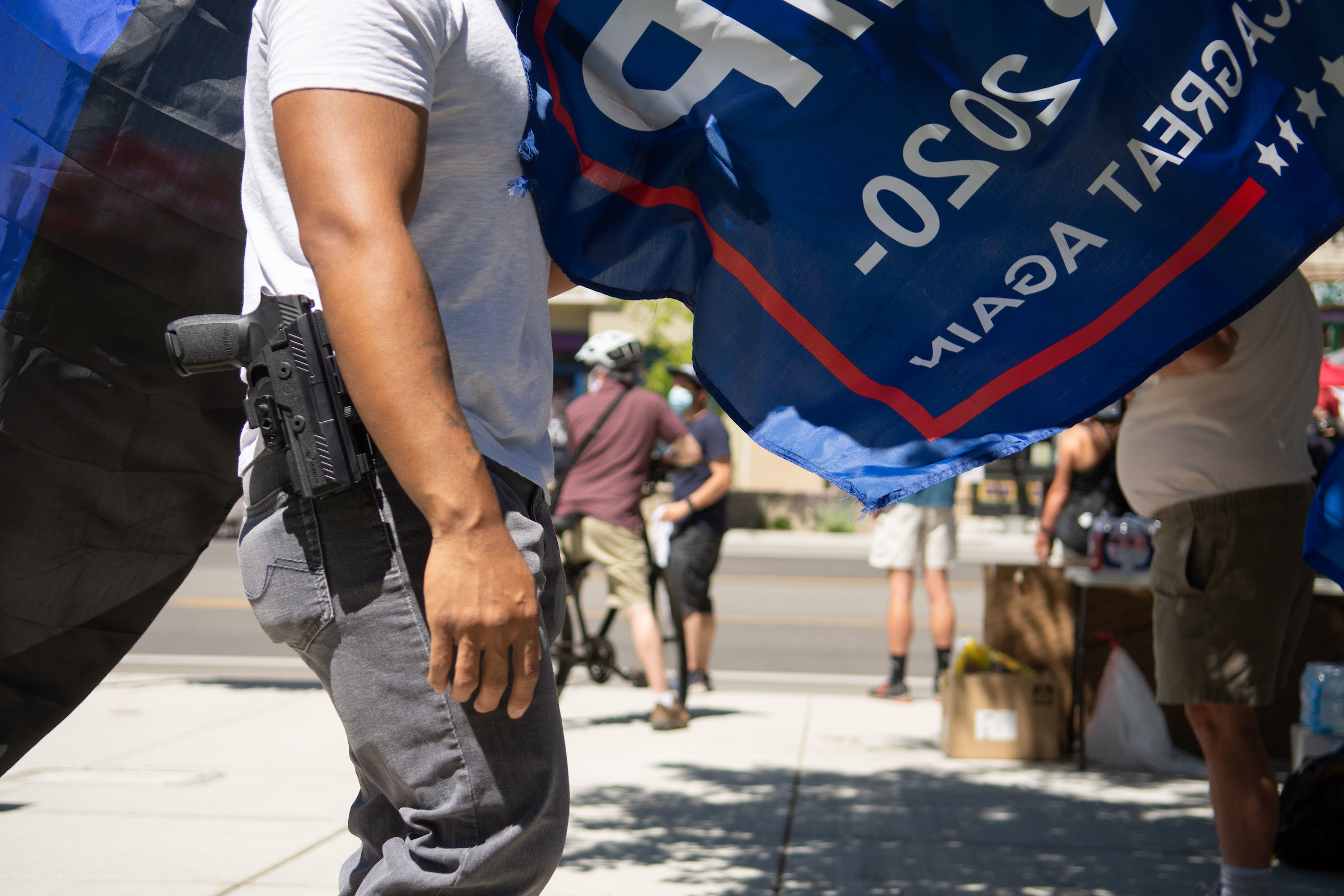 The seeds of discontent had been building for some time in the United States.
Then 2020 happened, bringing a pandemic, protests for racial equality and a presidential election, which exposed even deeper fault lines within the American populace. Brewing alongside increasingly partisan social media posts and terse political conversations among loved ones was an extremist movement.
In May, armed protesters in military fatigues gathered at the Governor's Mansion to protest COVID-19 restrictions. In August, counter-protesters, some of them armed with military-style weapons, outnumbered protesters at a peaceful Black Lives Matter protest in Minden. Members of extremist groups appeared at pro-Trump campaign rallies and outside of the Legislature.
Then, when election results didn't tip in President Donald Trump's favor, extremist groups, egged on by politicians and Trump himself, embraced false claims about voting fraud.
It culminated in a violent insurrection on hallowed grounds — the U.S. Capitol, where federal lawmakers were certifying the presidential election results.
The chaos transfixed the world's eyes on the United States, which had not seen a breach of the Capitol in more than two centuries. Now, 20,000-some National Guard troops have descended upon Washington, D.C, ahead of President-elect Joe Biden's inauguration on Wednesday.
Extremism is not new to this moment, and it is not isolated to one region of the country. In fact, FBI officials have warned of armed protests in all 50 state capitals ahead of and on Inauguration Day. But the West, including Nevada, has long been a hot spot for anti-government extremism that, especially in recent years, has often used violent rhetoric and urged on armed militias.
The images pouring out of the Capitol had echoes of armed confrontations seen in the West — and Nevada — throughout 2020 and during the past several years. In Nevada and elsewhere, these conflicts, like the Bundy Ranch standoff in 2014, have often centered on disputes over federal public land.
"The West has the preponderance of public lands in the country and that is the anchor point of the federal government," said Leisl Carr Childers, a historian at Colorado State University. "And Westerners experience federal oversight more closely than any other group of Americans."
But if some roots of extremism can be traced back to the West, the expressions of extremism in Nevada over the past year echoed the nation's politics, centering around COVID-19 restrictions, Black Lives Matter protests in the wake of police killings and false claims of election fraud.
Political leaders in Nye County and Elko County, both hot spots for public lands disputes with the federal government, have protested state COVID-19 restrictions, spread conspiracy theories about the insurrection at the Capitol and challenged the election results, perpetuating the disinformation that has provoked many far-right extremists to take action.
Mark Pitcavage, a senior research fellow at the Anti-Defamation League, said several factors contributed to right-wing extremist groups having a more visible presence across the country in 2020.
These groups, typically aligned against the federal government, embraced President Trump and often turned their ire toward local and state officials, particularly governors. He said 2020 offered a series of events that "provided a lot of opportunities for right-wing extremists to act out." Then came the election, in which Trump and his supporters purposefully sowed doubt in the election.
"The ether was filled with claims that this upcoming election was going to be fraudulent — that there was going to be mass fraud," Pitcavage said in an interview last week.
The series of events that primed extremists in 2020 played out in every region of the U.S. Still, Pitcavage said, it was "not a coincidence that, of the statehouses stormed in 2020, the West had two of them."
A shifting rebellion
When pro-Trump supporters stormed the Capitol, observers who study the West were both surprised and not. Armed militiamen had confronted law enforcement here in the recent past, despite Nevada's Constitution forbidding private militia groups.
.The insurrection at the Capitol, a public symbol on public land, looked similar to the occupation of the Malheur National Wildlife Refuge in Oregon five years earlier. The takeover of the Oregon refuge, led by Ammon Bundy and aided by militiamen, was an apex of simmering public lands feuds across the West, including the armed Bundy Ranch standoff outside Las Vegas in 2014.
But James Skillen, an associate professor at Calvin University and the author of "This Land is My Land: Rebellion in the West," saw those incidents as the culmination of something greater.
When he watched the Bundy Ranch standoff unfold, his questions were less about the rancher, Cliven Bundy, who illegally grazed cattle on public land and was at the center of the dispute. They focused on a Fox News pundit, born in New York, who likely knew little about grazing fees.
Skillen remembers asking: "Why is Sean Hannity so supportive? Why is he tripping over himself to think that Cliven Bundy is the most stand-up person?"
In the 1970s, public land disputes began flaring up in Nevada as a movement often referred to as the Sagebrush Rebellion took hold across the rural West.
Federal public land comprises about 85 percent of the state's land mass with roughly 67 percent of the state managed by one agency, the Bureau of Land Management, tasked with balancing economic activity and conservation on public land. As a result, the federal government plays an outsized role, especially in the rural West, over everything from grazing cattle to mining for gold.
The Sagebrush Rebellion, which came a few years after Congress passed legislation that aimed to protect more land for conservation and wildlife, sought to transfer federal public land to the states, a legally complicated and dubious task. At the request of ranchers and local politicians, state lawmakers, including in Nevada, passed legislation in support of the cause.
At the time, the Sagebrush Rebellion was a largely regional movement, Skillen said. There was no Twitter and few think tanks. Then things changed.
"What changes dramatically, already by the 1990s and then today," he said, "is the unrest that we've seen is no longer just regional and it's also no longer really just about land and resources. Those challenging the federal government are a coalition of people with really diverse interests."
In 2014, the group that assembled in Bunkerville — about 80 miles northeast of Las Vegas — proved that point. The people who showed up supporting Bundy, some bearing arms, didn't just come from Nevada or neighboring Arizona and Utah. Some traveled thousands of miles from New England, galvanized by an anti-government mission in a very different locale.
That's what made the Bundy standoff such a groundbreaking event, said Cary Underwood, director of the Southern Nevada Counter Terrorism Center.
"For the first time that I can remember in this, you saw a surge of militia adherence or extremist followers to one common rallying event," he said. "They demonstrated their ability to communicate across militia groups."
Extremism in the United States exists in many forms, with certain ideologies waxing and waning — but not completely disappearing — based on current events. But anti-government and racially motivated extremism, two components that live under a broad umbrella of extremism ideologies, account for a large share of domestic terrorism threats, according to the FBI.
"Racially motivated violent extremists over recent years have been responsible for the most lethal activity in the U.S.," FBI director Christopher Wray said during a House Homeland Security committee hearing in September. "Now this year, the domestic terrorism, lethal attacks we've had have, I think, all fit in the category of anti-government, anti-authority, which covers everything from anarchist violent extremists to militia types. We don't really think in terms of left, right."
To Skillen, the Bundy standoff and the Malheur occupation signified that anti-government groups were increasingly organizing around similar causes, something he saw play out again when he watched armed Trump supporters storm the Capitol earlier this month.
"Ammon Bundy isn't talking about land issues anymore," Skillen said. "He's stopping high school football games over mask and social distancing requirements."
The role of politicians
Scholars say political rhetoric, amplified during a bitter election cycle, monthslong pandemic and shaky economy, has fanned the flames of extremism.
"I blame politicians more than social media," said Arie Perliger, author of "American Zealots: Inside Right-Wing Domestic Terrorism" and a professor at the University of Massachusetts Lowell. "When the president of the United States mentioned or embraced the Proud Boys in front of an audience of 120 million people in a presidential debate, that's the problem."
Even Senate Majority Leader Mitch McConnell has assigned Trump some blame for the Capitol siege. On the eve of President-elect Joe Biden's inauguration, the Republican senator from Kentucky said, "The mob was fed lies. They were provoked by the president and other powerful people."
Trump and his allies weren't the only purveyors of such rhetoric.
Local elected officials and political leaders, including former Nevada Attorney General and gubernatorial candidate Adam Laxalt, have spread false claims that the election was stolen. Others have perpetuated conspiracy theories about COVID-19 rather than debunked them.
The Capitol Hill violence, which disrupted the peaceful transition of power, wasn't enough to stem the tide of inflammatory rhetoric.
One day after the insurrection in Washington, D.C., Assemblyman John Ellison, a Republican who represents Elko County, said the rioters were not Trump supporters.
"They were Antifa — people dressed up as Trump supporters… They've got it on video," he said in a Battle Born Media Networks interview. "It's not about who wins an election but who steals the election. There will never be another free election in this country again if they don't do something."
Meanwhile, a letter written by the Nye County Republican Party chairman, Chris Zimmerman, made national headlines, given that it stokes more false claims about the election. "Let me be clear: Trump will be president for another four years," the message posted online Jan. 8 said. "Biden will not be president."
Then, last week, the Nevada GOP tweeted that Democratic Attorney General Aaron Ford was "complicit in stealing the voice of 130,000 voters in our state," suggesting widespread election fraud.
Political leaders across the U.S., experts said, have created an atmosphere to prime supporters for extreme actions, and in some cases, failed to rebuke groups that have threatened violence.
Pitcavage said politicians bear "tremendous amount of responsibility."
"If despite all of the facts, all of the complete lack of evidence for any significant fraud, despite dozens of court cases being lost or thrown out, after all of these accusations of fraud were repeatedly refuted and rebutted, to continue to claim that the election was stolen becomes not simply partisan positioning, it actually begins to weaken the Democratic foundations of the country because they are based on trust," he said.
What the future looks like
From a law enforcement perspective, expect to see federal, state and local agencies be on heightened alert for more anti-government extremism threats, especially this week as a new administration takes office, said Cary Underwood, who heads the Southern Nevada Counter Terrorism Center.
"The emotions and beliefs are not going to go away," he said. "The perception that folks feel wronged is not just going to dissipate just because the inauguration occurs."
But Perliger said Trump's departure from the White House may render him less helpful and, therefore, not as important to right-wing extremist groups that have aligned themselves with him.
"I think they needed him because they believe that he's in a tool that will allow them to almost dismantle the government from within," he said. "... Yes, he will be some kind of a figurehead, some kind of a symbol maybe, but, again, he's not useful for them anymore so we'll see."
An open question is how the militia movement's organization will be affected after being taken off of social media platforms, their primary arena for organizing, Pitcavage said.
"For the first time in its history, it has witnessed significant de-platforming," he said.
Over the past year, tech companies have banned militia groups from organizing on their platforms. And after the insurrection at the Capitol, Twitter permanently suspended Trump's account "due to the risk of further incitement of violence." Other companies did the same.
During the Trump administration, anti-public land extremism that specifically targeted the federal government was less of a threat than it was during the Obama administration. Trump appointed officials who were sympathetic to their concerns.
This month, the Trump administration issued new grazing rights to Oregon ranchers who were convicted of arson and whose fight with the federal government helped sparked Malheur occupation. The administration took no action to stop the Bundy family from illegally grazing cattle in southern Nevada, even after a report chronicled unlawful irrigation ditches in Gold Butte National Monument.
On Friday, E&E News reported that Cliven Bundy, in a recent interview, said that he believed the conflict around the Bundy Ranch and illegal grazing would continue in the coming years.
"We're going to have to go forward," Bundy said. "If we have to walk forward towards guns, which we did at the Bundy Ranch, we have to do that. And we have to have faith."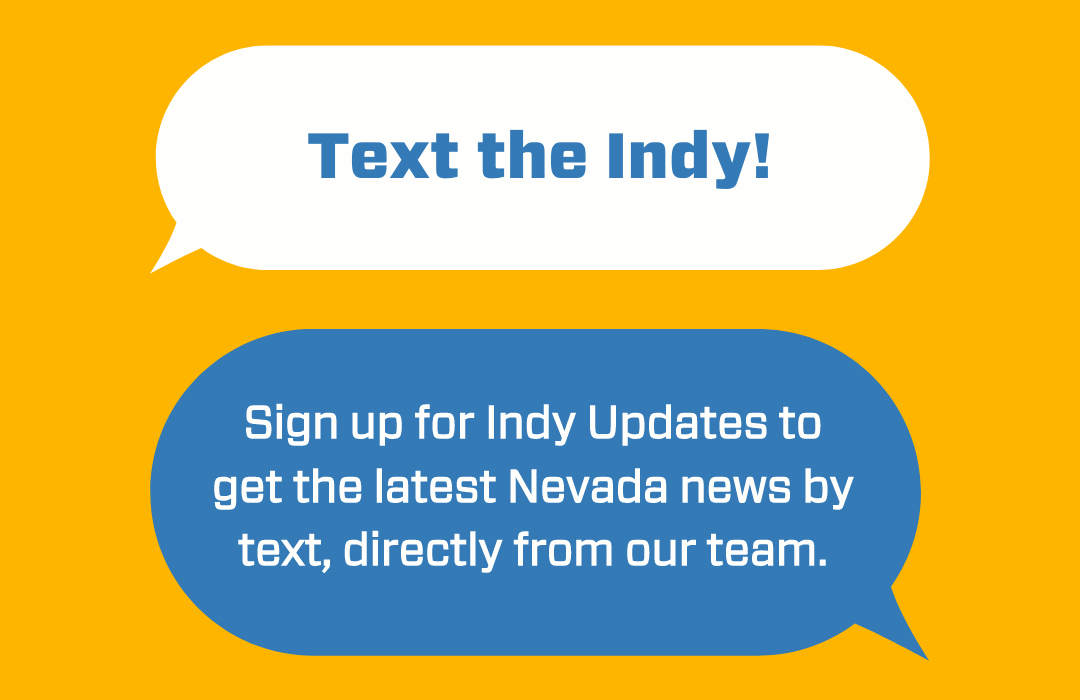 Featured Videos