Families navigate complicated schedules, student frustration amid remote learning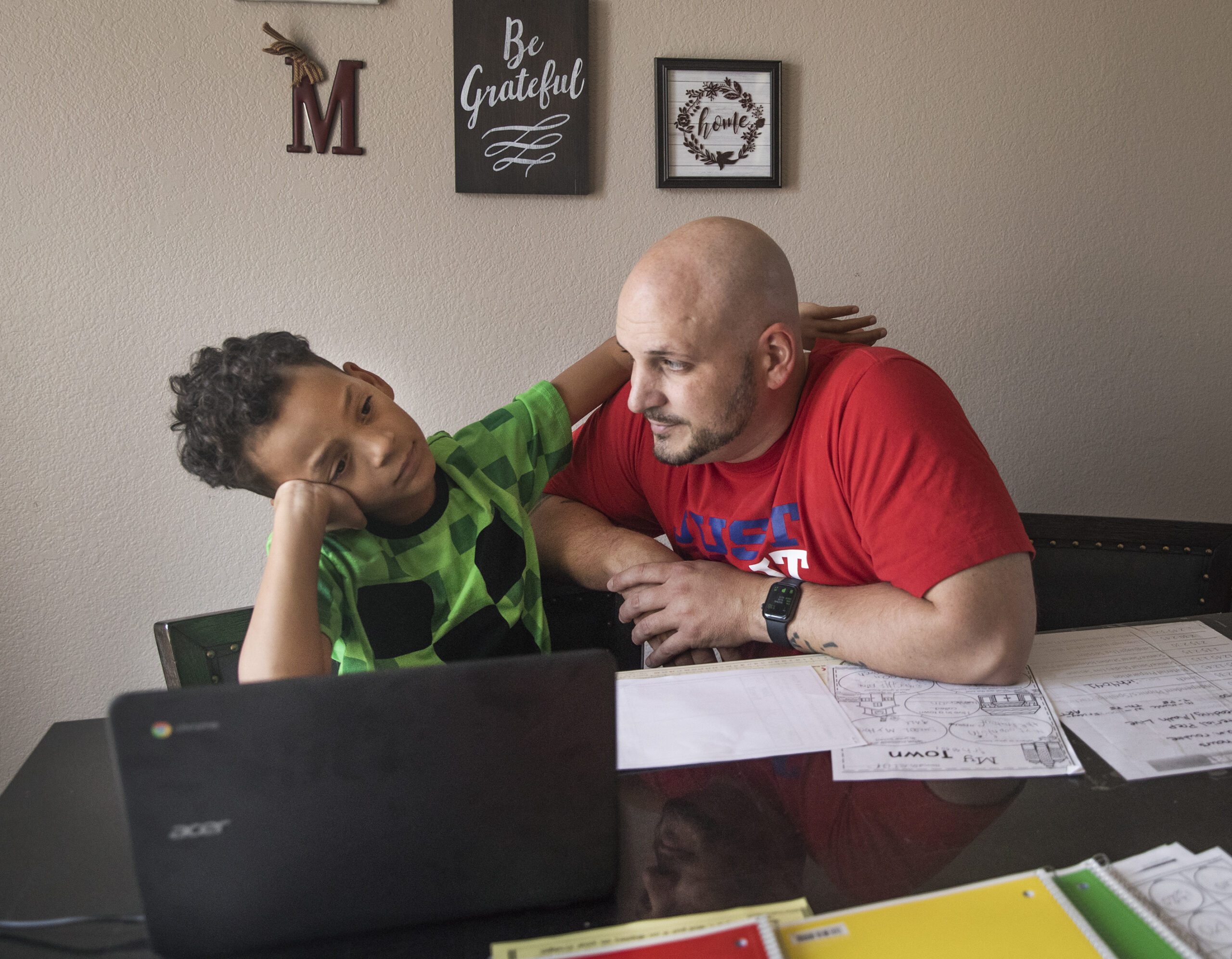 The hard boiled eggs, cinnamon roll and bacon sat untouched on a yellow plate as 11-year-old Jasmine Mike stared intently at her Chromebook screen.
It was just after 8:30 a.m. on a recent weekday, and her computer science class had begun. She reviewed a presentation showing tips and shortcuts for using Google, while dreading what came next: typing practice. She can move her fingers like a magician over her iPhone screen, sending texts or scrolling social media channels. A computer keyboard is a different story.
"I'm a terrible typer," Jasmine said as she opened her online assignment. "I mess up every time and have to redo it."
Her cell phone, a fifth-grade graduation gift she received a few months earlier, hid under a nearby stack of papers. That was by design. She knew the small, rectangular device — her social lifeline amid the pandemic — could be just as much of a distraction during distance learning as it is in an actual classroom. So the TikTok video a friend sent would have to wait.
Instead, her eyes darted between the Chromebook screen and keyboard. She narrated her letter hunt in a whisper.
"Where's the K?"
She spotted it.
"Okay."
Finally, she took a bite of egg and looked toward the window. Directly behind her house is Greenspun Junior High, the school she should have walked into as a sixth-grader this year. Now, her classmates are her two younger brothers, who are in second- and fourth-grade, as well as a preschool-age sister.
In the adjacent room, her father, Joshua Mike, 36, scrounged for a pencil. He handed it to 7-year-old Cameron who was 20 minutes late for his first virtual class of the day. Then he summoned his oldest son, 9-year-old Anthony, out of sight in an upstairs bedroom.
"Come down here," he said. "You're supposed to be down here anyway. Otherwise, you'll end up on a Switch or something."
Four-year-old Chloe, meanwhile, chased the family's cat from room to room.
And so began another day of virtual learning at the Mike household in Henderson. Thousands of families across Southern Nevada were doing the same. The Clark County School District started the academic year virtually after a mid-summer spike in COVID-19 cases scuttled any hopes for an immediate return to in-person instruction.
School district leaders vigorously pledged this version of online learning wouldn't be a repeat of the spring — when attendance wasn't regularly taken, grades weren't given and the scope of the technology gap wasn't entirely known. This year would be different, they said. Actual learning would occur.
It's difficult to quantify how many students are moving forward academically versus existing in a holding pattern or, worse, sliding backward. But a month into the new school year, parents and students alike have discovered just how challenging it is to learn from home.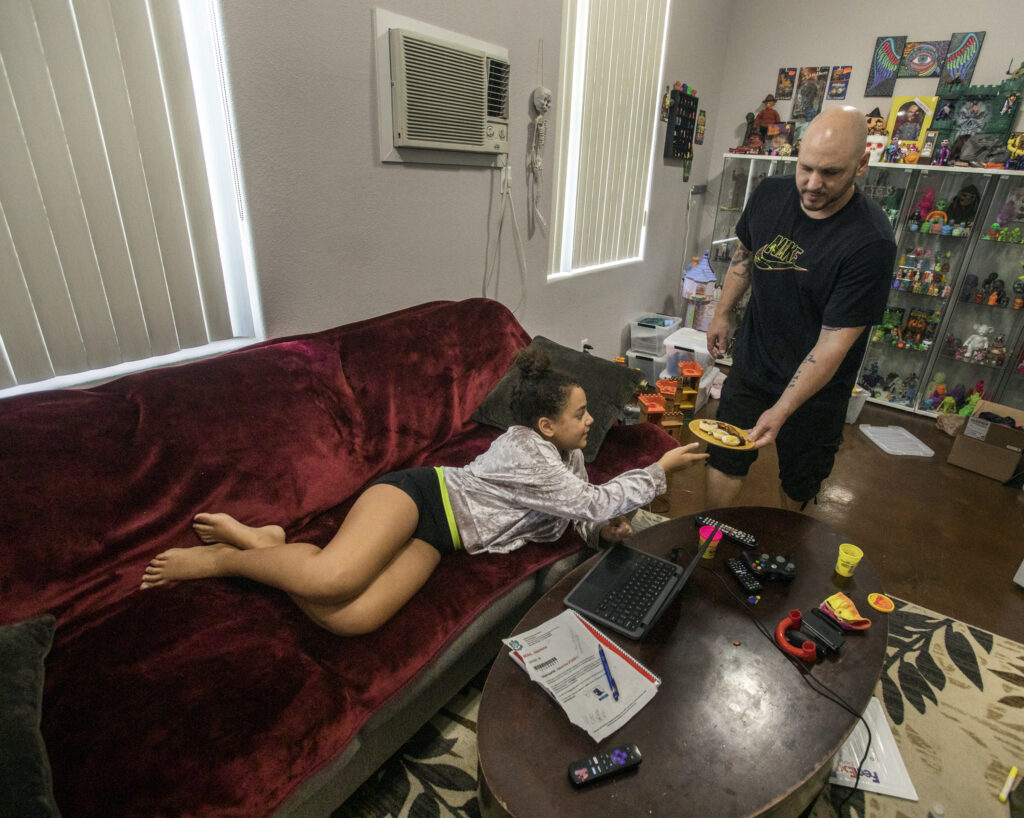 ***
When COVID-19 abruptly sidelined students from brick-and-mortar schools in March, the Mike family encountered its first hurdle: Joshua and his wife, Angela, needed to buy a laptop. Accustomed to using smartphones all the time, they simply didn't have a home computer.
The realization came with a $1,000 price tag. But it was their best chance, they thought, of making distance learning a success. Their children's fourth quarter experience didn't quite live up to that ideal.
"It was just sheer chaos," Angela, 37, said.
With teachers and students trying to navigate the new dynamic, it resulted in little, if any, learning, she said. By the end, Angela was logging into the school websites once a week to mark her children present and inventing her own reading assignments for them.
Then came round two starting in August. The decision carried disappointment for some parents and students who bristled at the notion of more distance education.
"To be quite honest, I really was hoping that they would come up with something so that kids could go to school every day, even if it were half the day," Angela said.
As parents, Joshua and Angela's concerns were two-fold. From an academic perspective, they worried about the long-term effects, especially on Cameron, who has autism. After his diagnosis in kindergarten, they watched him blossom from social interactions in the classroom setting. Put a screen in front of him, though, and his spirits sag. And from a work standpoint, it would be a logistical nightmare.
Ultimately, Joshua switched to working a night shift at Three Square Food Bank, enabling him to be home with their four children during the daytime hours, while Angela, a certified nurse midwife, went to her job.
The couple — high school sweethearts originally from Tennessee — aren't newcomers to difficult schedules. They both served eight years in the Army, during which time Joshua deployed to Iraq. Angela later served in the Air Force, too.
Emotionally and physically, this is nothing compared to that, they said. But their new schedule has its challenges. Joshua gets home from work around 3 a.m., and Angela leaves for work before 8 a.m. — just as their kids are ready to begin a school day.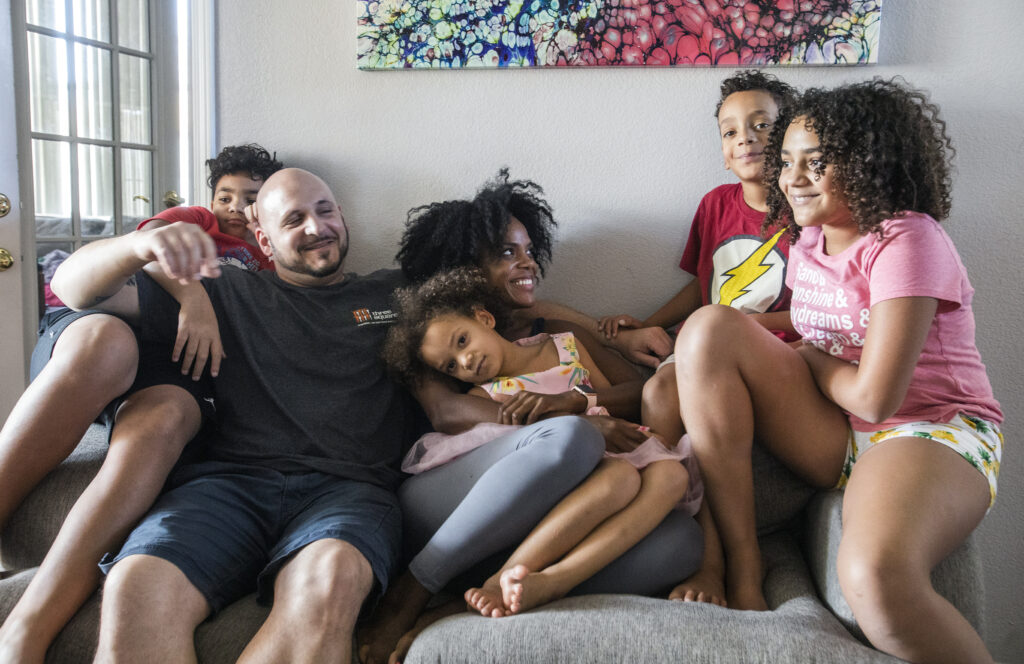 "I don't know how I am going to sneak in naps," Joshua said on a recent afternoon, before quickly backpedaling and adding a clarification. "I'm just happy to have a job. A lot of people don't."
In front of him, on the family's dining room table, lay a paper detailing Cameron's class schedule, which bounces between real-time instruction online and independent study. Nearby sat a pink paper outlining login codes for eight computer programs, such as Google Classroom, Canvas, Storyworks, Freckle and XtraMath.
Cameron rested his head on his arms, his school-issued Chromebook facing him. Seconds later, he leisurely stretched his arms over his head. Then came his teacher's voice through the device.
"Don't forget you're on camera," she gently reminded the class. "Everybody can see you."
Joshua edged closer to his son. Cameron rubbed his eyes and wrapped his arm around his dad, who whispered, "Pay attention."
This is the cadence of their weekdays. In a classroom, teacher aides helped keep Cameron on track, especially if things moved too fast. At home, his dad plays that role. But it's foreign territory for Joshua, who's more comfortable working in a kitchen, hence the restaurant-worthy breakfasts he makes for his children several times a week.
He can nudge Cameron to watch the virtual lessons and, for instance, explain math concepts. But the way Joshua learned how to solve math problems isn't necessarily how students are taught nowadays. If Cameron catches on, great. If not, he falls behind.
On the morning after Labor Day, Cameron followed his teacher's instructions for a math worksheet: He needed to color every fifth number in a chart. He filled in the "5" and "10" boxes, then skipped a few lines.
"What's the next one, Cam?" his dad prompted.
Cameron quietly shook his head.
"All right, look," Joshua said, moving his fingers over the chart. "You missed 15, 20, 25."
By this time, his teachers had moved on to another section of the worksheet. Cameron continued counting by fives to fill in the chart.
"Good job," Joshua said, patting him on the back.
The Mikes say the staff at Bartlett Elementary School, where their boys are enrolled, have provided flexibility and accommodations given that Cameron has an individualized education plan. Still, they don't want Cameron — a bright 7-year-old whose shyness fades after he's more comfortable around people — struggling because of the education-delivery model during the pandemic. They know he's just as capable academically.
The situation bothers Joshua, who wonders whether he's providing the correct help..
"I'm not a teacher, an educator," he said. "I don't know how to do that."
And yet he feels empathy for licensed teachers on the other side of the screen. He hears students ask question after question — ranging from whether they can go use the bathroom to how to open a new program. He hears the teacher apologize and ask for patience as she navigates technology glitches.
"They are going through what we are going through tenfold," he said.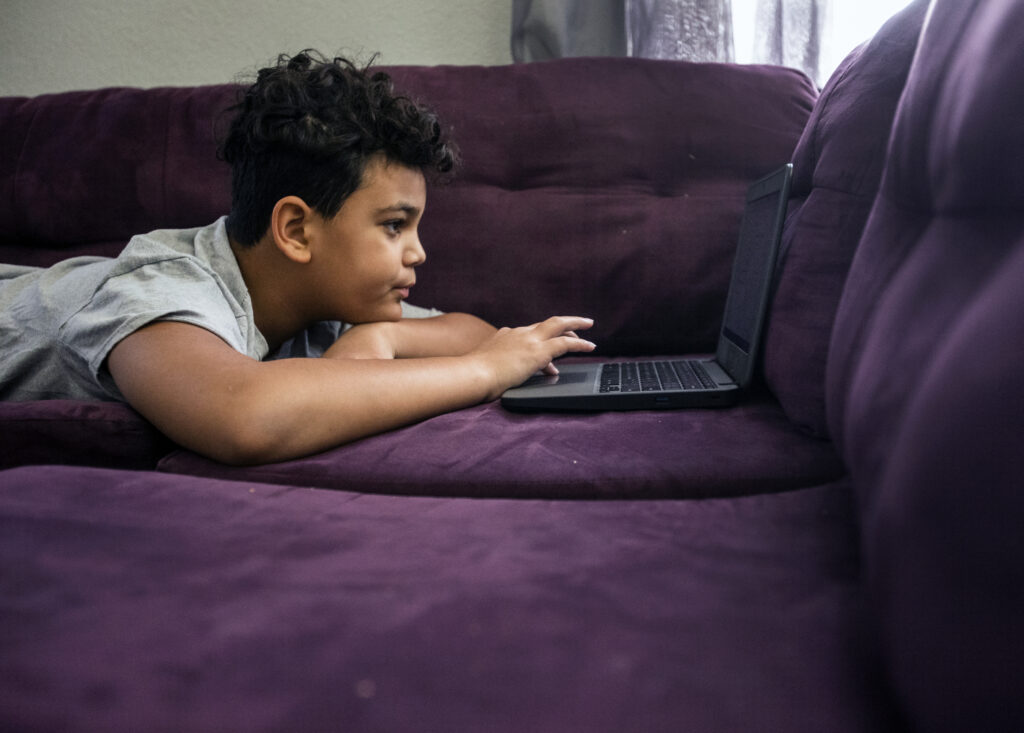 ***
Several weeks into the school year, the Mikes had come to a conclusion about this second try at distance learning: It's too complicated. Their kids are using Google Classroom one minute, then Canvas the next and, later, one of multiple other online learning resources.
"There's a password for this and a password for that," Angela said. "This is too complex for even the parent."
It's a common refrain among other parents navigating distance learning, said Rebecca Garcia, president of the Nevada PTA and founder of the CCSD Parents group on Facebook. Parents of elementary students or those with special needs, especially, have been frustrated by multiple transitions from real-time instruction to independent learning or the hopping from one program to another throughout the day.
Garcia said she hears almost hourly from parents who say the virtual model isn't sustainable.
"We're still in crisis mode and hoping we manage through it," she said. "But the reality is we don't know how long it's going to last."
The Clark County School Board received a COVID-19 update at its meeting Thursday. The county's chief medical officer, Fermin Leguen, told trustees that although the overall positivity rate for COVID-19 cases continues to decline, reopening schools right now remains a high risk. Clark County Superintendent Jesus Jara previously has indicated in-person schooling may not resume until January.
Karla Loria, the district's chief academic officer, said principals meet on a weekly basis and discuss concerns raised by students and parents. They're trying to be nimble, she said, and make changes as difficulties become clear.
"I think all the schools are really trying to listen to feedback from parents — just listen to them and see how they can adjust their schedules to make it accessible and less convoluted for families," she said.
At least one school has taken action. Fox 5 reported that after parents complained about lengthy lectures, leaders of Charlotte Hill Elementary School enacted changes to reduce screen time.
Loria acknowledged that some students thrive under distance learning while others flounder. Just as schools would teach students how to respect one another, she said, now educators must help children learn concepts such as time management and how to be proactive. The district has been rolling out professional development opportunities to help teachers pass along these new skills to their students.
But sometimes it's simply a matter of video fatigue. The Mike's 9-year-old son, Anthony, proudly declared he has the "best teacher in fourth grade" — yet he still struggled to pay attention to a virtual class while his teacher instructed. He grabbed a Sonic the Hedgehog plush toy and lounged on the couch.
Anthony, who generally excels in school, often winds up completing his assignments on his own time rather than following along during real-time instruction. He said it's faster that way.
"I can't stop looking away from it," he said, referring to the live video sessions.
His parents have witnessed a steep drop in his excitement for school. They think he will flourish again when students safely return to in-person learning.
And Anthony's midday observation appeared to suggest the same longing: "I wish we could go back in time to Labor Day so I could play with my friends."
Garcia's own fourth-grade daughter also hasn't adjusted very well to distance learning. As a mother working from home part time while supervising her children's learning, Garcia said she has learned to allow grace and flexibility. For instance, her daughter didn't attend a virtual library class on a recent morning. It had nothing to do with the teacher or the content.
"I think it's great — library," Garcia said. But her daughter had maxed out on screen time. "It was not a battle I was going to fight this morning."
She hopes district officials heed parents' calls for more simplification. At the same time, though, Garcia doesn't want to see this forced experiment become a blip in time after students return to in-person schooling. The K-12 education system, she said,, needs to take this situation as an opportunity to reinvent itself, culling best practices from both worlds.
Before the pandemic, the CCSD Parents page on Facebook often contained a litany of posts from parents expressing worries or complaints regarding their children's education.
"What we were doing for decades in person has also not been serving students," Garcia said
Until then, the learn-from-home grind continues. Five weeks down and with the end date unclear, Joshua Mike offered a measured assessment from the parent point of view:
"It's going," he said, before taking a long pause. "I don't know. Some days are better than others."
Comment Policy (updated 4/20/2021): Please keep your comments civil. We reserve the right to delete comments or ban users who engage in personal attacks, use an excess of profanity, make verifiably false statements or are otherwise nasty. Comments that contain links must be approved by admin.