FBI analysis offers no clear-cut motive behind the Las Vegas Strip mass shooting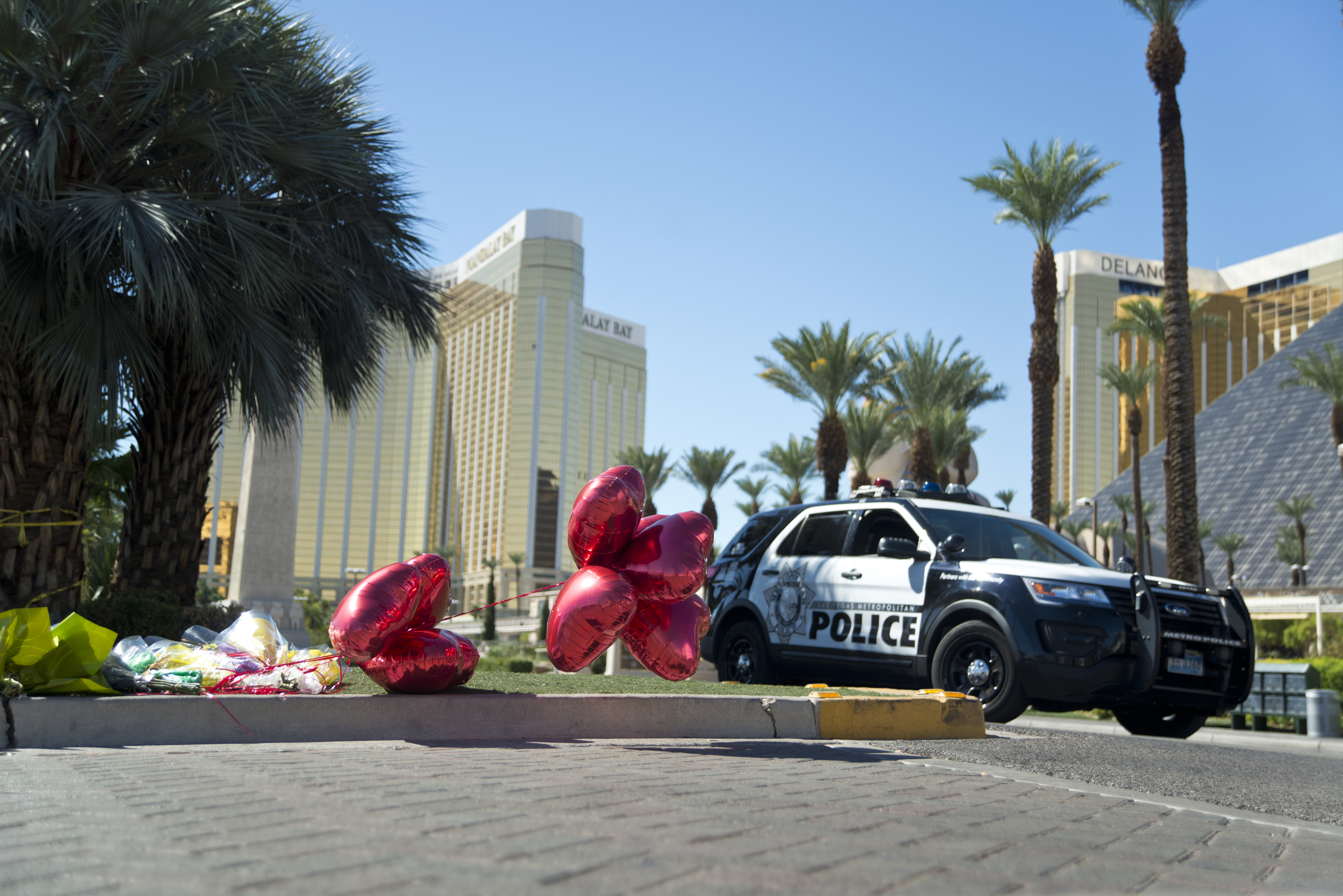 Another investigation of the deadly attack on a Las Vegas country music festival has closed without clarity about the gunman's motive, instead suggesting a complicated set of personality traits and health reasons may have played a role.
The FBI has wrapped up its probe of the mass shooting that left 58 people dead and hundreds injured more than a year ago on the Las Vegas Strip. The agency on Tuesday released a three-page summary of key findings — first reported by the Associated Press — that concludes the gunman acted alone and without a "clear motivating factor."
The motive has remained a mystery, flummoxing the public ever since 64-year-old Stephen Paddock opened fire from a Mandalay Bay window on Oct. 1, 2017. He killed himself before police entered his 32nd-floor hotel suite.
The FBI assessment mirrors what Metro Police determined. The Las Vegas police agency released a 187-page final investigative report in August, concluding Paddock acted alone, but investigators were unable to determine his intent behind the attack.
The FBI's Behavioral Analysis Unit performed a post-attack analysis of Paddock, which involved creation of a team known as the Las Vegas Review Panel. The panel included experts in fields such as threat assessment, psychology, psychiatry, research, cyber-behavioral analysis, law and child sexual behavioral analysis who spent nearly a year analyzing information.
In the end, their work didn't turn up any clear-cut motivation.
"Throughout his life, Paddock went to great lengths to keep his thoughts private, and that extended to his final thinking about this mass murder," the report states. "Active shooters rarely have a singular motive or reason for engaging in a mass homicide. More often their motives are a complex merging of developmental issues, interpersonal relationships, clinical issues, and contextual stressors."
The panel, however, noted that Paddock displayed similarities to other active shooters. FBI research indicates active shooters often experience an average of 3.6 stressors and 4.7 concerning behaviors prior to an attack. Additionally, 48 percent had contemplated suicide.
The FBI analysis determined that Paddock's desire to kill himself — fueled by age-related stressors — was likely an important aspect of the attack.
"The LVRP assesses that Paddock experienced an objective (and subjective) decline in physical and mental health, level of functioning, and financial status over the last several years of his life," the investigators wrote. "In reaction to this decline, Paddock concluded that he would seek to control the ending of his life via a suicidal act. His inability or unwillingness to perceive any alternatives to this ending influenced his decision to attack."
Paddock, who had a history of using manipulative tactics, wanted a "certain degree of infamy," according to the panel, which also suspects he may have been influenced by his father's criminal history.
The gunman was not motivated by a particular ideology, nor did he have a grievance against the city, casino, hotel, concert festival or any of his victims, officials said. The panel pointed to his personality more than anything as cause.
"The LVRP assesses that Paddock displayed minimal empathy throughout his life and primarily viewed others through a transactional lens of cost and benefits," panelists wrote. "Paddock's decision to murder people while they were being entertained was consistent with his personality."
The FBI also found no evidence Paddock ever intended to escape after committing the shooting. Panelists said he took "multiple, calculated steps" to ensure he could commit suicide — similar to how he meticulously planned the mass shooting. The gunman had amassed a large collection of firearms and scoped out other concert venues, including the Life is Beautiful festival in downtown Las Vegas, before carrying out the attack.
Panelists surmised that Paddock likely derived satisfaction from the planning process, gleaning a "sense of direction and control" from it as his health and mental state declined.
Officials said the FBI's Behavioral Analysis Unit shared these findings with Metro Police in November. The Las Vegas Strip attack remains the largest mass-casualty shooting in modern United States history.
The FBI report effectively ends any active investigations, although the door never entirely shuts.
"At this time, all the investigative leads have been followed up upon," Clark County Sheriff Joe Lombardo wrote in response to an email inquiry. "However, any murder case may never be completely closed. We would continue to pursue any new relevant information that would assist in determining motive and/or additional suspects."
Gov. Steve Sisolak released a statement Tuesday extending gratitude to everyone involved in the investigation.
"This was a heartbreaking tragedy that cut too many lives short and shook the community of Las Vegas to its core. Sadly, families and loved ones of victims may never know what drove the shooter to commit such a horrific act of violence," he wrote. "I am grateful to the FBI, local law enforcement, and first responders for their dedication to the victims, survivors, and their families throughout the aftermath of 1 October, and I pray that our state may continue to heal from this devastation."
The New York Times reported last week that an anonymous software executive had donated more than $62,000 in an attempt to have the gunman's firearm collection destroyed.
This story was updated at 7:01 p.m. to include a comment from Clark County Sheriff Joe Lombardo.
The Nevada Independent is raising $200,000 by Dec. 31 to support coverage of the 2024 election.
Tax-deductible donations from readers like you fund this critical work.
If you give today,your donation will be matched dollar-for-dollar.
Give + Get Matched
Featured Videos