Female horse-riding team passes down traditions tied to Mexican Revolution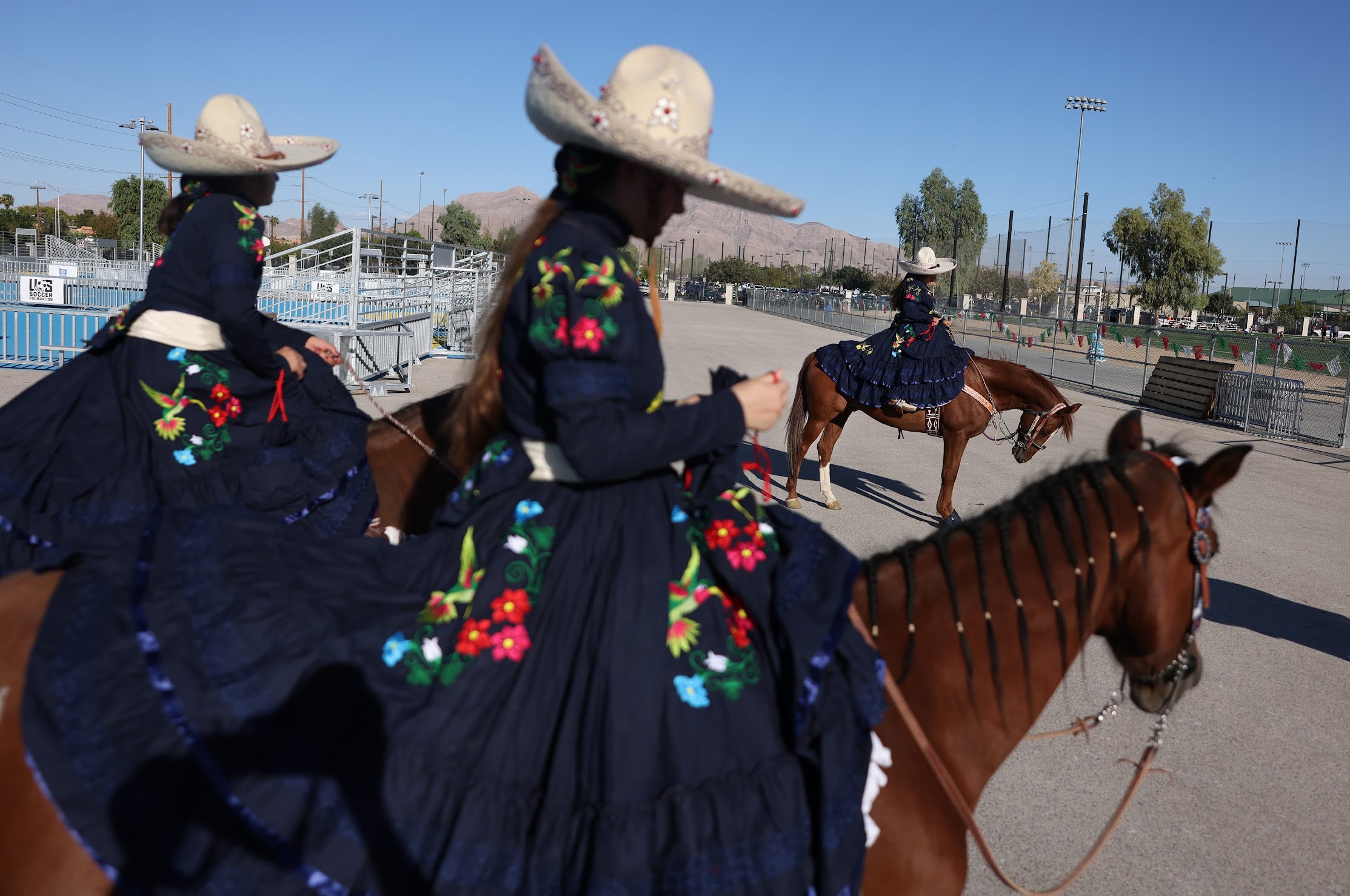 Rigo Favela helps his 10-year-old daughter place the saddle on her horse, Rayo, and secures the buckle before boosting her up so she can join the rest of the team.
Lizzy Favela is part of the female horse-riding group called Escaramuza Charra Colibríes de Nevada that participates in cultural events year-round.
"She was born with boots and sombrero," he said about his daughter's love for horses. Lizzy said she joined the team after being captivated by seeing women and girls doing what she loves — horseback riding — which to that point she had mostly only seen men do.
Escaramuza charra is the female branch of charrería, Mexico's national sport that encompasses traditions passed down from generation to generation. For many years, charrería was considered a sport for men only, but escaramuza charra has officially been part of the sport since 1989, when a specific regulation was created for it.
The group, which usually consists of eight girls or women, performs synchronized choreography on horseback. Ensembles follow strict guidelines to preserve historical and cultural authenticity. Members ride side-saddle and don the colorful, embroidered dress inspired by adelitas — the women who fought in the Mexican Revolution — along with a rebozo or sash around the waist, boots and a sombrero.
The Escaramuza Colibríes is a nonprofit team, founded by Yudit Piñedo eight years ago. Piñedo grew up in Jalisco, Mexico, riding horses and surrounded by the tradition of charrería, which her father instilled in her. Now, she is passing it down to her daughter and other girls and women in Las Vegas.
"I founded this escaramuza to teach my daughter our traditions, our cultures, to make her feel proud of her Mexican roots," she said. "And also to be able to give other girls the opportunity to live this adventure, which is something so, so beautiful."
Piñedo does not charge team members to join or participate, but they are required to bring their own horses and care for them, as well as purchase their dresses and accessories.
Charro associations and escaramuza teams in the United States register with the Mexican Federation of Charrería (Federacíon Mexicana de Charrería), which is responsible for regulating the sport's practice.
Along with horse-riding techniques and choreographies for performances and competitions, team members learn communication, teamwork and how to be responsible for their horse, Piñedo said. In the eight years of Escaramuza Colibríes, the team has grown from just having young girls and teenagers to also including adults. It has also attracted the mothers of existing members who want to learn to ride.
One of them is Yuri Figueroa, who joined the team after her 7-year-old daughter did. Figueroa took the opportunity to parlay their love for horses and riding into more mother-daughter time. As a young girl, Figueroa would rope and ride wild horses on bareback in her hometown, she said.
"It's a great hobby for moms and girls to do together. And it's also therapy, helps me destress. It takes you out of the stressful world out there," she said. "I can show my daughter we can be a team and work together."
Her daughter, Jaydee Olague, is the youngest member of Escaramuza Colibríes. She joined the team at 5 years old to satisfy her passion for horse riding.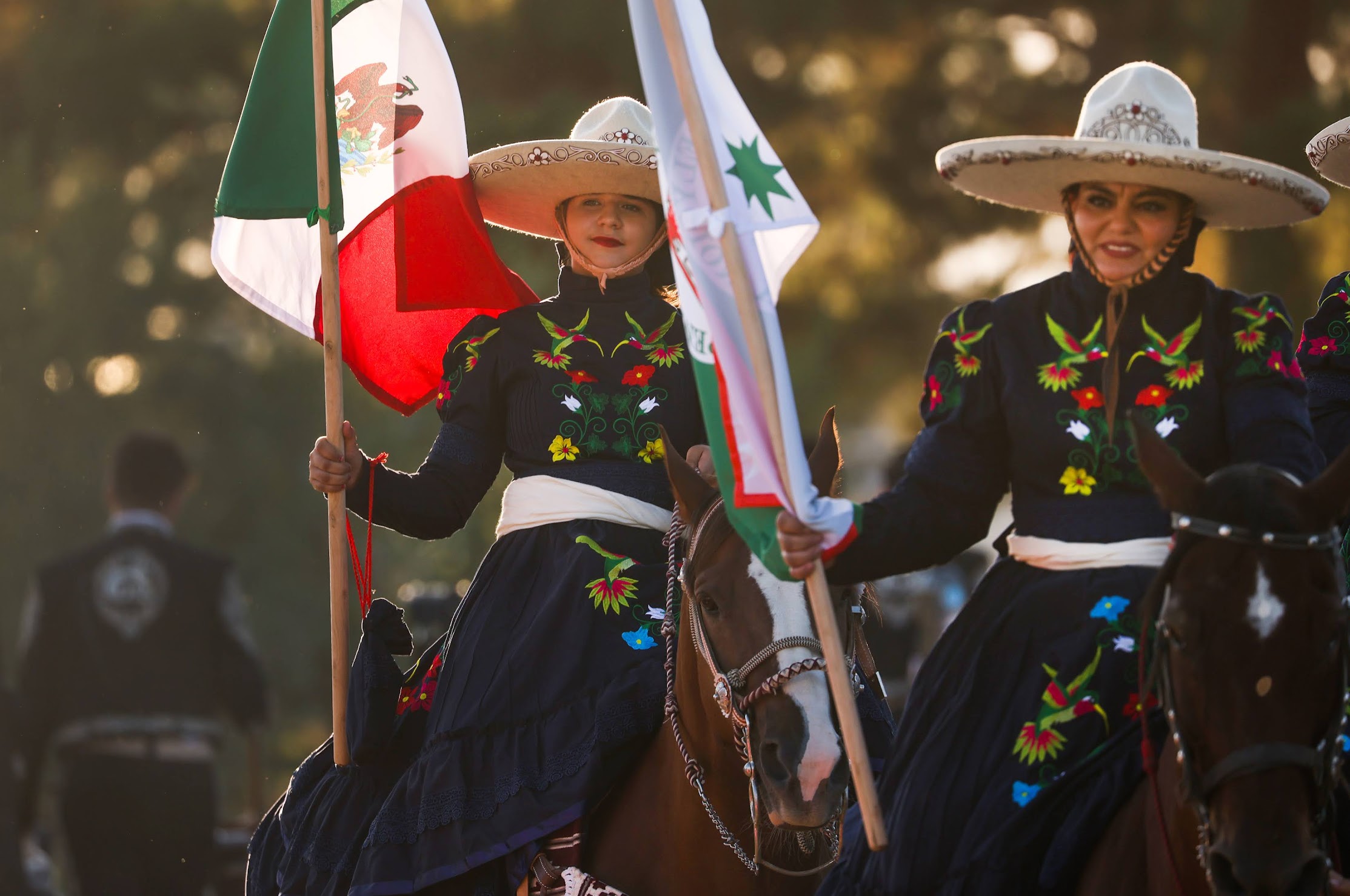 The team practices three times a week and often hikes with their horses on the weekend, Piñedo said. Throughout the year, the team participates in cultural events, including Hispanic Heritage Month celebrations.
But the team welcomes anyone, Piñedo said, not just Mexican or Latino girls. Her daughter, Yuliza, invited a fellow horse barrel racer to join. Alannah Pellino does not speak any Spanish but after attending a practice, she loved the sport and the team.
"Everyone is so friendly and just so accepting … After the first practice I ended up really liking it, and so did he," she said about her horse, Drifter.
Mia Flores, the newest member, said it has been challenging but that she has enjoyed the experience. Flores participated in last month's Mexican Independence Day event with the rest of the team, which is one aspect of the sport that brings her pride, she said.
"What got me into it was probably the culture because it's my culture, and a lot of people seem to forget how important it is to have such a great community," she said. "So now that I have the opportunity to show it to people, I want to show where my ancestors came from."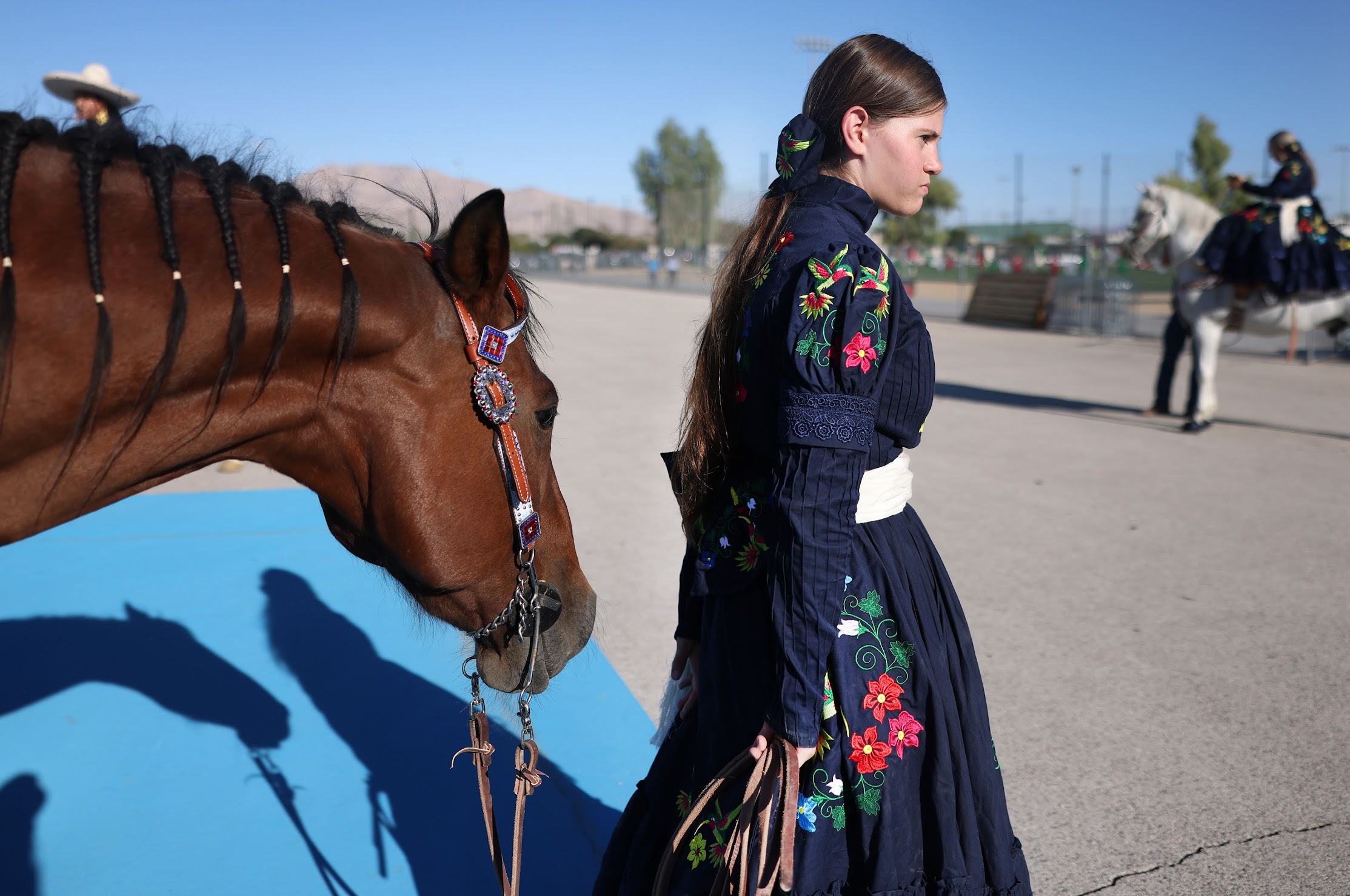 The Nevada Independent is raising $200,000 by Dec. 31 to support coverage of the 2024 election.
Tax-deductible donations from readers like you fund this critical work.
If you give today,your donation will be matched dollar-for-dollar.
Give + Get Matched
Featured Videos