Few Clark County short-term rental owners apply for license amid legal battle
Less than one-tenth of the owners of an estimated 7,700 short-term rental units in Clark County applied for a license, records show.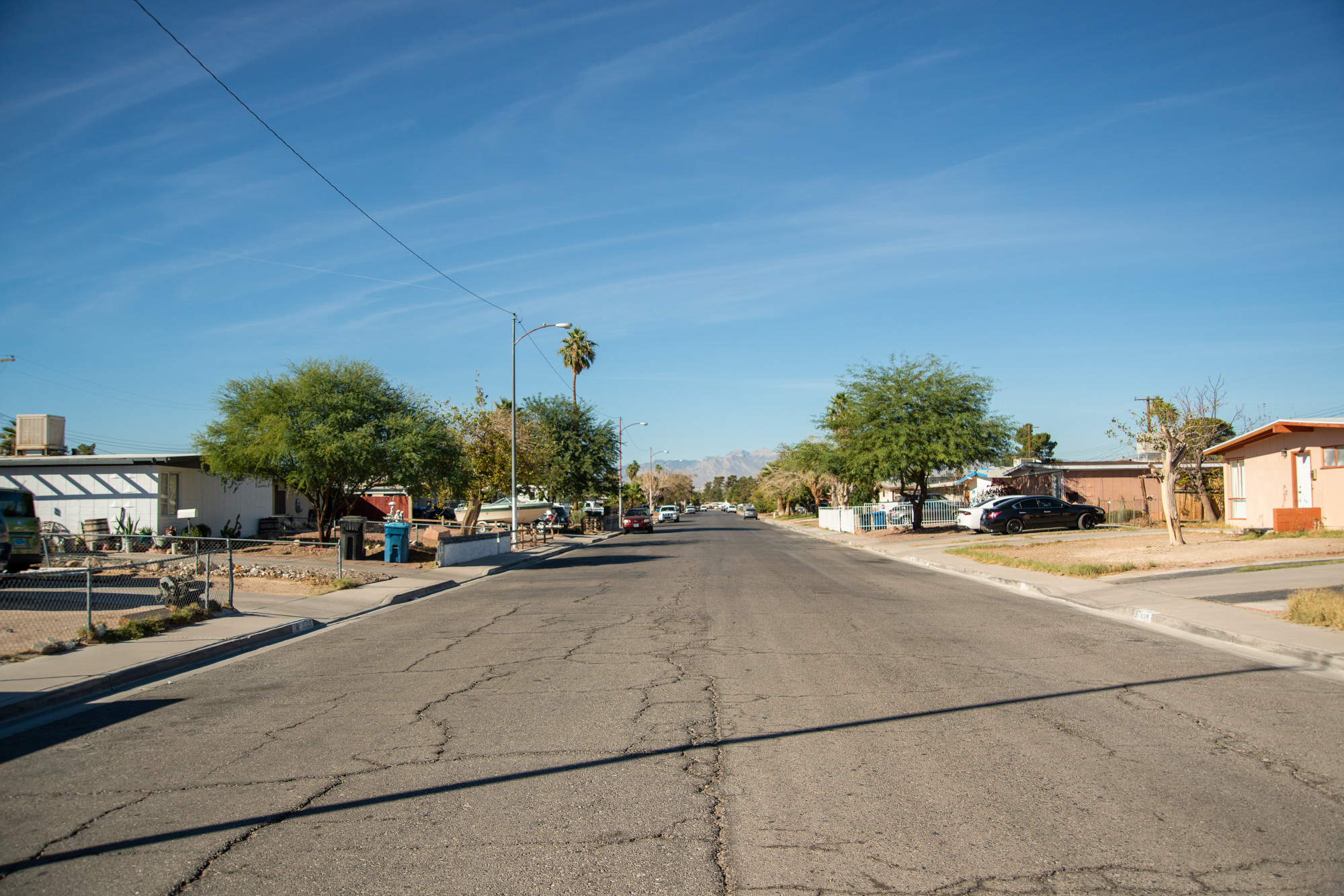 The Clark County Business License division received 830 applications for its short-term rental license by a late August deadline, representing only about one-tenth of the number of such rental properties that a trade group estimates are operating in the unincorporated county.
The low participation comes as the county faces a lawsuit from the Greater Las Vegas Short Term Rental Association (GLVSTRA), which says the county's efforts to regulate the industry that had previously been operating in a legal gray area are heavy-handed, convoluted and a handout to Nevada's powerful resort industry.
Nevada lawmakers in 2021 passed a law to regulate properties listed on platforms such as Airbnb and VRBO, seeking to even the playing field and tax short-term rentals at a similar rate as hotels and other types of lodging. Clark County has also framed its ordinance as a way to prevent "party houses" that cause nuisances in residential neighborhoods.
The licensing data was released after the June 21 deadline was extended to Aug. 21 because of challenges with property owners gathering the required paperwork.
Out of the 1,170 pre-applications for short-term rental unit licenses in the county, just 255 applications were submitted by the original deadline and deemed eligible to continue with the process. The applications submitted after the extended deadline brought the total to 830.
The GLVSTRA estimates there are around 7,700 short-term rental units, advertised on platforms such as Airbnd and VRBO, in unincorporated Clark County.
Now a year out from when the pre-application period opened, county staff are "reviewing applications for completeness and eligibility" and will set up safety inspections to be completed based on the order of the randomly generated number each applicant was given in March, according to a county spokesperson.
GLVSTRA President Jackie Flores told The Nevada Independent that a member of the association who applied for a license and was given a randomly generated application number "in the thousands'' received a call for a fire inspection in recent weeks, which created confusion as the property owner who was given number one in the application line had not been contacted as of earlier this month. Flores also said none of the property owners who are members of the association have received a license yet.
Applications that are denied can be appealed and then reviewed in an administrative hearing.
Strict rules for licensees
Meanwhile, Clark County and GLVSTRA are in the middle of a legal battle in the Nevada Supreme Court. The association and short-term rental owners say the county created an overly convoluted process that is hurting their livelihoods.
"The county's stringent operational restrictions on short-term rental owners disproportionately impact vulnerable groups, including people with disabilities, those on fixed incomes, the elderly, veterans and those dependent on this income for essential expenses like mortgages, food, health care and medications," Flores said. "The county has notably delayed issuing [short-term rental] licenses for more than a year."
In February, Clark County District Court Judge Jessica Peterson found that some of the county's regulations were unconstitutional and granted a preliminary injunction, which resulted in the regulations being amended.
Despite the court siding with GLVSTRA and ruling against some of the regulations, the organization still appealed to the state's high court in March.
GLVSTRA filed its opening brief earlier this month, arguing that the regulations and licensing process imposed by Clark County are unconstitutional on their face and as applied. GLVSTRA is requesting the court to "reverse and remand," meaning the case would be sent back to the district judge for a new decision.
The brief states that the licensing process "is arbitrary and capricious" and the "enforcement scheme is undeniably vague" and lays out arguments against the distance requirements between short-term rental units, prohibitions on homes with septic tanks, occupancy restrictions per room and bans on birthday parties and weddings.
In an opposition filing made last November, attorneys for Clark County said homeowners unhappy with the short-term license process can choose to rent their properties for more than 31 days without one.
"However, Plaintiffs do not want to do that because they make more money by violating the law, annoying their neighbors and turning their residential properties into hotels and party houses," Clark County's filing stated.
GLVSTRA argues that Clark County's regulations would exclude certain homeowners from applying for a license in violation of the 14th Amendment's equal protection clause, including homes with septic tanks that are not connected to the municipal sewer system — a service that could cost homeowners thousands to connect.
The county has until Oct. 5, 30 days from when the brief was filed, to respond and make its own argument.
Flores asserts that the requirement to be connected to the municipal wastewater service is a way to "single out homeowners." The brief adds that septic systems are regulated by the Nevada Division of Public and Behavioral Health and that AB220 from the recent legislative session — which aimed at reducing water usage — allowed homeowners to volunteer to connect to the municipal wastewater system.
The brief also argues that a combination of the regulations limiting the number of short-term rental units to 1 percent of the total number of housing units located in the unincorporated area, requiring at least 1,000 feet of distance between short-term rentals and reviewing the applications by the randomly generated number order "establishes a licensing system that it is entirely dependent upon chance."
The "chance" and the distance limit, Flores said, could put neighbors in competition for a license. It could create a situation where an applicant is deemed ineligible because their neighbor, closer than 1,000 feet away, was granted a license before them based on the random number generator, regardless of who applied first or the quality of the dwelling.
Clark County stated in its previous legal filing that applicants are not "randomly denied" but are evaluated for licensure based on the ordinance criteria. The county claims that GLVSTRA would "prefer different regulations on short-term rental businesses" but that the set policy choices "fall well" within the county's authority.
GLVSTRA also argues that the regulation requiring short-term rentals to not be used for "any purpose other than for dwelling, lodging, or sleeping and for activities that are incidental to its use for dwelling, lodging or sleeping," would prohibit the short-term rental to ever be used for a holiday dinner, a graduation celebration, a book club meeting, or even a birthday or pool party.
Clark County also limits property occupancy to 10 guests, even though AB363 — which established the regulation and legalization of short-term rentals in 2021 — established maximum occupancy at 16 people. The brief argues that both limits are unconstitutional.
And a two-person-per-bedroom limit imposed by the county, the association says, would not allow guests to share a room with their children and also could prevent siblings from sharing a room.
The county's argument is that maximum occupancy for a short-term rental unit is related "to the burden the associated vehicles, noise, traffic, and renters will have on the quality and nature of the neighborhood and the local utilities and infrastructure."
Though the preliminary injunction from February found that the regulation authorizing Clark County to "impose cumulative and discretionary fines and penalties" was "facially unconstitutionally vague and/or overbroad," Flores said that some homeowners are still receiving fines for operating their short-term rental.
"To issue these fines and penalties that sometimes these property owners cannot pay. We have property owners [as members] that have received $30,000 in fines," Flores said. "With all the fines and eventually getting a lien on your property — a lot of people freak out. And they don't know any better."
The Nevada Independent is raising $200,000 by Dec. 31 to support coverage of the 2024 election.
Tax-deductible donations from readers like you fund this critical work.
If you give today,your donation will be matched dollar-for-dollar.
Give + Get Matched
Featured Videos