Fire managers prepare for summer blazes as the state faces severe drought conditions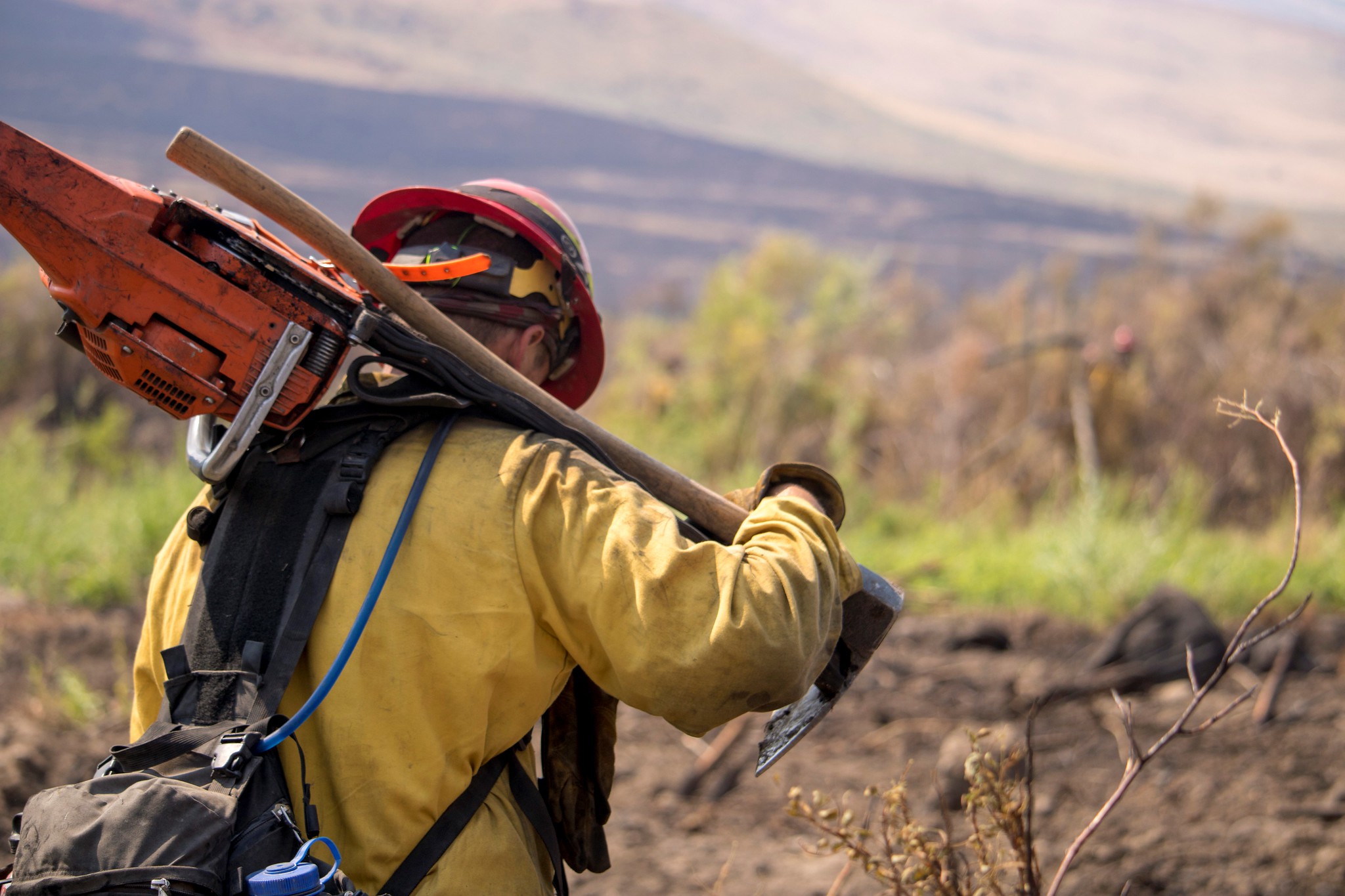 Good morning, and welcome to the Indy Environment newsletter.
I'm writing this newsletter from Winnemucca. For the past month, I've been reporting out a story on the Thacker Pass lithium mine, which the Trump administration approved in mid-January.
I'm getting a lot of community perspectives about the project, which would be located outside of Orovada. On Monday evening, I attended a public meeting about having the mining company relocate and rebuild the Orovada Elementary School because of safety concerns with more trucks hauling materials and driving through the area. A lot of perspectives from parents. My story should be coming out in a few weeks. In the meantime, send me any thoughts you have about the project.
As always, we want to hear from readers. Let us know what you're seeing on the ground and how policies are affecting you. Email me with any tips or suggestions at [email protected]
To get this newsletter in your inbox, subscribe here.
---
Nevada is facing its worst drought in two decades.
Nearly 95 percent of the state is facing severe to exceptional drought, according to the U.S. Drought Monitor. In April, most of the Great Basin experienced above-normal temperatures with little precipitation. As with much of the West, Nevada saw well below-average rain and snow for the water year, which begins in October. Snowpack peaked early, and snow is melting quickly.
Gina McGuire Palma, a meteorologist who forecasts fire in the Great Basin, presented those statistics at a media wildfire briefing last week. The dry conditions, she said, are important for the forecasts facing fire managers as they start planning for the warm summer months.
When it comes to fire and drought in the Great Basin, the story is complicated. Although drought means less moisture, it also means that low-elevation grasses are less abundant and productive. That's important because those low-elevation grasses fuel many of the large-scale fires across the Great Basin. The amount of acreage burned and drought are not always related in the Great Basin. But that doesn't necessarily mean less potential for a bad fire season.
What it means is that in a drought year, like the one we are seeing, the fire risk tends to be in mid-to-higher elevation areas, McGuire Palma said at the briefing. Another big factor is where the fire is. A smaller acreage fire in a highly-populated area or in sensitive wildlife habitat can have long-lasting effects. And there have been notable fires during drought years before.
Prior to the media briefing, state, federal and local agencies briefed Gov. Steve Sisolak about fire risks facing the state. At the briefing, Sisolak described wildfire as "one of Nevada's most challenging issues," but he said agencies are "better coordinated than ever before."
Kacey KC, the state forester for the Nevada Division of Forestry, said that better coordination is important in the Great Basin, where much of the land is managed by a variety of agencies. The federal government manages about 85 percent of land within Nevada, and one agency, the U.S. Bureau of Land Management, manages about 65 percent.
"We learned through many years of being jurisdictionally challenged that we had to work better together," KC said. "And we actually also realized, awhile back, that not only do we have to be highly effective at wildfire suppression, but also need to work harder at really targeting our limited resources and funding at the areas that are most critical to reduce risk in."
In all of this, humans play a big role.
Sisolak, in his remarks, underscored the effects that climate change is having on fires: "While wildfires are a natural part of Nevada's landscape, the fire season is starting earlier each year and ending later. Climate change and cycles of drought are considered key drivers of this trend."
In addition to climate change, the vast majority of fires — about 67 percent — were linked to human activity last year. Sisolak implored residents to be aware of the risks of starting a fire.
"What we can do as residents in Nevada is be aware," Sisolak said.
More reporting on this from KNPR and the Associated Press. And tips for preventing fires.
Here's what else I'm watching this week:
---
CARSON CITY AND CONGRESS
A massive energy bill drops at the Legislature: Sen. Chris Brooks (D-Las Vegas) dropped a major energy infrastructure bill last week with less than three weeks left in the session, as my colleague Riley Snyder reported. The legislation, presented at a roundtable with Sisolak and NV Energy, aims to increase the state's transmission capacity (crucial for putting more renewables on the grid) and to require more investment in charging for electric vehicles. Both are central to the governor's climate strategy, and backers of the bill argue that it is vital in order to ensure the state plays a central role in the transition from fossil fuels toward renewable energy.
Most environmental groups support the broad components of the bill: They want to see more deployment of renewable energy, and transmission is going to be an important element of that. At a hearing Monday, several groups, including the Natural Resources Defense Council and Nevada Conservation League, came out in favor of the legislation.
But some groups believe the legislation shortcuts comprehensive planning: For months, environmental groups have been pushing state agencies to identify land where energy development is appropriate and where it conflicts with other priorities, including recreation and wildlife habitat. They want to see policymakers working to prioritize new energy development, such as solar fields, on already disturbed land. The transmission lines matter, they say, because their alignment and siting often dictate where projects go. These groups want to see more comprehensive planning when it comes to building out a more renewable grid. Based on my reporting, they are not alone. Public land has many constituencies, and permitting conflicts are not limited to environmental issues.
There is also the question of regulatory oversight: The legislation dropped with only a few weeks left in the session. But given the presence of the utility at the unveiling of the complex bill, it is clear that it came out of negotiations between legislative leaders, NV Energy and the Sisolak administration. It's worth noting that the Nevada Resorts Association came out in "technical opposition" because of the late bill introduction and sought changes that "retains authority and regulatory discretion to protect customers from increased rates and making projects more expensive than they need to be."
Swamp cedar bill passes both houses: The Senate on Monday passed legislation to grant state protection to unique stands of low-elevation Rocky Mountain juniper trees in Spring Valley (known as Bahsahwahbee in Shoshone). The legislation, introduced by Assemblyman Howard Watts III (D-Las Vegas), would protect the trees, known as the swamp cedars, that stand as a sacred and spiritual place for Shoshone and Goshute communities. Sen. Ira Hansen (R-Sparks) was the only Republican senator who voted in favor of the bill, despite making remarks that questioned the accuracy of accounts of massacres that occurred at Bahsahwahbee and angering Indigenous advocates, as my colleague Jazmin Orozco Rodriguez reported.
A few pieces of legislation I'm watching as the session nears a close:
(This is by no means exhaustive. Let me know what I'm missing here — [email protected]. h/t to the Nevada Conservation League, which puts together a weekly list of bills to watch).
Reauthorizing the Lake Tahoe Restoration Act: Sen. Catherine Cortez Masto introduced legislation last week to fund environmental protection at Lake Tahoe. The legislation has the backing of the entire Nevada delegation, the Tahoe Daily Tribune reported last week.
---
WATER AND LAND
"We're going to have one of the lowest runoffs that we've seen:" SFGATE's Julie Brown writes about low elevations at Tahoe, with an interview from the Truckee River Water Master.
Diving to clean-up Lake Tahoe trash: "A team of scuba divers on Friday completed the first dive of a massive, six-month effort to rid the popular Lake Tahoe of fishing rods, tires, aluminum cans, beer bottles and other trash accumulating underwater," the Associated Press reports.
Biden considers new sage grouse rules: Associated Press reporter Matthew Brown reported last week that the Biden administration is considering a temporary ban on new mining across certain areas of public land in the West as part of efforts to recover the imperiled Greater sage grouse, which has seen significant population declines over the last half-century. From the story: "The Interior Department review comes in response to a federal court order and is expected to cover millions of acres of sagebrush habitat considered crucial to the bird's long-term survival."
Tracking a federal wild horse adoption program: "...records show that instead of going to good homes, truckloads of horses were dumped at slaughter auctions as soon as their adopters got the federal money. A program intended to protect wild horses was instead subsidizing their path to destruction." Incredible reporting from the New York Times' Dave Philipps.
Federal regulators to rule on Tiehm's buckwheat: "The U.S. Fish and Wildlife Service agreed to make a determination on the listing of a rare Nevada wildflower as an endangered species by the end of the month," reports Jeniffer Solis with the Nevada Current.
Water data is as important as ever: An example from California.
For the mappers out there: A new, peer-reviewed Colorado River map is out.
For the mappers out there (Part II): What is a summit? Great New York Times piece.
ENERGY AND CLIMATE
Google's big geothermal announcement: Google is partnering with energy startup Fervo to develop a "next-generation geothermal project" that would help the company power its data centers and infrastructure in Nevada. Fervo expects to begin adding geothermal energy to the Nevada grid in 2022, according to a Google blog post, and the company views the project as a crucial part in its transition toward meeting its "moonshot" carbon-free energy goals by 2030.
From Google's blog post: "Not only does this Fervo project bring our data centers in Nevada closer to round-the-clock clean energy, but it also acts as a proof-of-concept to show how firm clean energy sources such as next-generation geothermal could eventually help replace carbon-emitting power sources around the world."
"Next-gen:" In the blog post, the project is referred to as "next-generation" geothermal, distinguished from conventional geothermal because it uses advanced drilling, fiber-optic sensing and data analytics (the press release mentions AI and machine learning). But the project appears to be one step in the company's larger plan to make geothermal more viable. At a keynote for Google I/O, an annual developer conference, CEO Sundar Pichai said geothermal "is not widely used today, and we want to change that."
That last quote is a big deal: As I've written in this newsletter before, developers have long seen an opening to deploy more geothermal, and Nevada is uniquely positioned. It has expertise, with a top geothermal developer headquartered here, and according to the U.S. Geological Survey, high potential for more geothermal development. Having a major company make a high-profile investment in geothermal is pretty significant.
Bury power lines? News 4-Fox 11's Ben Margiott asked a top NV Energy executive.
An important utility debate is brewing: Los Angeles Times reporter Sammy Roth writes about a national debate over whether utilities should be allowed to charge their ratepayers for trade association fees, especially when those trade associations engage in advocacy activities.
The Nevada Independent is raising $200,000 by Dec. 31 to support coverage of the 2024 election.
Tax-deductible donations from readers like you fund this critical work.
If you give today,your donation will be matched dollar-for-dollar.
Give + Get Matched
Featured Videos