First Lady Melania Trump speaks about the opioid crisis during her three-state tour promoting her "Be Best" initiative at the Westgate Las Vegas on Tuesday, March 5, 2019. (Jeff Scheid/Nevada Independent)
First Lady calls for more media coverage of opioid crisis during Las Vegas visit
First Lady Melania Trump brought her campaign to end opioid abuse to Las Vegas on Tuesday, calling it "the worst drug crisis in American history" and an issue that needs more media coverage.
Trump appeared at the Westgate Las Vegas as part of a Sinclair Broadcast Group-sponsored town hall addressing the epidemic. President Donald Trump declared the opioid crisis, fueled by addictions to prescription painkillers, a national public health emergency in October 2017.
The first lady explained the gravity of the situation — 72,000 Americans dead from overdoses in 2017 — and summarized some Trump administration initiatives during her opening remarks. Those actions include $1.4 million in grants for addiction prevention and treatment as well as more than $50 million to support law enforcement programs that assist people battling addiction.
But Trump also implored the media to focus as much attention on the opioid crisis as it does "idle gossip or trivial stories."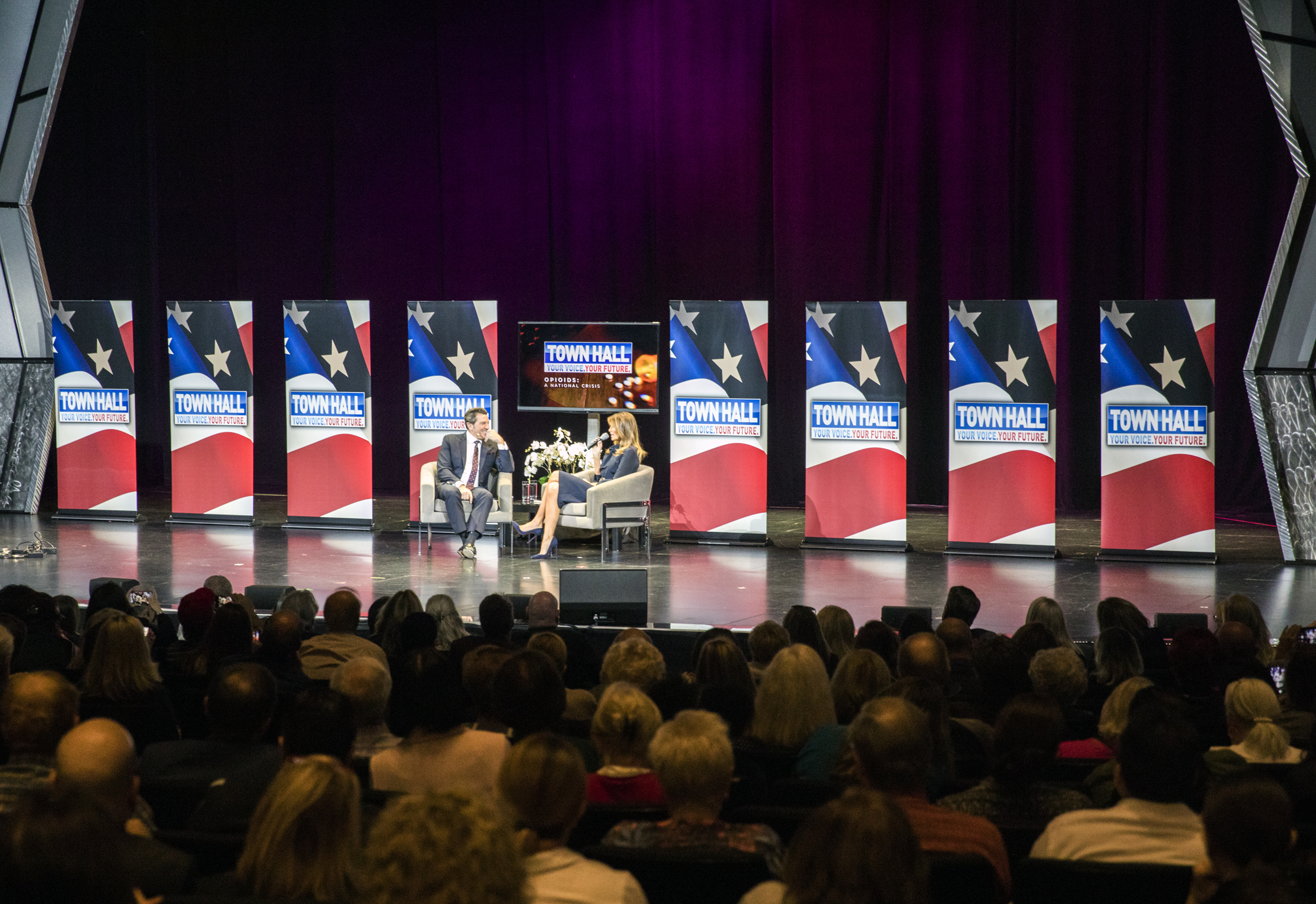 Former Fox News host Eric Bolling, whose 19-year-old son died after taking Xanax laced with fentanyl, hosted the town hall, which is the second of its kind featuring Trump. The first was in November at Liberty University, a private Christian institution in Virginia.
His first two questions to the first lady Tuesday pertained to media coverage.
Trump reiterated her stance, saying reporters should spend more time educating Americans young and old about the opioid epidemic. Stories on the front page of newspapers, she said, would spur adults to talk to their children and other family members.
"They do it already, but I think not enough," she said.
Trump also suggested that parents should begin discussing the dangers of drugs with their children when they turn 8 years old. She said children are smarter these days and have greater access to information, hence the need to start conversations early.
Her comments came the same day the Wall Street Journal reported Purdue Pharma LP, which produces OxyContin, is preparing for a possible bankruptcy filing. The pharmaceutical company is facing thousands of lawsuits that allege it played a role in the nation's deadly opioid epidemic.
Trump has made opioid abuse one of three pillars of her "Be Best" initiative. The others relate to well-being and social media. Her Las Vegas visit wrapped a three-day trip that also included stops in Oklahoma and Washington to promote her initiative.
The town hall will be replayed on all Sinclair Broadcast Group websites, including KSNV, at 4 p.m. Tuesday, followed by a television airing this weekend.
Comment Policy (updated 3/21/19): We welcome reader comments on our stories. However, in keeping with our general policy of transparency, accuracy and accountability, we do not accept comments from anonymous accounts. Anonymous accounts are those without a valid first and last name. Any such comments will be deleted, and anonymous users will be blocked from commenting further. We also will block commenters who use offensive language, engage in personal attacks or state things that are verifiably false.
get our morning newsletter,
The Daily Indy
INDYMATTERS PODCAST
CAFECITO CON LUZ Y MICHELLE
@TheNVIndy ON TWITTER