Five visitors to Nevada test positive for COVID-19 upon returning home, 118 test positive during visit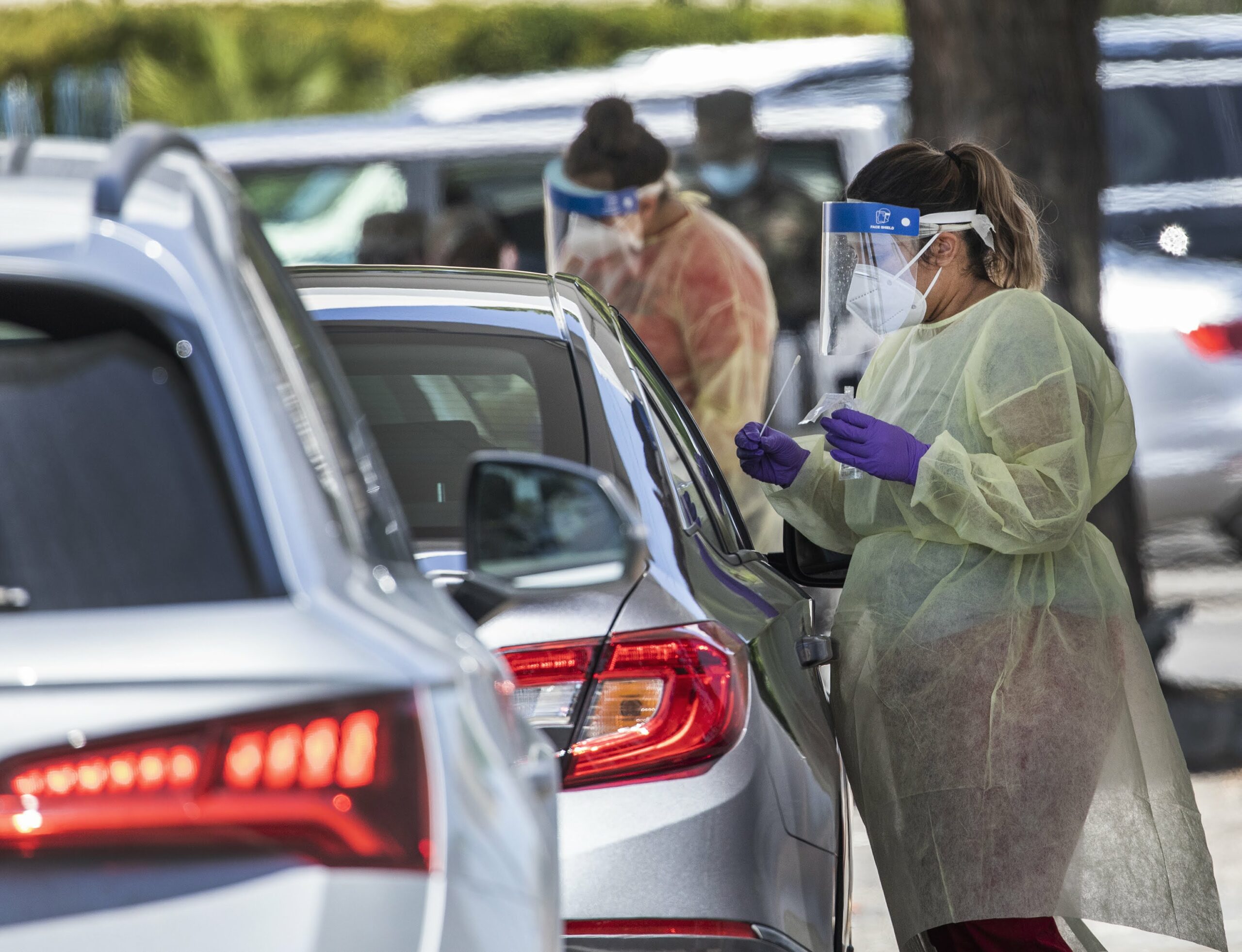 Five out-of-state residents have tested positive for COVID-19 in their home states since the beginning of June following trips to Nevada during which they were infectious, according to Department of Health and Human Services data obtained by The Nevada Independent.
Over the same time period, 118 out-of-state residents tested positive for coronavirus while visiting Nevada.
The data, which cover the time period from June 1 to July 6, underscore the difficulties in testing people for COVID-19 and then tracing their contacts across state lines. It's a problem particularly acute in Las Vegas, a city that in a normal year would play host to more than 42 million people.
Of the five visitors who tested positive upon returning home, one was from Arizona, two were from California and two were from Ohio. One of the California residents visited Carson City while in Nevada, while the rest visited Clark County.
Julia Peek, deputy administrator of the Division and Public and Behavioral Health, said that the data offers a partial understanding of who may have been infectious while in Nevada. She described the data as more of a reflection of the states that made the effort to see the contact tracing process through rather than a complete picture.
"It is data that we've received, so it's true data, but it's an incomplete understanding," Peek said. "Case investigation is primary, and if they have a delay in that investigation to associate that person with our state, there would be a delay in telling us that information."
The interstate contact tracing process is supposed to work like this: Say a Los Angeles County resident tests positive for COVID-19 after returning home from a weekend in Las Vegas. Upon determining during the disease investigation process that the resident was in Las Vegas while infectious, the Los Angeles County Department of Public Health would be responsible for referring the case to the state of California to send to the state of Nevada to then send to the Southern Nevada Health District, which would be responsible for the Las Vegas side of the contact tracing.
If any part of that process fails — the disease investigation process takes too long, or the information never gets passed up the chain — there will be no way to ever know how many visitors tested positive for the virus once they returned home.
Peek also suggested that some states may identify a resident who traveled to Nevada too late for it to be of any use for contact tracing and may choose not to go through the notification process.
"If they notified us three weeks after the initial lab report, that would be too late to intervene," Peek said.
The second part of the data, the number of those from out of state who tested positive while in Nevada, shows how many visitors are likely becoming symptomatic upon arrival to Nevada and seeking out testing, Peek said.
"In order to go to another state and get tested, probably what pre-empted that is becoming symptomatic. That's a risk to Nevadans because you have someone who, upon arriving to our state, is symptomatic," Peek said. "But great that they got tested."
The data show that, for each week over the last month, anywhere between 16 and 31 visitors to Nevada from 20 states and two countries have tested positive for COVID-19. Nearly half of those, 55, were Californians, while another 20 were Arizonans, 12 were Texans and 7 were Utahns.
Three visitors from Florida tested positive, as did two from Colorado. The remaining states — Georgia, Idaho, Illinois, Kansas, Minnesota, North Carolina, New Jersey, New York, Ohio, Oklahoma, Oregon, Pennsylvania, Tennessee, and Washington — and two countries, Brazil and Mexico, each had one resident test positive in Nevada.
Peek said that the data show the extent to which Nevada has focused on reaching out to other states to let them know about positive cases they've identified.
"We try to get that to them as soon as possible," Peek said.
Peek said the data generally reveal the difficulties in sharing information about COVID-19 across state lines compared to how information would be shared for tuberculosis, HIV, syphilis or chlamydia. She described those diseases as the "gold standard" of reporting between states.
"Those diseases, you do need to intervene and get treatment. You absolutely need to notify the state because someone could get pregnant with syphilis," Peek said. "Time, though of the essence, that timeframe can be extended with other diseases. In this case, if you've missed that window of opportunity to intervene, there's not much notification could do."
The Nevada Independent is raising $200,000 by Dec. 31 to support coverage of the 2024 election.
Tax-deductible donations from readers like you fund this critical work.
If you give today,your donation will be matched dollar-for-dollar.
Give + Get Matched
Featured Videos