For Lake Tahoe, Caldor Fire brings uncertainty, dislocation and fears of a new normal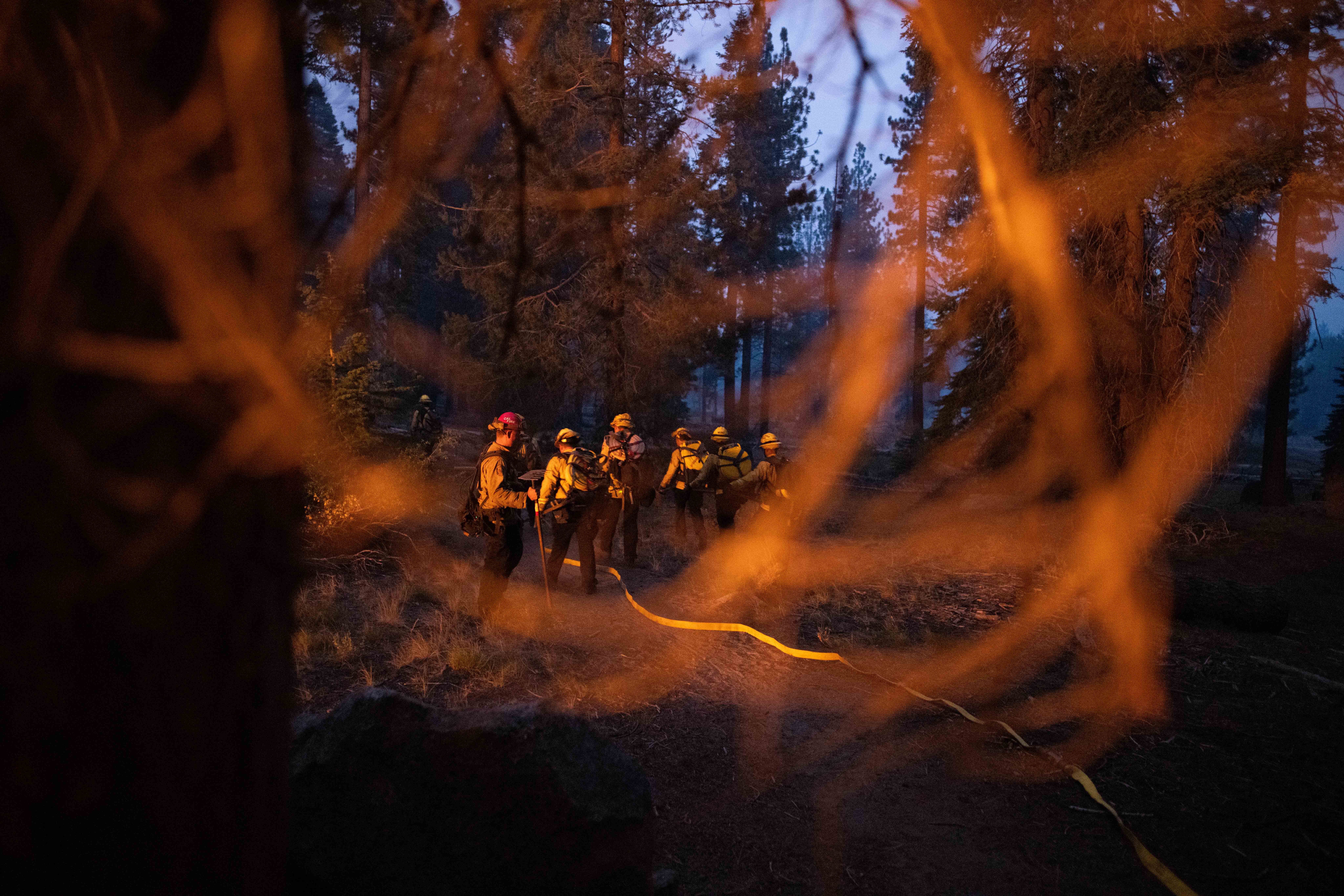 The wind whipped ash around in Carson City on Tuesday afternoon as Carlos Arce laid his hand on the bed of a white pick-up truck. The day before, Arce evacuated from South Lake Tahoe with his four children. He stood by the truck with his father, visiting from out of the country, in the parking lot of the Carson City Community Center, a shelter for evacuees.
"I'm feeling sad," Arce said. "We lost almost everything. When I think of the mountain, it was beautiful. Now the fire is destroying everything, everything I know."
An evacuation unprecedented in scale. A devastating fire making a steady march toward the town. Another challenging moment in a summer that has seen many, as one fire after another, driven by extreme weather and drought, have threatened communities in the northern Sierra. In some cases, blazes like the Dixie Fire have flattened small towns, with few resources to rebuild.
Arce has lived in Lake Tahoe for about two decades. He recounted working at Sierra-at-Tahoe, a ski resort along Highway 50 that was hit by the Caldor Fire, the intense blaze threatening the lake's southern and western landscapes. On Monday, photos showed snow machines at the resort being repurposed to fight the fire. These measures and others have helped fend off flames.
But all of these fights come with a sadness, and an uncertainty about losing a special place.
As with other South Lake Tahoe residents who evacuated this week, Arce is hopeful he can return home. But the scope of the evacuation orders, which apply to all of South Lake Tahoe and neighboring lake communities in Nevada, give him pause. What is going to happen next?
By Tuesday afternoon, the Carson City evacuation center was at full capacity, as was the Red Cross outpost in Gardnerville. Evacuees were being directed to the Reno-Sparks Convention Center. The Lyon County Fair Grounds and Dayton Event Center are open for camping.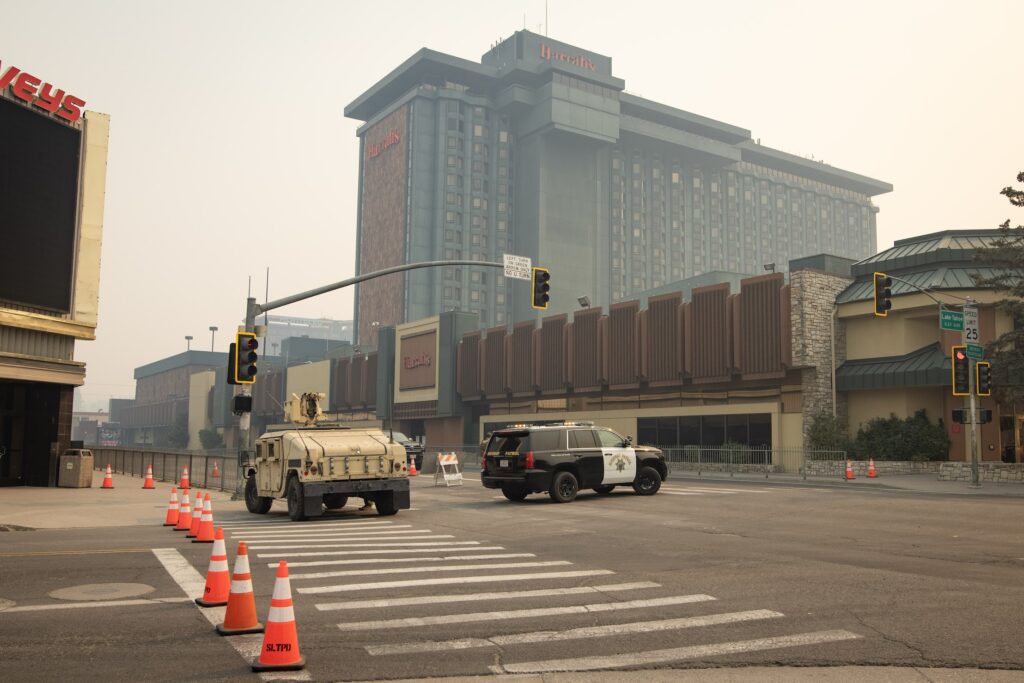 The Lake Tahoe Basin, straddling the California and Nevada border, is a lot of things to a lot of people. South Lake Tahoe has a population of about 20,000 residents, a size that swells each weekend with tourists. As the COVID-19 pandemic set in and remote work became an option for some employees, residents from big cities, including San Francisco, moved in.
Meanwhile, full-time residents, many who provide essential services to the community, felt the squeeze from the same economic issues facing other Western mountain towns whose economies rely on a delicate balance of attracting tourists and part-time residents — while supporting local residents.
Despite the mansions, private buoys and pristine boats, the median household income for South Lake Tahoe is $49,390, lower than what it is for other parts of California. When fire officials made the call to extend a mandatory evacuation across the town, it was a strain for many residents. Not everyone has money for gas, let alone a vehicle, to drive to Reno and stay there for weeks.
For decades, South Lake Tahoe has been preparing for the worst-case scenario, an evacuation on a citywide scale. But there are few points of comparison for the Caldor Fire.
Local residents point to the Angora Fire as the closest analog. That 2007 fire burned 3,100 acres and destroyed about 250 homes in a similar area of southwest Tahoe near Fallen Leaf Lake and Echo Lake. The fire is ingrained in many residents' memories.
Darcie Goodman Collins grew up in South Lake Tahoe and now serves as the chief executive officer of the League to Save Lake Tahoe, a conservation group behind the "Keep Tahoe Blue" sticker. She said that the community rallied together, even as people were evacuating on short notice. Neighbors were calling neighbors who might be vulnerable. Phone trees lit up.
"It was all very surreal because it happened quickly," she said.
Goodman Collins said she had been ready to evacuate for weeks. Her area of town was closest to the flank that poses one of the greatest threats to structures. She then went to her parents house on the other side of town. Soon, she was helping her parents evacuate too, as evacuation orders were extended.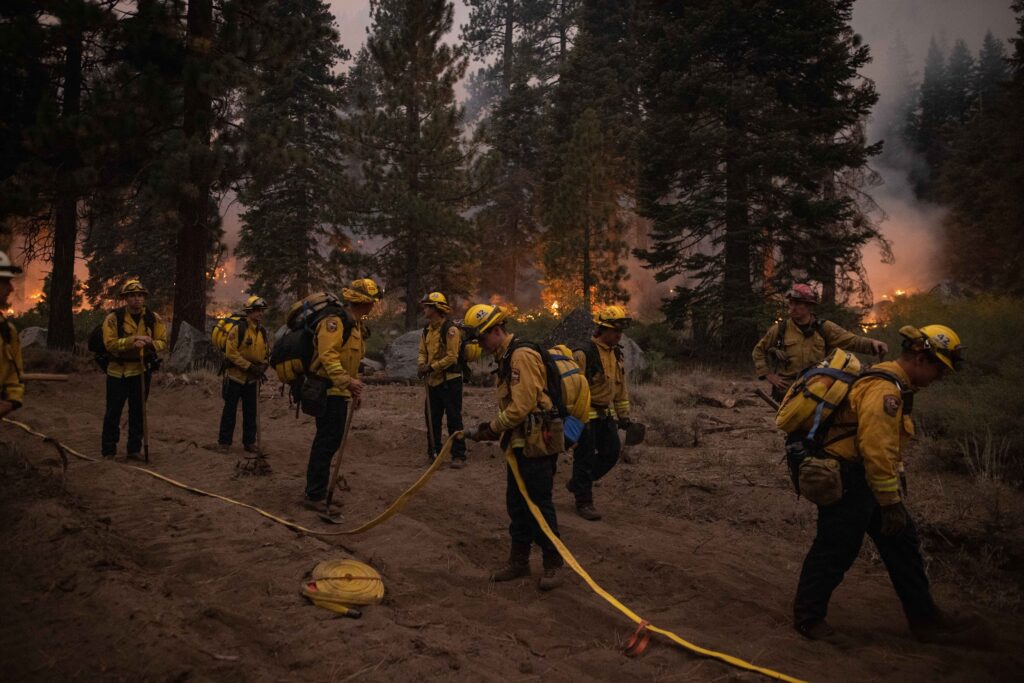 When the orders were extended, she said, "that's when you realize it was a big fire."
As of Wednesday evening, the Caldor Fire, which started miles away from the Tahoe Basin, had burned a massive landscape — about 207,931 acres — with 23 percent containment. The fire has destroyed 780 structures and injured five people. The situation remains dynamic. But so far, news reports suggest that crews have largely managed to protect structures clustered in the most populated communities around the lake's southern edge.
In the West, where megafires are occurring more often and with extreme behavior, firefighting resources are called upon from different parts of the state and country. In the case of the Caldor Fire, crews have come from across California and Nevada to contain the fire and protect homes.
Some crews have returned to Lake Tahoe after battling other fires, including the Dixie Fire. That fire, one of the largest in California history, has burned 847,308 acres near the town of Quincy, about 80 miles northwest of Reno. As of Wednesday, the fire has burned more than 1,200 structures.
The Dixie Fire and the Caldor Fire are historic in how they have moved across the region. They are the first two known fires in California history to cross the Sierra Nevada. In the past, fire managers believed that granite sections of the mountain range would stem the spread of wildfire across the range. For Tim Brown, the director of the Western Regional Climate Center, the fire's movement is an indication of dry fuel and extreme conditions.
"The thing that strikes me this time is that both Caldor and Dixie have crossed the ridge," Brown said. "That tells you right there that we had very dry fuels. We've had winds that have basically formed within these fires that have helped push the embers ahead of fire lines."
The community and environmental effects of the Caldor Fire are still not fully known, though the fire is large in scale, drawing comparisons to other natural disasters, like hurricanes or floods, that come with a wide range of long-lasting impacts.
In many ways, the community and environmental effects are intertwined with each other. South Lake Tahoe's economy relies on recreation. Tourists come to ski, hike, bike, enjoy the lake and see a concert. With a warmer, drier climate, the basin was already facing threats.
The degree to which landscapes are burned — and how the burn pattern develops — will likely dictate the management response. How will the burned areas affect runoff into a watershed that is used by Reno and other water users along the Truckee River? What types of vegetation could return to those areas? How will the fire affect the clarity of Lake Tahoe, known for its blue gaze? What does this mean for the wildlife within the local ecosystem?
Researchers can look to the Angora Fire to consider some of these questions, but the Caldor Fire is unique in its scale and its footprint within the basin. Scientists are already thinking about ways to investigate these issues. During the fire, the UC Davis Tahoe Environmental Research Center sent out a team to take measurements of water quality in the lake, CalMatters, a California-based nonprofit news outlet, reported this week.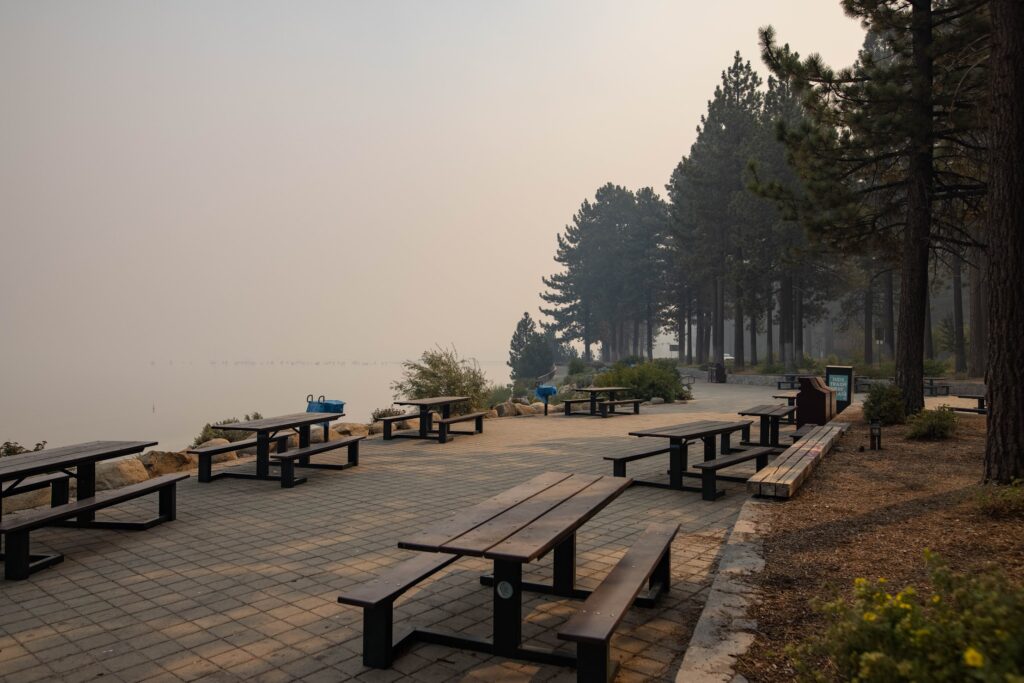 As the fire continues to burn, a big question remains on the minds of evacuees and officials: What does this mean for the future? For Clay Cunningham, who has lived in Lake Tahoe for more than three decades, finding an answer seems to be changing minute-by-minute.
Cunningham evacuated with his family earlier this week. For decades, he has lived in Meyers, California, just outside of South Lake Tahoe, and close to the fire line.
On Tuesday afternoon, Cunningham stood near his tent on a grassy median outside the Carson City Community Center. Up until the last couple of days, Cunningham felt that local officials had painted an overly-optimistic view of the wildfire's path. Officials, he noted, had briefed residents that they thought it was unlikely for the fire to enter the basin.
"I lived through the Angora Fire, so we know what the possibilities are," he said.
But Cunningham said it was different this time. The evacuation orders came suddenly. He said he was not put on an evacuation warning before he got the order to leave. He got a knock on his door, and he was told to pack up his stuff quickly, and get out of the area.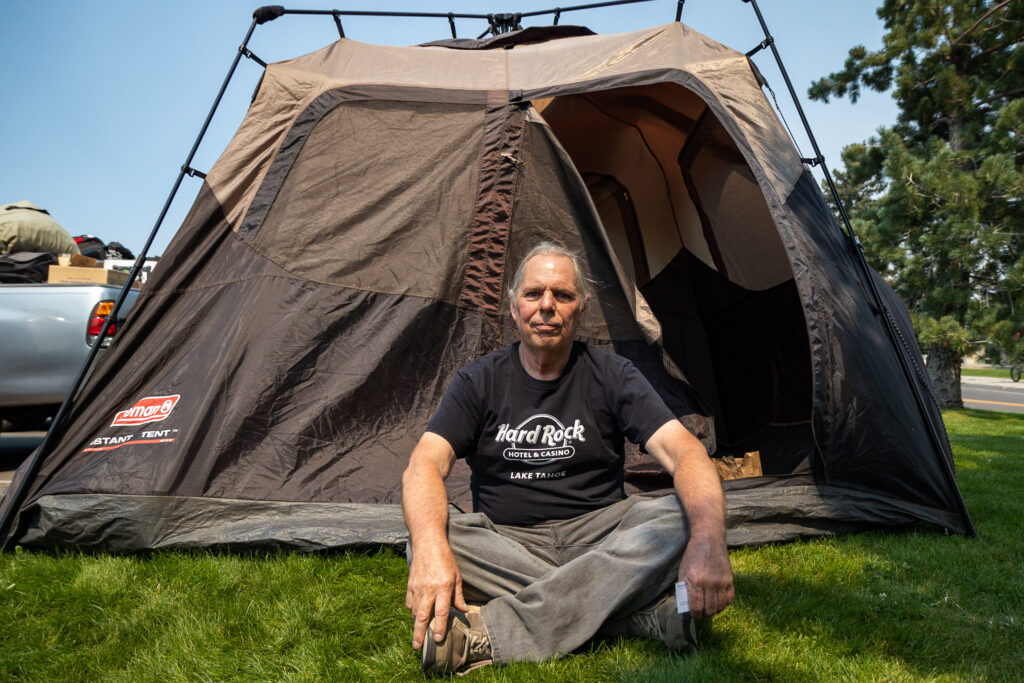 "Anybody that lives in any place for any length of time, we all start to accumulate things," he said in an interview. "I've got all of my family memorabilia, from great grandparents and from their families, passed down. How do you pick and choose what you're going to leave?"
The fire, at the same time, poses longer term questions about the future of a lake beloved by many. How should forest management be squared with a changing climate? What does "normal" look like? And what assumptions should be made about where fires can spread?
Goodman Collins said the fire underscores the need for the basin to continue implementing its forest health action plan. She said it's also important that neighboring forests consider projects to manage land, as the Caldor Fire has shown that fires can enter the Tahoe basin.
"This isn't the end," she said. "We haven't lost Tahoe."
"And I think we'll be able to learn from this to make sure it doesn't happen again," she added.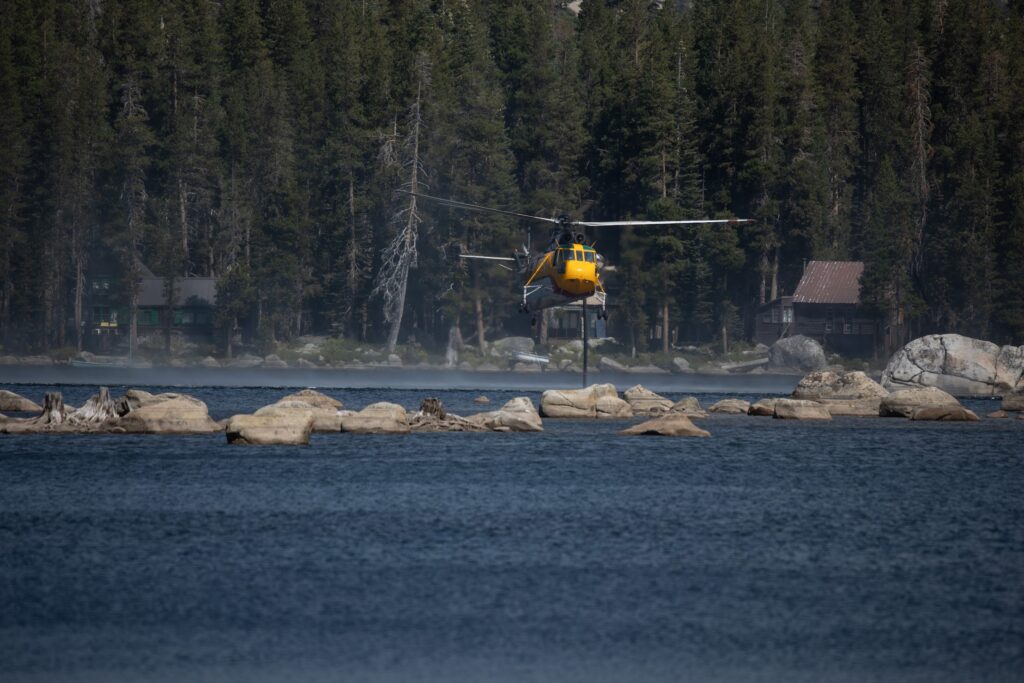 Multimedia editor Joey Lovato contributed to this report.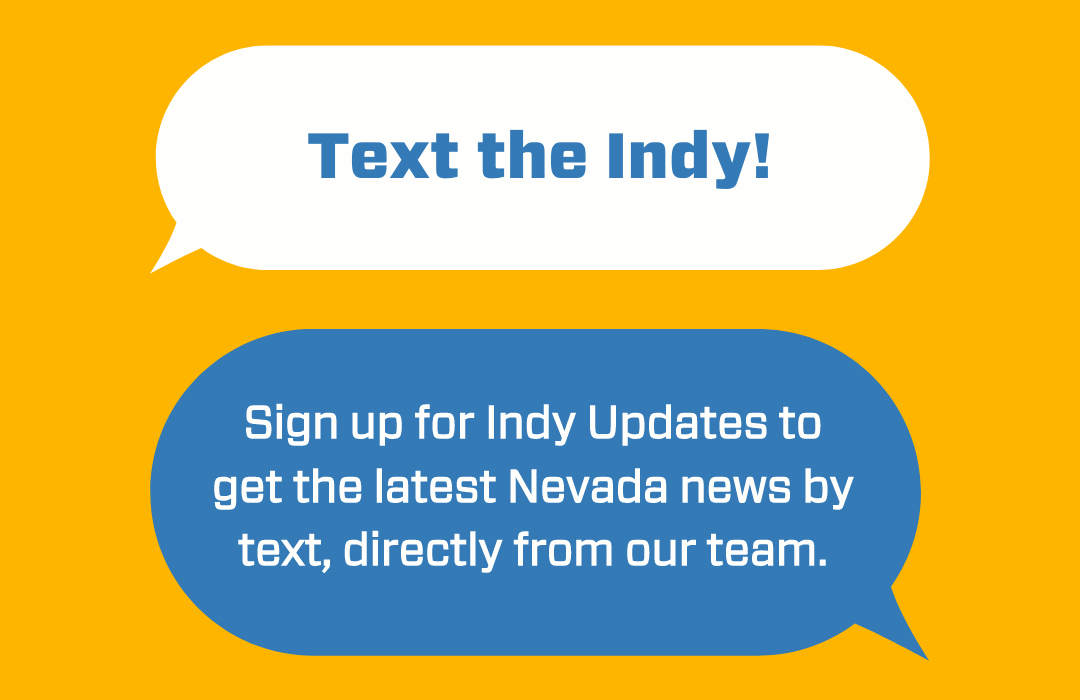 Featured Videos
Comment Policy (updated 4/20/2021): Please keep your comments civil. We reserve the right to delete comments or ban users who engage in personal attacks, use an excess of profanity, make verifiably false statements or are otherwise nasty. Comments that contain links must be approved by admin.