Julieta Perales, first-grade teacher at Ann Lynch Elementary School, helps a student during a reading lesson on Tuesday, Dec. 11, 2018. (Jeff Scheid/The Nevada Independent)
For new Clark County educators, their first teaching assignment may be the most difficult
December 16th, 2018 - 2:00am
The chants in Room 17 grow a little louder each time the student helper lifts a homemade flashcard during a morning reading lesson.
"Now."
"Been."
"To."
"First."
The words roll off the first-graders' tongues with relative ease, especially when they appear a second time. They're simple letter combinations the children should recognize and know automatically, hence their description as sight words. This is a building block to reading — the all-important goal for students in the early elementary grades.
Their teacher, Julieta Perales, gave them a verbal nudge before the activity began:
"Remember, if you didn't know your sight words last time, now is a good time to pay attention."
Perales knows the stakes are high for her students. Research has shown that if children haven't mastered basic reading skills by third grade, they face an uphill battle with each passing academic year. And, under a law passed during the 2015 legislative session, third-grade students may be held back if they're not reading proficiently by the end of that school year.
But she's also working with this reality: Quite a few students entered her first-grade classroom still struggling to learn letter sounds — a far cry from stringing them together and forming words. It's a situation that can be daunting for any teacher, let alone a 22-year-old fresh out of college.
This is Perales' first year teaching, and she's doing so in one of the district's most challenging school environments.
"They're so behind," she said, reflecting on the thoughts racing through her head daily. "How do I get them up there? I'm still learning."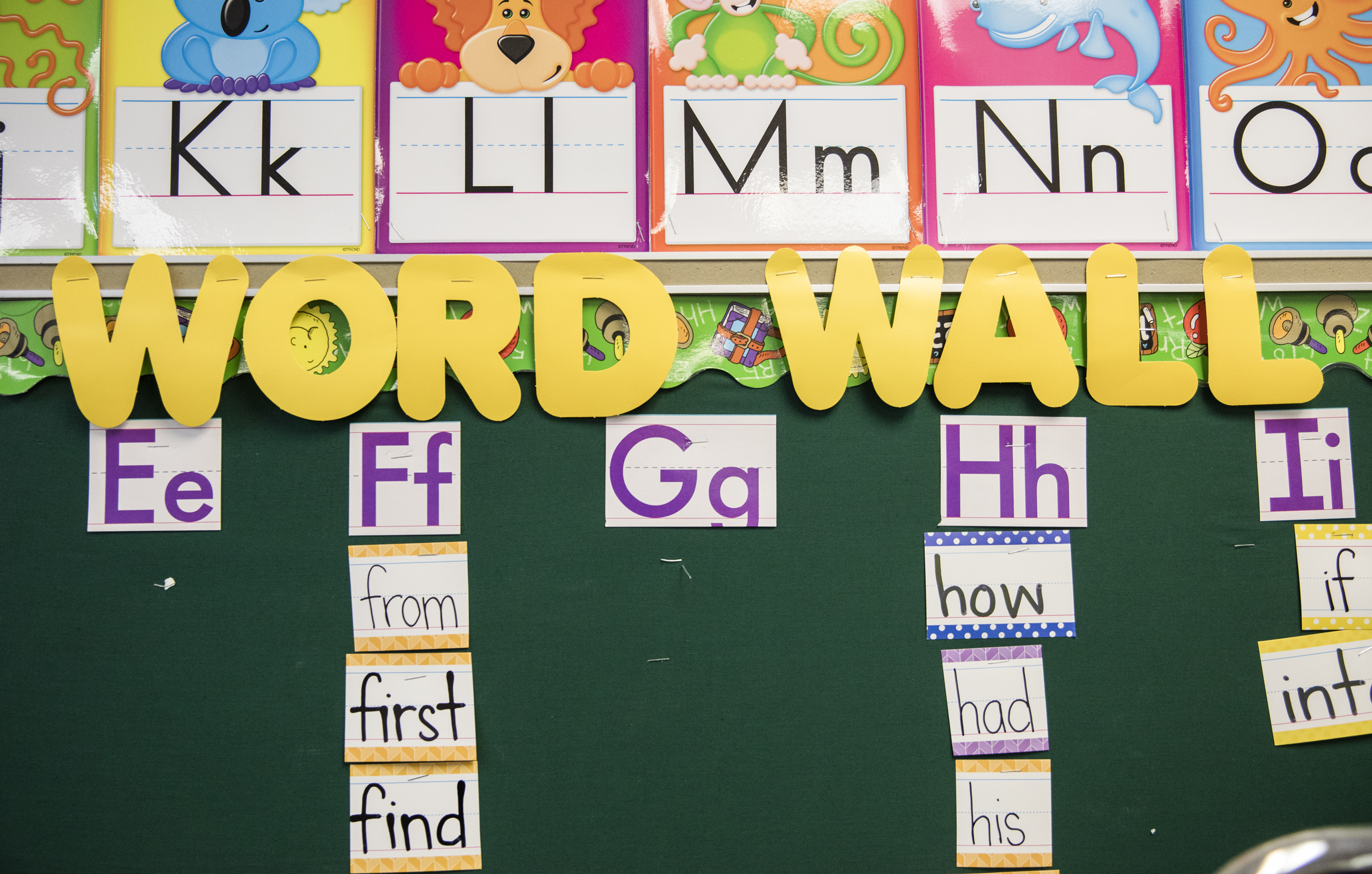 ***
Ann Lynch Elementary School — home of the Snow Leopards — sits in a northeast valley neighborhood that has five elementary schools in a several-block radius. Of those, it's the sole one-star school, a rating that indicates lower-than-average student achievement.
Only 26 percent of the school's third-graders last year were proficient in reading, according to state standardized test results, and 35 percent were proficient in math. Although those numbers were an improvement over prior years, they still fell below state and district averages.
The lackluster student achievement plunged Ann Lynch Elementary School into the now-disbanded Turnaround Zone, a program that aimed to rapidly improve struggling schools. Superintendent Jesus Jara announced last month the elimination of the Turnaround Zone as part of his broad structural reorganization, but the underlying mission remains the same: Turn students into better readers, writers and math problem-solvers.
For schools like Ann Lynch, the turnaround process often begins with a staff upheaval. The school welcomed 20 new teachers at the beginning of this academic year, including 13 first-year educators. But turnover can be high in all of the neediest schools — a problem that, as a report earlier this year pointed out, can create inequities between schools.
"Most of the new teachers end up in high-risk schools because that's where the jobs are," said Linda F. Quinn, a professor in UNLV's College of Education.
The Clark County School District hired 828 first-year teachers ahead of the current academic year. More than half of those teachers — 439 — were placed in one- or two-star schools, according to district data.
So Perales is hardly alone, but it can be a bumpy ride.
She has encountered behavior issues with wiggly students who wouldn't stay in their seats. Some frequently wandered the classroom. Others hid under their desks. Several first-graders were experiencing anxiety to boot. Navigating those situations, she said, chipped away at instructional time needed to bring her students up to grade level.
On top of that, parental involvement was low to start. Only three parents from the class of 17 students showed up to a meet-the-teacher night.
Perales said her first few months teaching were "chaotic and stressful." Those are adjectives any teacher might use to describe the beginning of a new year, but the feeling is likely amplified for an educator leading a classroom for the first time.
She credits support from colleagues and the district's Peer Assistance and Review (PAR) Program with helping her through a challenging initiation.
"While I believe all teachers, especially first-year teachers, could use the support, it's especially vital in a school where there are just extra challenges with kids — primarily being below grade level," said Jordana McCudden, a consulting teacher with the PAR Program.
McCudden, who taught for 18 years, considers herself a classroom coach. Perales is one of 17 first-year teachers on her caseload this year. She visits all their classrooms regularly, observes lessons and provides feedback about both instructional style and behavior management.
But sometimes she's also a sounding board — someone new teachers can vent to if they've had a rough day. McCudden views teaching as an art and, as such, it involves much practice and nuance.
"People think you graduate from college and just know what to do," she said, noting that's not the case. "You never stop growing. It's just so much more than you thought it would be."
The pressures can be ever greater for new teachers in at-risk schools, where many children are behind academically and need to learn material from a lower grade in addition to current content standards.
"You can't just teach them a year's worth of learning," McCudden said. "They have to be on a trajectory where they can catch up."
The school district has offered monetary incentives for teachers willing to move to underperforming or Title 1 schools, which have more students from low-income households. It's a bid to inject more educator experience in these needier environments, but the key is retention.
Ideally, teachers should make multi-year commitments to work in challenging schools, providing some level of staffing stability, Quinn said. The reality, though, is that teachers often burn out in needier environments and transfer to other schools, leaving the challenge to rookie educators, she said.
"What you see happening is so the antithesis of what we know should be happening," Quinn said. "So how do we solve it? I don't know."
That's not to suggest new teachers can't be effective, Quinn said, but it can take heroics — and heavy mentoring — when they're navigating the normal first-year obstacles while also responsible for bringing students' academic skills up to grade level.
"There's no bad school and there's no bad teachers," she said. "People are put in situations where sometimes they don't get to make the right choice or they're not given the opportunity to make the right choice."
***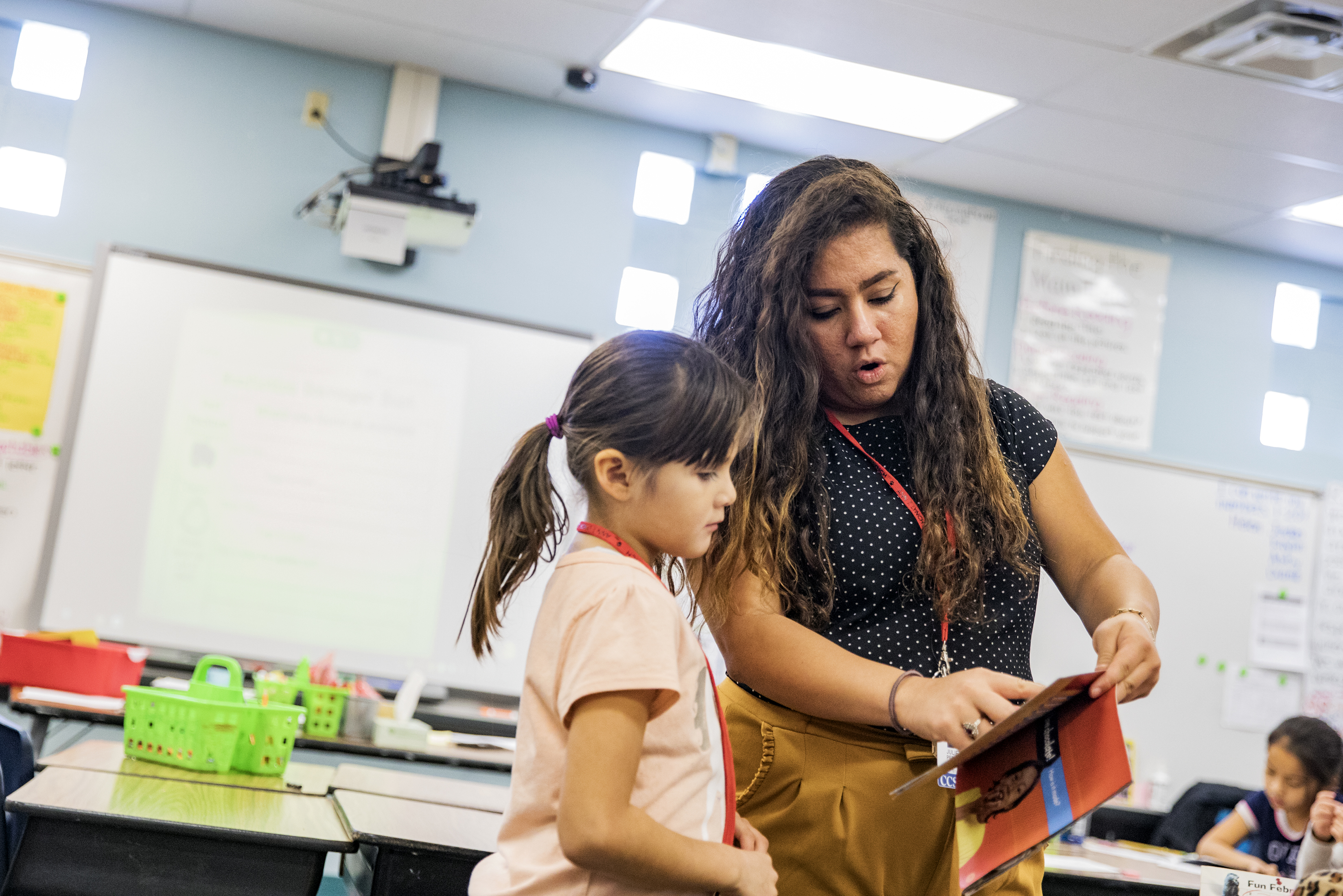 Perales, at least, is feeling calmer with half a school year under her belt.
Parental involvement has increased, and she has witnessed students' ability levels rise as well. Small daily victories carry her through the harried moments and the daunting to-do list. Her students, for instance, should know 100 first-grade-level sight words by the end of the year in addition to the kindergarten-level words.
But the California native said this is her calling. Her mother is a teacher, too.
She intends to stick with it.
"Even despite all the challenges, I love my job," she said. "You can't do this job if you don't love your students."
Comment Policy (updated 3/21/19): We welcome reader comments on our stories. However, in keeping with our general policy of transparency, accuracy and accountability, we do not accept comments from anonymous accounts. Anonymous accounts are those without a valid first and last name. Any such comments will be deleted, and anonymous users will be blocked from commenting further. We also will block commenters who use offensive language, engage in personal attacks or state things that are verifiably false.
get our morning newsletter, The Daily Indy
INDYMATTERS PODCAST
CAFECITO CON LUZ Y MICHELLE
@TheNVIndy ON TWITTER