Ford implements progressive, criminal justice reform-focused outline for attorney general's office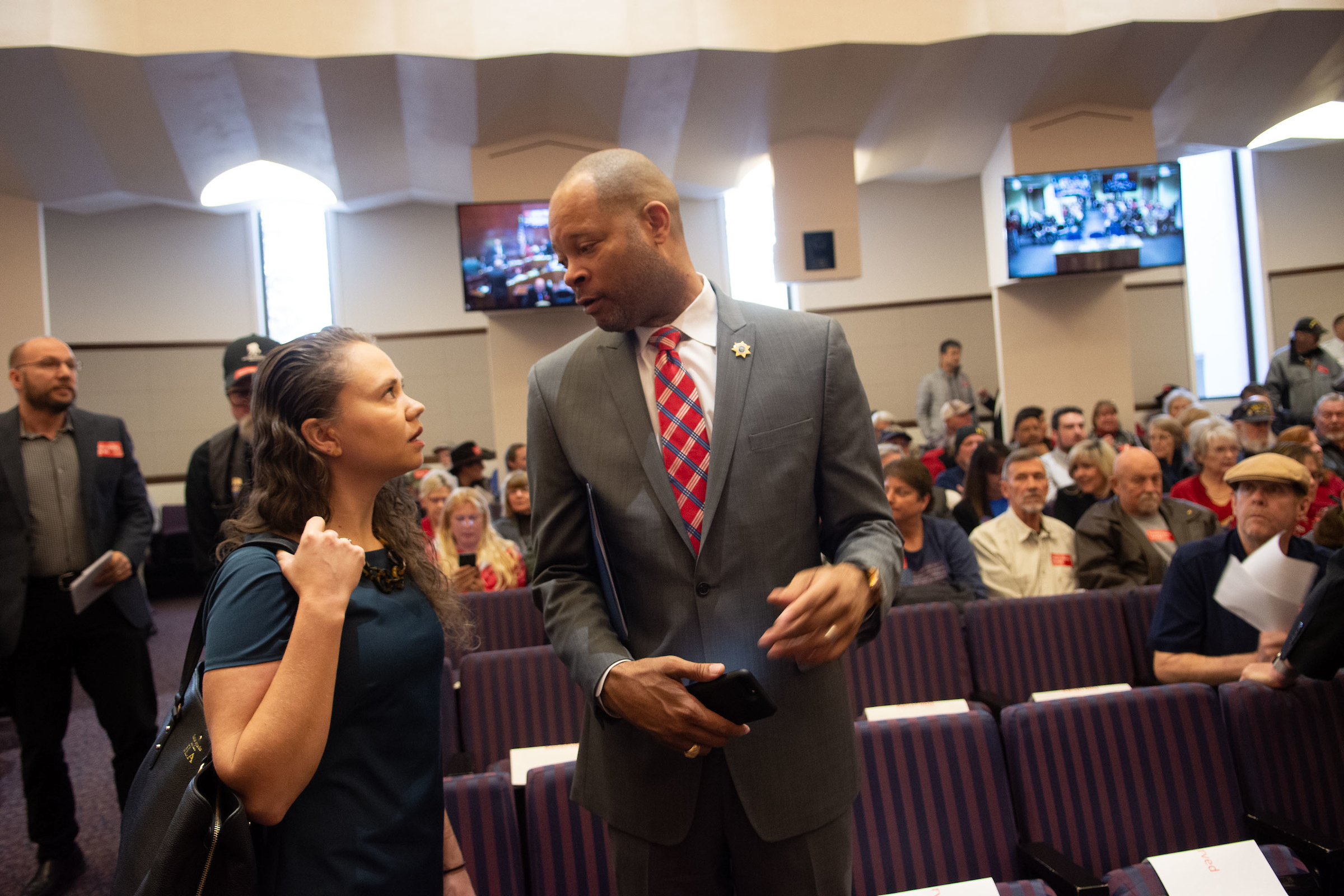 In one of his first major initiatives since taking office, Attorney General Aaron Ford is instituting a major internal shift in how his office approaches criminal prosecutions.
In a six-page internal memorandum, which was sent to staff of the attorney general's office last week and shared with The Nevada Independent, Ford and his staff outlined a number of ambitious recommendations and policy goals aimed at addressing the premise that just locking people up isn't working.
"It is clear simply incarcerating people will not keep Nevada safer and we must use the criminal justice system to rehabilitate offenders so they may rejoin society as productive members," the document states. "There is no justice without human dignity, fairness and equity; nor can justice exist in the absence of honest transactions between people in the marketplace, at work, or in caring for the most vulnerable among us."
The report cites statistics from the Boston-based Crime and Justice Institute that found the state's prison population has grown by about 700 percent since 1980, remains about 15 percent above the national average and with the potential to grow by about 1,200 individuals over the next decade — at a cost to the state of around $770 million.
In an interview, Ford said the policy was his attempt to continue his work as a state legislator in pushing for comprehensive criminal justice reform, while creating an example of how a prosecutor's office can fairly balance the needs of all parties in the criminal justice system.
"It's a blueprint. It's a policy statement," he said in an interview. "It is something that I want the individuals who were engaged in the criminal justice system in office here to know that the AG believes these types of things on these types of issues and so yes, it's a blueprint to kind of guide interactions and prosecutions in that arena."
Although the directives only apply to crimes in the jurisdiction of the attorney general's office, the memorandum is one of a veritable policy-wish list of comprehensive and progressive stances toward curbing overaggressive prosecutorial behavior and decreasing incarceration embraced by any elected prosecutor in Nevada, including:
Presumptive bail requests for misdemeanors will be "released on own recognizance" or unsecured bail, unless the crime involves child victims, elderly persons, violent or domestic violence or individuals with a flight risk. It also calls on DAGs to consider alternatives to pretrial incarceration, including house arrest, random drug testing, pretrial oversight and other diversion or specialty court programs

Calls for adoption of "an office-wide presumption" of not "gratuitously" charging multiple felony crimes with mandatory prison sentences when one crime accounts for the event. This practice of "

charge-stacking

" has been criticized as allowing prosecutors to unfairly stack the deck against a defendant and get them to accept a plea deal.

Diverting individuals who display "credible evidence" of a substance abuse disorder, gambling addiction or other mental illness to "evidence-based" treatment programs and away from incarceration for misdemeanors, nonviolent or low-level offenses.

Encourages office to recommend sentences on the lower end of the sentencing range, probation in lieu of prison and three-year limits to probation in routine misdemeanor or felony cases not involving "violence, crimes against vulnerable populations, crimes with a large community impact or those committed by repeat offenders."

"Encourage judicial discretion" by leaving sentencing recommendations open in plea agreements when "appropriate"

Require attorney general approval prior to sentencing an individual as a habitual criminal or to charge minors in adult court

Work with the state's Division of Parole and Probation to avoid recommending imprisonment for technical violations of parole or probation

Avoid recommending revoking probation "when there is evidence of a person genuinely struggling with drug, alcohol or mental health treatment because the path to rehabilitation is rarely linear"
The provisions of the internal memorandum will apply only to criminal prosecutions under the jurisdiction of the attorney general's office, which includes crimes related to insurance, Medicaid, consumer and workers' compensation fraud, all crimes committed in prisons, misconduct by a public officer, sex trafficking and in cases where another law enforcement office has a conflict of interest.
Those areas — as broad of a scope as they cover — only cover a small percentage of all crimes and prosecutions brought forth in the state. It's something that Ford tacitly acknowledged in an interview, saying he would welcome other district attorneys to adopt the policies, but did not want to give the appearance that he was issuing orders to local prosecutors.
"I acknowledge the autonomy that district attorneys have throughout the state and it is not my intent to impress upon them some mandate from on high that you must do this," he said. "It is presented as an example of what you can do and you know, if they decide to adopt some of these internal policies and maybe they already have them. I'm not suggesting they don't, but if they decide to adopt some, you know that's welcome."
Ford said the policy was inspired by other Democratic attorneys general, including Delaware Attorney General Kathleen Jennings who in March released a similar internal memorandum outlining 37 reforms to the office and its conduct related to charges, bail, plea deals, sentencing and nearly every aspect of how her office conducts business.
The memorandum only creates two new responsibilities for the attorney general — determining whether or not to approve moving to sentence an individual as a habitual offender and whether to charge juveniles in adult court. Ford said the document was designed to give as much flexibility and discretion to prosecutors in his office as possible, while still outlining recommendations and suggestions on behavior in the courtroom.
"I trust my people here, and on day two I told them what my philosophy was on criminal justice reform," he said. "I've worked with my prosecutors hand in hand to help develop this to ensure that it is not something that is far outside the mainstream."
Christine Jones Brady, Ford's second assistant attorney general, said that deputy attorneys general in the office had already begun giving feedback and asking how to implement the suggestions in the memorandum into pending cases or sentencing hearings.
"We're working through those, and there probably will be a period of time where we're all learning and looking at things on a case by case basis because every case is unique," she said.
Ford stressed that the document was meant to lend discretion to prosecutors in the courtroom, and indeed several of the provisions call for DAGs to "aggressively" prosecute violent crimes committed in prison, and to argue for "incarceration and longer sentences when aggravating circumstances outweigh mitigating circumstances or the instant crime involves children, violent offenses, public trust or serious financial fraud."
"(When) we're talking about heinous, violent crimes, we're not going to talk about (own recognizance) release," he said.
But the policy isn't solely dedicated to incarceration and rehabilitation — a significant portion of the policy deals with victim services and notification, including:
Ensure victims receive information about "community partners and victim services," including the state's Victim Information Notification Everyday (VINE) system

Refer people charged with prostitution to specialized treatment courts, and make "appropriate law enforcement referrals" if they suspect an individual is involved with human trafficking

At or before the time of sentencing, provide victim impact statements to the Department of Public Safety, the court and defense counsel

Refer undocumented persons who are victims of crime to advocacy groups, and "work to create an environment where undocumented immigrants feel they can report crime without jeopardizing themselves because of their immigration status"
Ford said the provisions were meant to not only comply with requirements under Marsy's Law — the voter-approved constitutional amendment outlining multiple rights and protections for victims of crime — but as a way to build trust in communities that have historically not trusted law enforcement.
"What we wanted to do was to create trust at that level because of the poor folks who are undocumented, who are victims of crime, are very hesitant to come forward and we want to through this office indicate to them that we will not only prosecute crimes, but attempt to provide you direction to what services may be provided to you," he said.
The memorandum also calls for deputy prosecutors to consider "restorative justice" processes where appropriate  — which can refer to meetings between offenders, community members and victims to discuss the harm caused by a certain crime and ways to foster resolution. As an example, Ford cited the climax of the movie Black Panther, where the movie's villain is invited back to rejoin society in spite of the various misdeeds and evils committed.
"That's a true allegory for what this kind of thing can do," he said.
Attorney General Aaron Ford memo by Riley Snyder on Scribd
The Nevada Independent is raising $200,000 by Dec. 31 to support coverage of the 2024 election.
Tax-deductible donations from readers like you fund this critical work.
If you give today,your donation will be matched dollar-for-dollar.
Give + Get Matched
Featured Videos