From East Las Vegas to Summerlin, a divided Nevada shows its stripes before Election Day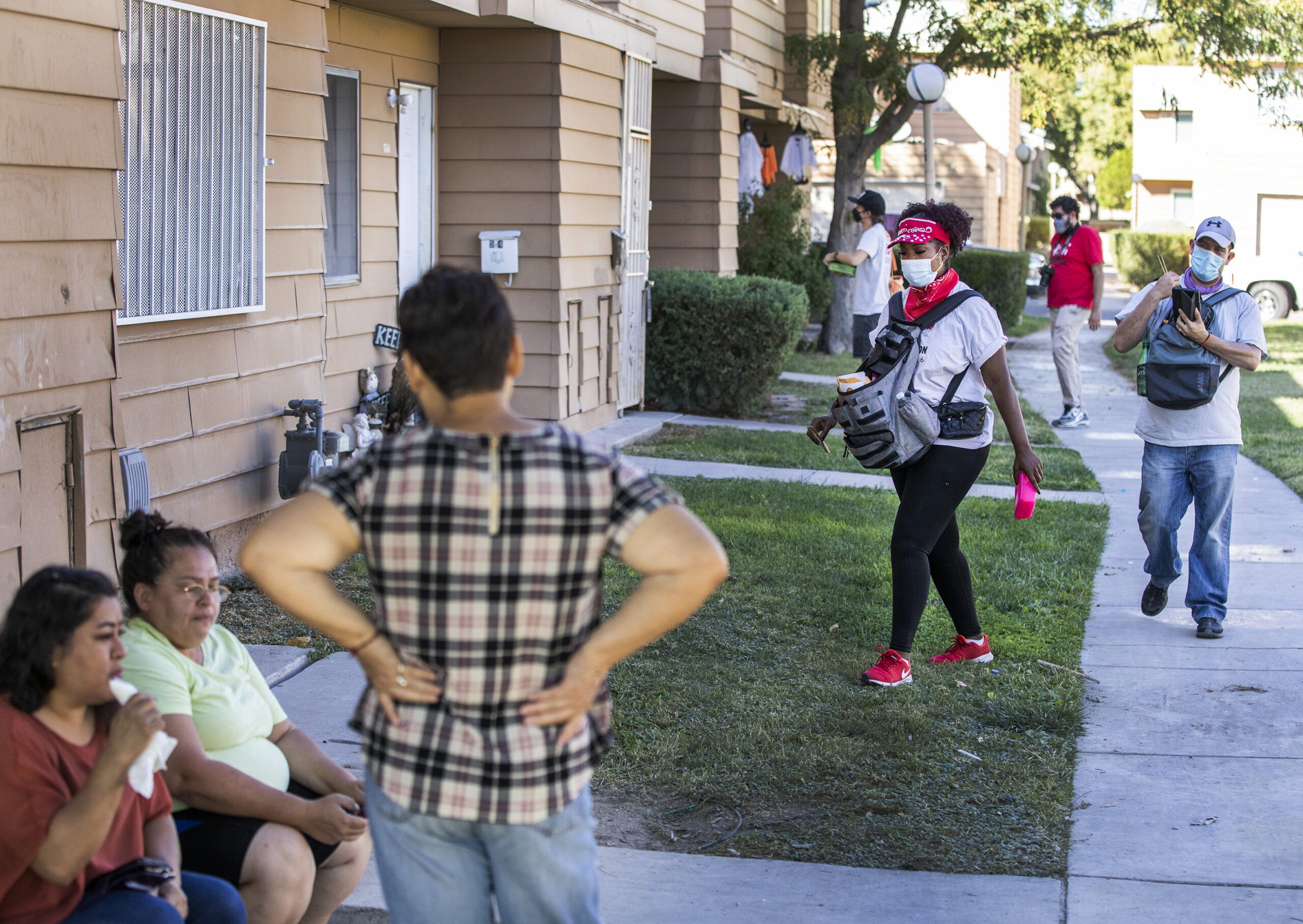 On a quiet block in East Las Vegas, a young boy rides his bike back and forth on the sidewalk. Behind him, hanging from the eaves of a house, a "Trump 2020 Keep America Great!" flag rustles lightly in the wind.
It's a school day, a Monday early afternoon in mid-October, not a time kids usually ride their bikes around the neighborhood. But this isn't a typical year.
Ada Kellas, 55, knows this well. The grandmother of 14 has played teacher this fall after Clark County schools traded brick-and-mortar classrooms for virtual ones amid the ongoing coronavirus pandemic. The stuff they're teaching them, she says, she isn't good at.
Her kids, meanwhile, are working 40 hours a week — "busting their butts," she says — all the while risking bringing the virus home to both her and her grandkids.
"Every day they come home before they even come in the house, they have to stop ... scrub down, change their clothes," says Kellas, who has multiple sclerosis.
Kellas is, as the flag outside her home suggests, a supporter of President Donald Trump. And, on this particular afternoon, she's standing on her stoop, sharing all of this with a Joe Biden canvasser who is eager to find some common ground on which the two of them stand.
Francesca Petrucci, regional organizing director for the Biden campaign, shares with Kellas how her aunts and uncles are struggling to balance distance education for her cousins with their full-time jobs. Biden, she says, wants to put kids back in school.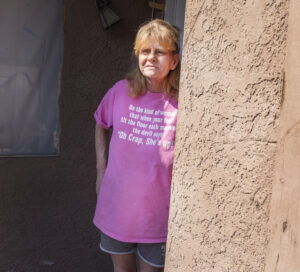 But Kellas says she's done her homework. She isn't convinced.
"Trump is the one that's pushing that," she says.
"You think so?" Petrucci counters, genially but skeptically.
"I definitely do. I watch Biden every time he's out there and it's Trump who's pushing for the schools to open," Kellas says matter-of-factly.
This is the year 2020: A Rorschach test the entire country is staring at, seeing two completely different things. Most people want schools open for in-person learning. They just don't agree on how, exactly, to get there. Open schools immediately, and you risk kids trading germs and bringing COVID-19 home to older family members who are more likely to get sicker from the virus. Delay opening schools in an effort to control the virus, and you deprive kids of valuable in-person interactions and place an extra burden on parents and other caregivers.
And the school reopening conversation is just a microcosm of the broader one that's taken place this election year. Voters have been presented two radically different pictures of how the country could look over the next four years: One, focused on lower taxes and regulations for businesses, law and order and secure borders. Another, focused on expanding access to health care, climate change and criminal justice reform.
But, for many in Nevada, the stakes feel even greater this year.
The state's tourism-driven economy came to a sputtering halt earlier this year as casinos that never shut their doors closed them for the first time in March to stem the tide of the coronavirus pandemic. With the economy in a tailspin, unemployment numbers across the state soared higher than those in every other state. Today, Nevada has only slightly recovered, now with the second highest unemployment rate only behind Hawaii.
Diana Thomas, who has worked at the Flamingo as a guest room attendant for 22 years, was back to work for only two months this summer before taking a leave of absence to campaign for Biden with the Culinary Union. She campaigned in 2016, too, but she says it's different this year.
"Now I'm voting for my life, my health insurance, the desegregation of the state, the country," Thomas, who just celebrated her 54th birthday, said. "We don't need the division. We need a president who is stable in the head. I need someone who is steady that I can believe in."
The question now is which way will Nevada swing — and whether the rest of the country will agree. In the last century, Nevada has voted for the winner of the presidential election all but twice, choosing Gerald Ford over Jimmy Carter in 1976 and Hillary Clinton over Trump in 2016.
Democrats, however, have the advantage: As of Saturday afternoon, 419,000 Democrats had voted statewide to 380,000 Republicans. That means that Republicans will likely need an overwhelming victory on Election Day to close the gap and secure a victory — a tough, but not impossible feat.
And if the year 2020 has proven one thing, it's to expect the unexpected. But campaigns, even in the time of COVID-19, aren't leaving anything to chance.
That's why, with masks in tow, canvassers have blanketed neighborhoods from East Las Vegas to Summerlin in an effort to capture those coveted votes.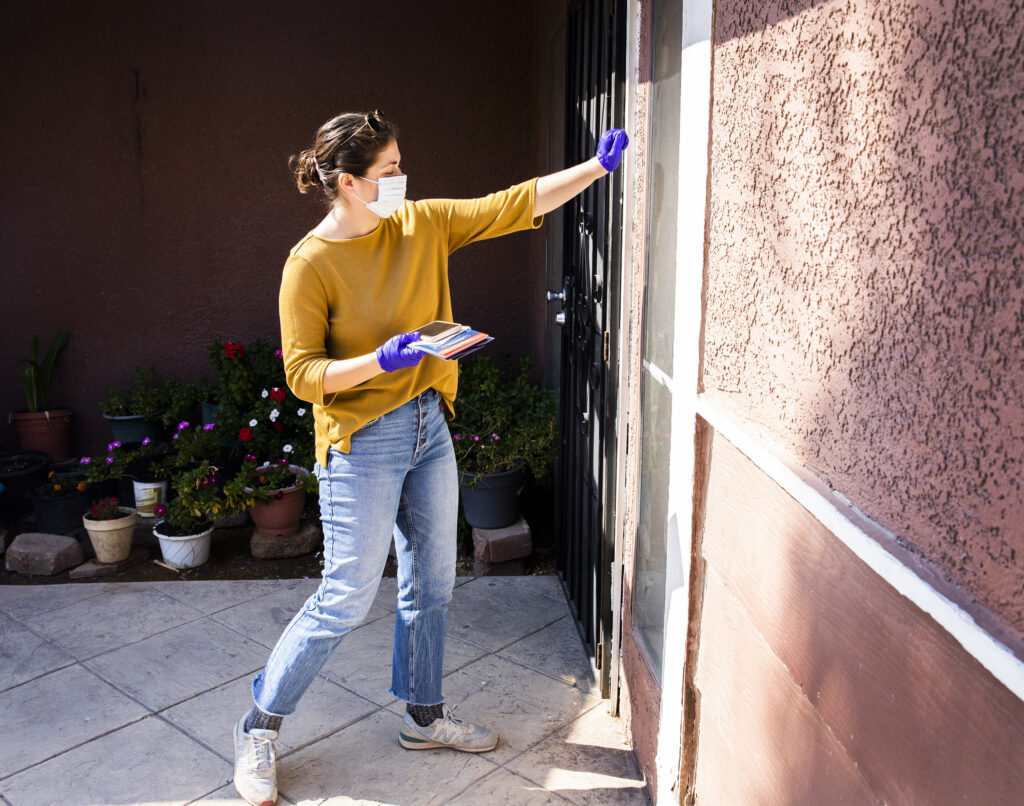 The Culinary Union
Nevada Democrats consider themselves the masters of the ground game, the door-to-door efforts that get voters out to the polls. But the pandemic has forced them to rewrite their traditional playbook, with many campaigns and organizations swapping in-person conversations at the door to contactless literature drops and increased phone banking and text messaging campaigns.
Some organizations, however, chose not to rewrite their playbooks. For Our Future, a super PAC focused on grassroots Democratic turnout, plans to knock 100,000 doors in Nevada with in-person conversations by Election Day, while the Culinary Union, which represents 60,000 hotel workers across the state and is part of the national hospitality union UNITE HERE, has already knocked more than 380,000 doors, according to a union spokeswoman.
In fact, the Culinary Union launched its canvassing efforts on Aug. 1, a month earlier than in previous cycles, and has had more than 400 canvassers on the ground daily in Las Vegas and Reno. In 2016, the union's operation only reached 250 canvassers at its largest point.
But union officials stress that their in-person canvassing efforts have put safety first, meaning that it happens with masks and at a distance.
Thomas, a union canvasser, has it down to a science. The first thing out of her mouth when someone opens the door — even before asking if the person she's looking to talk to is home — is, "For your safety and mine, can I ask you to wear a mask, please?"
She's friendly but assertive, armed with a bright pink pencil box full of surgical masks and a pair of wooden tweezers to hand them out from a distance. Even the reluctant are won over by Thomas's persistence and eventually agree to don a mask and listen to her pitch, which she promises takes only "seconds."
"Hi my name is Di—" she begins at one house in East Las Vegas. Her canvass partner Jesus Magana, a utility porter at the Flamingo, stands several feet away from her.
"Okay, your second is up," the man at the door interjects, impishly. They laugh.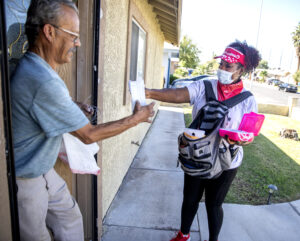 "Hi, my name is Diana Thomas. This is Jesus Magana. The reason for this visit is UNITE HERE is endorsing Joe Biden and we would like to know if we can count on your vote, please," she says.
"That's who I'm voting for," the man, George Esparanza, says.
"Awesome, awesome. So you know it's three ways to vote, right? Voting starts on the 17th of October, all the way until the 30th. You can vote traditionally, you can vote by mail, and you can also fill out your ballot out and drop it down there. So are you voting early?" she asks.
"I usually wait until the wife gets home," he says.
"You're going to vote together? Awesome, awesome. Well, I thank you for your time and participation and guess what? Your second is up. Thank you for your time," she says.
At another house, a man tells her that he isn't going to vote for any of the candidates this year because he doesn't agree with them. She doesn't press the matter, thanking him for his time.
"It's called the United States of America. You have a choice," she says on the way to the next house. "That's why so many immigrants come here, to move to this country because they have freedom. That is his right."
But Thomas says it feels different this year at the doors than it did in 2016. She says people are "enthusiastic" about voting in a way they weren't four years ago.
"Let me tell you something: With the union, we don't stop. Nothing's going to stop us," Thomas says. "Even though it's different, we push through safely and accurately."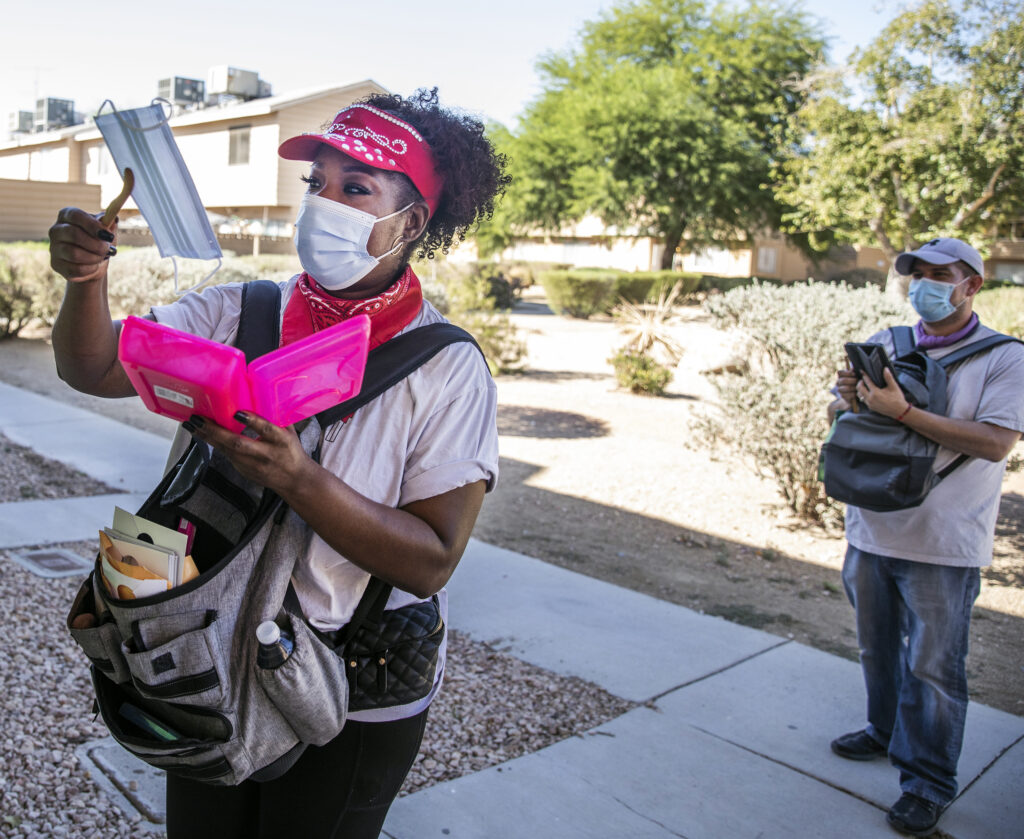 The Trump campaign
With Democrats largely campaigning virtually, the Trump campaign has had an extra opportunity to step up its ground game in Nevada this year since resuming in-person campaigning in June. This week, the campaign announced that it hit its millionth door knock in Nevada with Eric Trump. That represents a quarter of the 4 million voter contacts the campaign says it has made both by phone and at the doors this cycle.
The campaign has also significantly ramped up its operation in Nevada this year, with more than 60 staffers on the ground, which is nearly twice as many staff as the Trump team had on the ground in 2016, and volunteers that campaign officials say number in the thousands.
Nichole Dastmalchi, a 31-year-old small business owner, is one of those volunteers. Although she campaigned for former Rep. Darrell Issa, a Republican from San Diego County, when she lived in California, Dastmalchi said that this is her first time volunteering for the Trump campaign.
"This is going to be a real crucial one for us," she said, between knocking doors on a recent Wednesday afternoon. "For us, for the whole world, really."
In this election, she said, it's not just Trump's policies that are being attacked but "people's personalities, people's families are being attacked."
"This is kind of to prove something as well, that Americans know what they're doing," Dastmalchi said. "That we are informed, and that we can make an informed decision, whatever it may be."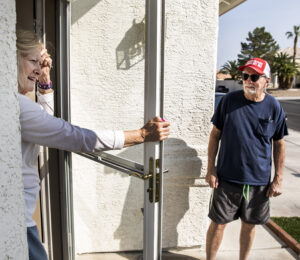 Caroline Thomsen, 77, used to support Democrats. But she said there's "no way" that she can support the Democratic Party anymore, which she believes has become too liberal.
"I don't think John Kennedy could be elected today on the Democratic ticket," Thomsen said in an interview, standing outside of her Desert Shores home.
Thomsen said she's backing Trump at least in part because of his position on immigration.
"The first thing that I really loved about him was the illegal immigration," Thomsen said. "He was the first one that really came out with that before he started to run, and that was one of my strong things. Legal immigration I'm for, not illegal."
Immigration is also a key issue for 47-year-old Michael Rolands, who works for the Clark County School District. However, in addition to secure borders, Rolands said he would also like to see changes made to make the legal immigration process faster.
"If they're trying to come in legally it shouldn't take 17 years to get them through," Rolands said.
Rolands, a lifelong Republican, said he planned to vote Republican straight down the ticket this year.
"I think we need to put America first," Rolands said.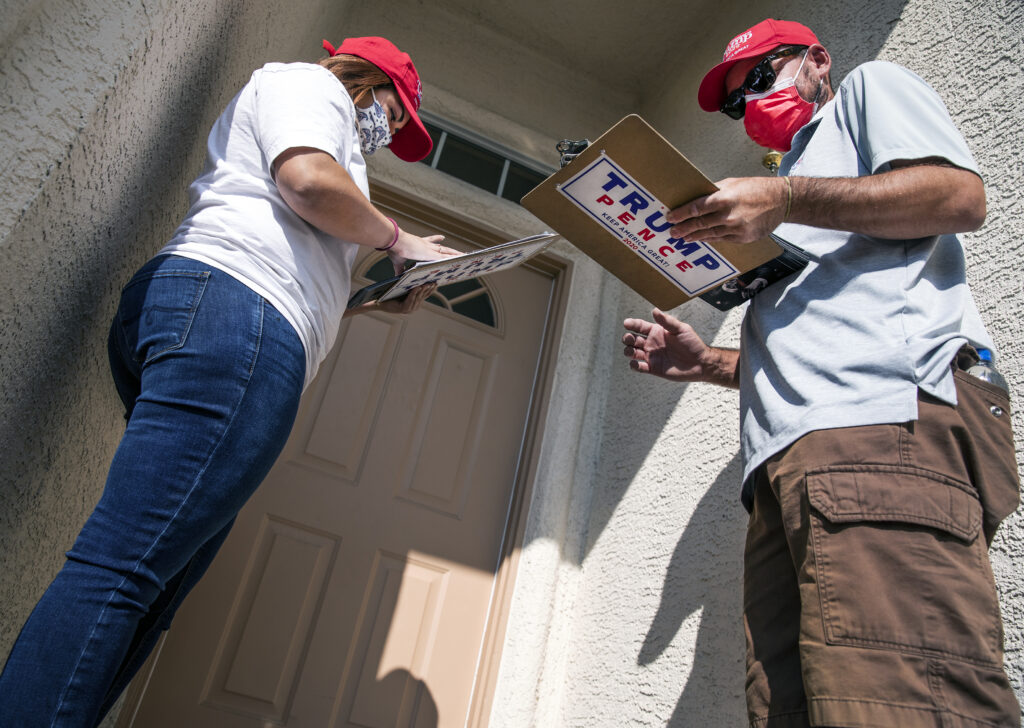 The Biden campaign
It hasn't just been the Culinary Union and the Trump campaign primarily going door to door, though. Earlier this month, the Biden campaign announced that it was resuming traditional door-knocking and in-person canvassing efforts in battleground states, including Nevada.
The Biden campaign has been focusing on a broad universe of registered Democrats and nonpartisans who haven't voted, with a particular emphasis on those that it has not been able to reach over the phone.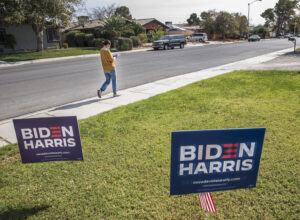 At one house, a voter tells Petrucci that she's received her ballot and plans to vote by mail.
"The sooner the better," Petrucci says about when to mail in her ballot. "We want to get all of those votes in."
Down the street, a woman says she plans to drop off her ballot "probably tomorrow" and tells Petrucci that she changed her husband's mind about whom to vote for and her son changed his wife's mind. But you can't change everybody's minds.
At the Kellas house, Petrucci makes one final pitch.
"What would help you personally in this moment?" she asks.
"In this moment? For the schools to open," Kellas says.
But Kellas isn't persuaded that Biden is the best person to make that happen.
"All right, well, this has been really helpful," Petrucci says.
"Probably not," Kellas says, with a laugh.
"I hope you look into—" Petrucci starts.
"I have," Kellas interjects. "I pay attention, I really pay very close attention."
Then, unexpectedly, she makes a similar plea from Petrucci.
"I hope you look into what I'm saying. I really do," Kellas says. "Check it out. See if I'm telling you the truth. But I know I am."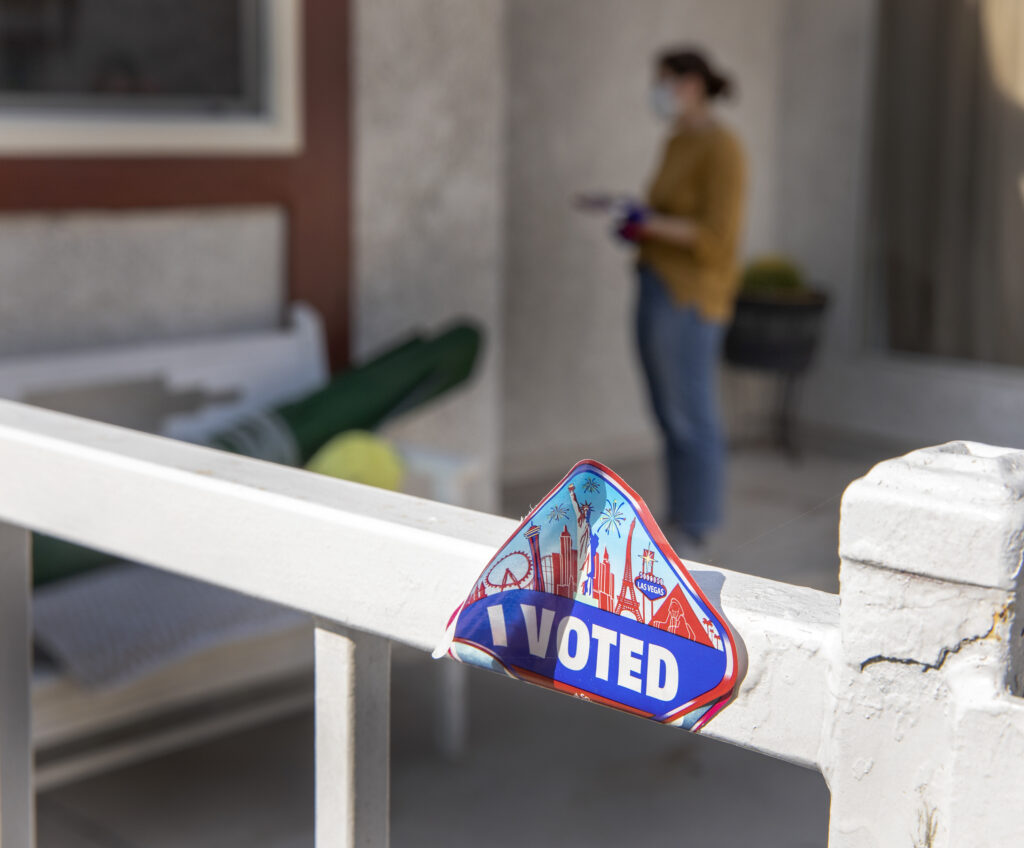 The Nevada Independent is raising $200,000 by Dec. 31 to support coverage of the 2024 election.
Tax-deductible donations from readers like you fund this critical work.
If you give today,your donation will be matched dollar-for-dollar.
Give + Get Matched
Featured Videos