From FBI investigation to big lie politics, 'anomalies' mount for Nevada GOP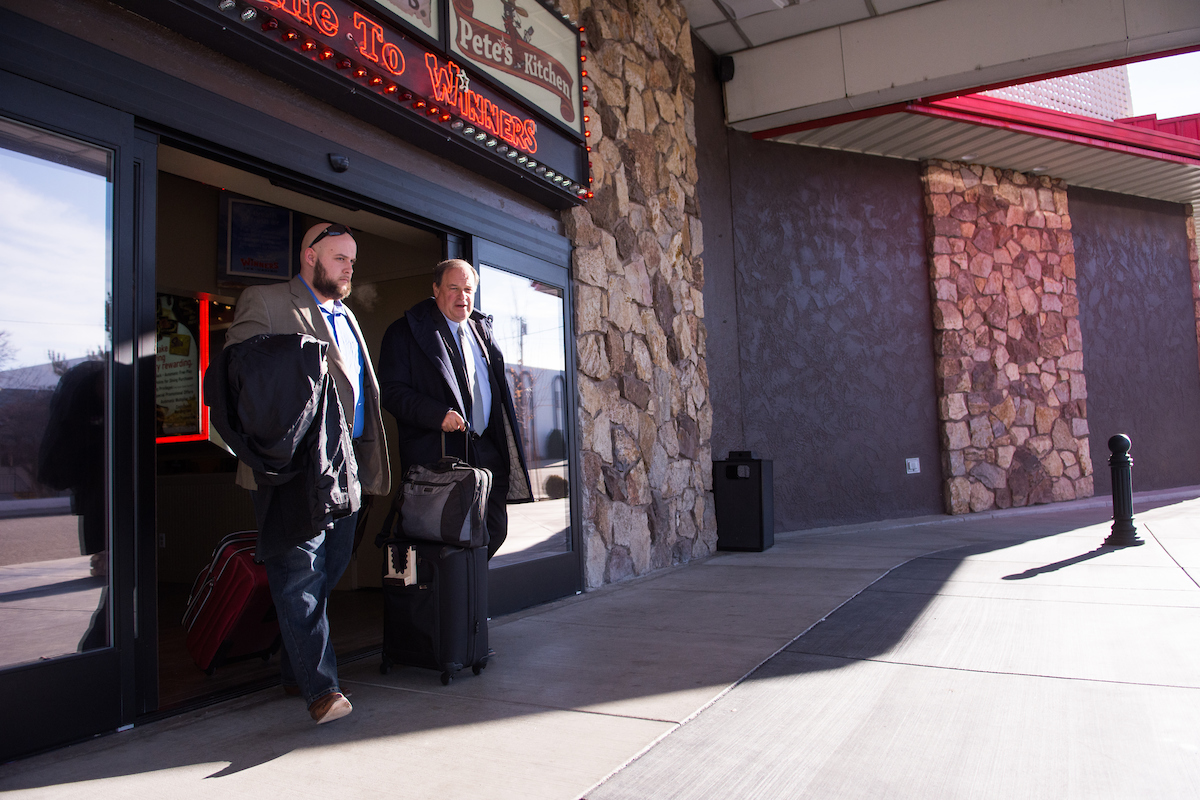 While the Nevada Republican Party spent much of the last election cycle in turmoil, often squabbling with its counterpart in Clark County, one GOP entity projected the image of a well-oiled machine.
Through the dramatic buildup toward Election Day, the "Stop the Steal" chaos, downplaying of the COVID-19 pandemic, anti-mask and anti-vax protests, and the continued drama inside the Republican Party apparatus, the political consulting outfit McShane LLC quietly expanded its reach in Nevada politics and in races across Trump country. Its CEO, Rory McShane, is a sought-after analyst on Newsmax, lectures with the ultra-conservative Leadership Institute Campaign College, and boasts of 53 campaign victories in 2020 alone while racking up an armload of industry awards. His personal favorite: a trophy for "Best Bare Knuckle Street Fight."
From the look of things, the fighting is in the early rounds, and the list of potential challengers is growing.
The Nevada GOP's self-started brushfire has flared into an ongoing FBI investigation of Trump-backing Las Vegas City Councilwoman Michele Fiore, whose ill-advised comments, expensive travel and problematic personal PAC have been raising eyebrows for months. Federal agents are asking questions, and not just about Fiore, informed sources confirm. Among those recently questioned are City Councilwoman Victoria Seaman and former City Attorney Brad Jerbic.
Beyond the Fiore foray, the FBI can't be blamed for being curious about the presence of members of the Proud Boys in the state GOP, which in April chose to censure Secretary of State Barbara Cegavske for not going along with Trump's big lie about widespread voter fraud in the Nevada election.
The chaos has grown so bad that Nevadan Sig Rogich, senior advisor to Republican presidents, recently called for a forensic audit of the state party and the resignation of Nevada GOP Chairman Michael McDonald.
For its part, McShane LLC turned its share of heads by taking in $567,442 in high-rolling contributions on Oct. 19 and 22 last year through Take Back the West PAC, which was started by a McShane employee. Key contributors to the pro-Trump pass-through: Oleksandra Ruffin, the wife of casino billionaire and Trump business partner Phil Ruffin, who gave $500,000. Combined with three checks from retired developer Richard MacDonald totaling $146,442, according to opensecrets.org, and Take Back the West PAC had money to burn.
Hired by the party to investigate election fraud, the McShane company has been publicly tied through texts written by vice president Woodrow Johnston to the recruitment of Proud Boys members for a "Stop the Steal" protest in early November outside the Clark County Election Department. Weeks later, more than two dozen alleged Proud Boys associates and members were subsequently arrested for their involvement in the Jan. 6 attack on the U.S. Capitol. The texts were generated by liberal activist Sarah Ashton-Cirillo of Las Vegas in a Facebook Messenger forum.
In a written statement to The Washington Post, McShane said, "I was unaware of these texts, but I know Mr. Johnston was not working on behalf of any client or organization."
Although McShane won its share of races and expanded its trophy case in 2020, its magic failed in former Nevada Assemblyman Jim Marchant's attempt to unseat Rep. Steven Horsford in the state's competitive Congressional District 4. Marchant lost by 16,173 votes, approximately 4 percent of the more than 320,000 ballots cast, but that respectable showing isn't what caught the eye of the campaign analysts at the bipartisan opensecrets.org.
The candidate and his top political vendor popped up on the website's "Anomaly Tracker," which highlights occurrences considered "out of the ordinary" in its money-and-politics data collection. In this case, a committee or candidate spending more than 50 percent to a single vendor is considered an anomaly. "It is not necessarily an indication that there is something amiss," the website reminds political skeptics.
Those skeptics are bound to cluck when they learn the Jim Marchant for Congress Campaign lavished $850,156 of the $1.4 million total it raised, distributed in 83 payments to a single vendor, McShane LLC. McShane and Marchant did not return interview requests.
Since Election Day, Marchant has been more interested in propping up debunked claims of widespread voter fraud than inquiring about the bang for the buck he received from McShane LLC. In mid-November, he filed a lawsuit against Clark County Registrar of Voters Joe Gloria claiming his department failed to properly authenticate thousands of ballots. A judge quickly dispatched the lawsuit with a county spokesman noting that Marchant's lament was part of a slate of complaints that "misstate and misrepresent evidence and parrot erroneous allegations made by partisans without first-hand knowledge of the facts."
Now he's announced his candidacy for Nevada secretary of state, the office that oversees elections.
To give you an idea of where Marchant's head is at, in a July 8 Twitter post the man who wants to be Nevada's next secretary of state expressed enthusiasm about a push by a Pennsylvania state senator to call for an audit of the 2020 election results from Philadelphia. He also has been outspoken about the GOP's marathon audit of ballots in Maricopa County, Ariz., and loony "My Pillow" guy Mike Lindell's promised exposure in August of election fraud in 2020.
Seem a little nutty? It's just another side show in a party turned upside down.
Nevada Democrats are enjoying every minute. In the wake of news of the Fiore investigation, State Democratic Party Chair Judith Whitmer crowed in a statement, about the cheapening of solemn responsibilities while painting the councilwomen's role as a member of the Republican National Committee in sepia tones. "This investigation solidifies that the Republican party has devolved into the party of grift and greed," Whitmer said, "and they cannot not be trusted with the future of our state."
Somewhere, disgraced state Senate Majority Leader Kelvin Atkinson, D-Felony Conviction, is wincing.
Those rooting from the sidelines for the demise of the GOP's firebrand figureheads should hold their applause. Federal investigations make for juicy headlines, but they are generally long and laborious affairs that often end quietly with less sensational outcomes.
For his part, state GOP Chairman Michael McDonald has found himself mired in scandal before. After dry-cleaning the mud out of his tailored suits, he's managed to remain in the game for decades and appears as confident as ever.
From federal investigations to Trumpian big lie extremism, the "anomalies" are piling up these days for Nevada Republicans.
John L. Smith is an author and longtime columnist. He was born in Henderson and his family's Nevada roots go back to 1881. His stories have appeared in Time, Readers Digest, The Daily Beast, Reuters, Ruralite and Desert Companion, among others. He also offers weekly commentary on Nevada Public Radio station KNPR. His newest book—a biography of iconic Nevada civil rights and political leader, Joe Neal— "Westside Slugger: Joe Neal's Lifelong Fight for Social Justice" is published by University of Nevada Press and is available at Amazon.com. He is also the author of a new book, "Saints, Sinners, and Sovereign Citizens: The Endless War Over the West's Public Lands." On Twitter: @jlnevadasmith.

The Nevada Independent is raising $200,000 by Dec. 31 to support coverage of the 2024 election.
Tax-deductible donations from readers like you fund this critical work.
If you give today,your donation will be matched dollar-for-dollar.
Give + Get Matched
Featured Videos