From Searchlight to the U.S. Senate, Reid defied remarkable odds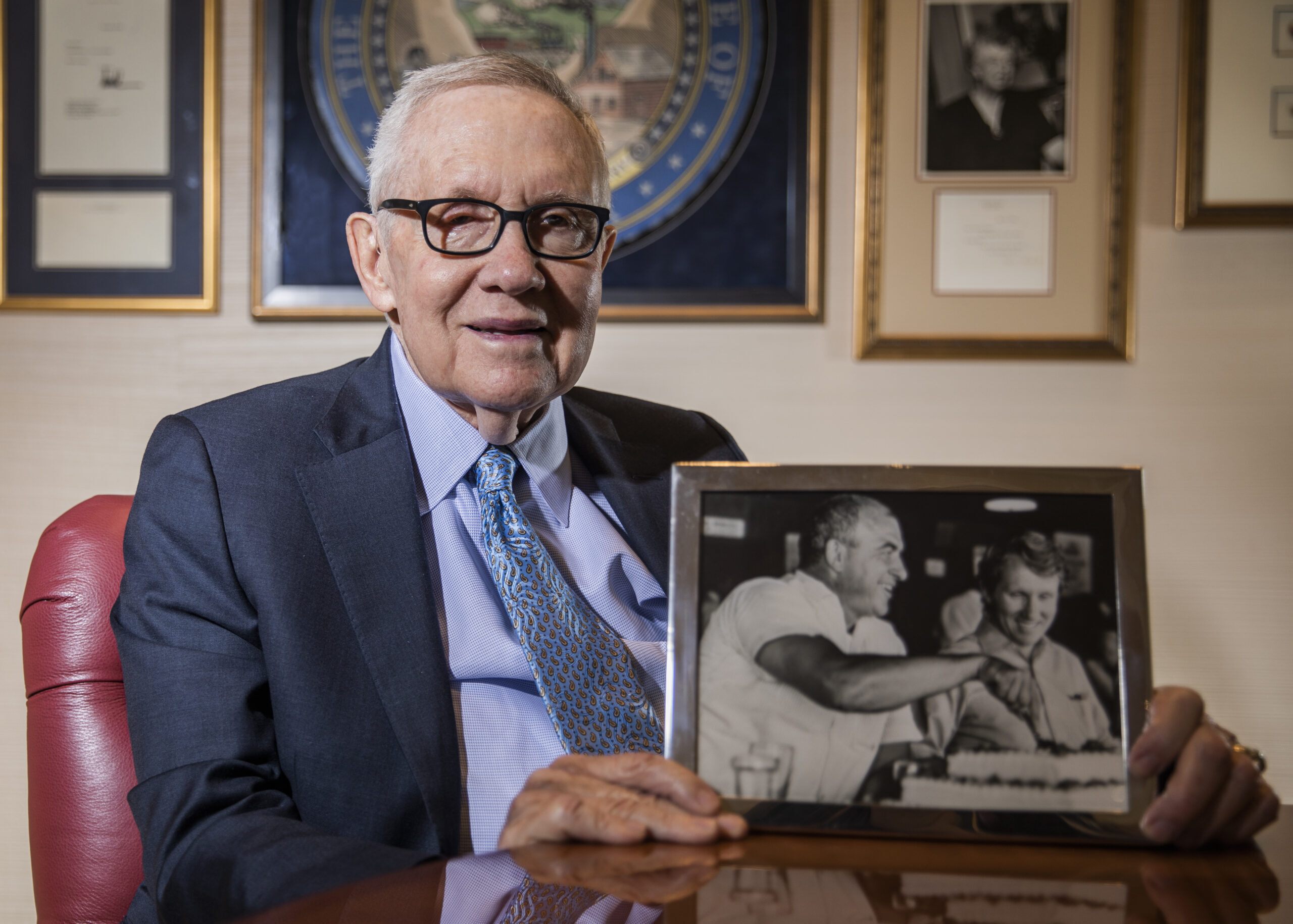 SEARCHLIGHT — You need only pass this way once to begin to appreciate the long journey young Harry Reid faced eight decades ago as he stared into the desolate distance and an uncertain future.
Searchlight's not exactly easy on the eyes these days, but just imagine how the played-out mining town appeared by bar and brothel light in the 1940s. More than a dozen whorehouses, and not a single church. Willie Martello knew what attracted paying customers to the Mojave Desert, and it wasn't a lively rendition of "Onward Christian Soldiers."
No story about the death on Tuesday of Reid, the pugnacious Democratic Party powerhouse who climbed from poverty in Searchlight to the leadership of the Senate, is complete without a snapshot of his hometown twinkling in the dark out on wind-swept U.S. 95.
By the light of Thursday morning, the flag at the Terrible Herbst station and the one outside Reid's final home here flew at half-staff. Locals in part measured the weight of the loss of the town's most famous citizen by the international press mention of their roadside oasis. At the Denny's inside Terrible's Road House, rumors spread that Reid's body might make its final journey back to the obscure place he managed to make famous.
By the end of the day, Reid's name was spread across casino marquees in Las Vegas as memorials and acclaim poured in. The family announced a ticketed and live-streamed memorial service on June 8 at The Smith Center.
As former President Barack Obama would say, "Not bad for a skinny, poor kid from Searchlight."
Reid's importance to Obama speaks volumes. In a letter written during Reid's final struggle with pancreatic cancer, Obama said, "I wouldn't have been president had it not been for your encouragement and support, and I wouldn't have got most of what I got done without your skill and determination." There would be no Affordable Care Act without Reid's tenacity, born of hunger and a childhood without healthcare affordable or otherwise.
For that matter, there would be no MGM Resorts International, either, as it was Reid who played a major role in strong-arming a bailout effort during the Great Recession for the company's massive CityCenter project.
While we're name checking a few of his accomplishments, from his powerful seat in the Senate he moved $1 billion to expand the Las Vegas airport that now bears his name. Nevada's only national park isn't named for Reid, but considering his importance in making it happen it certainly could have been.
He somehow managed to successfully court Nevada's gold mining cartels and its environmentalists, protecting extractive interests while helping to preserve millions of acres of the state's precious public lands. I'm still not sure how he pulled it off without blushing.
The road from Searchlight is awash in a growing inland sea of solar panels and a forest of windmills that despite tenacious opposition he played an integral role in making a reality. No matter where you stand on the subject of renewable energy for America, Reid's name is inextricably linked to its implementation.
Soft-spoken on the stump and given to gaffes and unforced errors, in many ways he made for a mediocre candidate. But he knew how to win against good candidates and extremists. Driving through Searchlight this past week, I was reminded of the long, long day in 2010 I spent watching thousands of GOP Tea Party acolytes converge on the edge of town to rally in large part for the Senate candidacy of uber-conservative Sharron Angle.
Before rising to the Senate, Reid survived an era of Silver State politics riddled with pitfalls and dark shadows. He thrived in the new Nevada by promoting women and people of color. In a 2018 interview he told me, "I put more people on the federal court here in Nevada than all the other senators combined. ... It's really changed the court. It was all a bunch of white men before."
Perhaps Reid's greatest gift was his ability to change with the times. Whether out of a keen survival instinct or something more heartfelt, he evolved from a pro-life gun-waver suspicious of immigrant culture into a leader who celebrated gender and ethnic diversity and benefited from that inclusive worldview. I suspect Landra, his wife of 62 years, was a substantial agent of Reid's change.
That change within the state Democratic Party was hastened by the creation of what has become known as the "Reid Machine." We'll soon know whether that vaunted machine runs smoothly in his absence or starts leaking oil in what promises to be a highly competitive 2022 campaign.
A conversation with Reid often led to a mention of his energetic but abbreviated amateur fighting career as a free-swinging middleweight. He was mentored in the boxing and political rings by his Basic High School Government teacher and future Nevada Governor Mike O'Callaghan. It was O'Callaghan who taught him to keep his guard up and keep punching, but Reid came by the necessary toughness naturally.
He reveled in mixing it up with the opposition.
If you imagine that the vitriol Reid engendered would subside with his death, you were kidding yourself. Just look at some of the dozens of vicious responses to the news of his death. Whether loved or hated, Reid stoked strong emotions with a partisan public style that infuriated his enemies. He tripped on his own rhetoric and "alternative facts," which fueled his jeering critics.
He won many and lost some, but never stopped punching. Whether fighting for his party, his state, his country or himself, only time kept Harry Reid down.
The pugilist has earned his rest. As the sun sets on Searchlight, its favorite son's long shadow stretches across Nevada and far beyond.
Imagine the odds.
John L. Smith is an author and longtime columnist. He was born in Henderson and his family's Nevada roots go back to 1881. His stories have appeared in Time, Readers Digest, The Daily Beast, Reuters, Ruralite and Desert Companion, among others. He also offers weekly commentary on Nevada Public Radio station KNPR.
Comment Policy (updated 4/20/2021): Please keep your comments civil. We reserve the right to delete comments or ban users who engage in personal attacks, use an excess of profanity, make verifiably false statements or are otherwise nasty. Comments that contain links must be approved by admin.