Gabbard fundraises, focuses on foreign policy at Las Vegas events
Rep. Tulsi Gabbard has staked her presidential bid on bringing an end to costly wars, but in a crowded Democratic field, she also needs a financial boost from supporters to get that message to a larger national stage.
Before the Hawaii congresswoman-turned-presidential hopeful appeared Monday at a town hall in Las Vegas, organizers distributed pocket-sized flyers urging attendees to open their pocketbooks for her campaign.
"Only you can help get Tulsi there," the flyer states. "Donate $5, $10, $25 and get Tulsi — the only voice of reason and compassion — to the debate stage. Every donor counts!"
The message underscores the fundraising race Gabbard's campaign faces as it tries to capture 65,000 unique donors from at least 20 different states, the threshold set by the Democratic National Committee for participation in the first presidential debates this summer.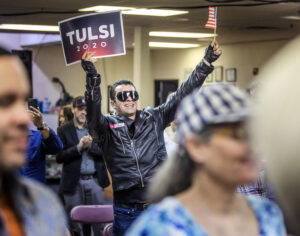 Gabbard told reporters Monday that her campaign has secured roughly 40,000 donations, or nearly two-thirds of the amount needed. She said her "strong grassroots campaign" would bring in the rest as she continues meeting voters across the country. Organizers passed out donation forms during Gabbard's second stop in Las Vegas — a meet-and-greet event at the United Way of Southern Nevada.
"I appreciate your help as they're passing around those forms," she said.
As a member of the Army National Guard, Gabbard served two deployments in the Middle East before being elected to the U.S. House of Representatives, where she's serving her fourth term. Gabbard said her deployments gave her a firsthand look at the human and financial costs of war. The congresswoman decried the "trillions of dollars" spent on regime-change wars that she said could be put toward ensuring that Americans have better health care and quality education.
"I came back from these deployments committed and motivated to be a part of the solution — to bring about this change in our foreign policy that proved to be so costly and counterproductive in undermining our national security by strengthening terrorist groups like ISIS and Al Qaeda," she said. "This is why I'm running for president. This is why I'm asking for your support to serve you as your commander in chief."
Gabbard made headlines when she would not say Sunday at a CNN town hall whether she believes Syrian dictator Bashar al-Assad is a war criminal.
"I think that the evidence needs to be gathered and, as I have said before, if there is evidence that he has committed war crimes, he should be prosecuted as such," Gabbard said.
Gabbard met with Assad in Syria two years ago, saying at the time that "we've got to be able to meet with anyone that we need to if there is a possibility that we can achieve peace."
The presidential hopeful fielded a variety of policy questions that hit closer to home, though. Asked about border security and whether she supports a President Trump-style wall during her second event Monday, Gabbard said the issue has become far too politicized.
"In reality, we need to have secure borders," she said. "If we don't have borders, then we don't really have a country. The real question that we should be asking is what's the best way to provide that security at a practical level? What's the most effective way and what's the most effective way to achieve that security?"
Gabbard said a wall the entire length of the U.S.-Mexico border doesn't make sense. She said the government should look at ways technology can bolster security in that region.
The congresswoman also implored her supporters to take a stand against labels unfairly cast upon others in today's divisive political climate, noting that some people have tried to "undermine" her campaign or candidacy.
"Don't underestimate the power of your own voice," she said. "You can help by increasing those voices of truth and facts. It's tough sometimes in this world of social media where someone puts out a tweet and, all of a sudden, that tweet is treated as thought it was written in stone."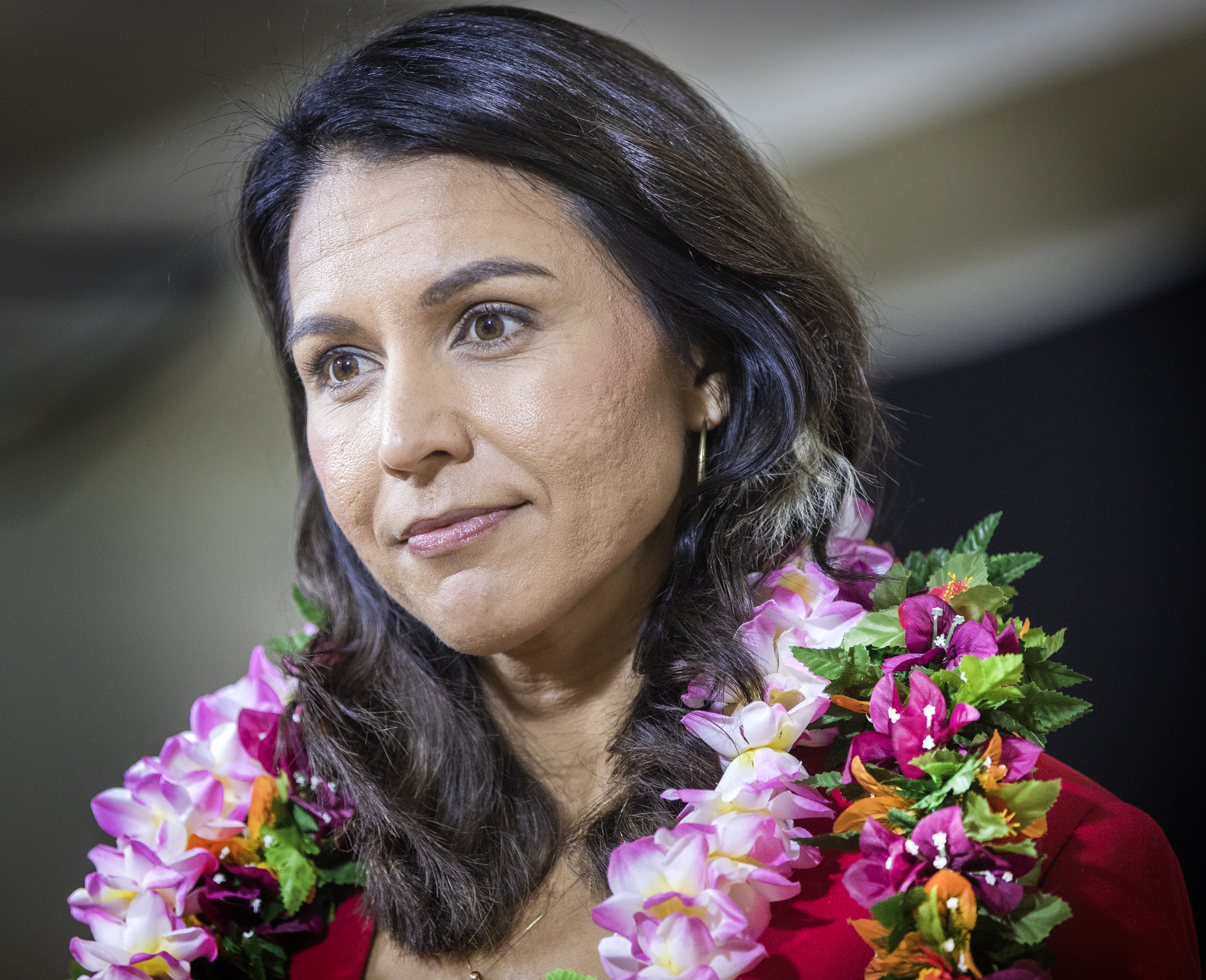 She serves on the House Armed Services committee and House Foreign Affairs committee.
After returning home from her second deployment to the Middle East in 2009, Gabbard served on the the Honolulu City Council. At 21 years old, Gabbard was also the youngest person ever elected to the state Legislature.
Gabbard's town hall at the Asian Cultural Center in Las Vegas drew about 50 people. Her evening meet-and-greet event at the United Way of Southern Nevada brought out another 75 attendees, including 63-year-old Evonne Kessler, who came to learn more about Gabbard.
The North Las Vegas resident said she has alternated being a registered Democrat, Republican and nonpartisan over the years. While interested in hearing Gabbard's White House pitch, Kessler lamented the American political process, in which elected officials seemingly spend more time campaigning than taking care of business in Washington, D.C. or elsewhere.
"I have a hard time with it starting this early," she said. "It gets you real burnt out on it."
Gabbard's visit came two days after Sen. Bernie Sanders — who raised $10 million in the first week of his formalized presidential campaign —  rallied a crowd of more than 1,000 people Saturday at a Henderson park.