Gaming incubator Black Fire viewed as UNLV's contribution to Nevada's economic diversification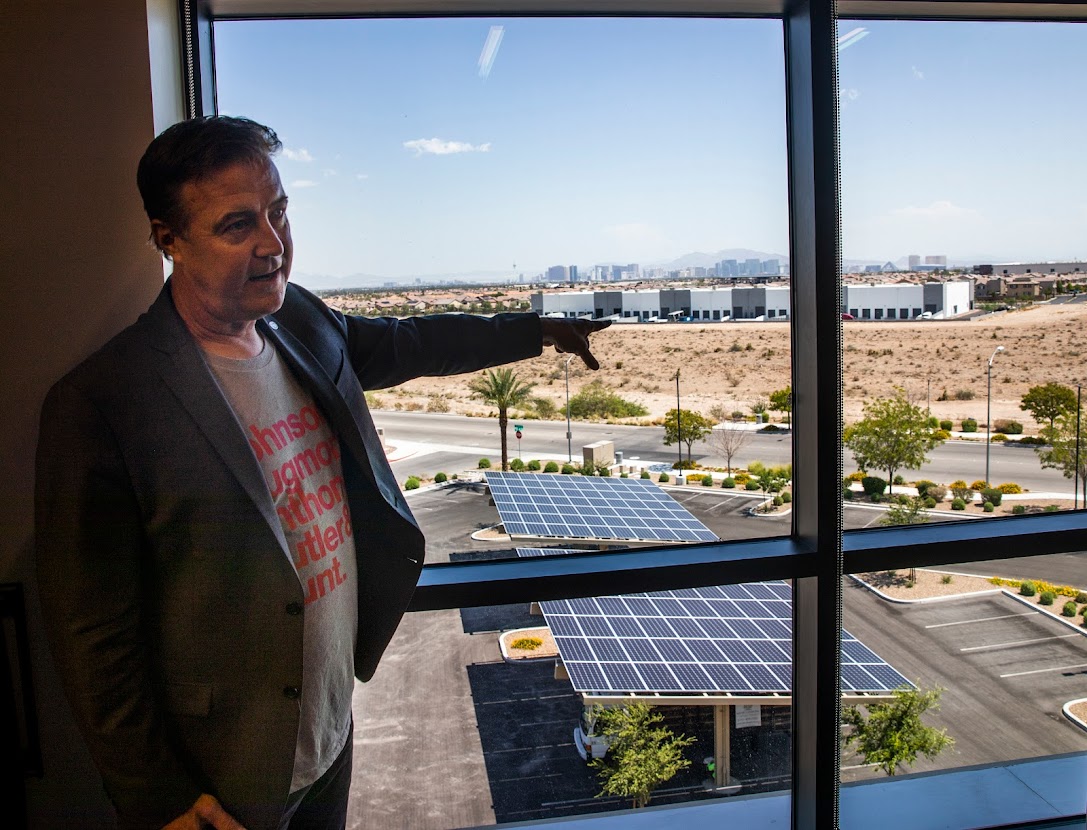 Visitors to UNLV's Black Fire Innovation research institute will find much of what they might expect inside a 15,000-square foot showroom dedicated to newly created products for the gaming and hospitality industries.
In addition to games and systems for the casino floor and sportsbook, a working eSports venue also serves as a Ted Talk-style amphitheater. Innovative creations for hotels are displayed, such as a laundry-free bed linen product that is broken down and reconstituted as new bedding after a single usage.
A translucent television designed to double as a hotel room window is prominently exhibited.
A personal "Gita" robot can be tested. Adorned with Las Vegas Raiders logos, the device follows its user around the facility, carting the visitor's belongings in its storage area.
Gaming is a featured element in what is expected to become a university-run innovation hub tasked with bringing new business and industries to Southern Nevada. Black Fire Innovation is the first building within the 122-acre UNLV Harry Reid Research and Technology Park, located in the southwest area of Las Vegas and roughly 11 miles from the UNLV campus.
Through Black Fire, the gaming industry serves as a connection to the overall vision for the technology park. The reach, however, goes far beyond the Strip.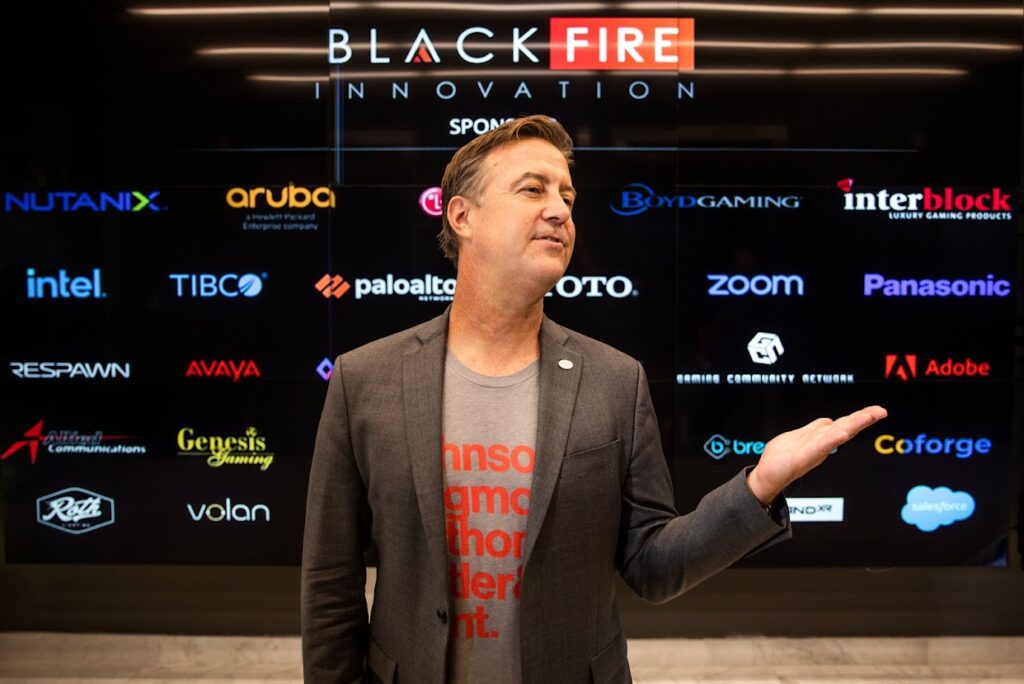 UNLV Vice President of Economic Development Bo Bernhard said Black Fire is the initial piece of an academic inspired innovation center similar to facilities associated with universities around the country, such as the Research Triangle in the Raleigh-Durham-Chapel Hill area of North Carolina near the state's three universities.
A building projected to house medical research and development was completed at the Technology Park this year. Other facilities will follow for what is best described as a location that mixes entrepreneurship with the business and financial community.
"This is Nevada's innovation hub," said Bernhard, who added the economic development position to his long-standing responsibility as executive director of UNLV's International Gaming Institute.
"The idea is to create a meeting space between industry and academia," he said.
Black Fire Innovation and a co-working space cover more than 43,000 square feet of the top two floors of the four-story building.
UNLV President Keith Whitfield, responding to emailed questions from The Nevada Independent, said the research and technology park will become "an unprecedented resource" and a center of "new cutting-edge" products and activities.
"Because it will connect UNLV faculty and students with tech companies – both established and startups – research and development large companies, and financial entities looking to serve as startup or angel funding, it will be a unique environment that will provide a number of synergies for those who work on that new campus," Whitfield said.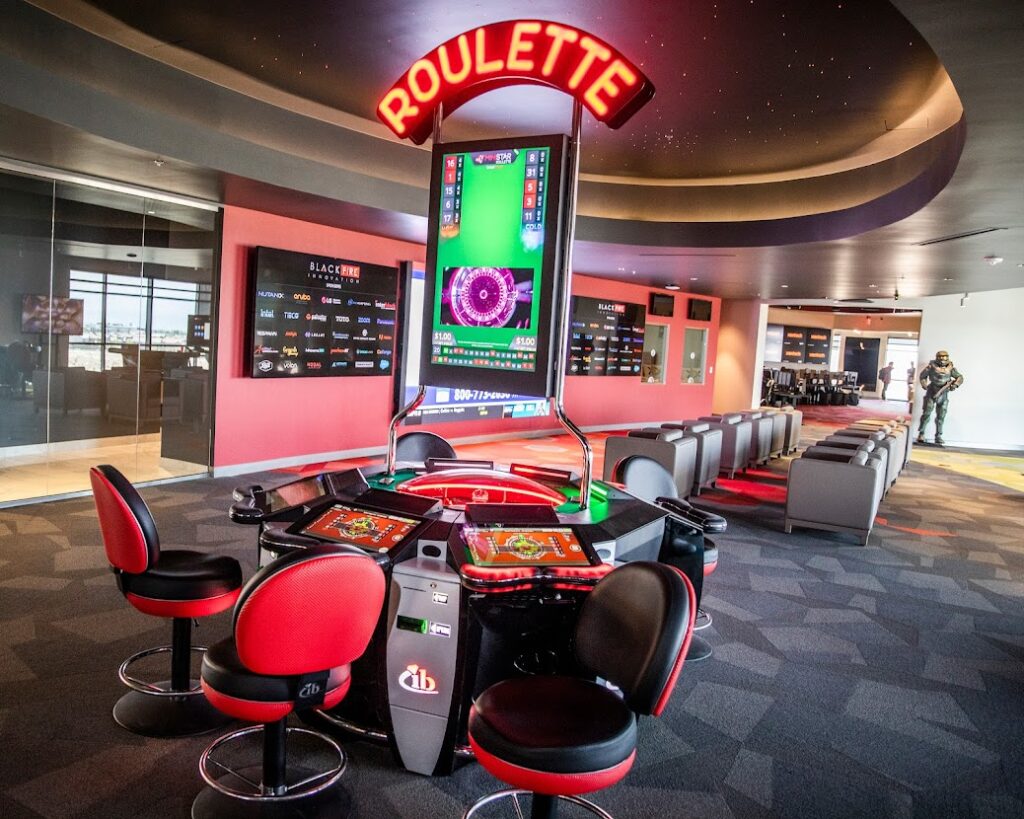 Filling up
Office space in the Black Fire building has been leased to a diverse cross section of tenants.
US Capital Global, a San Francisco-based asset manager and investment bank, is relocating its back office, analysts and due-diligence teams into Black Fire. Digital payments provider Sightline plans to share office space at the location with Vancouver, Canada-based GeoComply, a geolocation, fraud protection and cyber security business.
"We're a tech focused investment bank with some hospitality stuff and we're in the medical tech and FinTech (financial technology field as well," US Capital CEO Jeffrey Sweeney said. "It's a good move for us out there. The goal is to use Las Vegas as an economic hub for companies that want another location that's a little more cost effective. We have companies from Europe that want a U.S. presence."
Sweeney said US Capital is moving one of its clients, Sounzone, an Italy-based music streaming service, to Las Vegas.
Sightline Executive Vice President Omer Sattar said Black Fire allows the financial technology business a location where it can collaborate easily with casino operators and other technology companies working in an industry effort toward cashless gaming and digital payment technology. Sightline is one of five gaming technology providers that created a cashless payment program for both gaming and non-gaming activities at Resorts World Las Vegas.
"Our partners are there, and we are working with the (International Gaming Institute), so we see this a good collaboration," he said.
Sattar said taking space in Black Fire allows Sightline to consolidate all its Las Vegas employees into one location and that sharing space with GeoComply "made sense" because the companies "have grown up together in the space and are working with similar customers."
Also, the Association for Gaming Equipment Manufacturers, the trade organization for the casino suppliers, is building office space at Black Fire.
Whitfield said the university will work to create additional partnerships with gaming companies.
"There is no innovation ecosystem like Black Fire," he said.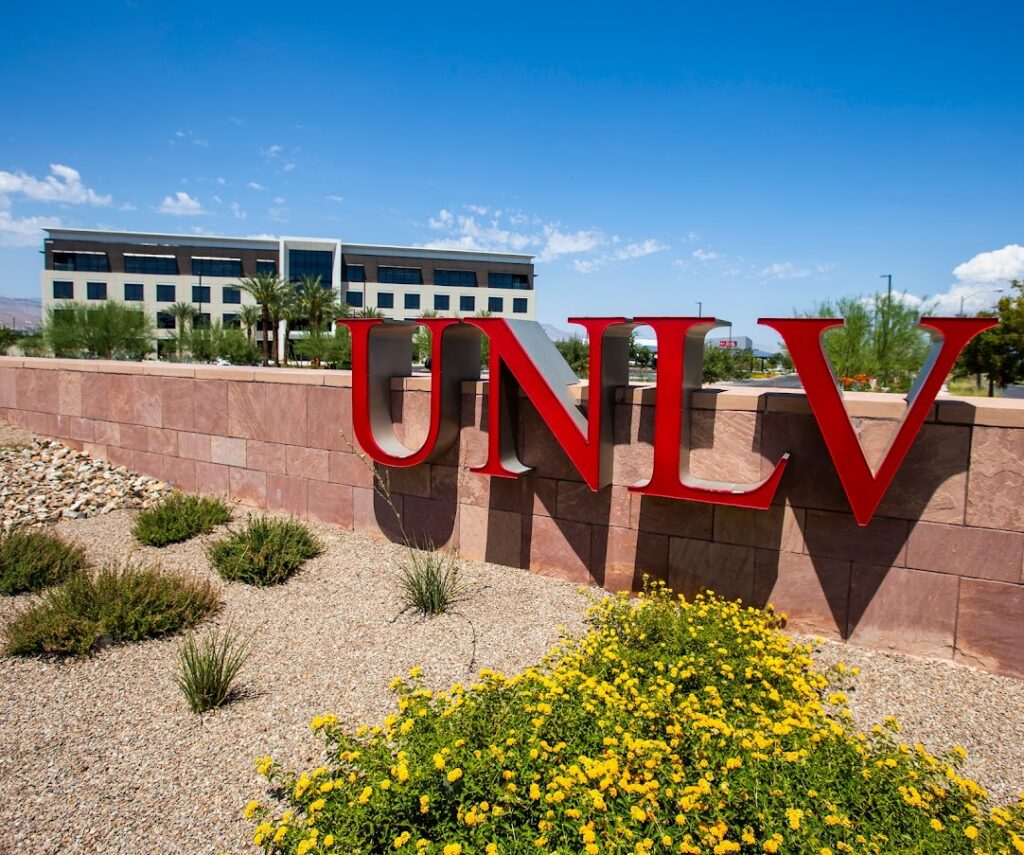 Reid secured the site
Economic development in a community is often connected to a university and academia, Bernhard said. Attempts to diversify the Southern Nevada economy in the past often led to "seeds being thrown out into the desert, hoping to take hold." The infrastructure wasn't there and efforts fell short.
UNLV first eyed the land as an innovation zone and economic development vehicle in 2004 when then-Nevada Sen. Harry Reid pushed legislation through Congress and secured the acreage from the federal government near the I-215 beltway and the intersection of Sunset Road and Durango Drive.
The UNLV effort now involves more than just the school. To highlight that point, Bernhard listed more than 70 companies that have current or planned offices at Black Fire, products on display, or have donated to the university's effort.
The combined net worth of those businesses is valued at more than $1 trillion.
Casino giants Caesars Entertainment, MGM Resorts International and Boyd Gaming, as well as international gaming technology companies including Slovenia-based table game provider Interblock and Entain Plc, a United Kingdom-based sports betting and online gaming operator, are among the group. That's expected, said Bernhard.
But the list also includes non-gaming businesses, such as Panasonic, LG, Adobe, Intel and Zoom.
"This is not just about gaming," Bernhard said.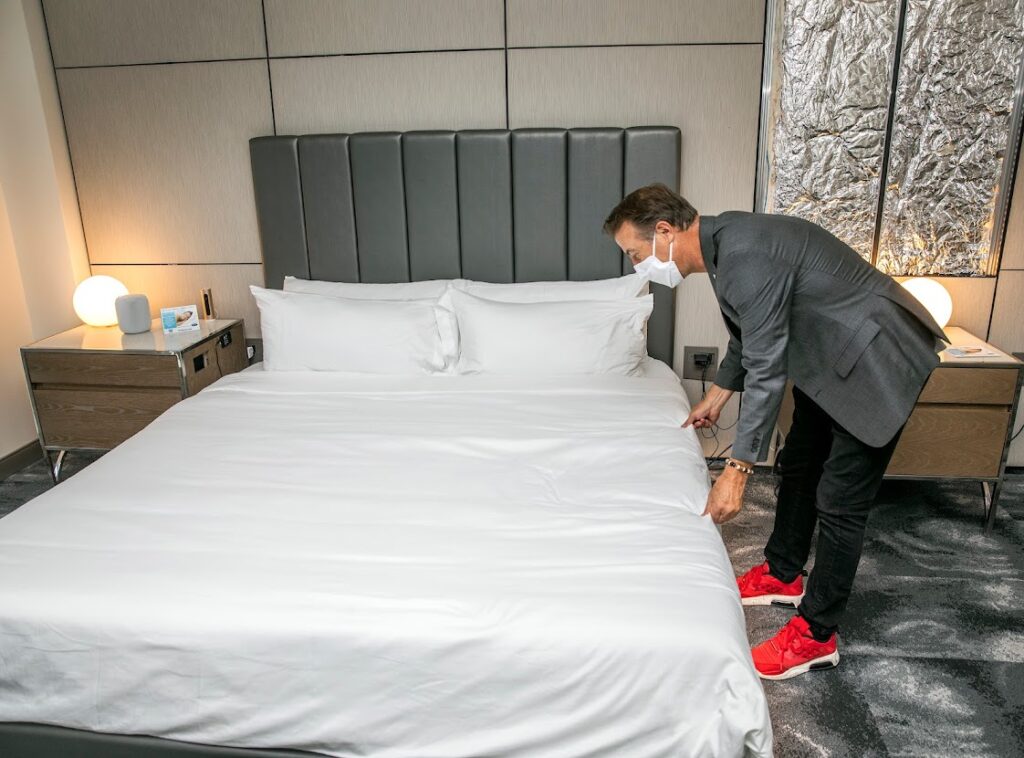 Gaming is still the draw
Access to the casino industry through Black Fire is the lure to entrepreneurs. But the reach is beyond the Strip.
Since 2013, the International Gaming Institute's Center for Gaming Innovation has filed more than 50 patent applications with the U.S. Patent Office for new games and casino products developed by students. Nearly two dozen applications have resulted in patents with eight products being used in casinos.
Black Fire, Bernhard said, will work side-by-side with the Center for Gaming Innovation, providing students access to resources that can help bring their ideas to market. UNLV graduates with ideas for products or business ideas will be recruited to Black Fire, allowing them to continue to work with experts to create a start-up business.
For example, the bed linen product was created by Purlin, one of five 2020 winners of UNLV's Lee Prize for Innovation and Entrepreneurship.
"On campus, we have labs. That's where the stuff is invented. This is where it is commercialized," Bernhard said. He noted that today's students are far more entrepreneurial than previous generations.
"Making your own future has gone from option C to option A for many graduates," he said.
Bernhard said students have the ability to get their products "in front of the right people" at Black Fire. "We never had resources like this before," he said.
Bernhard, who has a Ph.D. in sociology, has long viewed the Strip as one of the greatest laboratories in which to study humanity. Today, he views the location as a stepping off point for degrees of separation in economic development.
He cited the move to Las Vegas by the Raiders last year as "one degree of separation from the Strip." The team, which is playing in the $1.9 billion Allegiant Stadium, "is a new industry to Las Vegas," but using the market's expertise in hospitality and special events as "part of its ecosystem."
At the same time, the emergence of the NFL and the NHL's Vegas Golden Knights created the need for the development of sports medicine, which he said will become part of UNLV's Kirk Kerkorian School of Medicine.
Medical innovation, he said, leads to another degree of separation from the Strip.
"By the time we're at six degrees, we can't even see the Strip," Bernhard said. "That is how economic diversity works — and we're getting started."
As for the gaming industry, Bernard believes Strip resorts will benefit from developments at Black Fire and the technology park in the same manner the Hollywood film industry has fed off the innovations created at the University of Southern California Film School.
"As much as anything, the film school has been responsible toward maintaining Hollywood's status as the global intellectual capital of a certain type of entertainment, film making," Bernhard said. "This is what UNLV needs to become."
Whitfield expects UNLV will continue to provide the platform for economic diversification in the region and nationally.
"Black Fire will be an incredible resource for innovation and entrepreneurship in our students, a real-world learning lab if you will, that will provide students an experiential leg up with competing in the workforce as they graduate," he said.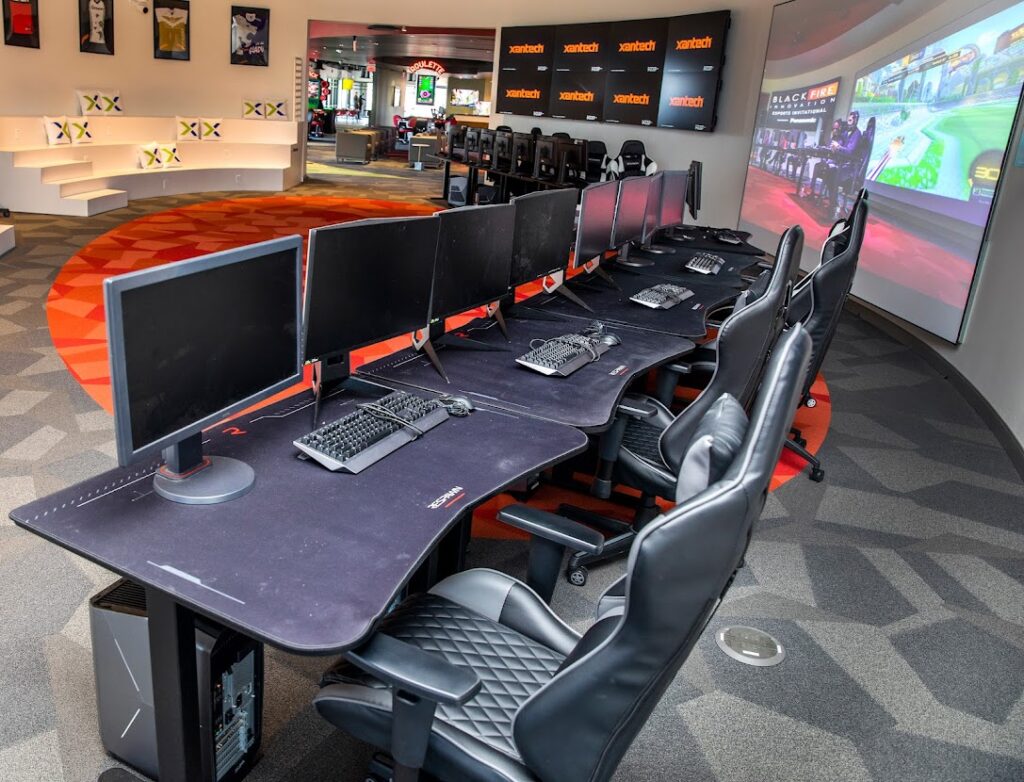 The Nevada Independent is raising $200,000 by Dec. 31 to support coverage of the 2024 election.
Tax-deductible donations from readers like you fund this critical work.
If you give today,your donation will be matched dollar-for-dollar.
Give + Get Matched
Featured Videos