Gen Z, millennial vote organizers hope to channel youth energy into historic turnout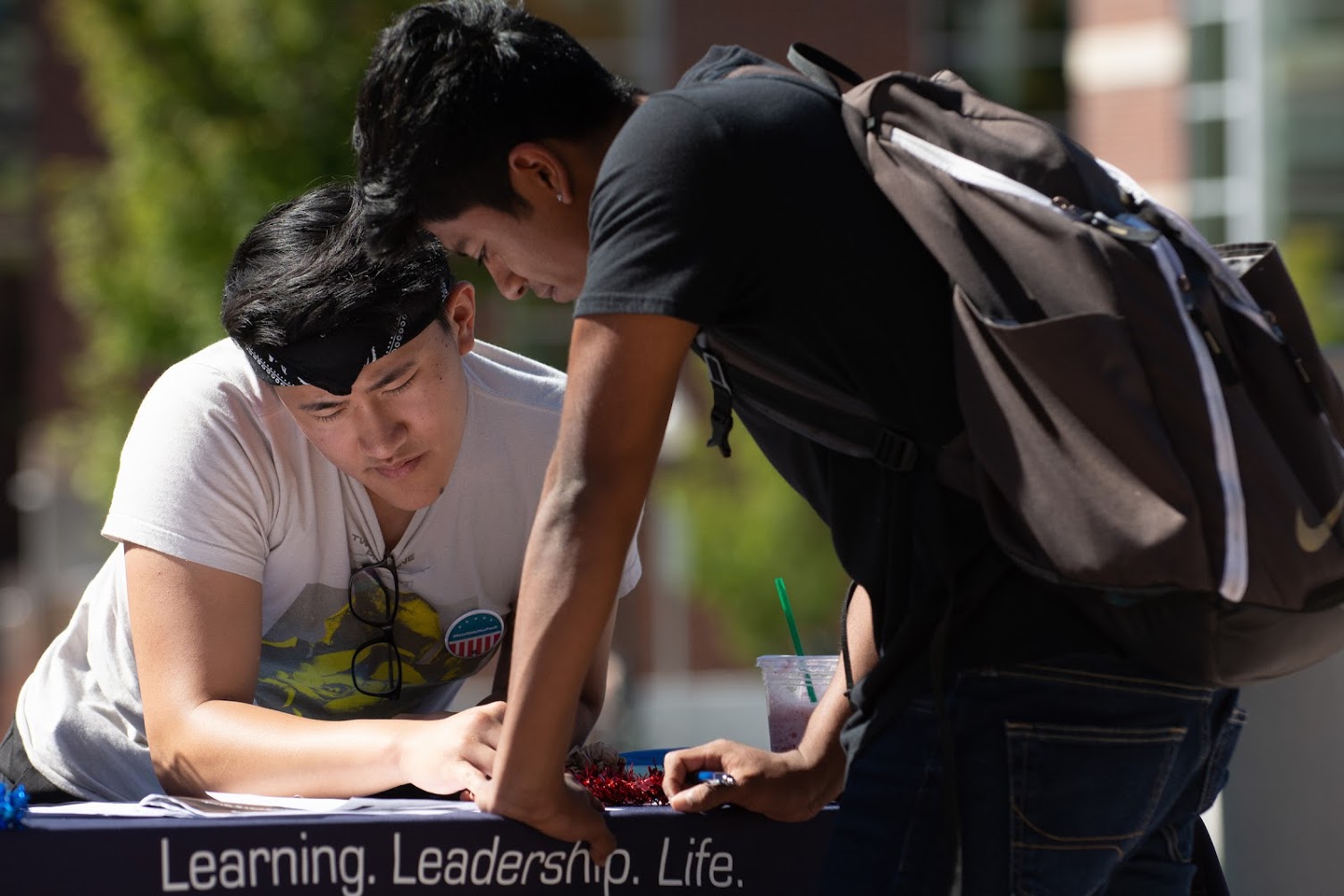 The progressive advocacy group NextGen Nevada held a virtual Earth Day rally complete with downloadable shirts, swag bags and other paraphernalia that players could incorporate into Animal Crossing, Nintendo's ultra-popular simulation video game.
Organizers with the Biden campaign are "DM banking" on Instagram, having people directly message their followers encouraging them to vote. And President Donald Trump's campaign released a Halloween-style attack ad against former Vice President Joe Biden.
In Nevada, where voters under the age of 35 make up about 27 percent of active registered voters, campaign organizers know that young voters could tip the scales in a swing state during what some refer to as the most consequential election in recent cycles.
Organizers say youth enthusiasm they see on the ground over the 2020 election defies the story data might tell — that young people historically have participated at the lowest rate of any age group. But they're doing all they can to translate interest into action ahead of Election Day.
Nevada's overall early and absentee voter turnout in 2018 for ages 18-29 was 36,804. As of Thursday, with just five days until Election Day, that number was 96,498, about a 162 percent increase, according to the Democratic data firm TargetSmart. TargetSmart's data shows that early vote turnout so far has also grown about 55 percent when compared to the 2016 presidential election.
Trump Victory Campaign spokesman Keith Schipper told The Nevada Independent that young voters working with the campaign are still knocking on doors and sharing information about Trump's record on the economy and public safety.
"It's all about empowering people to take ownership within their neighborhoods or their communities and getting them trained for our TVLI process, (Trump Victory Leadership Initiative)," Schipper said, referring to the campaign's structured volunteer training program. "They can then go into their neighborhoods and talk to their neighbors or talk to their dorm mates."
In the Biden campaign, which is coordinating its efforts with the Nevada State Democratic Party, staff and volunteers are working long hours to ensure voters hear the former vice president's platform from friends and peers, according to Alex Kania, a 23-year-old deputy field director with the state party.
Kania added that the campaign is trying to engage with younger voters in every sphere imaginable, from offering digital Biden signs Animal Crossing players can set up on their islands to holding a get-out-the-vote event with Democratic Rep. Dina Titus.
"It's the job of an organizer to help people see their lives as political, and I think that this pandemic has made them see the real life implications of policy and of who we're electing," Kania said. "I think that the moment that we're in has created a lot of urgency for younger voters around a need for immediate change."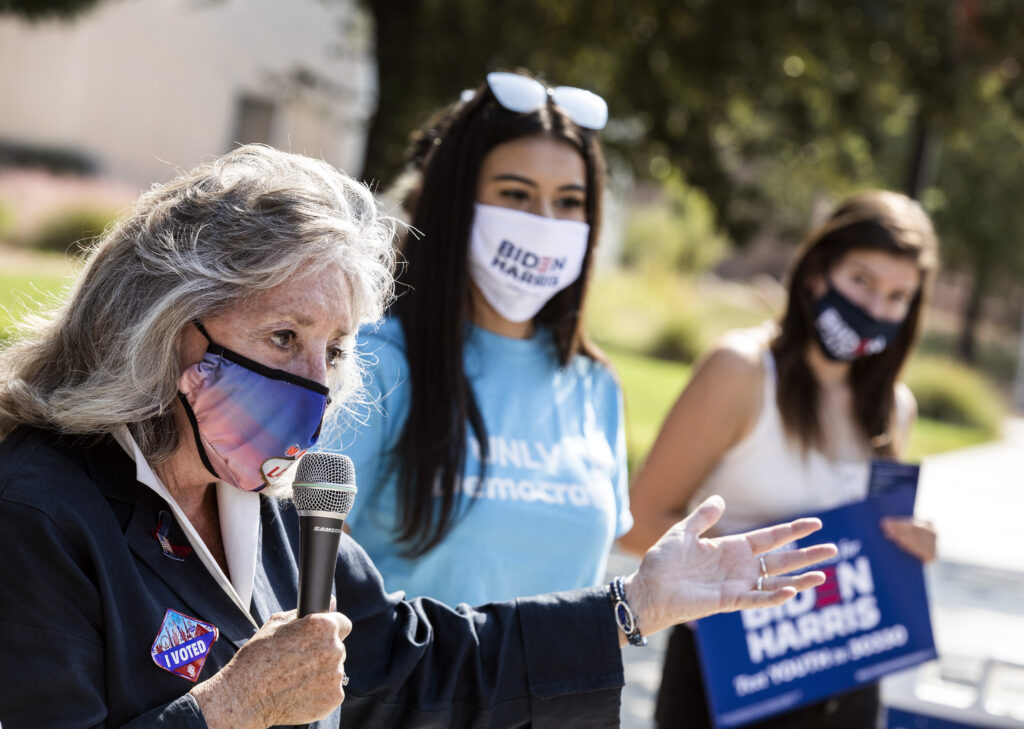 Student organizers from various clubs and organizations at UNR are also banding together to get out the vote.
Geneva Wolfe, president of the Young Democrats, and Tyler Stewart, president of the Young Democratic Socialists of America, told The Nevada Independent that they have been partnering with groups across the political spectrum to drive voter participation.
The response and involvement from the community have left Wolfe hopeful.
"While voter turnout among young people has been low in the past, I have so much hope for my generation this election," Wolfe said. "Whether its racial injustice, gun violence, inhumane crises at the border, climate change, or any other major issue, young people know that one fundamental step towards social change is to use our vote."
Stewart, who knocked doors for Bernie Sanders, voiced cautious optimism, but said he's unsure whether this year will see any record turnouts because not as many youth voters showed up at the polls for Sanders in the primary as the candidate had hoped. He worries that Biden, as a less progressive candidate, will motivate fewer younger voters.
"As much as I'd love for our generation to sort of buck the trend of the past several decades of young people not going to vote, I don't think that's necessarily going to happen," Stewart said.
Young voters
Though turnout rates of young voters are typically lower than those of older generations, Research at the Center for Information and Research on Civic Learning and Engagement (CIRCLE), noted in January that the turnout rates for 18- and 19-year-old voters in Nevada's 2018 election were higher than the turnout rate of older millennials, which could foreshadow strong 2020 turnout because once voters have voted, they are more likely to vote again.
The overall turnout rate in 2018 for 18-19 year-olds in Nevada was more than 30 percent, higher than the national average of 23 percent. Nevada was the only state where 18- and 19-year-olds turned out at a higher rate than the overall category of individuals ages 18-29.
If the trend of young voters casting their ballots closer to Election Day and data suggesting unprecedented turnout from young voters holds, this year could mark a record turnout for the age group, which as a whole tends to lean, and vote, progressive.
Party breakdowns of young voters in Nevada ages 18-24 show that the majority of young voters in the state are registered Democrat (40 percent), followed by nonpartisan (33 percent) and Republican (19 percent).
Compared to other age groups and party registrations, young voters under the age of 35 had close to the highest rate of Democrat registrations (39 percent) and the highest rate of nonpartisan voters (32 percent).

Polling published by the New York Times on Tuesday shows Biden ahead of Trump among young voters in the state, leading 24 points for those between the ages of 18 and 29.
But numbers do not guarantee anything, according to Mark Riffenburg, the Nevada state director of NextGen America, an organization focused on young voters founded by former Democratic presidential hopeful Tom Steyer.
He explained that though he is optimistic about youth turnout, the state has never experienced an election during a global pandemic and comparing turnout this year to years past is comparing apples to oranges. Young people often wait until the last days of early vote to cast their ballots, he said.
"In 2016, young voters doubled in turnout during the last four days of early vote," Riffenburg said. "We're always excited to see high voter turnout, and while there's still a lot of voting to be done, early numbers show that young people understand what's at stake, and that change starts at the White House."
'Young people have a place, and young people are going to take it'
Some of the reasons for lower turnout among young people could be because of a lack of habit formation, less flexible employment schedules and alternative options to participate in a democracy, such as protests.
Peyton Barsel, an 18-year-old from Las Vegas on a gap year from Columbia University, views the problem of turnout as stemming from a lack of knowledge about politics and how and where to vote.
"I think that Gen Z is actually extremely politically involved, but I think that they are missing the civics education behind it to understand that voting is a key component of that activism," Barsel said.
One of Barsel's fears surrounding the upcoming election is that with campuses moving to virtual programming and closed to outside visitors, in-person voter registration resources at colleges may not be accessible.
To counteract the problem, she and four of her friends created FroshVote, an organization designed to increase freshman and first-time voting in swing states through relational organizing — the strategy of harnessing personal relationships to effect community change.
The organization has a national team, state leads and ambassadors who reach out to their networks to share information about voting and increase registrations.
So far, FroshVote has registered more than 1,300 college students in swing states. Barsel, a national team member, added that though older generations may scoff at TikTok videos and Instagram stories, social media has been fabulous for spreading the word about voting.
"Everybody's always talking about the detriment that social media has brought to particularly my generation, and I don't think that they're entirely incorrect, but what they don't understand is that people are using social media in a really meaningful way," Barsel said.
Leo Murrieta, the director of Make the Road Action Nevada, a progressive immigrant advocacy group, argued that a narrative of young voter apathy is missing the mark.
"There is no denying that this administration and Republicans across the country have done everything they can to discourage young people, Black people, Latinx people, immigrant people from feeling like it's safe to vote and also feeling as if it matters to vote," Murrieta said. "That is a Republican suppression tactic. It's a conservative tactic used to keep young people, people of color and progressives from voting."
To combat confusion surrounding the mail-in ballots and some of the new voting procedures, Murrieta said that Make the Road Action Nevada is empowering young people to speak to each other. Younger members have directed the organization's social media outreach by creating a TikTok account and other creative content including a census muckbang, where a person consumes large amounts of food while interacting with others.
Gen Z and millennials are not monolithic groups, Murrieta cautioned. Some younger people might not know what a muckbang is, for example, and conducting outreach has to come from a place of genuine connection.
In addition to recognizing young voters as distinct from one another, Murrieta added that within the Latino community, men, regardless of age group, tend to support Trump in larger numbers, whereas young Latinas fall on the opposite end of the spectrum.
"I'm pretty confident that young people all across the board, specifically young Latinas are going to rise to the occasion and really show us elder millennials and boomers that young people have a place and young people are going to take it," Murrieta said.
In the room where it happens
Karl Catarata, a 23-year-old senior at UNLV studying political science, leadership and civic engagement, falls at the cusp of the Generation Z age group. He and his friends are used to communicating via social media.
After the pandemic hit, they quickly adjusted to online lecture formats, food orders from GrubHub and online video calls with friends.
When it came to the election, the trend continued. Catarata watched friends share how to vote on their Instagram and Snapchat stories. Creators made so-called "fan cam" videos featuring various candidates. And his boyfriend and others created an endorsement guide people could look at on their phone as they voted.
"Everyone is talking about politics," Catarata said. "With all the riots and the protests and all the attention that is being on the news — that has been reflected in just regular, everyday people."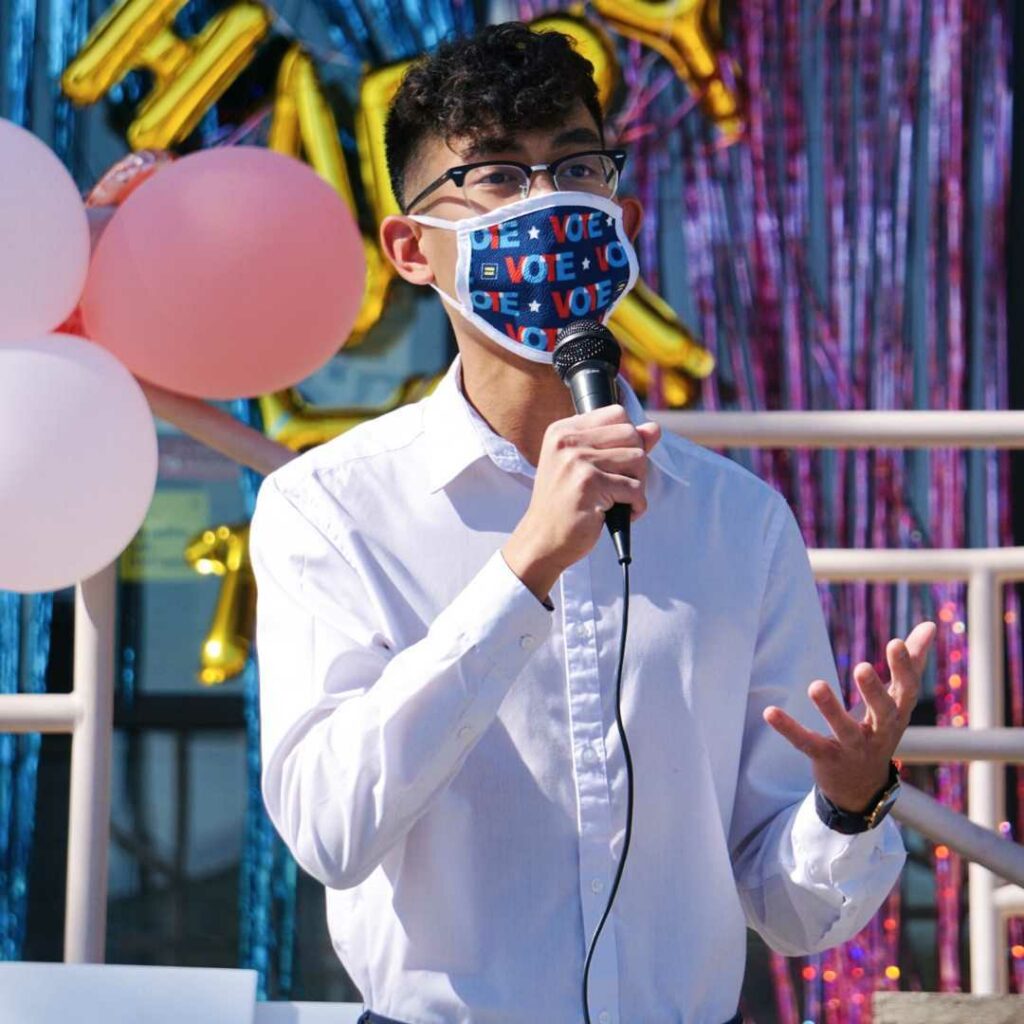 Blanca Peña, an 18-year-old DACA recipient who studies at UNLV, was one of those students who turned to social media to encourage friends and followers to vote.
Though she is unable to vote, Peña said she is worried about immigration reform, as well as the economy, climate change, systemic racism and education, and is doing everything in her power to connect with those who do have a say in the political process.
"I posted on my Instagram a week ago, 'hey, if you've got papers, go vote,' or 'do it for us illegals,'" Peña said. "I kind of just mess around with it, but there always is that underlying message that's still there, that's 'laugh at my joke, but just take the hint to go vote.'"
Instagram posts and other social media outreach are providing a form of social peer pressure to get people out to the polls, Catarata said, and having young people involved is essential.
"If you do not have young people in the room, if you do not have young people on your campaign ... you are in deep trouble for the election," Catarata said. "And maybe, sure, you might win an election because of the older folks, but just know that young people, and I hate to sound hostile, but young people are coming."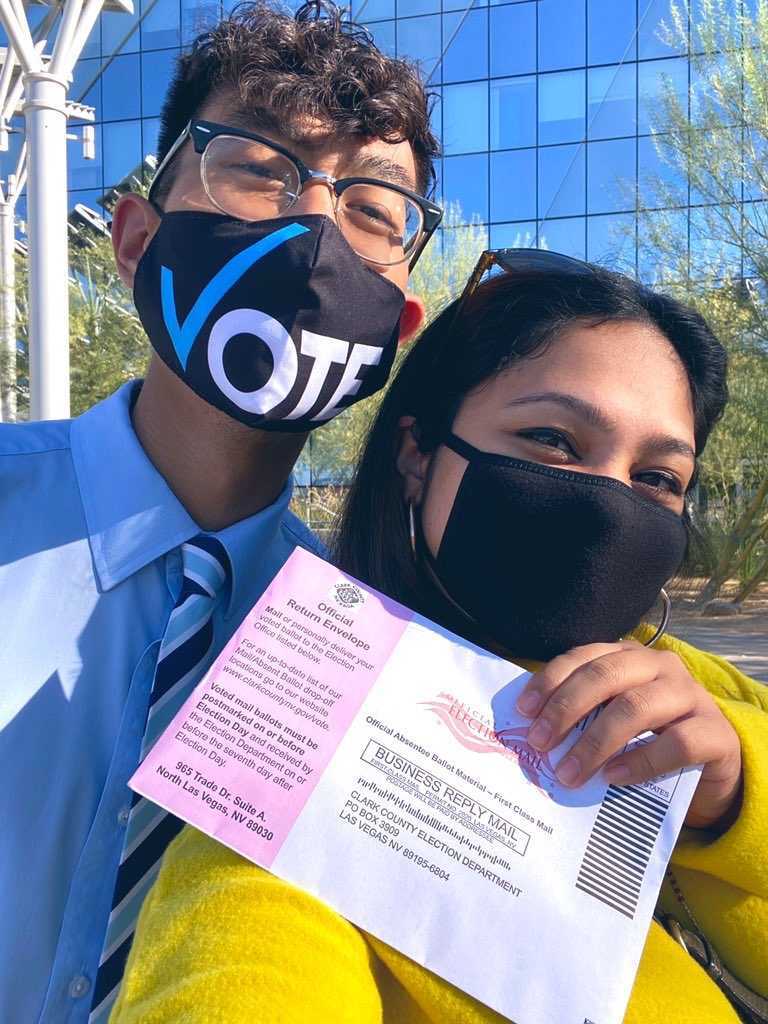 Not everyone is optimistic about social media.
Ryan Usher, the president of the College Republicans of UNR and a 28-year-old business student, fears misinformation spread by misguided social media posts and an "echo chamber of information" that social media can facilitate. He said some students on campus are not comfortable sharing they are conservative or Republican for fear of a backlash from members of the liberal community.
"A big thing our group is about, the College Republicans, is respectful dialogue and diversity of thought," Usher said. "There's too much divisiveness, labeling and broad generalizations in our dialogue today. And I think we just ended up shouting past each other."
He added that he will be voting for Trump and appreciates how Trump has helped the country grow, but does not always appreciate the president's divisive rhetoric.
"As far as policy and things are concerned, I think conservatives are pretty enthusiastic about Trump," Usher said.
Casting first votes in a presidential election
As Election Day approaches, Parker Samuelson, a journalism student at UNR, is voting for the first time in a presidential election. The 19-year-old had her family mail her ballot from Las Vegas to Reno.
"I had always imagined my first experience voting being in person," Samuelson said. "[Voting by mail] kind of takes some of the allure away from it, but it just kind of shows how even more pressing it is to vote."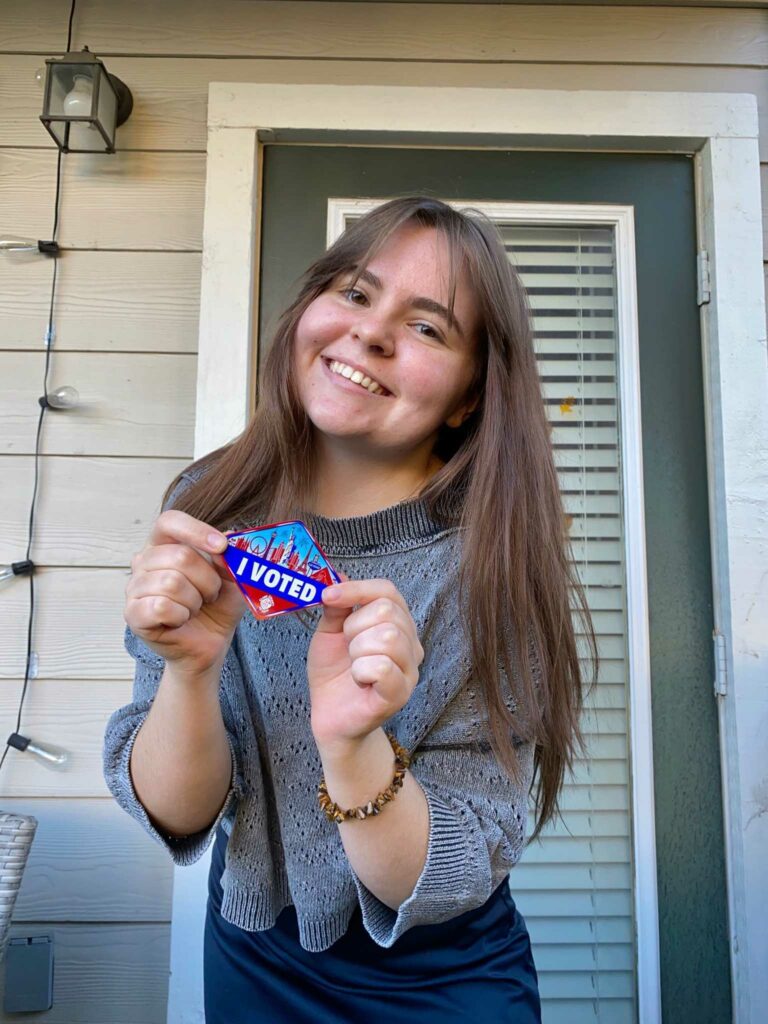 Similar to other young voters, she wishes candidates were more honest and straightforward. She pointed to New York Rep. Alexandria Ocasio-Cortez's use of Instagram live videos and tweets to share her work as a congressional representative as an example of that transparency.
"We're looking for very clear stances," Samuelson said. "I think everyone's just tired of playing games. I mean, we're in like what, month eight of this pandemic? And still, nobody really knows what's going on. The federal government says one thing, our local government says another thing, the doctors say another thing."
Saha Salahi, another first-time voter in the presidential election, said that she has been waiting for this election since 2016, after Trump was first elected.
The 19-year-old UNLV student explained that Trump's rhetoric surrounding immigrants and other Muslim or Afghan Americans such as herself prompted her to become politically active.
Salahi works as a district coordinator for the Nevada Center for Civic Engagement and as a Las Vegas Fellow for IGNITE, a movement focused on helping young women become the next generation of political leaders.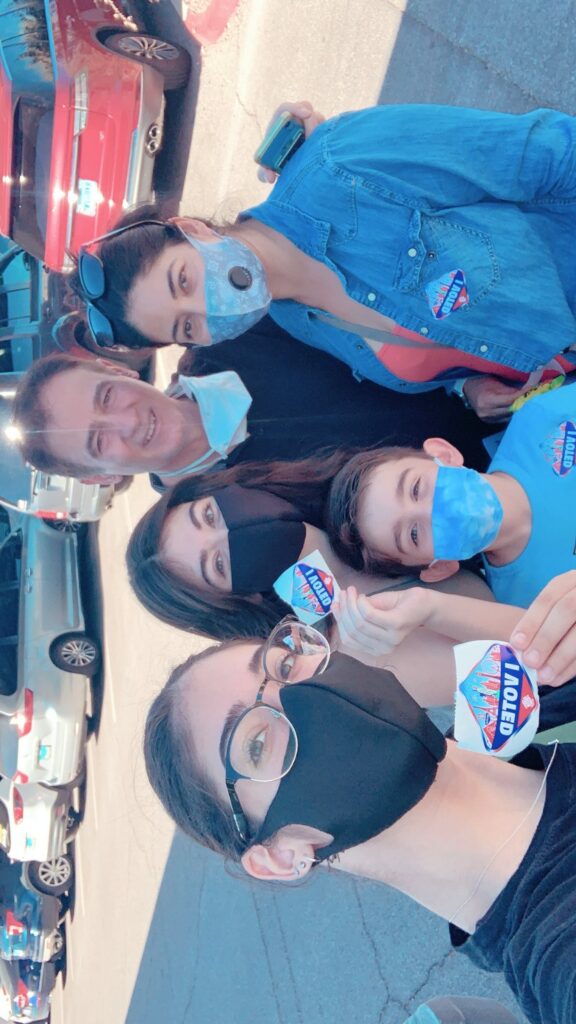 When she speaks with her friends and peers about the election, she doesn't hear apathy or disinterest.
"It's a spark of excitement," Salahi said. "With everything going on, from the Black Lives Matter movement to any social injustice issue that is going on in the world, everyone feels a need to have a say in what is going on."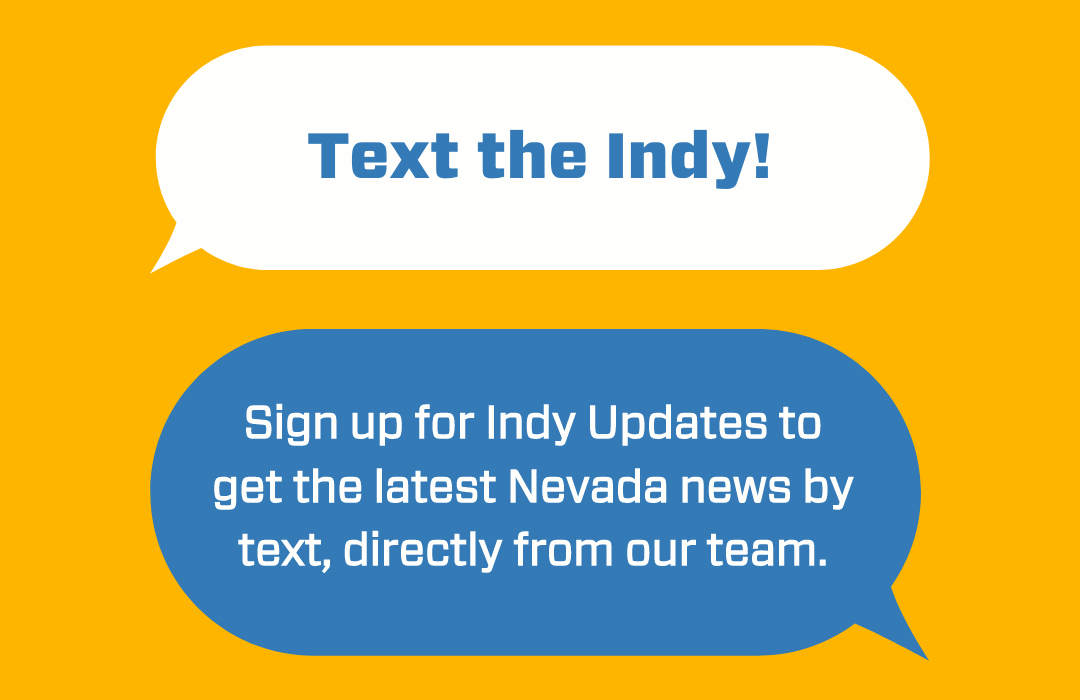 Featured Videos