Gloves come off, Bloomberg joins in final Democratic presidential debate before Nevada's caucus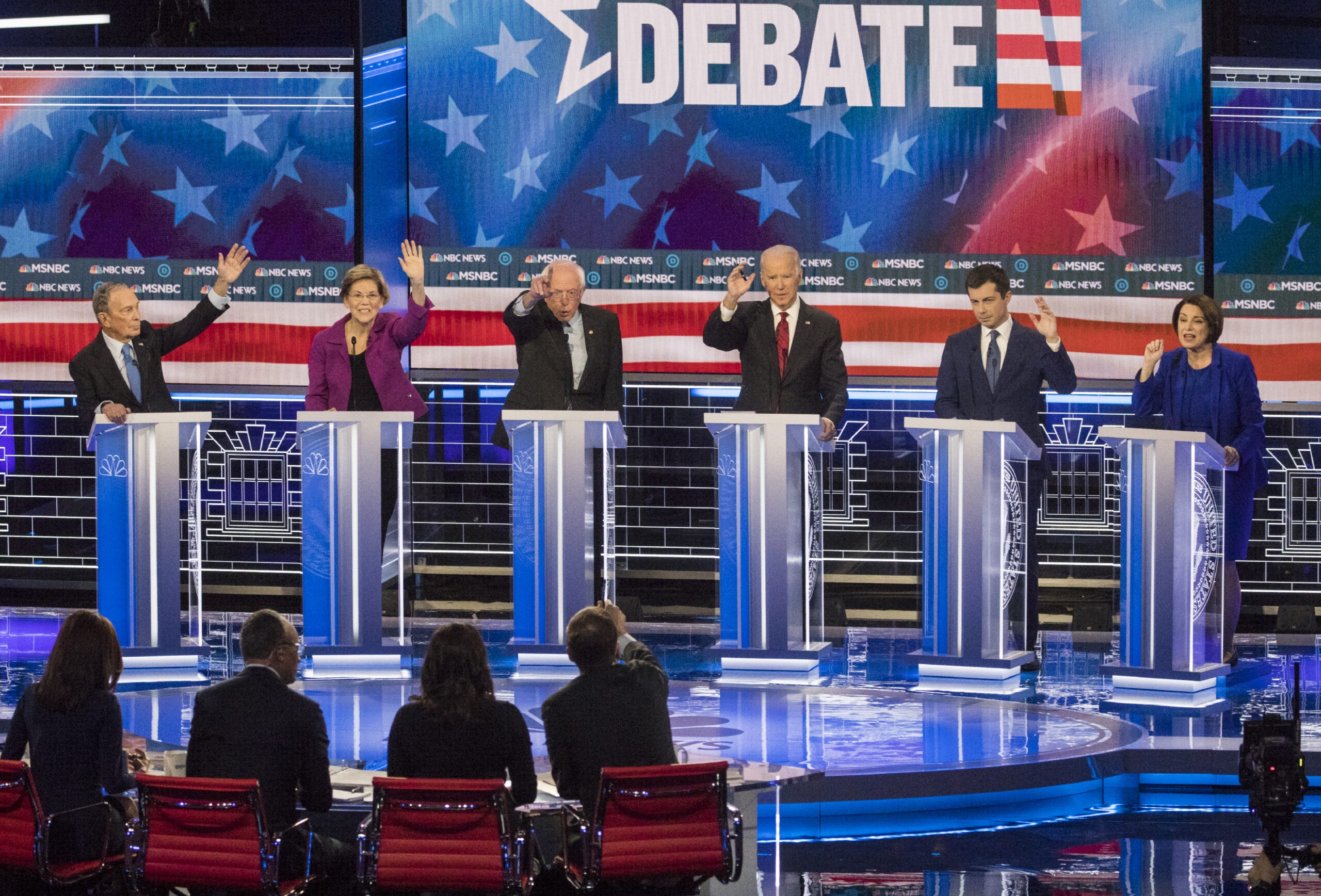 Minnesota Sen. Amy Klobuchar, at one point during Wednesday's raucous presidential debate on the Las Vegas Strip, suggested her opponents take their sparring down to the MGM Grand for fight night.
It was an apt comparison. The eight previous Democratic debates were marked by relatively civil policy disagreements interrupted by occasional dustups and memorable one-liners. On Wednesday night, the gloves came off.
Vermont Sen. Bernie Sanders, ostensibly the frontrunner heading into Nevada's caucus on Saturday, sparred with former New York City Mayor Mike Bloomberg, who made his first debate stage appearance Wednesday night as he has been gaining traction nationally. Former South Bend Mayor Pete Buttigieg zeroed in on Sanders, who he ran virtually neck-and-neck with in Iowa and New Hampshire, while Biden targeted Bloomberg, who most threatens to occupy the moderate lane in which he has run his race.
Massachusetts Sen. Elizabeth Warren, who largely found herself lost in the last debate earlier this month, came with knives out for all of her Democratic presidential opponents — including Klobuchar, whom she had boosted in the last debate. Klobuchar, newly in the crosshairs after coming in third place in New Hampshire, deflected the criticism with humor.
Though the candidates all faced attacks at one point or another during the debate, it was Bloomberg who faced the most incoming from the debate's moderators and his opponents, all of whom were eager to suss out the rising candidate's positions and needle him on some of the issues that have plagued his campaign in recent weeks.
Sanders — a self-described democratic socialist who rails regularly against "the millionaires and the billionaires" — almost couldn't ask for a more tailor-made opponent than Bloomberg, the Democrat-turned-Republican-turned-independent-turned-Democrat billionaire former mayor of New York City.
"We are giving a voice to people who are saying we are sick and tired of billionaires like Mr. Bloomberg seeing huge expansions of their wealth while a half-a-million people sleep out on the street tonight," Sanders said.
Bloomberg, in turn, presented his thesis that the Democratic party is veering too far to the left, and went so far as to suggest that any economic policy other than capitalism must be communism.
"I can't think of a way that would make it easier for Donald Trump to get re-elected than listening to this conversation," Bloomberg said. "It's ridiculous. We're not going to throw out capitalism. We tried. Other countries tried that. It was called communism, and it just didn't work."
He also appealed to a fear that Democratic establishment types have been privately and not-so-privately expressing — that the natural course of events proceeding from selecting Sanders as the party's nominee is the re-election of President Donald Trump.
"That's just not a way that you go and start building the coalition that the Sanders camp thinks that they can do. I don't think there's any chance whatsoever," Bloomberg said. "And if he goes and is the candidate, we will have Donald Trump for another four years. And we can't stand that."
Buttigieg, continuing as he has for much of his campaign to frame himself as the middle road among the Democratic field, painted both men as equally grim options for the future leader of the Democratic Party. One, he said, is a "socialist who thinks capitalism is the root of all evil," while the other is "a billionaire who thinks that money ought to be the root of all power."
"We shouldn't have to choose between one candidate who wants to burn this party down and another candidate who wants to buy this party out," Buttigieg said. "We can do better."
Bloomberg was also forced during his first debate to address the issues that have been dogging him since he announced his campaign in late November, including his longstanding support of a controversial "stop-and-frisk" policy in New York City. The former mayor described the policy, which has been widely criticized for overwhelmingly targeting black and Latino men, is "one thing that I'm really worried about, embarrassed about."
"It got out of control, and when we discovered — I discovered — that we were doing many, many, too many stop and frisks, we cut 95 percent of it out," Bloomberg said. "And I've sat down with a bunch of African-American clergy and businesspeople to talk about this, to try to learn. I've talked to a number of kids who'd been stopped."
But it wasn't enough for Warren. She framed it as an issue of "leadership and accountability," before tearing into the former mayor for a policy she said was designed to target communities of color.
"When the mayor says that he apologized, listen very closely to the apology. The language he used is about stop and frisk. It's about how it turned out," she said. "No, this isn't about how it turned out. This is about what it was designed to do to begin with. It targeted communities of color. It targeted black and brown men from the beginning."
Warren also picked apart Bloomberg's use of non-disclosure agreements to settle allegations of discrimination and sexual harassment at his company, which he defended first by saying that he has "no tolerance for the kind of behavior that the #MeTo movement has exposed" before pivoting to talking about how he has empowered women.
"And I hope you heard what his defense was. 'I've been nice to some women.' That just doesn't cut it," Warren said. "He has gotten some number of women, dozens, who knows, to sign nondisclosure agreements both for sexual harassment and for gender discrimination in the workplace. So, Mr. Mayor, are you willing to release all of those women from those nondisclosure agreements, so we can hear their side of the story?"
Bloomberg then attempted to defend the agreements, of which he said his company has "very few," as for the benefit of the employees who signed them.
"Senator, the company and somebody else, in this case — a man or a woman or it could be more than that — they decided when they made an agreement they wanted to keep it quiet for everybody's interests," he said.
Warren framed the non-disclosure agreements as tantamount to his employees being "bound and muzzled" by Bloomberg and suggested that there would be a "drip, drip, drip of stories of women saying they have been harassed and discriminated against." Biden quickly joined the fray, asking whether the agreements really were for his employees' benefits.
"That's not how it works. The way it works is they say, look, this is what you did to me and the mayor comes along and his attorneys said, I will give you this amount of money if you promise you will never say anything," Biden said, matter-of-factly. "That's how it works."
At another point in the debate, Bloomberg was asked whether he, as a billionaire, should even exist, a reference to a Sanders formulation. In turn, the former mayor couched his presidential bid as an almost philanthropic endeavor.
"I can't speak for all billionaires. All I know is I've been very lucky, made a lot of money, and I'm giving it all away to make this country better. And a good chunk of it goes to the Democratic Party, as well," he said. "I worked very hard for it, and I'm giving it away."
For her part, Warren did not reserve her surgical criticism for Bloomberg but rather pointedly laid into each of her opponents in turn.
Electing Sanders, she said, would be "gambling on a revolution that won't bring along a majority of this country," Klobuchar's and Biden's "hearts are in the right place," she said, but accused them of being "so eager to be liked" by Senate Majority Leader Mitch McConnell that they "forget how to fight Republicans." Buttigieg, she said, "has been taking money from big donors and changing his positions, so it makes it unclear what it is he stands."
At another point, Warren criticized Buttigieg's health care plan a "PowerPoint," Klobuchar's a "Post-It note," and Sanders' as a "good start" that lacks details about how it would actually work. Both Buttigieg and Klobuchar favor the creation of a government-run public health insurance option, while Warren and Sanders support Medicare-for-all plans.
But later in the debate, Warren stepped in to defend Klobuchar against criticism from Buttigieg over the fact that she was unable, in an interview this week, to name the president of Mexico, Andrés Manuel López Obrador. Klobuchar, during the debate, chalked it up to "momentary forgetfulness," a defense that Warren underscored.
"Missing a name all by itself does not indicate that you do not understand what's going on, and I just think this is unfair," she said.
The politically powerful Culinary Union also featured prominently in the Wednesday night debate, with Buttigieg accusing Sanders of being "at war" with the union. The Culinary Union, known for turning the tides in close elections, has been circulating a flyer among its members ahead of Saturday's caucus that says Sanders would "end" their health care because of his support for a single-payer, government-run health insurance system.
Sanders retorted that he has "more union support than you have ever dreamed of," but then faced a direct question from the moderators about whether his supporters had bullied union leaders after the flyer became public. The Vermont senator said that "99 percent" of his 10.6 million followers on Twitter are "decent human beings, are working people who believe in justice, compassion and love."
"And if there are a few people who make ugly remarks, who attack trade union leaders, I disown those people," Sanders said. "They are not part of our movement."
But Buttigieg continued to press Sanders on why it is that his followers in particular engage in this kind of behavior, though the senator was unwilling to accept the premise. He did, however, make a promise to the members of the Culinary Union that he would never sign a bill that reduces the benefits union members have.
"We will only expand it for them, for every union in the America, and for the working class of this country," Sanders said.
Nearly 75,000 Democrats in Nevada have already cast votes for their presidential preferences during a four-day early voting period ahead of the state's Democratic presidential caucus. Caucusgoers will head to the polls to help select the next Democratic nominee at noon on Saturday.
The Nevada Independent is raising $200,000 by Dec. 31 to support coverage of the 2024 election.
Tax-deductible donations from readers like you fund this critical work.
If you give today,your donation will be matched dollar-for-dollar.
Give + Get Matched
Featured Videos