Goldfield always seemed more timeless than it actually was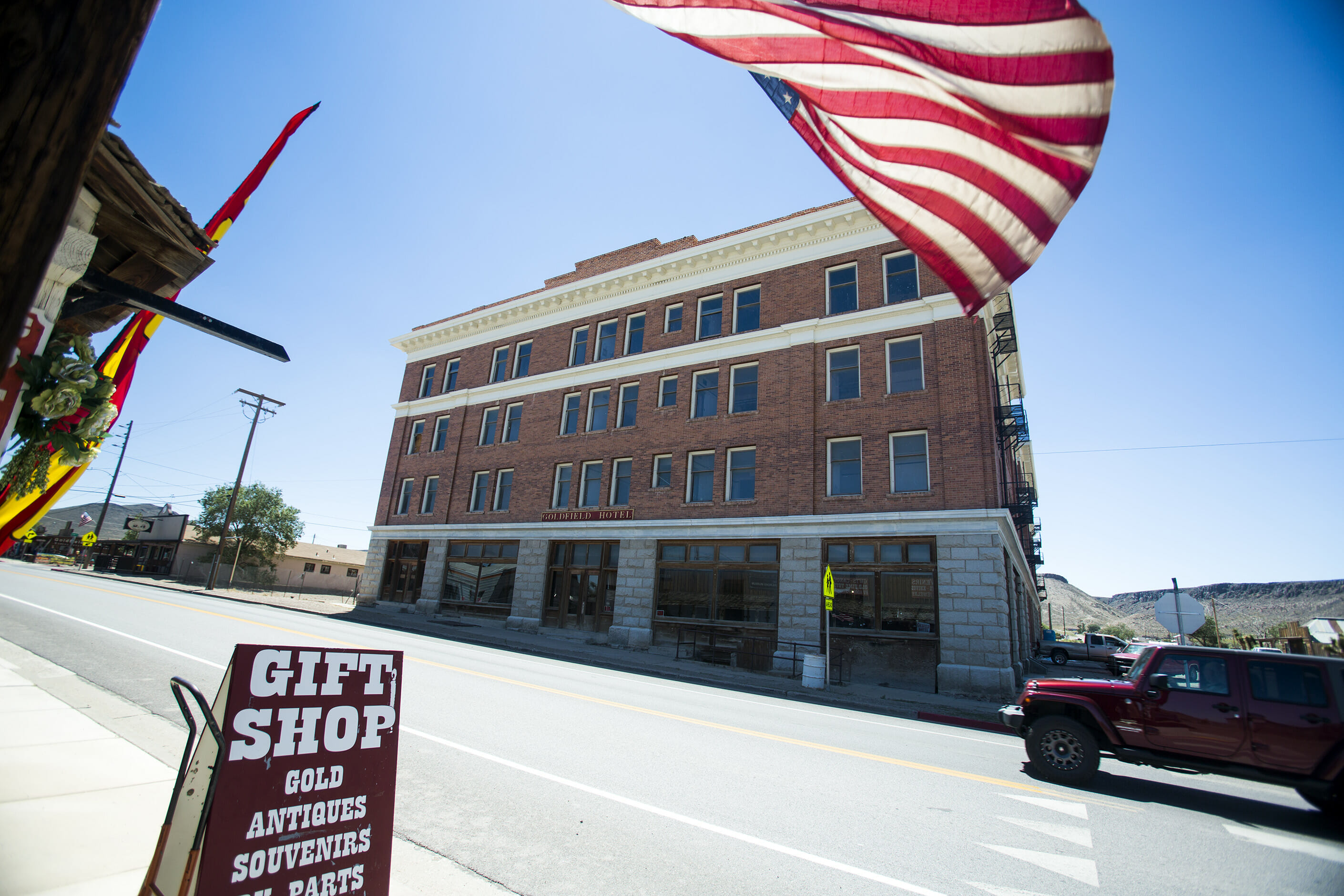 I have been going to Goldfield Days (first weekend in August each and every year) to participate in the Goldfield Days Parade for nearly a decade. Over that time, it hasn't changed much, at least on the surface. The fire station and courthouse, built during Goldfield's founding, are still there and in use. The Goldfield Hotel remains empty and closed, though it's under new ownership that's trying to restore the property (for real this time). The speed limit still drops precipitously fast, providing Esmeralda County with steady traffic ticket revenue. The Goldfield High School remains in a state of what can be euphemistically described as "arrested decay." The International Car Forest of the Last Church remains whatever it is.
On the other hand, there's now a new RV park on the north end of town. Our editor-in-chief's favorite outhouse has a visitor's center and a paved parking lot. There's a passing lane up the grade if you're coming from the south. The General Store is for sale. So is the nearby Hard Luck Castle, which has gone down in price recently. They're small changes, but in a town like Goldfield, each change sticks out and draws attention to itself. 
That wasn't always the case. In the past, change came fast to Goldfield. In 1902, the discovery of gold turned what would have been an otherwise barren and inhospitable spot of land, lacking a steady water supply and far from any existing transportation route, into Nevada's largest city. For a few years, Goldfield's prosperity seemed like it would last forever, so they built accordingly. It's why the courthouse, fire station, community center (originally a church) and Goldfield Hotel all remain standing. 
Five years later, the ore started to run out. 
Though Goldfield stopped producing as it once did, it was productive enough to keep a few thousand people housed and employed. The town was still connected to the railroads, and had become a county seat. The infrastructure for more than 20,000 people was in good working order and could handle 4,000 or so with ease. Perhaps it would not become a thriving metropolis after all, but surely it would remain a steady, prosperous town. 
Then came the 1913 flood, which wiped out half the town, the scar still visible today from satellite view. A few years later, the largest mine closed. A few years after that, a moonshine distillery caught fire and burned most of what remained. 
By the beginning of the Great Depression, Goldfield had developed — perhaps entropied or decayed would be better words here — into a new normal as a rest area between Tonopah and Southern Nevada. The Goldfield Hotel remained open, as did various roadside businesses, such as car mechanics and restaurants. Occasionally people poked at the mines, picking out bits of ore where they could find it. Population declined into the hundreds, but there was some steady work. 
Then came World War II.
In 1942, the War Production Board issued Order L-208, which deemed most gold mines, such as the ones working near Goldfield, "nonessential" as the war effort needed copper more than gold. At the same time, wartime rationing greatly decreased domestic travel. With few passing cars to service and no mines to work, local mechanics and miners left town. Goldfield never recovered. By the early 1950s, the high school, Goldfield Hotel, and the last of the railroads closed. 
For the next seventy years, Goldfield remained more or less as we remember it — Nevada's smallest and most inexplicable county seat, semi-ghosted and narrowly treading water against the inexorable forces of entropy and time. 
Goldfield has never been close enough to any city to get the full tourist-kitsch treatment some ghost towns, such as Virginia City, received. Even if it was, Tonopah is only half an hour away and, thanks to the construction of the Tonopah Army Airfield and subsequent construction of the Tonopah Test Range Airport, was in considerably better health after the war. Tonopah also didn't lose half its structures to a flood, nor most of the remaining half to a fire. Consequently, if either of the two was destined to become a reliable tourist destination, Clown Motel and all, it was going to be Tonopah.
On the other hand, Goldfield's remoteness has always attracted a certain sort of eccentric. For a bit, the Libertarian Party of Nevada tried recreating the Free State Project on a smaller scale by attempting to launch a "Free County Project" in Esmeralda County. It was unsuccessful, but, perhaps as a consequence, Esmeralda County consistently gives Libertarian Party candidates higher vote percentages than most counties in Nevada. Additionally, several former stunt workers from various westerns decided they preferred the quiet life they helped bring to the silver screen over the urban sprawl of the studios in Los Angeles and moved into town, if only to get away from the traffic every now and then. Then there are the sort who build things like the Hard Luck Castle and the International Car Forest, projects that are only possible in the middle of nowhere and only with the right sort of freely indifferent neighbors. 
Once again, though, change is coming. 
Starting this month, the Nevada Department of Transportation is going to move US 95 a bit farther to the west to make room for a new mining project. The location of the mining project? Merely half a mile north of Goldfield, right where the Goldfield Consolidated mill site ruins are located. Once the highway is moved and the mining starts, it's expected to produce ore for at least a decade. 
This isn't the first time US 95 has been rerouted. Brave and observant drivers can find the original highway route through the Divide mining district via the east side of Hasbrouck Peak, for example, just south of Tonopah. The old route isn't actively maintained, but it's still drivable in a passenger car provided the driver is halfway attentive. The highway, in other words, will be fine. 
As for Goldfield, the impending change can already be felt, in small and subtle ways. Fewer properties were auctioned off for failure to pay property taxes, and the properties that were auctioned went for more than they used to. Boutique small batch distilleries, an early sign of gentrification, are opening — Old Sam Spiced Gin may end up in your local liquor store very soon. 
How much change is Goldfield actually in for, though? Carlin has had the Carlin Trend, one of the world's richest and most consistently productive gold mining districts, in its backyard for decades, yet it remains more or less the same sleepy transportation stop it always has been. Carlin workers live in Elko and Spring Creek, where the grocery stores and schools were and are, and ride company buses to work. Given a choice between commuting via bus to work every day and commuting nearly half an hour each way via personal vehicle to the grocery store whenever they run low on toilet paper, most workers choose to live where the services are. 
Then again, as close as Barrick's and Newmont's pits are to Carlin, they're not within walking distance. Also, Amazon Prime exists now — why drive to Tonopah for toilet paper when you can pay the US Postal Service to make the drive for you?
Either way, for the first time in a long, long time, change — major, obvious change — is coming to Goldfield. Will it be enough to finally reopen the Goldfield Hotel? Will it be enough to finally rebuild the high school? Will it be enough to give Goldfield an economy that doesn't revolve around ghost tours? 
We're about to find out.
David Colborne has been active in the Libertarian Party for two decades. During that time, he has blogged intermittently on his personal blog, as well as the Libertarian Party of Nevada blog, and ran for office twice as a Libertarian candidate. He serves on the Executive Committee for both his state and county Libertarian Party chapters. He is the father of two sons and an IT professional. You can follow him on Twitter @DavidColborne or email him at [email protected].
Comment Policy (updated 4/20/2021): Please keep your comments civil. We reserve the right to delete comments or ban users who engage in personal attacks, use an excess of profanity, make verifiably false statements or are otherwise nasty. Comments that contain links must be approved by admin.