Good people, sinister people: Channel-surfing through the campaign season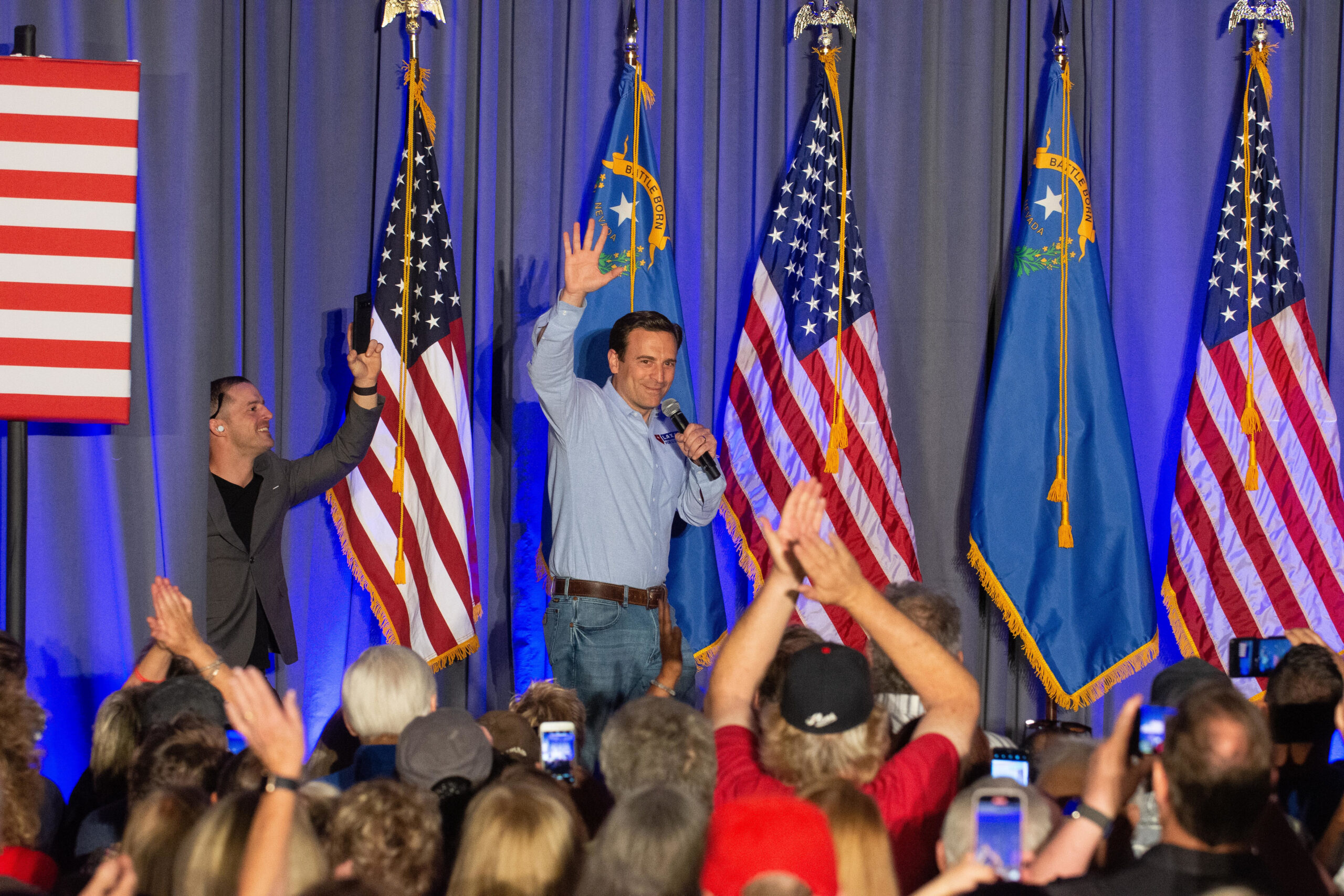 There are times when Catherine Cortez Masto and Adam Laxalt seem like such nice people. You know, regular folks, salt of the earth, the kind who share their compelling and relatable life stories – even when you haven't asked them to.
Other times? Frankly, I wouldn't trust them to walk my dog. Not after watching some of their campaign commercials.
On the bright side, Cortez Masto is a local girl-made-good and the first Latina in the U.S. Senate. More than that, she's the daughter of a hard-working Las Vegas Teamster who became one of the craftiest Clark County Commission members in the history of the office. But, as it turns out, she is also the Frankenstein-like political creation of Harry Reid, Nancy Pelosi, and Chuck Schumer, and I suspect that's only because Fidel Castro and Che Guevara were unavailable for the photo-op.
As for Laxalt, well, he was raised by a single mother. The poor kid didn't know his father's identity for years. He overcame the indignities of memorizing the Heritage Foundation secret handshake and being subjected to a private-school education in Virginia to establish himself as the rising star of Nevada's Republican Party on the strength of his winning personality, remarkable connections, and legendary political family name. The Laxalt family, I suppose.
This same degree of channel-surfing schizophrenia applies to the men butting heads in the race for governor. Incumbent Steve Sisolak is a proud former single dad who in addition to running the state these days is really ticked off at the price of bacon. I think bacon has something to do with fighting inflation, but I can relate to a guy who likes his pan-fried pork products. Vote bacon, I say.
And his opponent, Joe Lombardo? From the look of his television ads, this guy is the happiest man in the world. He can't stop smiling at the prospect of leaving his thankless job to lead Nevada for the next four years after being elected to another thankless job. Sheriff Joe, what are you smiling about?
As fortune would have it, Lombardo is also a no-good liar who has besmirched the good character of Nevada's First Lady, and what's lower than that?
I'll tell you what. It's that silver-spoon sucking Laxalt and his Federalist Society string-pullers who make the Machiavellian clan from "Succession" look like members of "The Mickey Mouse Club."
Or maybe it's the tone-deaf Sisolak, who had the audacity to rely on medical science – paging Dr. Oz – during a deadly coronavirus pandemic. The governor closed Nevada businesses and schools, putting parents and children at each other's throats. He's personally responsible for decreasing academic test scores. Why? Because the kids had to rely on their parents for help with their homework, that's why.
As for Congresswoman Dina Titus, D-Pushover Opponent, she seems elated as a lark. With spring in her step, she has been touring construction sites without a hard hat reminding constituents that she came out swinging for the state, helping working families back on their feet so they can bring home the overpriced bacon.
How do I know all these things with such dead-brained certainty?
Because I'm a low-information voter, that's why.
You, too? Kinda cool, huh. Low-info status gives us the same rights as all those showoffs who "read" about the issues and pay attention to what politicians actually do and say. We learn all we need to know about our candidates and their issues without ever leaving the couch.
Just hit the remote and start the sound-bite tutorial. Courses last as little as 30 seconds, and you'll have your voter's degree by November. Shake a little Jiffy Pop, crack open a cold one, and learn, baby, learn. In no time you'll realize political science isn't science at all, but mostly a series of historical mini-dramas and "CSI" episodes that increasingly take the place of real issues and meaningful debates.
It's getting harder to find candidates who aren't so overmanaged or paranoid of the press to agree to debates at all. In addition to being cowardly, I suspect the forensics-shy also know something else: Low-information voters like us don't much bother to watch debates.
They take way too much time and attention away from the real issues, like whether Sisolak is an agent of China and Laxalt has a "Trump Forever" tattoo hidden somewhere unmentionable.
Candidates spend millions on commercials, some of them downright vicious and misleading, for a reason. They know they can work when the right strings are plucked and the right volume is reached. They know that people who are too busy, or lazy, to read position statements and pithy political analysis wind up getting a lot of their feelings about a candidate from television and social media.
What we low-info voters lack in attention span, we try to make up for in a developed sense of smell about things like honesty, integrity, candor, intellectual heft, and other antiquated character traits. The tea leaves get even more hard to read when campaigns produce commercials that are not only alarming, but factually inaccurate.
I could go on at length on this important topic, but my next low-info voter education class starts in 30 seconds. Something dripping in sepia tones and sinister strains is ready to play. It's pretty exciting.
After that, I'm going to go walk my dog, cash in my 401k, and maybe even buy a pound of bacon.
John L. Smith is an author and longtime columnist. He was born in Henderson and his family's Nevada roots go back to 1881. His stories have appeared in Time, Readers Digest, The Daily Beast, Reuters, Ruralite and Desert Companion, among others. He also offers weekly commentary on Nevada Public Radio station KNPR.
Featured Videos
Comment Policy (updated 4/20/2021): Please keep your comments civil. We reserve the right to delete comments or ban users who engage in personal attacks, use an excess of profanity, make verifiably false statements or are otherwise nasty. Comments that contain links must be approved by admin.