Dr. Samir Qamar, right, founder and CEO of MedLion Direct Primary Care, listens to a patient's heartbeat during a checkup on Wednesday, April 26, 2017. Photo by Jeff Scheid.
Goodbye, billing codes and co-pays: Las Vegas doctor thinks he has solution for primary care
Dr. Samir Qamar first noticed flaws in the United State's health system as a medical resident at Lancaster General Hospital in Pennsylvania.
He felt pressure to see new patients every 10 or 15 minutes, leaving little time to establish a rapport with those seeking his care. It didn't mesh with his altruistic vision of family medicine — physicians knowing their patients on a personal level and providing basic care with an eye toward keeping them healthy in the long run.
"Medicine is a business in this country," said Qamar, who now lives in Las Vegas. "And that was only part of the problem."
The other challenge: Insurance companies become the middlemen between patients and physicians, forcing doctors to spend significant time doing paperwork and entering billing codes just so they can receive payment.
Qamar's disillusionment with the system led him to Monterey, Calif., where he established one of the first concierge medical practices and served wealthy patients — celebrities, rock stars, foreign dignitaries and former presidents — who were willing to shell out thousands of dollars per month to receive high-end care. On top of primary medical care, Qamar provided these patients with luxury amenities such as access to him day or night, house calls and even out-of-town care. He sometimes traveled with his patients to provide medical care while they vacationed.
Meanwhile, his wife, Dr. Hisana Qamar, operated a traditional practice in Monterey and had roughly 4,000 patients. But then the Great Recession hit.
Her patient population dwindled when people lost their jobs and, as a result, their health benefits. The situation prompted Qamar to try something new.
"What I decided to do was shrink the exorbitant fees that I had for my wealthier patients to something that I would consider affordable for most people and then offer that population, which really had nothing or nowhere to go anymore for medical care, at least basic primary care," he said.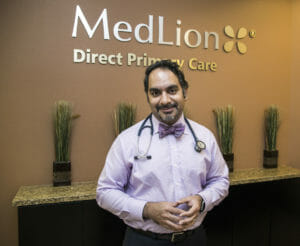 The model he started practicing is called direct primary care, a small but growing part of the American medical landscape that's an alternative to fee-for-service billing.
It's not health insurance. Instead, it's a concept similar to a health club: Patients pay a direct fee, often monthly, to their primary care doctors that covers all or most of these basic health services.
A paradigm shift
When Qamar first offered the program in California, he charged patients $50 per month — the cost of his cable bill. "We figured if most people could afford cable, they could afford additional health care," he said.
Now, Qamar is founder and chief executive officer of MedLion, a direct primary care group that contracts with physicians in 25 states. It's based in Las Vegas, where Qamar and his wife moved in 2012 to address the city's need for "high-quality, low-cost benefits," he said.
These days, his direct primary care patients pay $85 per month for access to physician consultations — no copays or deductibles involved. The fee doesn't cover medication, labs or imaging, Qamar said, but he has found places that provide those things at deep discounts to patients who pay cash. The philosophy: By cutting out insurance companies, Qamar said patients don't get saddled with multiple copays or high deductibles for primary care services, while doctors don't have to deal with time-consuming insurance billing and can spend more time with a smaller patient population.
"It is not a replacement for insurance," he said. "It is not insurance, despite there being a monthly fee."
The American Academy of Family Physicians (AAFP), which supports the direct primary care model, encourages patients to keep some form of a high-deductible health insurance policy to cover medical emergencies or other needs beyond the scope of primary care.
Qamar said health insurance was never intended to cover basic care. He sees direct primary care as a way for employers, individuals and doctors to cut costs because it can be bundled with catastrophic-type health insurance, thus meeting the needs of the Affordable Care Act, while giving patients access to primary care.
Only 3 percent of family physicians in the United States practice direct primary care, according to AAFP, but awareness is growing. A survey conducted by the organization in 2015 found that one-third of its member physicians were unfamiliar with direct primary care, down from nearly 60 percent two years earlier.
Dr. John Bender, an AAFP board member who practices direct primary care in Colorado, expects the model to grow steadily, with 10 percent of family physicians adopting it within a decade.
"There's a number of different factors that are driving interest in direct primary care," Bender said. "A lot of it has to do with the advent of high-deductible health plans. … In primary care, there's no bill I have that's $6,000. If someone comes and sees me 12 months out of the year, we're not going to get to that dollar amount."
Bender likens the concept to automobile insurance, which covers accidents and other major damage, but motorists still pay for basic things that keep their vehicles running like gasoline, oil and tires. If medical care were viewed through the same lens, he said, health insurance would cover the big-ticket items, such as hospitalizations and specialist visits, and patients would enter into payment agreements with physicians for their routine care.
Legislative efforts
About 22 states have laws that address direct primary care, Bender said. Colorado Gov. John Hickenlooper recently signed a bill into law that clarified that direct primary care is not insurance and defined the model's parameters.
Nevada law does not mention direct primary care. Independent Sen. Patricia Farley proposed a bill this session that would have reiterated that direct primary care is not considered health insurance and is not regulated by the Nevada Division of Insurance.
The bill never made it out of committee. Farley said other legislation she proposed this year needed her attention, but she hopes to revive the direct primary care bill in 2019.
"Direct Primary Care Agreements help individuals who can only afford catastrophic insurance by making primary care affordable," she said in a follow-up email. "This aspect of direct primary care agreements is very important and worth preserving considering the current unaffordable cost of health care."
It's also being examined at the federal level. A bill known as the Primary Care Enhancement Act of 2017 was introduced in Congress earlier this year. Most notably, it would allow people to pay for direct primary care agreements from health savings accounts.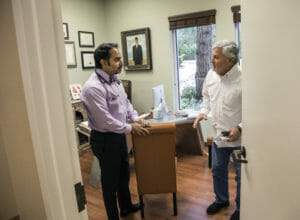 The model's viability
Not all direct primary care practices survive.
Turntable Health, a membership-based health clinic that was affiliated with the Downtown Project, closed in January. The clinic's founder, Dr. Zubin Damania, penned a blog post and blamed its closure on the "economic realities of the Las Vegas market."
Direct primary care can be a tough sell to individual consumers, said Frank Nolimal, an employee benefit consultant at Assurance, Ltd. in Las Vegas. He suspects the model only appeals to people who have chronic health conditions that warrant frequent trips to the doctor.
"People are not driven to the doctor's office because they like to go to the doctor's office," he said. "They go when they're sick."
For that reason, Nolimal said average consumers may be more willing to pay the occasional office visit co-pay as part of their insurance plans rather than a monthly fee for relatively unlimited access to a primary care physician.
Business participation is key to the model's success, said Doug Geinzer, CEO of Las Vegas HEALS, a nonprofit organization that promotes the region's health care community. Companies that are mandated to purchase health care for their employees may see direct primary care as a low-cost way to keep their workforce healthy and, thus, productive. Employers could also bundle it with catastrophic health insurance plans for their employees and perhaps save money, he said.
"If you think about it, almost all plans are employer driven," Geinzer said. "That's the only way this thing would work."
Still, Geinzer said direct primary care is a "good model" that more Las Vegas physicians and employers should consider.
Qamar said he is confident about the future of his company, which is self-funded now but may take investments soon. MedLion has about 2,500 patients in the Las Vegas area, he said. Employers offering direct primary care as a benefit include landscaping companies, casinos, fast-food chains, home-health agencies and janitorial-related businesses.
The uncertainty regarding the Affordable Care Act doesn't bother him. Qamar said the need for an alternative model like direct primary care exists with or without the landmark health law.
"It's no longer a movement," he said. "It's an industry now."
Feature photo: Dr. Samir Qamar, right, founder and CEO of MedLion Direct Primary Care, listens to a patient's heartbeat during a checkup on Wednesday, April 26, 2017.  Photo by Jeff Scheid.
Effective immediately, The Nevada Independent is putting all commenters on notice that we will not accept comments from anonymous persons and will immediately block anonymous commenters making untrue and/or unsubstantiated comments.
get our morning newsletter,
The Daily Indy
@TheNVIndy ON TWITTER