GOP Sen. Lindsey Graham looking to attend Laxalt Basque Fry as former AG eyes Senate race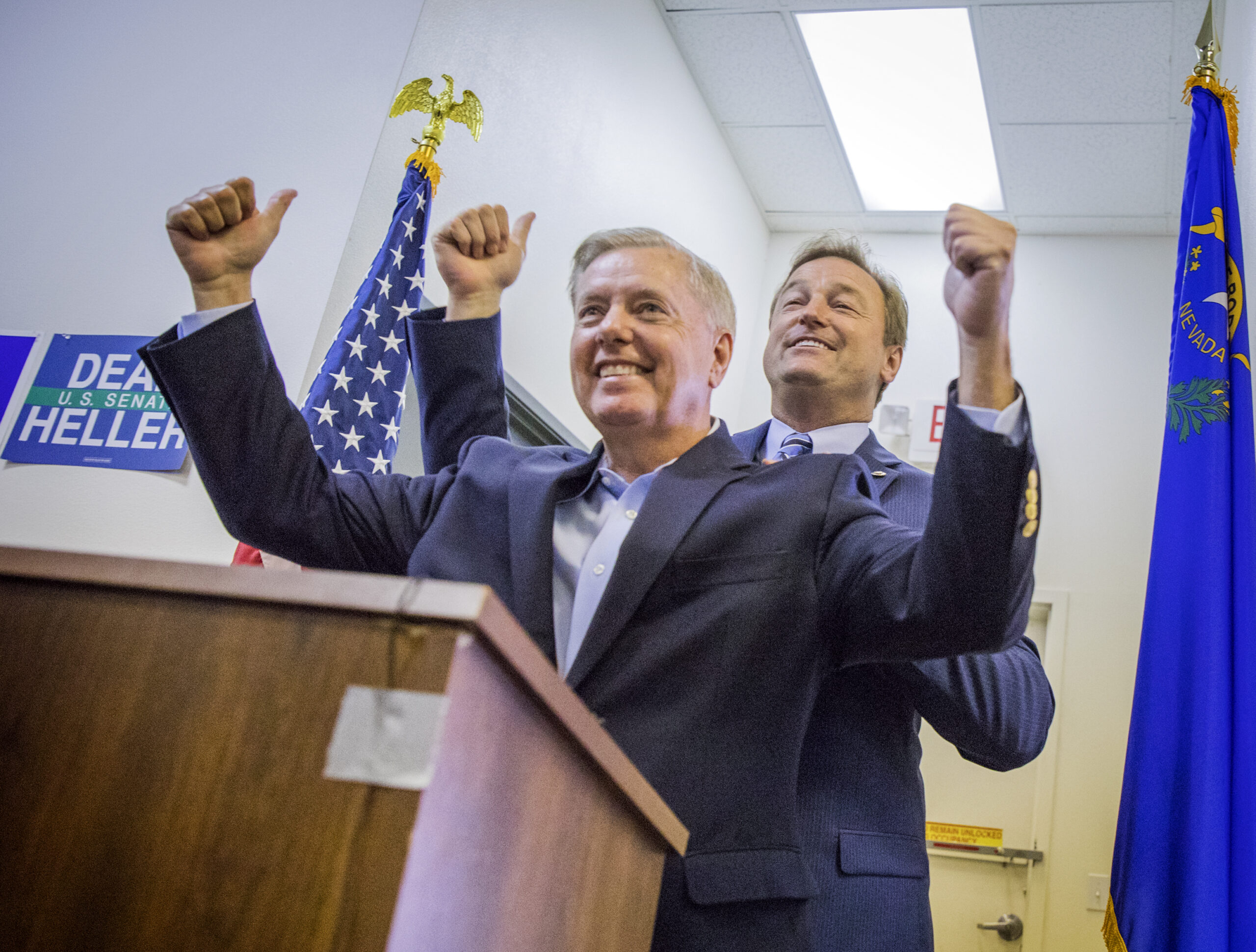 Sen. Lindsey Graham (R-SC) said Wednesday he hopes to attend former Attorney General Adam Laxalt's Basque Fry in August as Senate Republicans hope to win back the majority in the midterm elections by focusing on conservative issues that they argue resonate with Latinos in Nevada and other swing states.
"I'm looking at that," Graham said. "I don't know if I can make it. Adam's a good guy and would be a good candidate for us out there."
Sen. Rick Scott (R-FL), chairman of the National Republican Senatorial Committee (NRSC), Senate Republicans' campaign arm, would not rule out attending.
So far, Sen. Tom Cotton (R-AR) is the only confirmed Republican senator set to attend. Sen Ted Cruz (R-TX) said he was invited but can't make it due to his schedule. Sen. Rand Paul (R-KY) said he has no plans to attend. Both have attended in the past.
Laxalt, who ran unsuccessfully for governor in 2018, is considering running against Sen. Catherine Cortez Masto (D-NV), who is seeking re-election after her first term in office.
Scott confirmed that he had spoken with Laxalt, former Sen. Dean Heller and other potential candidates that he would not name. Heller now appears to be laying the groundwork to run for governor.
"I've talked to quite a few people in Nevada," Scott said. "Ultimately, it's a personal decision whether people want to run or not."
President Joe Biden won Nevada by just two percentage points and the NRSC is eyeing Cortez Masto's seat as it looks to pick up the one seat Republicans need to break the Senate's 50-50 party split. For the moment, Democrats control the chamber through Vice President Kamala Harris, who can break tie votes.
On Thursday, the NRSC released a poll conducted in Spanish of 1,200 Latino voters in eight swing states, including Nevada, that it believes shows that Latinos are allied with the GOP on issues such as immigration and capitalism.
While the poll only included 300 Latinos from Nevada, Scott argued that the survey shows that the GOP can connect with Latinos and win them over. That's something Scott prides himself in doing after winning a close Senate race in 2018. Scott beat his Democratic opponent by 10,033 votes.
"If you look at this poll, they're like a typical Republican," Scott said Wednesday. "They're aspirational. They have a faith in God. They care about freedom. They care about opportunity. They're not into big government. They want the rule of law, and they want good schools. That's a Republican."
Jazmin Vargas, spokeswoman for the Democratic Senatorial Campaign Committee, the Senate Democrats' campaign arm, said that the poll didn't reflect the unpopularity of Republicans' policies with Latinos. She cited Republican opposition to the American Rescue Plan, which was enacted in March and provided $4 billion for Nevada and direct payments of $1,400 for most individuals.
"A fake poll from the NRSC won't change Senate Republicans' record of attacking Latinos' access to affordable care, their refusal to support DREAMers, and their unanimous vote against a coronavirus relief package that has provided direct economic relief to millions of Latino families and small businesses," Vargas said, adding that a poll in April showed that 76 percent of Latinos approve of the law.
"Latinos will hold every Senate Republican accountable for their toxic agenda in November next year," Vargas continued.
Conducted by OnMessage Inc., a Virginia-based Republican political polling and consulting firm, the NRSC poll also had respondents from Arizona, Florida, Georgia, North Carolina, Ohio, Pennsylvania and Wisconsin.
The survey found that 63 percent of those polled agreed that "capitalism is the best form of government because it gives people the freedom to work and achieve their potential."
The question reflects Republicans' strategy to paint Democrats as too liberal. It also comes after the leadership of the Nevada Democratic Party was taken over by a slate of Democratic Socialist candidates in March.
On immigration, 72 percent agreed that the government "should do what is necessary to control our southern border and stop the surge of illegal immigration happening right now."
Another 69 percent opposed "allowing illegal immigrants to receive the same welfare and unemployment benefits as citizens."
Fifty-eight percent also said they agreed that too many people were living off of government assistance.
Scott, who also served as Florida governor, said he planned to use the poll to show his fellow Republicans what is possible when it comes to talking to Latino voters.
"I did it in my races, so there's no reason we can't do it across the country," Scott said.
Scott said he did not know if there would be a contentious primary for the GOP nomination in Nevada, but he said that tough primaries can help fortify a candidate for the general election.
Asked whether he believes former President Donald Trump would play a role, Scott said he hopes he does, adding that Trump remains popular with GOP voters.
"If you look around the country, his agenda is very popular," Scott said. "So I think he can be helpful."
Trump's endorsement could give any contender an edge in the primary, and Laxalt, who won Trump's backing for his 2018 gubernatorial bid, helped lead an effort in Nevada to spread false claims that improprieties in the state's election led to Trump's defeat. Senate Minority Leader Mitch McConnell (R-KY) has also eyed Laxalt for the Senate race.
But with a recent rise in nonpartisan voter registration, a candidate that embraces the idea that the election was stolen could run the risk of turning off independent voters in a general election.
Graham said that Trump and other Republican candidates would be wise to move on from the 2020 election.
"I think there comes a point where you need to pivot forward," Graham said. "Generally speaking, 2022 is about 'what are you going to do for me and my family.'"
Graham said Trump is not the first politician to have a hard time letting go of a campaign.
"He's got some legitimate concerns, but he will be well-served, I think, by looking forward," Graham said. "Time will tell."
Featured Videos
Comment Policy (updated 4/20/2021): Please keep your comments civil. We reserve the right to delete comments or ban users who engage in personal attacks, use an excess of profanity, make verifiably false statements or are otherwise nasty. Comments that contain links must be approved by admin.