Eldorado High School students during commencement ceremony at the Orleans Arena on Thursday, June 8, 2017. Photo by Jeff Scheid.
Graduation rate hits new high but trouble spots remain among certain student groups
December 14th, 2018 - 9:00am
Nevada's graduation rate continued its upward climb with the class of 2018, hitting 83 percent and setting a new state record.
The statewide graduation rate marked a 2 percentage-point increase over the prior year, according to data released Friday by the Nevada Department of Education. It was fueled by gains across almost every subgroup of students except for children learning English as a second language: The graduation rate for so-called English language learners dipped to 76 percent from nearly 82 percent in 2017.
The data also offered a glimpse into the academic difficulties facing students who are homeless or in foster care. Per a requirement of the federal Every Student Succeeds Act, the state must report graduation rates for students in those situations. Within the 2018 cohort, 64 percent percent of homeless students and 46 percent of students in foster care earned a diploma.
Black students also remained the least likely ethnic group to graduate in Nevada, with only 72 percent earning diplomas this year. That's at least 10 percentage points lower than the graduation rate for Hispanic students (82 percent), Asian students (94 percent) and white students (86 percent).
Nevertheless, State Superintendent Steve Canavero lauded the overall improved graduation rate, which, for the first time, reflects the college and career ready diploma established by the 2017 Legislature. The diploma carries two endorsements depending on a student's high school pathway. The college-ready endorsement implies that, based on students' coursework, they're prepared for college-level classes; the career-ready endorsement means those students have completed certain classes or obtained experience that makes them qualified for post-secondary education or training for in-demand occupations.
"The continued growth in our graduation rate is another solid indicator that our schools are going in the right direction and Nevada is on pace to be the fastest improving state in the nation," Canavero said in a statement.
Thirteen school districts in Nevada increased their graduation rates. The Clark County School District boosted its graduation rate by 2 percentage points, with 85 percent of students in the class of 2018 receiving diplomas. The Washoe County School District posted a more modest increase — less than 1 percentage point — and remained at 84 percent.
The State Public Charter School Authority also notched a hefty increase, with its graduation rate jumping from 65 percent in 2017 to 70 percent this year.
The Lander County School District, on the other hand, saw the biggest decline. Its graduation rate dropped 5 percentage points to 87 percent. School districts in White Pine and Pershing counties also decreased to 67 percent and 96 percent, respectively.
The Clark County School District's top brass gathered Friday morning in Desert Oasis High School to discuss the overall improved graduation rates. The southwest valley campus was one of 11 high schools in Clark County that increased its graduation rate by 5 percent or more.
Desert Oasis High School's graduation rate jumped 6 percentage points to reach 89 percent this year. Six years ago, the school suffered from a 57 percent graduation rate.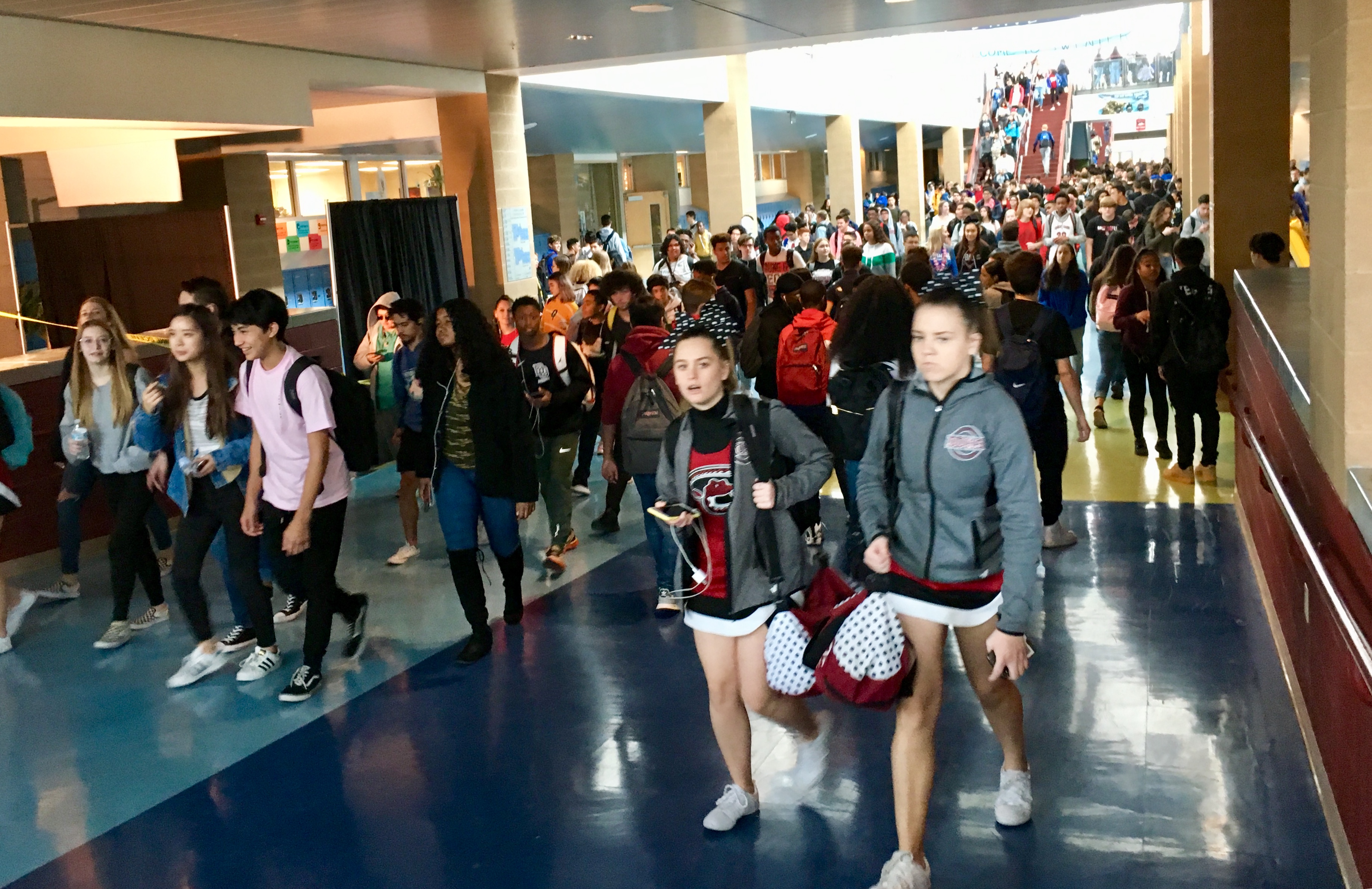 Principal Kelly O'Rourke said the improvement has been slow but steady, aided by giving students opportunities to excel based on their interests. The 3,200-student school offers 21 Advanced Placement courses as well as classes in forensic science, sports medicine and woodworking, among others. She views the course offerings as a way to draw students into the comprehensive high school and keep them motivated.
"Our goal here at Desert Oasis is to make sure our students don't leave the community," she said. "We have everything here."
Clark County Superintendent Jesus Jara praised the work of teachers across the K-12 spectrum for boosting the district's graduation rate yet again. The district has increased its graduation rate by 26 percentage points since a low point of 59 percent in 2011.
"We do celebrate it in our high schools, but graduation starts in elementary school," he said.
But Jara also noted several data points that highlight the work that remains. The graduation rates for the following groups of Clark County School District students tumbled this year:
Students learning English as a second language (7 percentage-point decrease)

Native American students (7 percentage-point decrease)

Special-education students (1 percentage-point decrease)
The superintendent said the district will be focusing on ways to improve the likelihood of those students earning diplomas. Additionally, Jara wants to see all schools posting graduation rates that exceed 90 percent by 2024.
This story was updated at 12:31 p.m. to include information from a Clark County School District news conference.
Comment Policy (updated 3/21/19): We welcome reader comments on our stories. However, in keeping with our general policy of transparency, accuracy and accountability, we do not accept comments from anonymous accounts. Anonymous accounts are those without a valid first and last name. Any such comments will be deleted, and anonymous users will be blocked from commenting further. We also will block commenters who use offensive language, engage in personal attacks or state things that are verifiably false.
get our morning newsletter, The Daily Indy
INDYMATTERS PODCAST
CAFECITO CON LUZ Y MICHELLE
@TheNVIndy ON TWITTER