Grand Sierra to build 10,600-seat Reno arena, host Nevada basketball
In an agreement with UNR, Alex Meruelo said the arena will be home to the Wolf Pack men's basketball team. Other non-gaming developments are planned.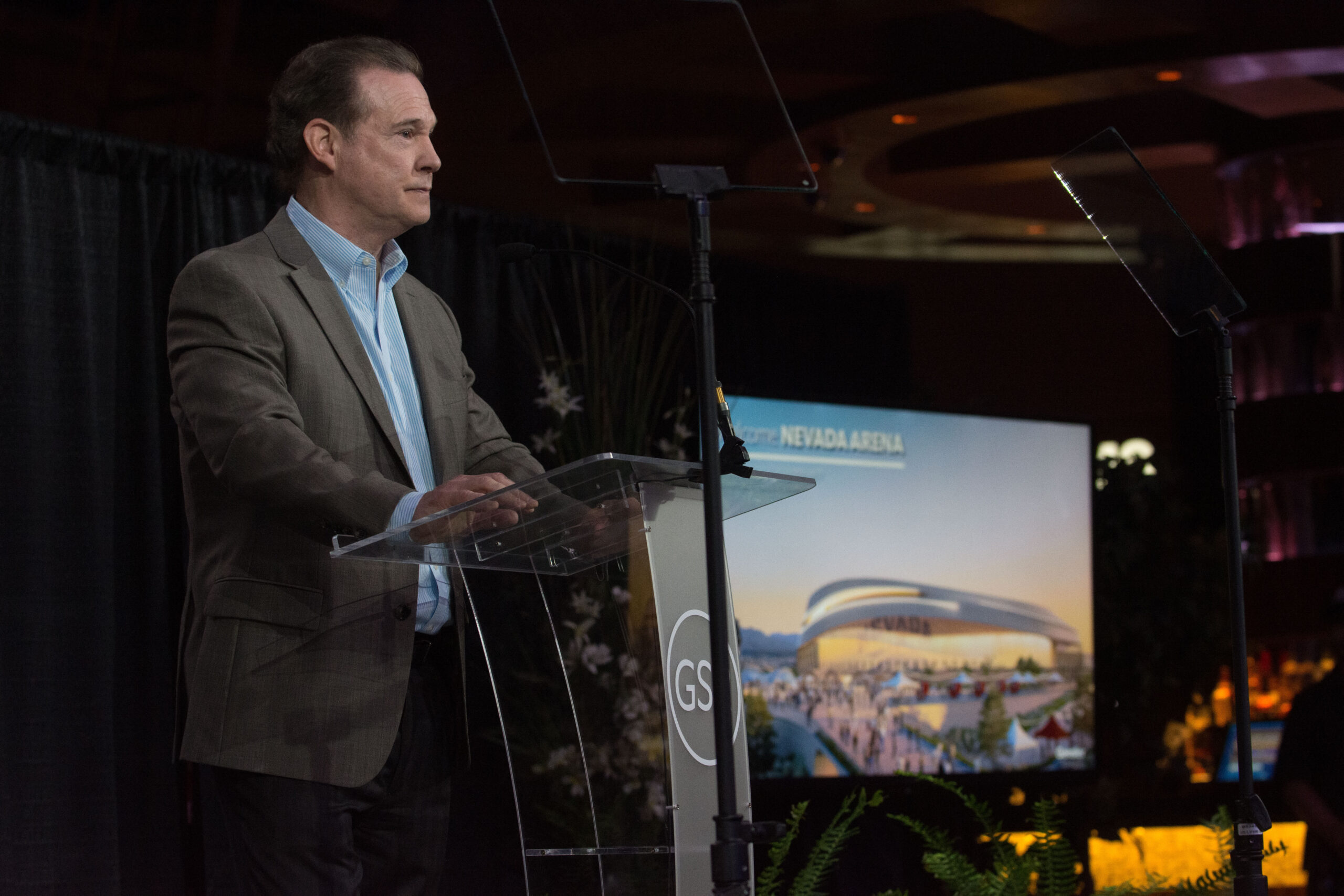 Grand Sierra Resort owner Alex Meruelo announced plans Wednesday to build a $400 million, privately financed sports and entertainment arena adjacent to his Reno hotel-casino — the initial phase of a potential $1 billion enhancement to the 150-acre site that includes other non-gaming amenities and potentially a new hotel tower.
The venue, introduced as the Nevada Arena, will have a capacity of 10,600 and will be home to the Nevada men's basketball team, but will also become a Northern Nevada venue for concerts and entertainment attractions.
Meruelo was joined at the announcement by Reno Mayor Hillary Schieve and UNR President Brian Sandoval.
As a sports arena, the venue would host approximately 16 to 18 Wolf Pack home games during the basketball season and would serve as the university's venue for ticket sales. The new arena could also be used for NCAA Basketball Tournament first-round games and small-conference men's and women's basketball tournaments, as well as other sporting events such as hockey games and larger prep sports tournaments.
"The arena will host events that have never been able to come to Reno before. It will have boxing, [mixed martial arts], … monster trucks," Meruelo said.
The venue will be 300,000 square feet and include suites and hospitality clubs.
The facility, which could be completed in time for the 2026 basketball season, will be on Grand Sierra property in central Reno, about 2.2 miles from UNR's campus. The Wolf Pack men's basketball team currently plays at the on-campus 12,000-seat Lawlor Events Center that has been its home since 1983.
After the new arena is built, Lawlor will be rebranded as an arena for the women's basketball program.
Meruelo said he plans to privately finance the arena project, an arrangement similar to the one used for the $375 million, 18,000-seat T-Mobile Arena in Las Vegas, which was built by MGM Resorts International and entertainment giant AGS in 2016. The venue, located between New York-New York and ParkMGM, is the home of the Vegas Golden Knights and hosts UFC fight cards and concerts.
"One thing that I made sure that I said over and over again — this arena will not cost the university one dollar," Meruelo said.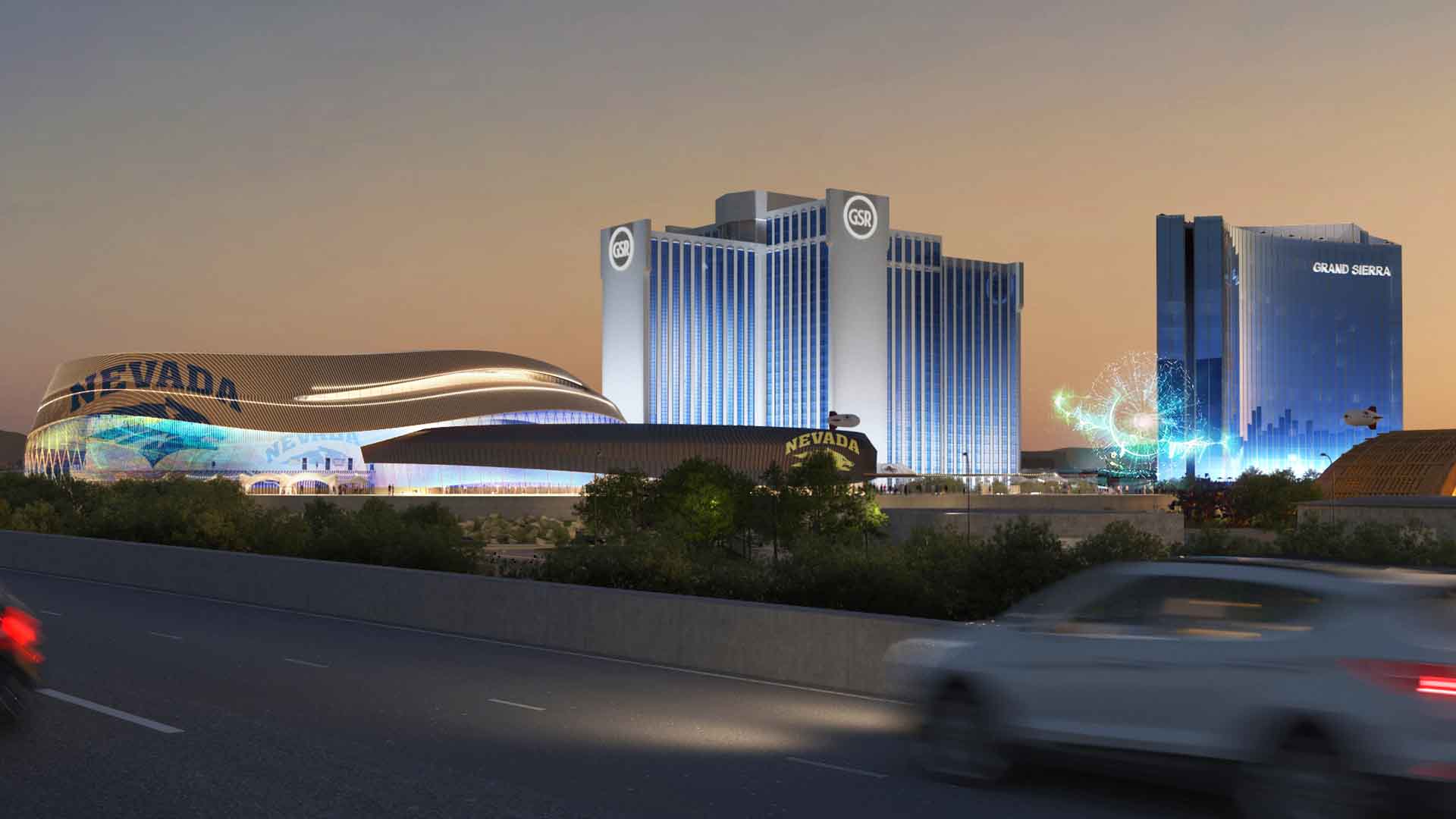 Sandoval said he had met Meruelo for the first time in 2009 or 2010, just before Meruelo bought the Grand Sierra and Sandoval became governor. Meruelo asked Sandoval what he thought about Reno and Sandoval said he thought it was a place full of history and community.
UNR will soon celebrate its 149th year of operation in October. During the announcement event, Sandoval recollected the history of the university as well as his own experience watching Nevada college basketball.
"It's time for us to play in an environment that will be as good or better than anywhere in the country," Sandoval said. "Our fans deserve this and our players deserve this."
Though the Nevada Athletics Department agreed transportation for athletes and student fans is important, there is no set plan yet for how the university will bus attendees from the campus several miles away to the games.
"We are committed to our students to make sure that they are part of this amazing experience. We need our students. It is so important to create that very special environment," Sandoval said.
The arena will have designated parking below the venue as well as additional parking constructed in the future, according to Andrew Diss, vice president of government affairs for Meruelo Gaming. However, it is uncertain for now how many parking spots will be available for fans.
Meruelo, a Southern California businessman who acquired the Grand Sierra in 2011, said he is also talking with potential partners who could help him privately finance the arena project.
His privately held Meruelo Group has interests in 35 companies across a host of industries including construction and engineering, hospitality and gaming, media, real estate and food services.
In addition to Grand Sierra, Meruelo owns the Sahara Casino Resort in Las Vegas and the National Hockey League's Arizona Coyotes. He has been trying to build a new arena for the team in the Phoenix area.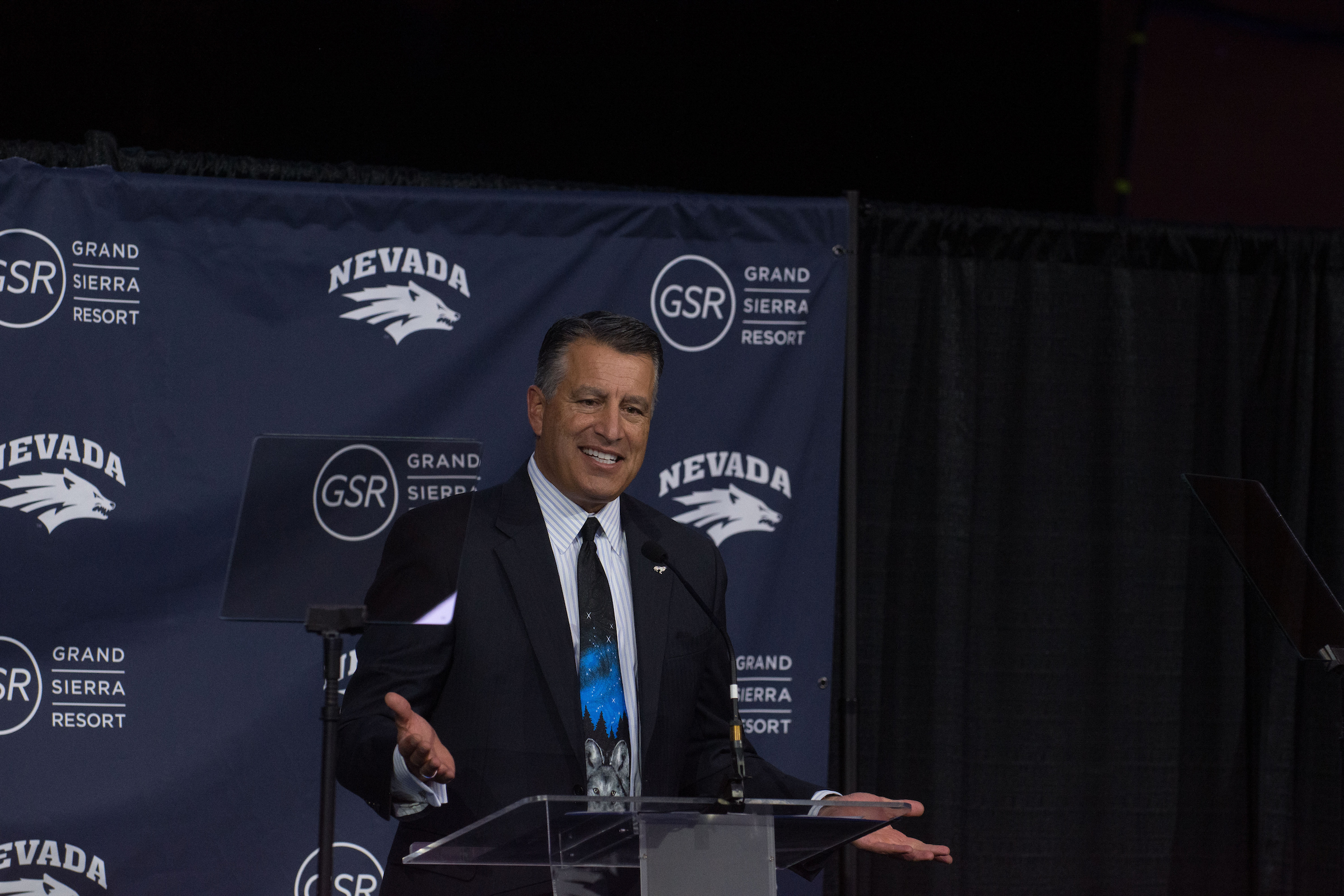 Meruelo also announced further development plans for the centrally located Grand Sierra including attractions to the lake at the south entrance of the property. The plans include a walkable promenade, a fountain show on the lake and dining venues.
"We're going to make that lake come alive," he said. "We're going to have water shows and people will come to see it."
Meruelo also has plans for a redeveloped recreational vehicle park area, an outdoor golf driving range facility that is similar to Topgolf, and 300 condo-style units to house Grand Sierra staff.
As for expanding the 2,000-room Grand Sierra, Meruelo did not provide a timeline, saying the tower would be built as needed.
"It will take time, but I'm very comfortable that with all the growth we're going to see, that tower will come to light and it will be special," he said.
Schieve highlighted the significance of the Grand Sierra investing in workforce housing for its staff, saying she hoped other cities would look to Northern Nevada as a model for how to build strong workforces.
"I think you're going to set the bar," Schieve said.
The project comes as part of the mayor's push to diversify Reno's economy and improve housing in Reno — two issues she ran on during her re-election campaign last year.
This announcement comes after several significant investments from Nevada into its basketball-related infrastructure. These improvements include the $2.5 million Ramon Sessions Performance Center built in 2017, and the $8 million investment into the Eric and Linda Lannes Basketball Building that includes a players' lounge and locker room, which should be complete in fall 2024.
Lawlor Events Center cost $26 million to construct, which was provided by a grant approved during the 1979 legislative session. Since its opening nearly 40 years ago, Lawlor has hosted not only men's and women's college basketball, but also winter commencement for UNR graduates and various concerts.
This story was updated at 4:49 p.m. on 9/27/2023 to include additional information.
David Calvert contributed to this story.
The Nevada Independent is raising $200,000 by Dec. 31 to support coverage of the 2024 election.
Tax-deductible donations from readers like you fund this critical work.
If you give today,your donation will be matched dollar-for-dollar.
Give + Get Matched
Featured Videos