Grassroots effort to bridge the digital divide ahead of the new school year gains steam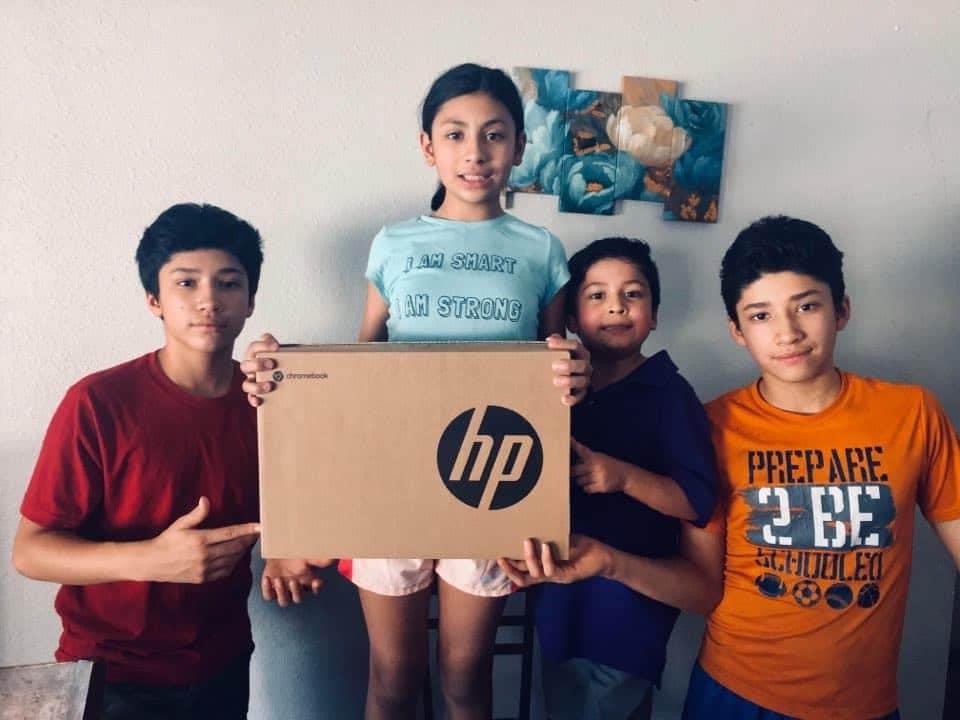 Eleven-year-old Camila Flores squealed with delight recently when a rectangular brown box arrived for her and her three brothers.
Inside was a Hewlett-Packard laptop, the family's first computer. Days earlier, the Clark County School Board's decision to start the new academic year virtually had set Flores in a panic.
"I was really worried," she said, explaining her reaction to distance education. "Wait — how am I supposed to do my work if I don't have a laptop or something?"
When COVID-19 shuttered schools in the spring, the Flores family received a district-issued Chromebook for the siblings to share. But the logistics proved less than ideal: Flores, then a fifth-grader, and her middle school-age brothers often had virtual classes happening at the same time. So someone would miss a learning opportunity.
The laptop is the family's first sign of hope that distance learning — an emergency experiment in the spring — might go smoother the second time around. The Flores family received the computer through a grassroots effort to equip students with Chromebooks or laptops ahead of the Aug. 24 school start date.
"It's one thing to donate money," said Felicia Ortiz, a Nevada State Board of Education member who's involved in the effort. "But it's a whole other thing when you see a kid's face light up because they have access to education right now."
As school boards and superintendents across the country pondered how to begin the 2020-2021 school year, concerns about the digital divide permeated most discussions. The phrase refers to students' unequal access to computers or the internet, a situation that could put thousands of children at a disadvantage. The problem is especially acute in Clark County, where officials estimate 20,000 households with children may need internet.
Clark County School District officials are eyeing low-cost internet programs and WiFi hotspots as a solution to that part of the equation. But internet access is no help without an actual device — whether it be a laptop, tablet or Chromebook.
During the school closure in the spring, the district deployed nearly 111,500 electronic devices to students. Still, it does not have a 1-to-1 ratio of devices to students. By the end of the last school year, the roughly 320,000-student district had 250,146 devices in its possession, leaving a gap of nearly 70,000.
Complicating factors is a supply-chain issue as schools nationwide scramble to beef up their technology inventory. District officials did not respond to an inquiry about how many more devices they need or whether an order has been placed yet. Earlier this month, a presentation staff gave to the school board pegged the cost of buying more Chromebooks at $28.4 million, funded by federal coronavirus relief dollars earmarked for education.
Enter a community-led effort.
On the same day Clark County trustees approved a distance-learning plan, Valeria Gurr — founder of a Facebook group called CCSD Padres y Madres (Spanish for "CCSD Fathers and Mothers") — posed a question on the site: How many parents needed a laptop for their children?
"The answer was massive," she said.
Dozens of parents quickly responded, and the list kept growing and growing over the next few days. So Gurr, who is also the state director for Nevada School Choice, an organization closely linked to need-based Opportunity Scholarships, set to work. Her mantra: "It's easier to complain than be part of the solution."
Gurr created a survey asking parents for their names, the schools their children attend and how many laptops or Chromebooks they needed. Then, through word of mouth and social media, she started looking for donors.
As of Friday, nearly 400 computers had been requested and 50 had been donated, she said. Some have come from local residents or businesses itching to help. Others hail from out-of-state donors wanting to do the same.
The CCSD Padres y Madres page, meanwhile, has lit up with photos of smiling children clutching their new laptops or Chromebooks.
"That's how community works," said Silvina Jover, a bilingual social studies teacher at Desert Pines High School who's helping with the effort. "People just saying, 'How can I help?'"
The recipients are all Spanish-speaking, low-income families, many of whom struggle to navigate the education system because of language barriers or immigration-related fears. Gurr and others instruct the families to call their children's school. If the school doesn't have Chromebooks available, those families are pushed to the top of the list to receive a donated device, which can be new or a used one in good condition.
The volunteers involved say their operation is more nimble than the district's purchasing process and could potentially solve the problem quicker — or at least put a major dent in it. Plus, the students who receive a donated Chromebook or laptop won't have to return it at the end of the school year. It's theirs to keep.
It's not the only donation operation that has sprung to life, though. The Public Education Foundation is launching a computer repurposing effort called "Next Stop," said Kirsten Searer, the nonprofit's president. Donated laptops, desktop computers and tablets will be wiped clear of existing data — with help from the College of Southern Nevada — and checked to make sure they have adequate internet access.
As the donation efforts gain steam, Gurr said she hopes families with multiple children can receive additional computers. Until then, Camila Flores, who will be a sixth-grader at Thurman White Academy of the Performing Arts, and her brothers have been getting acclimated to their shared laptop.
She's optimistic about the upcoming school year.
"As long as I'm doing it online and I get to see some of my friends that are going, it's going to be fine," she said.
The Nevada Independent is raising $200,000 by Dec. 31 to support coverage of the 2024 election.
Tax-deductible donations from readers like you fund this critical work.
If you give today,your donation will be matched dollar-for-dollar.
Give + Get Matched
Featured Videos