Group running anti-transgender bathroom ads against Sisolak has links to new PAC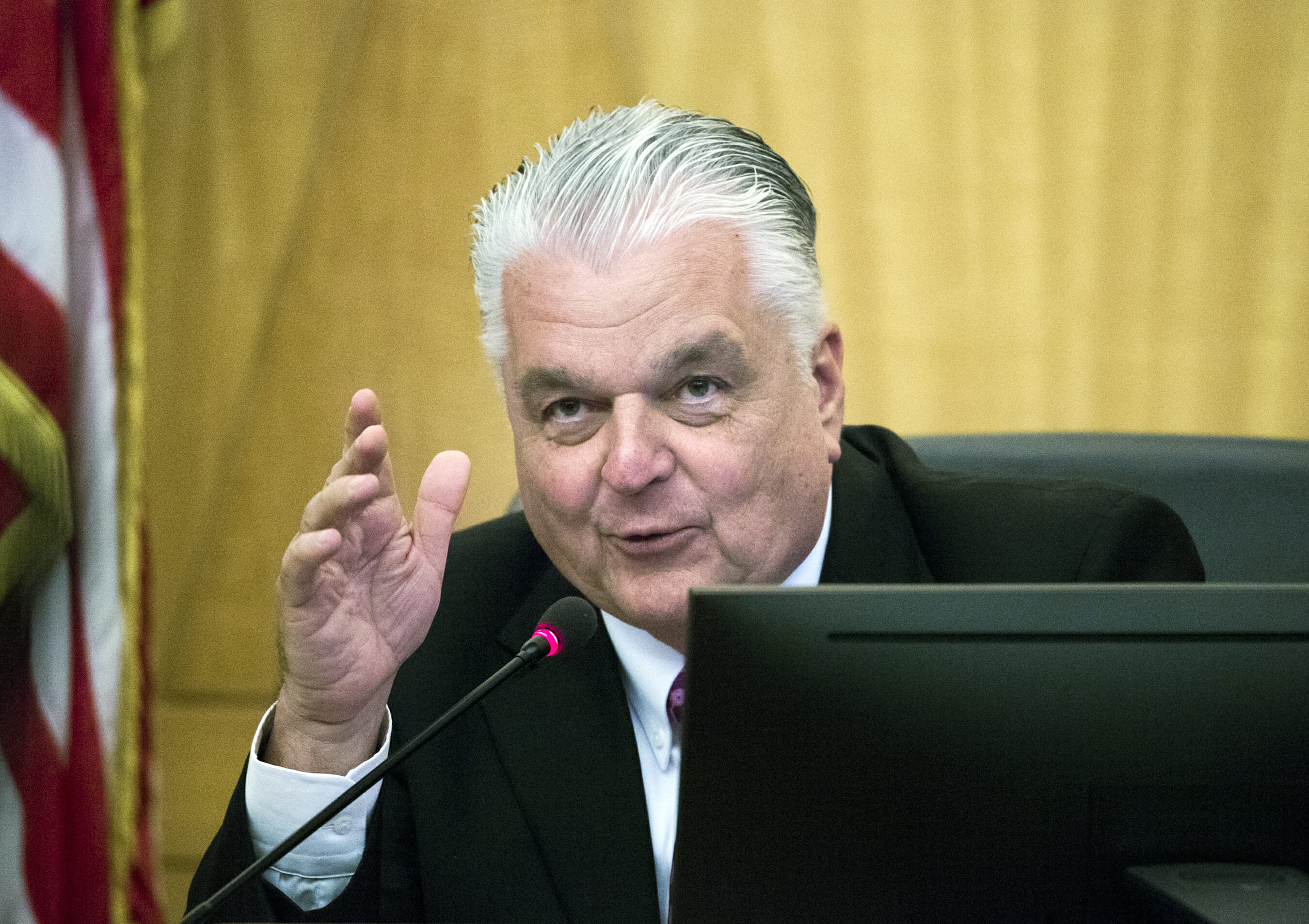 A recently-created Facebook page is running an ad alleging Democratic gubernatorial candidate Steve Sisolak supports allowing teenage boys to shower with girls in schools, which the candidate labeled as "transphobic."
The Facebook page, Nevada Parents for Safe Schools, has been publishing a promoted ad since Friday claiming Sisolak "supports letting high school boys shower with your daughter" — a line of attack often used by opponents of letting transgender students use the bathroom of their choice.
According to Facebook's political ad database, the post has between five and 10 thousand impressions and has been shared nearly 500 times.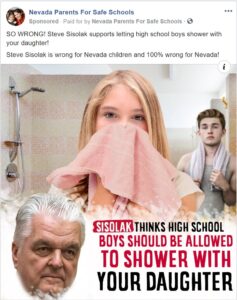 No group called Nevada Parents For Safe Schools has been registered with the Nevada secretary of state, but a PAC called "Parents for Safe Schools" was registered with the state earlier in October by Charles Clement and Karen England. Facebook requires political ads to include a "paid for" disclosure, but the social media giant has a loophole that allows pages to fill in the disclosure with whatever text they want, even if it doesn't match the name of a registered political entity.
England did not return a phone call seeking comment on the PAC Tuesday and Wednesday. In a tweet sent Tuesday replying to an image of the ad, she wrote "There's nothing wrong with educating voters on his position."
Clement answered a phone call Tuesday morning and confirmed he was involved with the PAC, but placed the call on hold after being asked if he was involved with the Facebook page. After returning, he again declined to answer if he was involved with the Facebook page and asked that questions be emailed to him instead. Clement then didn't return two emails seeking comment on Tuesday and Wednesday.
The "Parents for Safe Schools" PAC did not file a campaign finance report on Tuesday's deadline for any contributions and expenses made between June 8 and Oct. 12. PACs are required to file campaign finance reports if they raise more than $1,000 or make any expenditures against a specific candidate.
Despite the limited output, the page has been criticized by LGBT groups and Sisolak, who said in a tweet sent yesterday that the group was replacing "the bigoted dog whistle with a megaphone."
"An enemy of the trans community is an enemy of equality, and your silence speaks volumes," he said in a tweet aimed at his Republican opponent Adam Laxalt. "Desperate political appeals to bigotry have no place in our nation."
Human Rights Campaign Nevada State Director Briana Escamilla said in a statement that the ads were "egregious, hateful and not representative of who we are as a state."
"Nevada voters overwhelmingly support LGBTQ equality and won't stand for these false attacks and smear campaigns against their friends, family and neighbors," she said in a statement.
Studies indicate that sex crimes committed by transgender people in bathrooms is exceedingly rare — only one instance found over a 15 year period. A study published in the Journal of the American Academy of Psychiatry and the Law earlier this year tallied 20 total alleged bathroom sex crimes since 2003 committed by a transgender individual, men intentionally taking advantage of a law protecting transgender bathroom access, or men disguising themselves as women to gain access to women's bathrooms.
Comparatively, the study found 154 cases of cisgendered men committing bathroom sex crimes without claiming to be a woman or protected under laws allowing transgender bathroom access.
Backers of the PAC have some history in opposing policies designed to expand and protect transgender bathroom access. England is the executive director of the Nevada Family Alliance, and appeared at meetings opposing the proposed gender diversity policy for the Clark County School District. The district's Board of Trustees approved the policy in August on a 4-3 vote following months of contentious hearings and opposition by parent groups.
She also helped author a bill in the 2015 Legislature that would have limited bathroom access for transgender students, which, in a rare move, was defeated on the Assembly floor after five Republicans crossed party lines to oppose it.
She's well-known in California and Nevada for advocating against policies aimed at protecting transgender students and LGBT awareness, including asking parents to keep their children at home during the pro-LGBT "Day of Silence."
Charles Clement's wife, Melissa Clement, was a lobbyist for Nevada Right to Life and the Pro Life League of Nevada during the 2017 Legislature. The Clements have made minor contributions to attorney general candidate Wes Duncan and former Assemblywoman Jill Dickman.
Laxalt was endorsed by Nevada Right to Life in June 2018.
IndyFest is proudly sponsored by:
Comment Policy (updated 4/20/2021): Please keep your comments civil. We reserve the right to delete comments or ban users who engage in personal attacks, use an excess of profanity, make verifiably false statements or are otherwise nasty. Comments that contain links must be approved by admin.