Group thought to be first tenants union in Nevada seeks to tackle high rents
The Reno-Sparks Tenants Union wants to secure legal aid for tenants and diagram property ownership through "power mapping."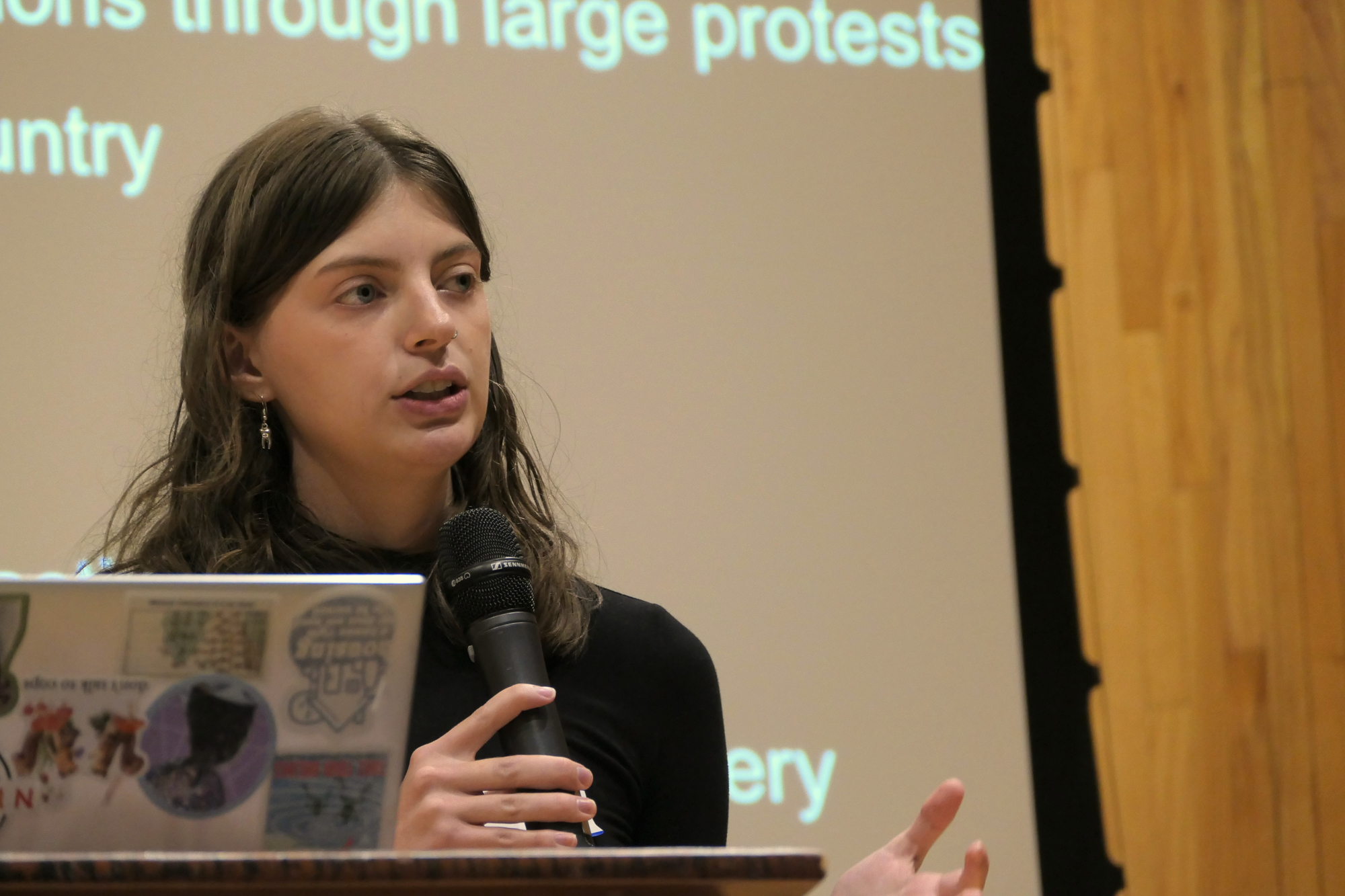 Organizers of the Reno-Sparks Tenants Union gathered at the Reno Downtown Library on a recent sunny autumn morning to talk with a group of around 30 renters about how rallying together can increase residents' power and improve living conditions within Northern Nevada. 
Though tenants unions and workers unions trace their origins to the Industrial Revolution and use terms such as "strike" and "scab," the two have some key differences: tenants unions leverage consumer protections rather than labor rights and seek to decommodify housing rather than arrive at bargaining contracts. Similar to labor unions, tenants can strike by collectively not paying rent.
"It's the first [tenants union] in Nevada, as far as we know," said Elizabeth Walsh, 25, an organizer with the union. "At least, that's been publicized."
Bridgett Simmons, an attorney with the National Housing Law Project, told The Nevada Independent on Oct. 31 that the country is seeing "a resurgence of organizing in the housing [space]. I mean, organizers in the housing space have always been present, but it's been very cool to see more news coverage of housing organizers."
Tenant unions have existed for more than a century, but record-high rents and changes to eviction law during the COVID pandemic spurred creation of hundreds of such unions, according to the Wall Street Journal, particularly in cities with large populations such as New York and San Francisco but also in smaller communities including Kansas City.
These organizing efforts come as average rents across the U.S. have increased by 18 percent over the past five years, according to Pew Research Center. According to Moody's Investors Service, the typical American renter spends more than 30 percent of their income on rent — the first time that's happened since Moody's has been tracking the average U.S. income-to-rent ratio 25 years ago.
Now, the Reno-Sparks Tenants Union has two main goals: gaining legal representation so tenants can be aware of their rights and "power mapping" Washoe County to see who owns property within the area.
Though it is against state law for a landlord to retaliate against a tenant for joining a union, Simmons said that the right for tenants to unionize is limited if the union doesn't have legal representation.
"Even though folks have these various protections … they're only as good as their ability to enforce [them]," Simmons said.
She also said that the more explicit protections tenants unions have on a state or local level, the less likely landlords will be able to retaliate against them.
Though there are various tenant and landlord rights highlighted within Nevada state law, the only time tenants unions are mentioned is within a prohibition for landlords to retaliate against renters for being in a union. The phrase "tenants union" is not mentioned in the Reno, Sparks, Las Vegas, North Las Vegas or Henderson's municipal codes.
"These folks are really brave," Simmons said. "They're really wanting change and they're willing to put their well-being at risk for that change. Hopefully, it is going to be an example for others in the state that this type of action is possible. And then hopefully it will speak to the elected officials about their need to respond to housing issues."
Book club beginnings
The Reno-Sparks Tenants Union is new — just over four months old. It started in June, springing out of the Radical Seeds Book Club, which describes itself as "an anticapitalist collective learning organization that focuses on the topics of decolonization, feminism, anti-racism, queer liberation."
During one Radical Seeds Book Club meeting, Caleb MacLean, 25, and Walsh gave a presentation on housing that sparked interest among members in forming a tenants union.
Since then, the union has grown to 15 members who meet biweekly. Organizers said high rents, unresponsive landlords, unstable housing because of cost, and sympathy for unhoused Northern Nevadans are among the reasons they decided to organize.
"I think we really just want to hopefully better our community and give stable housing for everyone," Walsh said.
A tenants union functions differently than a labor union mainly because labor and tenancy serve different functions within the economy — a worker is a producer whereas a tenant is a purchaser. Labor unions also enjoy significantly more protections than tenants unions and have more bargaining power.
The state's first tenants union forms at a time when the median rent for an apartment in the Reno-Sparks area is $1,540 a month, according to the Nevada State Apartment Association. In the Las Vegas metropolitan area, the median monthly rent is $1,430, 28 percent of the median household income of $5,113.
Meanwhile, the median monthly household income in Reno is $5,629, and median rent for an apartment costs about 27 percent of that amount.
Though housing instability and rising costs are top of mind for renters, tenants also brought up concerns about the day-to-day of renting, including when appliances need to be fixed or health hazards such as mold need to be addressed.
Attendees at Sunday's meeting included those living in senior apartments, middle-aged people who attended alone and those with young children. When asked if they had a continuous maintenance issue in their living space that their landlord would not address, every person raised a hand.
Organizers also expressed concerns about losing their housing, specifically in light of the governor vetoing eviction protections proposed during the 2023 legislative session. Tenants union members also said they want to bring awareness to cities across Nevada that have adopted increasingly stricter policies on people lying or sleeping in public areas and sidewalks.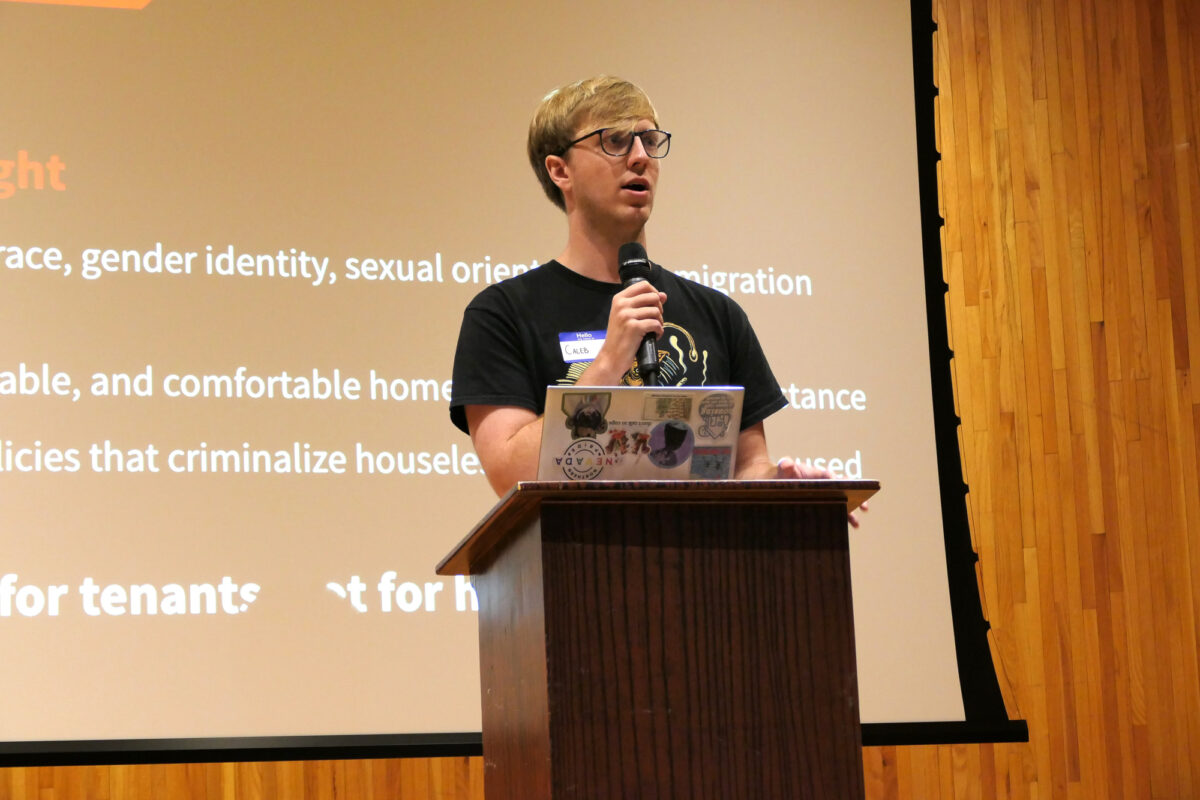 Projects
If the union meets its goal of lining up legal aid, that would provide tenants with someone who could advise them of their rights and the rights granted to a tenants union. Luckily for the union, one of the audience members was a former housing attorney.
The next huge project will be "power mapping" — creating a map of who owns every property within the county.
"Washoe County does have a convoluted way to figure out what a landlord owns," Walsh said. "So this was an immediate and a very long-term goal."
Residents of Washoe County can check who owns their property by contacting the county assessor's office. For a recent transfer of ownership, residents can search online. Clark County also has online records and tenant resources for finding who owns the property a tenant is living on.
However, tenants will need at least some pieces of contact information about the property owner, including name or address, to conduct a search.
To fill in the gaps of this data combing, the Reno-Sparks Tenants Union has asked people to contribute by figuring out who owns the property they are living on themselves. MacLean also said power mapping requires a set of skills no one in the group has right now.
"It also requires skill sets in computer science to create the programs necessary for it," he said. "So right now, it's definitely more about archiving data, but it's something worth keeping in mind when we're canvassing our neighborhoods."
With big housing challenges facing the state, organizers said making their first public appearance at the library brought mixed emotions.
MacLean said he was unsure how the community would react to the union and said he was anxious before the event started.
"But honestly, already looking around the room and [I see] a bunch of small groups and people who showed up today, I'm much more excited," he said.
The group is now working to bring new members into the group and looking for a more permanent place to hold its biweekly meetings.
"It's hard when you don't have anyone to go to in your own state to get support and advice on how they did it," Walsh said. "But it's also exciting because we really get to kind of help form what tenant unions might look like in Nevada and make sure that they're inclusive for everyone."
The Nevada Independent is raising $200,000 by Dec. 31 to support coverage of the 2024 election.
Tax-deductible donations from readers like you fund this critical work.
If you give today,your donation will be matched dollar-for-dollar.
Give + Get Matched
Featured Videos