Harris: Trump is "coward" on immigration, "the arches are falling short" on minimum wage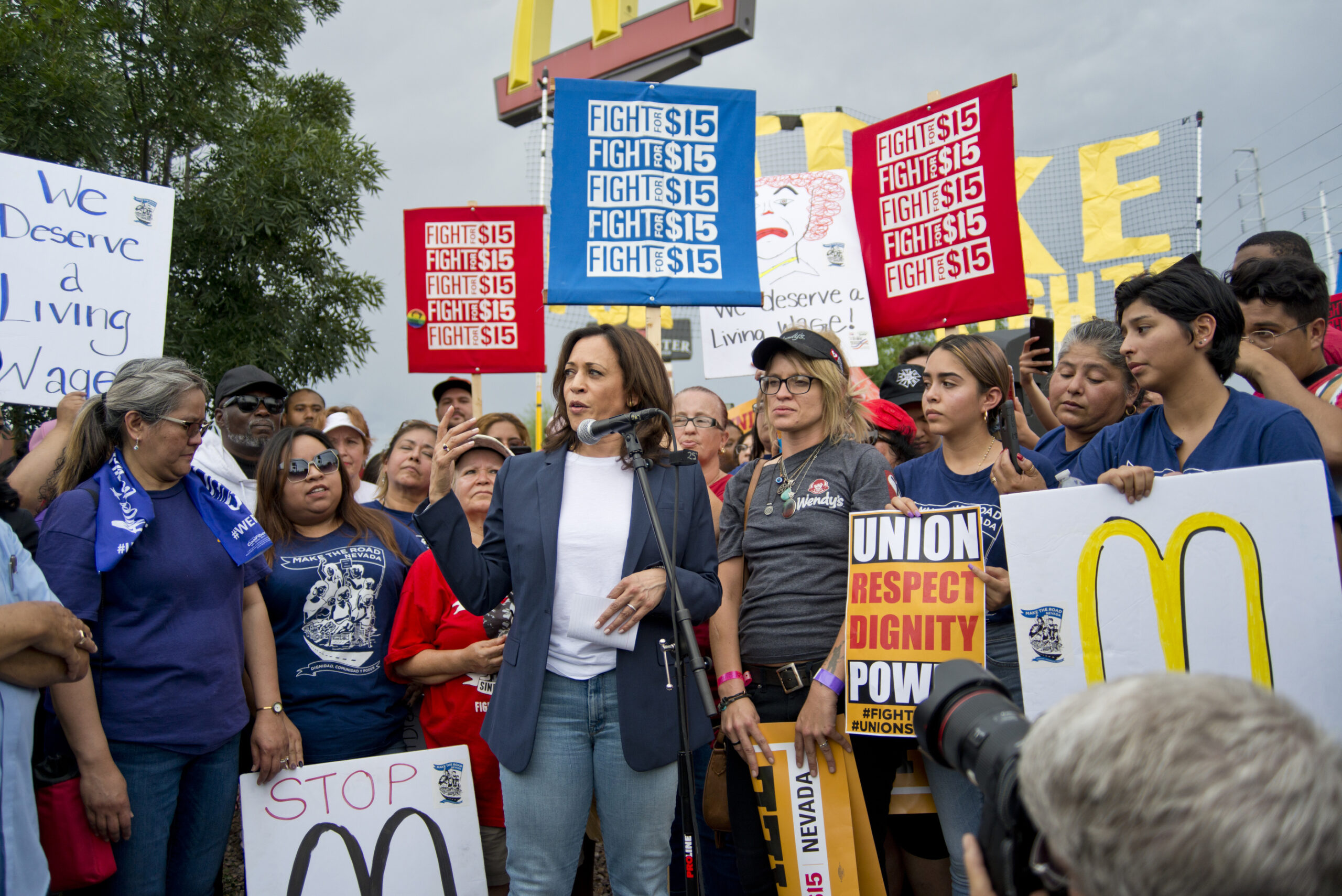 California Sen. Kamala Harris called President Donald Trump a "coward" on Saturday for his handling of immigration, especially his handling of family separations at the border.
"That's not border security," the presidential contender said in answering a veteran's question at an organizing event at the Doolittle Community Center in Las Vegas. "That is a human rights abuse being committed."
The Doolittle event capped Harris's two-day visit to Southern Nevada, which also included a march to rally support for the minimum wage outside a McDonald's, a women's meet and greet at the Eclipse Theater and an appearance at a 100 Black Men gala at Caesars Palace, where she said the next president of the United States needs to take action rather than just dispense what she called petty speech to ensure black men have ample economic opportunities.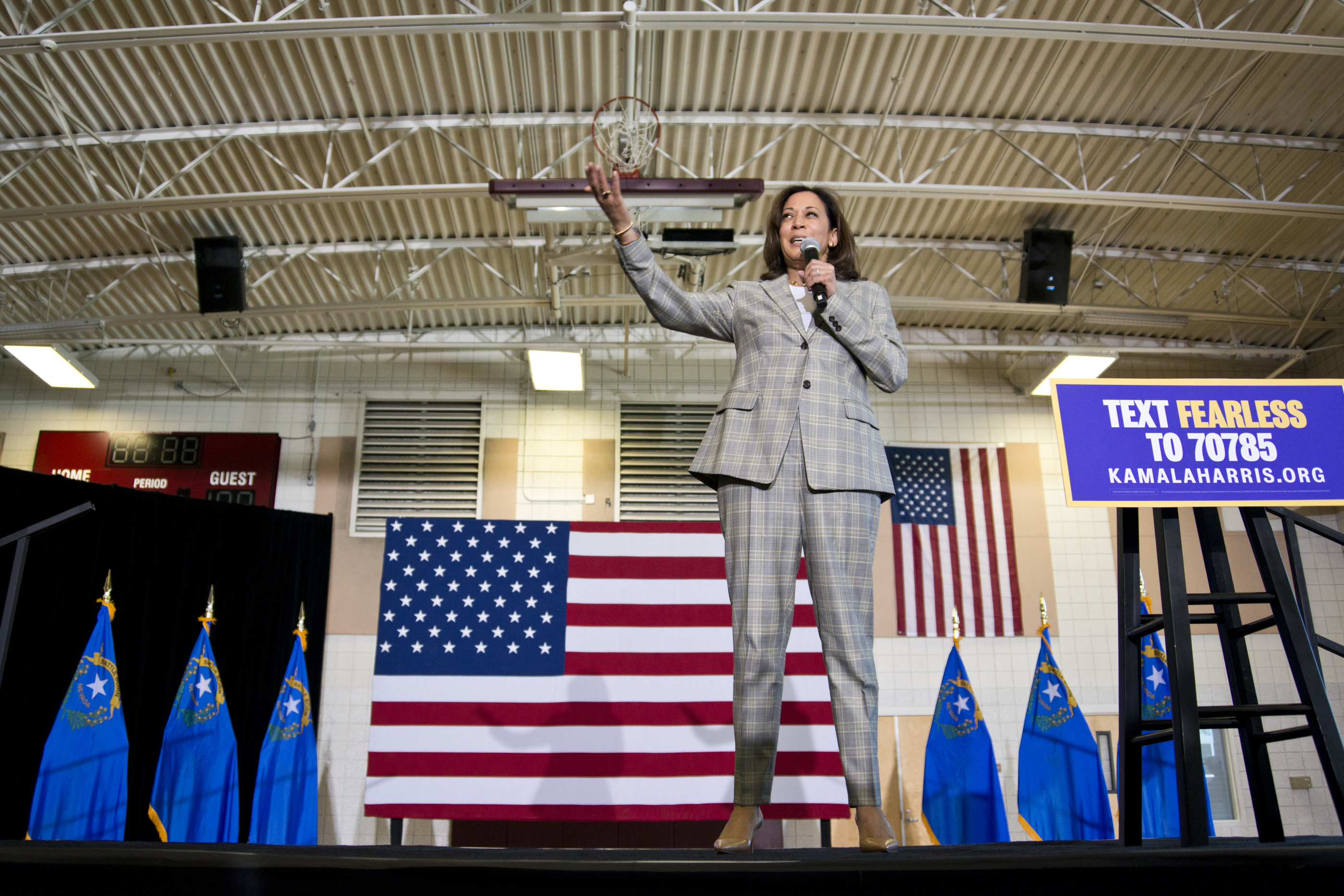 At Caesars, she noted that only 17 percent of black men graduate from college. Harris also said she chose to be a prosecutor so she could help reform the criminal justice system from the inside.
"There's not a black man that I know that hasn't faced racial profiling or discrimination," she said
Earlier Friday, she was the centerpiece of a minimum wage event, where she heard dramatic stories from locals. They included George Allen, a homecare worker for 25 years, who makes $10 an hour and shares a room with a family member., and Derrick, a Wendy's crew member who declined to give his last name, who makes $8.25 an hour and has four children.
They were among the dozens of people who joined Harris for a short march that ended outside a McDonald's Friday afternoon. Under the famous golden arches, the California senator called for raising the federal minimum wage to $15 an hour.
"I was a student when I was working in McDonald's," she said. "There was not a family relying on me to pay the rent, put the food on the table and keep the bills paid by the end of the month. But the reality of McDonald's is that the majority of the folks who are working there today are relying on that income to sustain a household and a family. If we want to talk about these golden arches being a symbol of the best of America, well, the arches are falling short."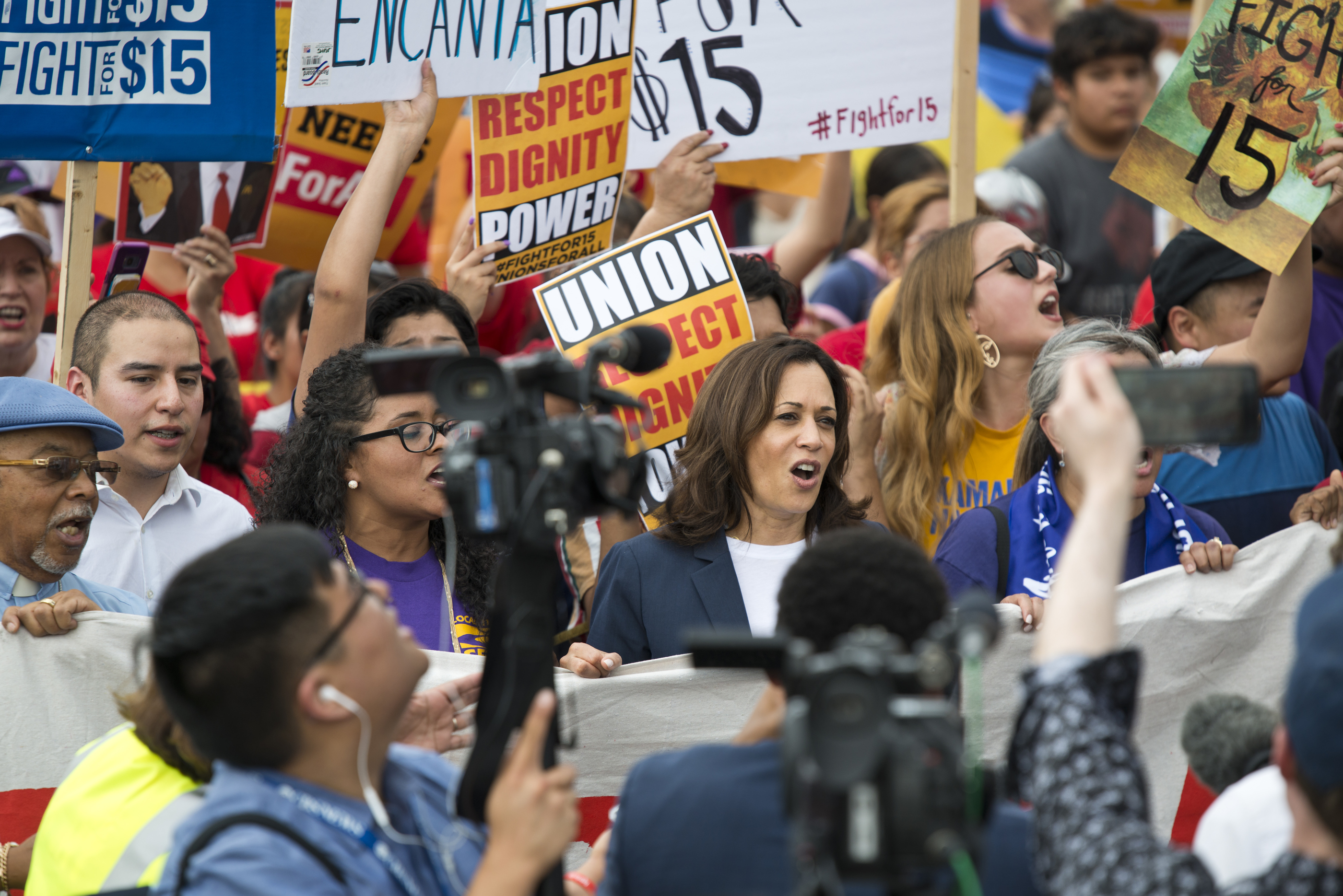 Harris is the latest presidential contender to use the fast-food chain as the backdrop for a conversation about livable wages. Last month, McDonald's workers went on strike in multiple cities demanding better pay and working conditions. Julian Castro, Washington Gov. Jay Inslee and New York City Mayor Bill de Blasio — all eyeing the Oval Office — joined them, and other presidential candidates have followed suit or plan to do so in the coming days.
In Las Vegas, Harris chanted and marched behind a banner as the group made its way toward a busy street corner next to the McDonald's. There, she talked about the dignity of working people and vowed to stand with them in their fight for $15.
The federal minimum wage is $7.25 an hour. In Nevada, the minimum wage is $8.25 an hour if the employer doesn't offer health benefits, but on Wednesday, Gov. Steve Sisolak signed into law Assembly Bill 456, which will gradually increase the minimum wage to $12 an hour by mid-2024.
Still, minimum-wage workers said it's not enough.
Derrick, a two-year employee at Wendy's, said he rises at 4:30 a.m. to catch a public bus by 5:38 a.m. The bus drops him off across town at 6:52 a.m. — eight minutes before he helps open his Wendy's restaurant. By the time he gets home each day, it's 6 p.m.
"My eight-hour day turns into 13 real quick," he said, leaving him little time with family and no time for another job. He said he makes ends meet with government assistance.
Allen, the homecare worker, knows the feeling. He's working for two agencies while trying to get back on his feet and afford a place of his own in a city where rents are rising.
The 54-year-old and registered Democrat said he hasn't decided whom he will support in the caucus next February. Allen said the nation needs an economic bill of rights to protect low-wage workers like himself.
"Everyone deserves a chance because that's what American democracy is," he said. "Even the homecare workers should be heard because we are invisible."
Before the rally, Harris met with students and clients at the UNLV Immigration Clinic and hosted a roundtable discussion about immigration. The California senator laid out her plan for a series of executive actions she would take as president to make it easier for immigrants brought to the United States illegally as children to live and work here.
Harris said those actions would help many families as she continues pushing Congress for comprehensive immigration reform.
This story was updated at 12:30 PM on Saturday, 6/15/19, to add information for Harris's additional events.
Comment Policy (updated 4/20/2021): Please keep your comments civil. We reserve the right to delete comments or ban users who engage in personal attacks, use an excess of profanity, make verifiably false statements or are otherwise nasty. Comments that contain links must be approved by admin.