Harris touts union-friendly Medicare-for-all plan at town hall with powerful Culinary Union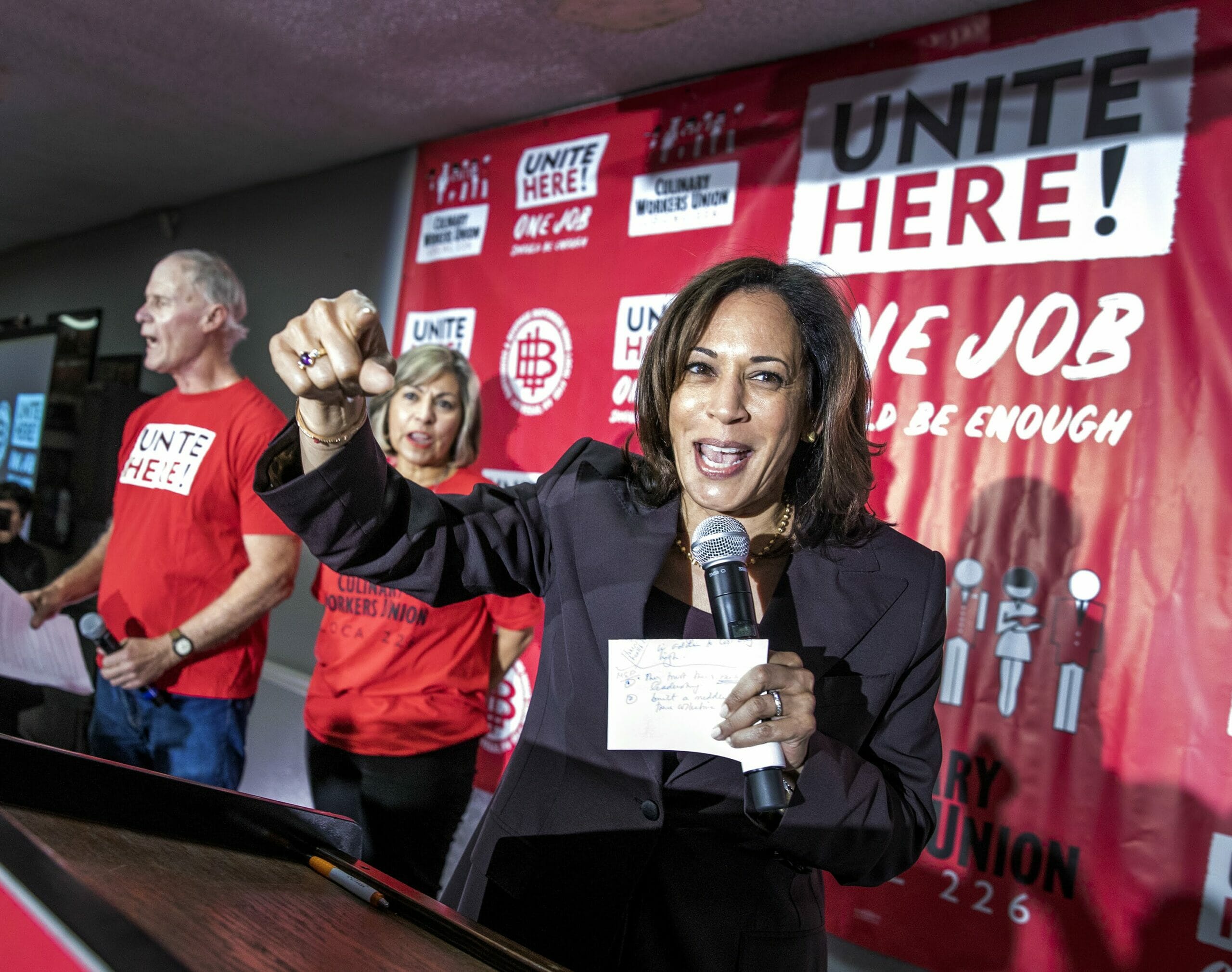 California Sen. Kamala Harris lauded the Culinary Union's hard-fought health insurance plan as "extraordinary" and promised that her version of Medicare-for-all wouldn't take it away while at a town hall with the union's members in Las Vegas on Friday night.
Harris, who has managed to thread the needle with her Medicare-for-all plan that would create a government-run health insurance system but also allow private insurers to compete within it, sought to draw a distinction between herself and more progressive presidential hopefuls who have proposed a single-payer health insurance system that would replace all existing insurance, including union plans.
"The health coverage and the insurance you have negotiated and bargained and sacrificed to get, I will not take that away," Harris said, to significant applause from the crowd of a couple hundred red-shirted union members. "And to put a fine point on it, so on the debate stage there are a lot of people talking about Medicare for all. Well, the difference between what they're talking about and my policy, I'm not going to get rid of private insurance."
Harris said that it was the Culinary Union in Nevada and its parent union UNITE HERE that helped her form her health care plan.
Roughly 130,000 workers and their family members receive health insurance coverage under the Culinary Health Fund, a special kind of union trust fund paid into by employers for each hour worked. Employer contributions are negotiated through the collective bargaining process, and the trust is administered by a board of trustees with equal employer and union representation.
"I had you in mind because I know what you've given up to get that coverage," Harris said.
While she stressed that her health care plan does not abolish private insurance, she also promised to rein in large insurance companies.
"Those insurance companies have been profiting off of public health for generations and they've been putting profit ahead of public health. That's why you had to negotiate against them," Harris said. "You got what you needed, but it's not like they just gave it."
Geoconda Arguello-Kline, the union's secretary-treasurer, highlighted the importance the union places on protecting its health care plan in her introduction of Harris, noting "the fight, the struggles, the civil disobedience, whatever we need to do to protect our health care."
The politically powerful union, which has a reputation for turning the tides of elections in Nevada, has not yet ruled out the possibility of endorsing a candidate who supports a single-payer health insurance system, though Arguello-Kline has stressed in previous interviews the difficulty of selling a candidate like that to her members. The union has also not yet indicated whether it plans to endorse ahead of Nevada's Democratic caucus in February.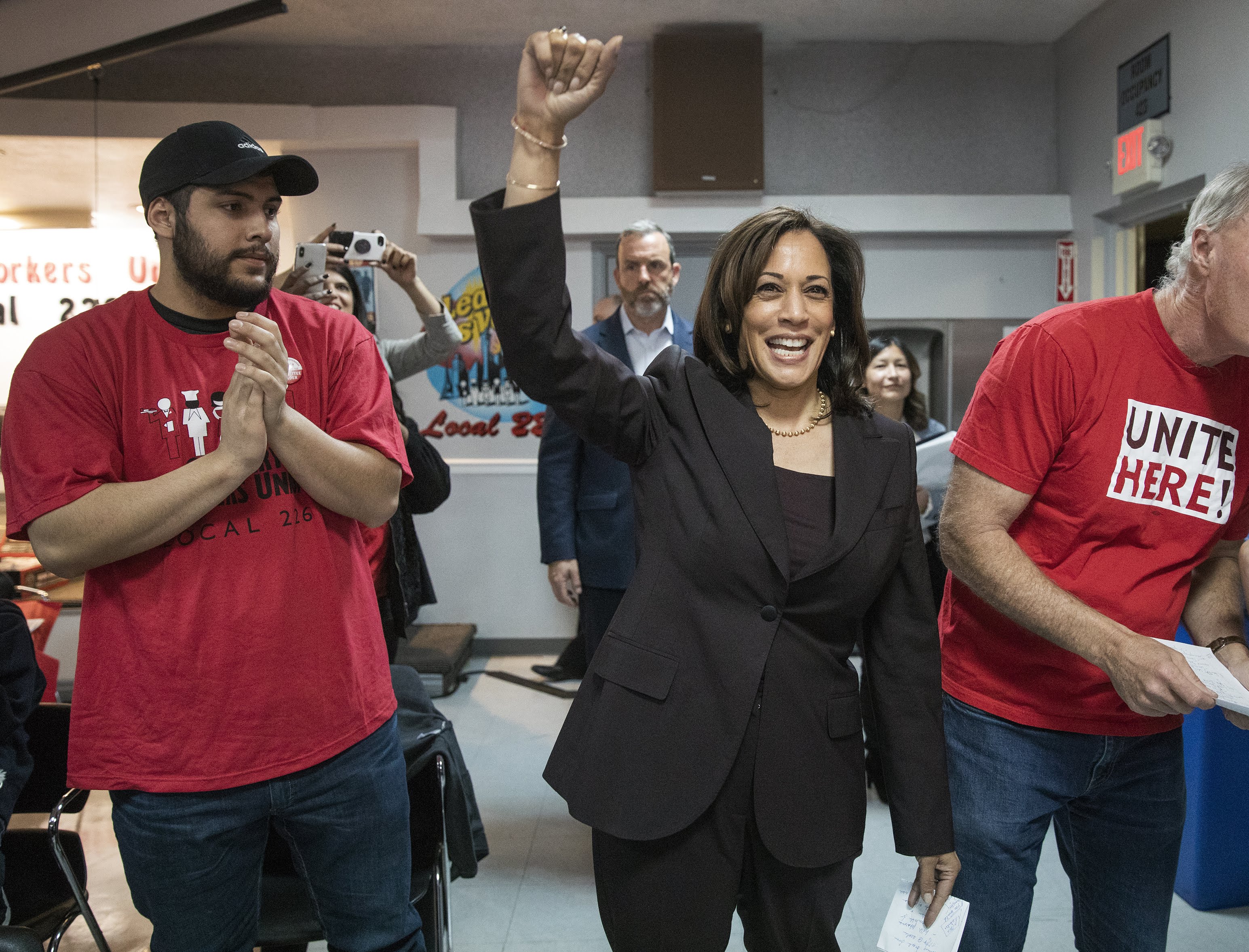 At the town hall, the California senator also lauded the union for its work on drug pricing transparency, pushing for diabetes and asthma drug transparency bills in Nevada's 2017 and 2019 legislative sessions, respectively.
"This is the leadership that you provided in the Nevada Legislature around insulin prices and transparency around drug prices. Right? Because you know that even though you have insurance you have to come out of pocket for so much money to buy insulin," Harris said. "So we still have a lot of work to do."
Harris blamed the lack of federal action on reining in the pharmaceutical industry on the absence of a certain anatomical feature among lawmakers.
"American pharmaceutical companies are charging people in this country more than they're charging people in Canada for the same drugs. So then the question becomes how could that be? I'll tell you. Because those people in Washington D.C. don't have any, um," Harris said, pausing, as the crowd urged her to "say it."
"Cojones," she said, to enthusiastic applause from the crowd.
Harris highlighted two key elements of her plan to rein in the pharmaceutical industry for the crowd — setting prices for drugs based on what they cost in other countries, and taking away patents from companies that don't "play by the rules" if their drug was developed as a result of federal research dollars.
"There are ways to do this and it is just literally it's about what is humane, what is right," Harris said.
Before Harris spoke to the union crowd, UNITE HERE International President D. Taylor gave a glowing summary of the California senator's career standing up for labor. He noted how she had declined to be honored at a women's leadership conference because it was being held at a Marriott — where the union was on strike at the time — praised her work on prescription drugs and highlighted her background as the daughter of two immigrants.
"She's a really smart person. But she learned early on, unfortunately, in this country, even if you're really smart, you got a real knowledge, if you are an immigrant, a woman, black, you got three strikes working against you," Taylor said. "What you have to do, what she's shown is you have to fight for who you are."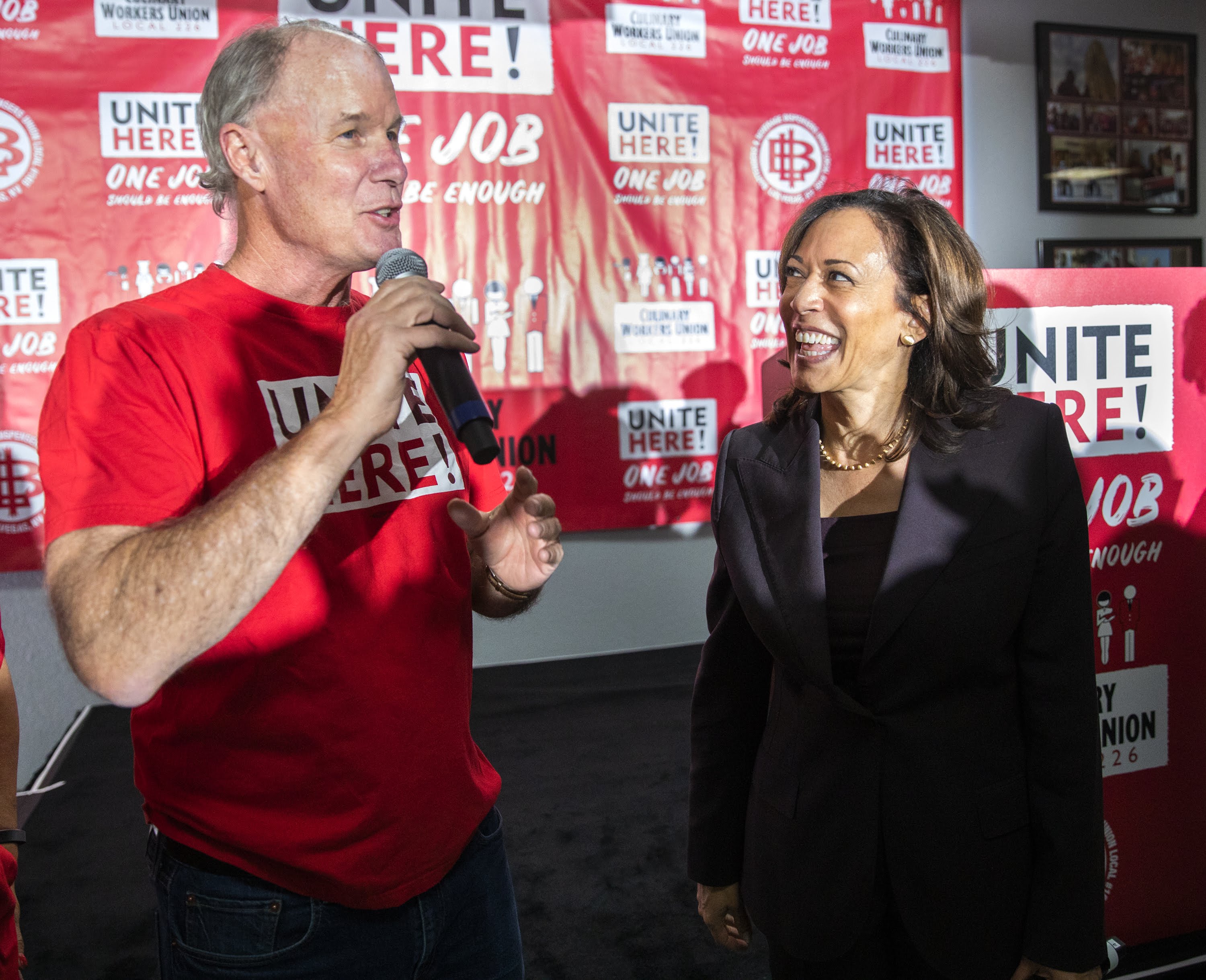 Harris praised the union at the beginning of her address for its electoral successes in Nevada, including electing Steve Sisolak as the state's first Democratic governor in two decades.
"This particular union of all in the country has shown that when you empower and you give voice to the rank and file, when you pay attention to the voices of leadership among the rank and file and empower them in the way you done here with UNITE HERE, and the way you've done with the Culinary Workers 226, you win," Harris said. "The first Democratic governor in 20 years has you to thank."
She also took a shot at Station Casinos CEO Frank Fertitta during the event, after she was asked a question by a worker at Palace Station whether she would support a bill in Congress that would give the company a tax break. The Culinary Union has been locked in a yearslong with Station Casinos in its attempt to unionize the company's properties, beginning with Boulder Station in September 2016. Fiesta Henderson became the seventh Station Casinos property to vote to join the union in Las Vegas in September, but none of the properties have reached contract agreements with the company yet.
"I've called Fertitta. I've weighed in on that. I'm with you on that," Harris said. "I'm with you in terms of standing with the workers. What they've been doing at Station Casinos is wrong had I applaud your leadership. The Fertittas, they are paying less taxes, I bet, than you are paying."
Harris reiterated to the crowd that her plans to immediately reinstate the Deferred Action for Childhood Arrivals program, as well as expand the program to parents of the children in that program. Talking specifically about the upcoming 2020 Census, the California senator also told union members that President Donald Trump is "trying to make people afraid."
"If we're not counted, when they start drawing the lines for voting, we'll be invisible," Harris said. "Do not let them make us feel invisible. Do not let them make us fear."
Harris was the first Democratic presidential hopeful the Culinary Union has formally hosted for a town hall, though a union spokeswoman said that more events are slated for later this year.
The Nevada Independent is raising $200,000 by Dec. 31 to support coverage of the 2024 election.
Tax-deductible donations from readers like you fund this critical work.
If you give today,your donation will be matched dollar-for-dollar.
Give + Get Matched
Featured Videos