Harry Reid recalls his mentor, the late Gov. O'Callaghan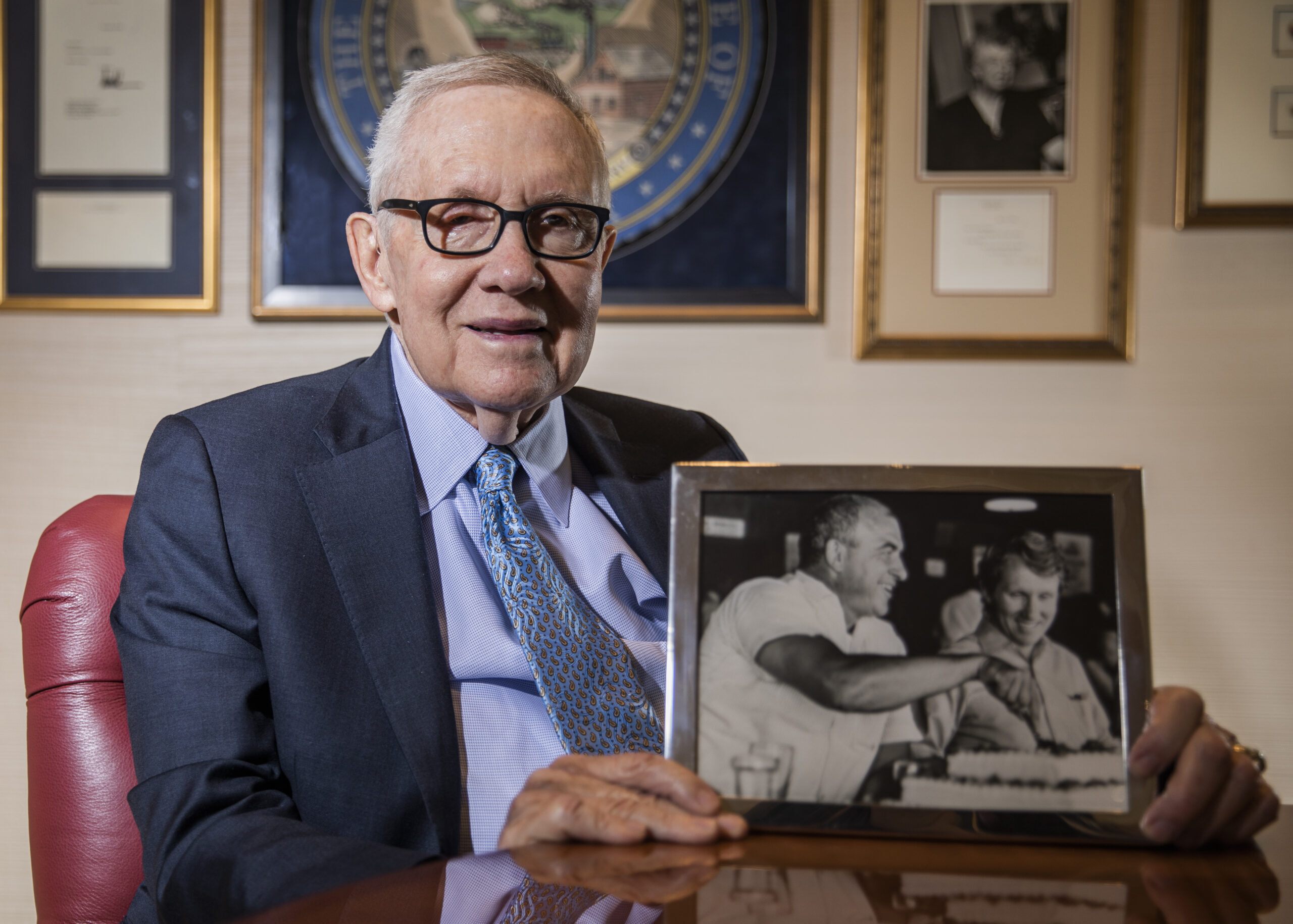 Time being an opponent not even Harry Reid can beat, he doesn't move as he once did, like a boxer, slightly forward, and on the balls of his feet.
But if you want to see him step with the old pep, at least rhetorically speaking, ask him about the first time he met the man who would have the greatest impact on his life and political career. It wasn't some gray-bearded academic, pious church bishop, or consummate political insider, but a rookie Basic High School government teacher with a mysterious limp and a no-nonsense manner.
Long before Reid rose to become the most important U.S. senator in Nevada history, he was a skinny smart aleck senior, the campus president and a jock for what that was worth, doing his best not to let his Searchlight upbringing show.
"I was a certified big shot," he said, relaxing in his office at UNLV's Boyd School of Law during a recent interview. "I was student body president. I thought I was an athlete. And I can remember that first day of school. In walks this big man. He had a remarkable comb-over. I can still remember his comb-over. We were too unsophisticated to understand, but he walked with a slight limp. We didn't know why. We figured he looked like such a creep that it wouldn't be long until we took care of him. So here's what changed things quickly.
"He hadn't been there very long. A guy by the name of Ken Smith was a big, redheaded guy, a couple hundred pounds, or maybe 190, but big for high school or any other time. And he had beaten up on somebody that was smaller than him. And (Mike) O'Callaghan, in front of a bunch of us, said, 'Smith, I heard you got in this fight. But I think you're a chickenshit.' This was a teacher talking to a student. He said, 'I'll bet that you're afraid to come down to the Boys Club with me. We'll put on some gloves, and we'll see how tough you are.' So he couldn't back down from that. Some of us went down to the Boys Club. They got in the ring. O'Callaghan never let anyone see his leg, or lack thereof, unless he wanted them to. He had long pants on, so you couldn't tell he had a wooden leg. If they were in that ring 20 seconds. I'm exaggerating it. It happened so quickly. O'Callaghan hit him. He went down. The expression is, 'like a ton of bricks,' and that's true. He went down and hit the back of his head, it knocked him over backwards. … O'Callaghan told me after that that he'd thought he'd killed him.
"So, anyway, that's how I got to know O'Callaghan."
While not exactly endorsing O'Callaghan's actions, which the school district even in the late 1950s might have placed somewhere between corporal punishment and felony assault, Reid came away mightily impressed with a man he'd soon learn was a decorated U.S. Army veteran who'd lost his left leg at the knee in the Korean War.
When O'Callaghan talked, Reid listened. In the ensuing years, his mentor would come through time and again whether it was in providing sound advice, boxing instruction, flowers for the senior prom, college tuition money, or important political contacts that led the aspiring attorney born in a cold-water shack to George Washington University Law School – with a patronage job to help offset the costs after arm-twisting Nevada's only House member, Dixiecrat Walter Baring.
"He'd written a letter to Congressman Baring to give me a patronage job," Reid said. Weeks later, "He said, 'Did you hear back from him?' I said, 'Yes, here's the letter.' And he had spelled my name wrong: R-e-e-d. O'Callaghan picked up the phone. At this time I think he was head of the Nevada Democratic Party. And he said to Baring when he got him on the phone, in very direct language, 'For one of my favorite students of all time, you didn't even have the decency to spell his name right. Much less that, you didn't offer him a patronage job. I would suggest you go back and look things over again. He is going to come to Washington, and he better have a job when he gets back there.' And I got a job. I was a policeman."
Baring survived the ire of O'Callaghan. Others wouldn't be as fortunate.
The mentorship continued when O'Callaghan and Reid ran successful underdog campaigns for statewide office in 1970 for governor and lieutenant governor.
"There has never, ever been, or ever will be, a lieutenant governor of Nevada as strong as I was," Reid recalled. "Why? First of all, I never asked O'Callaghan for anything, didn't ask him for appointments, nothing. And he knew that I wasn't out for myself, and so I did anything he asked me to do. And everybody knew I was trying for O'Callaghan. And he took care of me."
While O'Callaghan worked to make good on a campaign promise to force a face-to-face meeting with Howard Hughes to determine the reclusive billionaire and casino licensee's mental state, Reid was sent to meet with the corporate titan's right-hand man, Chester Davis. Practicing the gamesmanship Hughes's aides were notorious for, Davis made Lt. Gov. Reid cool his heels for an hour. Informed of the slight upon Reid's return to Carson City, O'Callaghan seethed.
When Davis and a group of Hughes executives came to Carson City for their next meeting, O'Callaghan returned the favor. The billionaire's boys' club waited in the outer office.
"O'Callaghan wouldn't see him," Reid said.
Throughout a career defined by many wins, a couple of painful defeats, and time in the pressure-cooker as chairman of the Gaming Control Board, Reid could always count on O'Callaghan's judgment and friendship.
"He always, always took care of me. Why, I don't know, but he always liked me. And of course, I loved the man. My admiration for him grew as time went on. He's the only real mentor I've ever had. He's somebody that was honest with me."
Even when Reid was ready to fold.
During Reid's tenure with the gaming commission, a federal law enforcement wiretap was made public in which Tropicana casino insider Joe Agosto's connections to the Kansas City mob were revealed. The tapes also captured Agosto bragging that he had "a cleanface in my pocket."
He was referring to Harry Reid.
"This Gaming Commission thing was really getting brutal," Reid recalled. "The FBI wiretaps were out, and I was 'Mr. Clean.' Agosto said he was giving me $10,000 a week, which was just a lie. But that was okay. So it was hard for me and my family. So I went to see (O'Callaghan.) He was no longer governor. He hadn't been out of the office very long. I said, 'Mike, I think I've had about enough of this. It's too difficult.'
"He said, 'You quit this job, you'll regret it the rest of your life.' He was right. My career would have been over. And it all worked out for me."
Reid stayed and went on to become the most potent politician in Nevada history.
But what of O'Callaghan's legacy?
"I tell everybody O'Callaghan was the most popular political figure in the state of Nevada," Reid said. "I believe that. He could have been in the Senate forever after being governor. But he didn't want to do that. Because he'd made his mark and he liked his home life. He had a big family. He liked his animals. He had a dream job (as a Las Vegas Sun columnist and newspaper editor and publisher) … everybody thought he was still governor."
This month marks the 15th anniversary of O'Callaghan's passing. He died at age 74 after suffering a heart attack on March 5, 2004 during morning mass at Saint Viator Catholic Church. More than 2,000 mourners attended his funeral service.
"He was the most honest man I've ever known," Reid said of his mentor. "He was somebody who just had a heart of gold. He didn't just talk about it. He did something about it."
John L. Smith is an author and longtime columnist. He was born in Henderson and his family's Nevada roots go back to 1881. His stories have appeared in Time, Readers Digest, The Daily Beast, Reuters, Ruralite and Desert Companion, among others. He also offers weekly commentary on Nevada Public Radio station KNPR. His newest book—a biography of iconic Nevada civil rights and political leader, Joe Neal—"Westside Slugger: Joe Neal's Lifelong Fight for Social Justice" is published by University of Nevada Press and is available at Amazon.com. Contact him at [email protected] On Twitter: @jlnevadasmith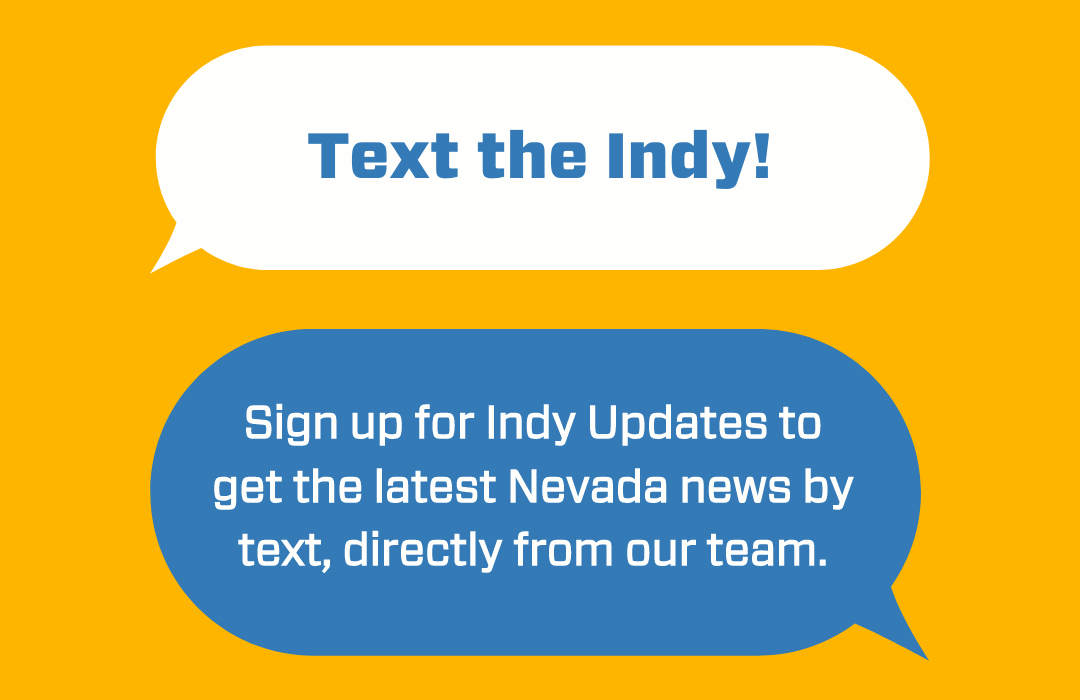 Featured Videos
Comment Policy (updated 4/20/2021): Please keep your comments civil. We reserve the right to delete comments or ban users who engage in personal attacks, use an excess of profanity, make verifiably false statements or are otherwise nasty. Comments that contain links must be approved by admin.