Heller introduces bill to repeal Trump tariffs on solar panels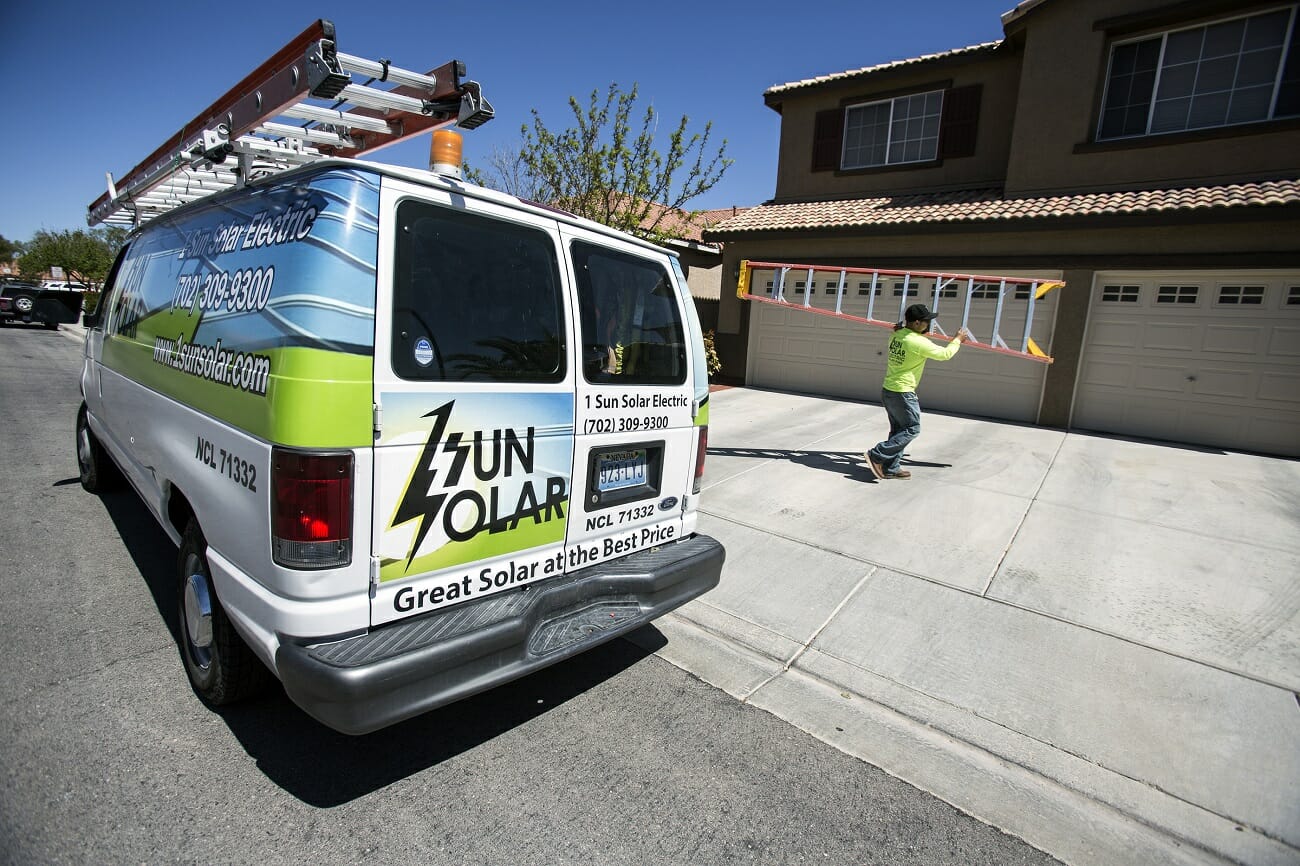 Sen. Dean Heller introduced legislation Thursday to remove the 30 percent tariff on imported solar panels imposed in January by President Donald Trump in a bid to unburden the state's burgeoning renewable energy industry.
The "bipartisan bill protects Nevadans' jobs in this important sector by reversing the 30 percent tax on solar panels, a tariff that threatens jobs and has the potential to harm our economy," Heller, a Republican, said in a release.
Heller introduced the bill with Sen. Martin Heinrich, a Democrat from New Mexico.
Since 2014, Nevada solar development had spiked as prices dropped and demand for renewable energy increased throughout the state and in California. More than 6,500 Nevadans worked in the solar industry last year, according to the Solar Energy Industries Association. The group has projected that tariffs could lead to 23,000 job losses around the nation just this year.
Heller's bill immediately drew fire from Rep. Jacky Rosen, his likely Democratic opponent in the midterm election. Rosen introduced the House version of the bill in April.
"After he was essentially silent on this issue for nearly five months, it's nice of Sen. Heller to finally take a position and support Jacky Rosen's bipartisan plan to repeal President Trump's reckless and harmful solar tariffs," Rosen campaign spokesperson Molly Forgey said in a statement. "It's a shame it took so long for Sen. Heller to decide to stand up for hardworking Nevadans employed in the solar industry because he was afraid of criticizing the White House. Jacky Rosen didn't make a political calculation before deciding to step up and defend Nevada's solar jobs—she just did what was right, worked across the aisle, and put Nevada first."
In May, Heller signed onto a letter with seven other GOP senators asking that imported utility-scale solar panels be excluded from the trade protection measures.
Heller's bill represents a more pronounced split with Trump after recent efforts to embrace the president's approach on immigration and health care. Heller's positions on those two issues contrast with the stance of the state's other top Republican official, Gov. Brian Sandoval, who has been more moderate on those issues.  
The bill also comes ahead of the GOP primary next week, and reflects Heller's freedom since Danny Tarkanian dropped his primary challenge of senator in March following a tweet from Trump calling on him to run for the House. Tarkanian had attacked Heller from the right and posed a threat to his appeal with moderate and independent voters.
However, Heller will have to be careful in showing his independence in order to avoid running afoul of Trump's itchy Twitter fingers and discouraging the Trump supporters and GOP-base voters he also needs to win.  
The prospects for Senate passage of Heller's bill don't look good given that Senate Majority Leader Mitch McConnell suggested on Fox News Wednesday evening that the Senate was unlikely to take up a proposal from a group led by Sen. Bob Corker, a Republican from Tennessee, that would require Congress approval of tariffs.
"I don't think so," McConnell said when asked if the Senate would take on the president over his trade protection agenda.
"I'm not thrilled about the tariff path that we seem to be on," McConnell continued. "But we're not going to be in the Senate passing a bill preventing the president from what he can legally do."
A growing number of Senate Republicans are standing up to Trump on his trade policy, which has departed from the traditional GOP free trade position. Corker's group of 13 senators includes seven from his own party.
Corker, and perhaps Heller, may seek to offer their proposals as amendments to the annual defense authorization bill, currently being considered by the Senate. McConnell suggested Tuesday that Corker's may be offered as an amendment to the defense bill, but his subsequent comments raise doubts that it would receive a vote.  
"I don't think we need to be trying to rein in the president through legislation," McConnell told SiriusXM Wednesday. "Number one, it would be an exercise in futility because he wouldn't sign it. I think the best tool for those of us who are concerned about this devolving into a full scale trade war is to continue to try to convince the president that we need to not let this go on too long or too far."
Heller's office did not respond to an inquiry asking about his strategy to pass the bill. Rosen did not seek to offer her bill as an amendment when the House considered its version of the defense bill in May. But Democrats, who are in the minority in the House, have little control over what can be offered to legislation the House considers.
The tariffs apply to imported photovoltaic cells and modules, two key materials for solar installations. They will last four years and start at 30 percent in year one, decreasing by 5 percent each year.
The decision to impose trade protections on solar panels came after the U.S. International Trade Commission, acting on a petition from two U.S. manufacturers, recommended a 35 percent tariff to address Chinese imports last year.
"We are grateful for the work Sens. Heller and Heinrich are doing to reverse the ill-conceived tariffs on solar cells and panels," Abigail Ross Hopper, SEIA president and CEO, said in statement included in Heller's release. "The legislation will correct a policy that has had harmful effects on solar development and slowed down a jobs-creating engine that can transform America's clean energy economy to the benefit of all Americans."
Featured Videos
Comment Policy (updated 4/20/2021): Please keep your comments civil. We reserve the right to delete comments or ban users who engage in personal attacks, use an excess of profanity, make verifiably false statements or are otherwise nasty. Comments that contain links must be approved by admin.