In Gardnerville, Heller says he'll align with Trump on DACA, support former primary opponent Tarkanian in House bid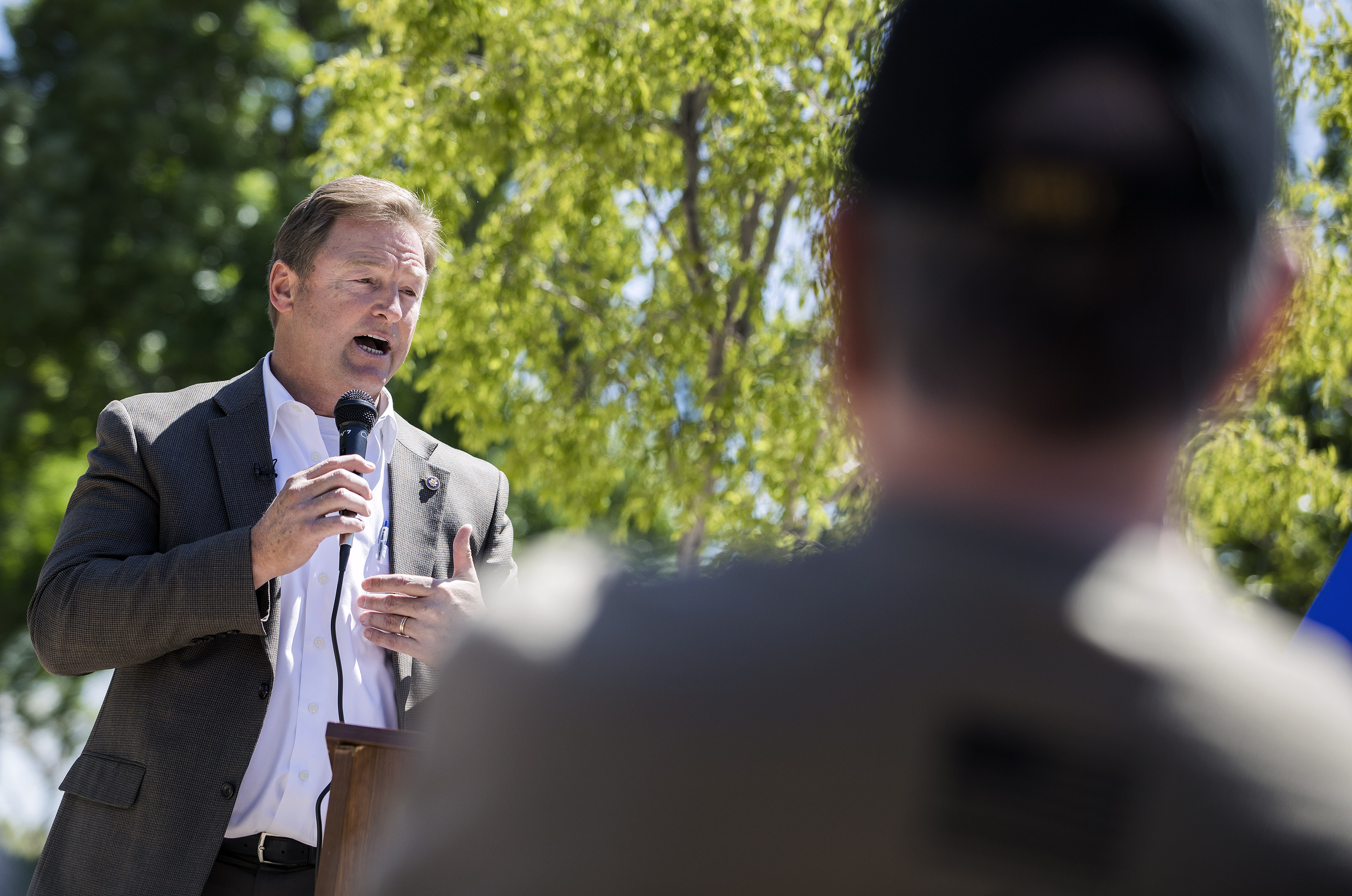 Republican Sen. Dean Heller said he won't support any immigration fix that President Donald Trump doesn't support, although he said the president wants a fix for the DACA program that allows legal status for children brought to the country illegally.
Heller also indicated he'll support his former Republican primary rival Danny Tarkanian in his bid for Nevada's 3rd Congressional District, and asserted that Trump will come to Nevada to campaign for him in his hotly contested expected matchup with Democratic Rep. Jacky Rosen.
"We'll work with this president, too. He's been great," Heller said at a Republican Get Out the Vote event held at a Gardnerville home on Saturday, before nodding to Trump's role nudging Tarkanian into a congressional race instead of continuing a nasty primary against Heller. "It all worked out exactly the way it needed to work out. And give Danny credit … when the president asked him to step out, he did … And I'll support him for, in his race."
Heller joined fellow Republicans on the trail for some stops that are part of gubernatorial candidate Adam Laxalt's 12-day Get Out the Vote tour ahead of the state's June 12 primary.
The senior senator touted his work on improving services through the Veterans Administration and also took questions from some attendees about happenings in Washington, D.C., including the status of a border wall and other immigration issues, according to audio of the event obtained by The Nevada Independent.
Asked about efforts in the House to move forward with a bill to "fix" the Deferred Action for Childhood Arrivals program, which President Trump announced he would end last year, Heller promised that he would only support a bill that had the president's support. His comments came after one woman pointed out that some people are mad at Republican Rep. Mark Amodei for signing a discharge petition that, with enough signatures, would bring a DACA discussion to the House floor even if the gatekeepers in Republican leadership aren't on board.
"But the president does want it, the president wants a DACA fix. So, let's get a DACA fix. I won't vote for anything the president won't sign. If the president is going to sign it, I'll support it. Simple as that," Heller said. "But there's no reason to go through this exercise if the president's not going to support it."
Heller said he supported the program last year and would seek a "reform of our broken immigration system" after Trump ended DACA, but told constituents in a January telephone "town hall" that he wouldn't support a "clean" DACA bill without some element of increased border security.
One attendee asked Heller, who had a long career in Nevada politics before jumping to Congress, about the biggest differences between Nevada and Washington, D.C.
"The biggest difference is the media. The media here will sit down and talk to you, have a reasonable conversation. In D.C., it's all gotcha. You know, it's horrible. I call them vultures. They're just all vultures," said Heller, who is notorious for slipping out side doors in Congress to avoid reporters, but who also declines to talk with some Nevada media. "The media is the biggest difference between Nevada and Washington, D.C. They're so aggressive, so aggressive."
A Trump visit to Nevada for Heller would mark the fulfillment of a promise the president made back in February to Republican National Committee members at a closed-door event, though the New York Times reported last week that Trump had no "immediate" plans to make a campaign stop in the state.
State leadership
Other Republicans at the event included state Senate Minority Leader Michael Roberson, who's running for lieutenant governor. He asserted that Sen. James Settelmeyer of Minden will take his place as Republican caucus leader next session, in what could be seen as a snub to Sen. Ben Kieckhefer, who is the assistant minority leader (Settelmeyer is currently one step below Kieckhefer, as co-minority whip).
"Where the heck is my friend, James Settelmeyer? 'Cause he's gonna be the next Senate Republican leader. How about that? I see my friend, the Assembly Republican leader," Roberson said, referring to Minden Assemblyman Jim Wheeler. "You know, it's gonna be pretty neat next year when you have both the Assembly Republican leader and the Senate Republican leader from Douglas County. That's pretty cool. Has that ever happened? First time."
The caucus itself will decide leadership positions after the November elections. Settelmeyer said in May that he plans to seek the top role in the caucus.
Roberson also criticized other Democrats running statewide races, warning that if Chris Giunchigliani or Steve Sisolak is elected governor, they'll try to allow for taxpayer-funded abortions. At a May event hosted by abortion rights group NARAL Nevada, both candidates said they would support state funding for family planning centers including Planned Parenthood.
He also noted that attorney general candidate Aaron Ford has said he wishes people could vote from prison, a reference to Ford's comments on a bill in 2017 that sought to restore voting rights to more ex-felons.
Heller also predicted that turnout for the state's general election would reach record low levels, coming in even lower than the state's anemic 2014 midterm general election turnout of 46 percent. The senator and former Nevada secretary of state said he was basing the prediction off of talks with county recorders, and blamed the media for any assumption that Democrats would do well in November.
"So, you're talking about 20 percent participation in the primary. Which will double then in the general election, but you're still talking 40 percent. So, this is a turnout. This is all about turnout. And if Republican candidates are going to win — and I believe they are — regardless of what the media tells you. You know, they're campaigning, the media is campaigning for a blue wave. That's what they want, more than anything else."
Heller said he didn't see a blue wave coming, and urged attendees to keep volunteering and encouraging their friends to vote, saying Republicans could potentially take all six constitutional offices in the general election if participation is high enough.
Disclosure: Steve Sisolak

 and 

Chris Giunchigliani

 have donated to The Nevada Independent. You can see a full list of donors here.
The Nevada Independent is raising $200,000 by Dec. 31 to support coverage of the 2024 election.
Tax-deductible donations from readers like you fund this critical work.
If you give today,your donation will be matched dollar-for-dollar.
Give + Get Matched
Featured Videos