Heller portrays himself as savior of Medicaid expansion, author of "ultimate piece of legislation" on health care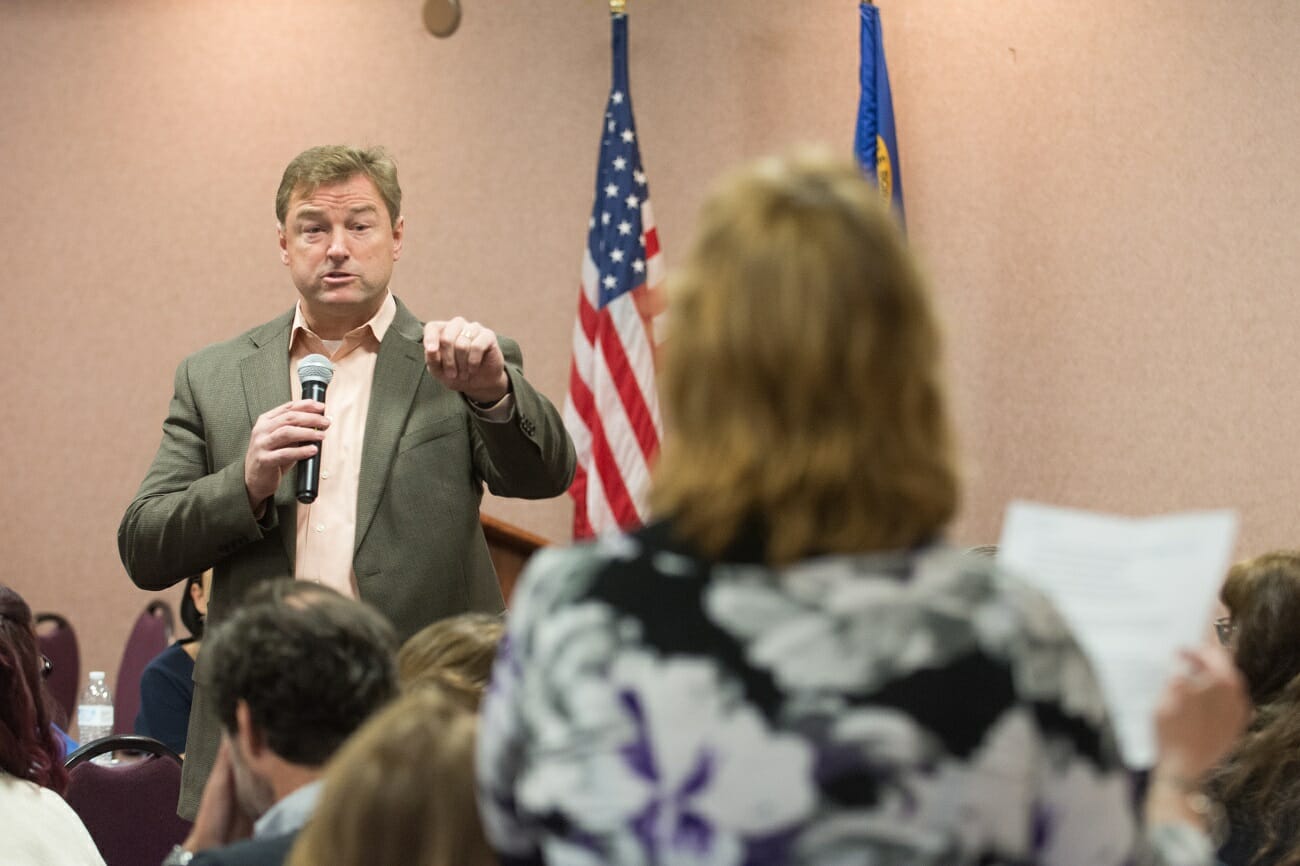 In a stunning interview that aired Sunday morning on the program, "Politics Now," Sen. Dean Heller took credit for saving the state's Medicaid expansion and called the latest proposal he signed onto with Sens Lindsey Graham (R-SC) and Bill Cassidy (R-LA) "the drain the swamp" health-care bill.
The interview with co-host Patrick Walker on the CBS affiliate in Las Vegas provided the latest iteration of the senior senator's views on the effort to repeal Obamacare.
"I did exactly what I said I was going to do, and that was to make sure that middle-class families and low-income families had access to health care," Heller said. "And a lot of them had access through Medicaid and Medicaid expansion and that's why I did that press conference with the governor (in June) and said I would not support any legislation that took health care away….I made that promise and kept that commitment."
Oh?
Heller's version of events is somewhat at odds with the actual facts of what occurred, as this definitive story by The Indy's Megan Messerly details.
Recall that in 2015, Heller voted for a full repeal of Obamacare that would have ended the Medicaid expansion in two years. That was risk-free -- he knew President Obama would veto it -- and his new position seems to have come coincidentally as his re-election looms.
Remember, too, that the Medicaid expansion never would have been in jeopardy at all had Heller not voted for the so-called Motion to Proceed, which allowed the Senate to begin debating the repeal of The Affordable Care Act. It can certainly be argued that his job as a senator is to debate issues, but he had indicated just a few weeks earlier that he would oppose an MTP.
Heller also talked to Walker about the Graham-Cassidy-Heller amendment, which he signed on to late but put his name first on the legislation in the interview that aired this morning:
"The ultimate piece of legislation was the Heller-Cassidy-Graham bill," Heller said. "That was the ultimate piece, 10th amendment, let's get it out of Washington D.C., drain the swamp from health care. Let's get it out of Washington D.C. and send this message… Let the governor and Legislature determine what's best. This Washington D.C. one-size-fits-all is for the birds. It absolutely doesn't work. Let's get it to the states."
During the interview, Heller also defended his "Sense of the Senate" resolution on Medicaid, a non-binding measure in support of the program that lost by 10-90 and was widely seen as a stunt. Heller told Walker that those who maligned him missed his chess move.
"We threw votes out there to send messages to the leadership," he said. "I was even criticized for an amendment on the floor that only got 10 votes. The purpose of those 10 votes was to send a message to our leadership that they didn't have the votes necessary in order to include Medicaid (in the repeal) and we sent the exact message we wanted to. Like I said, I know we were criticized because people don't understand the process. But the bottom line is, the bottom line is, in the skinny bill, Medicaid expansion, these low-income families had the health care that they need."
For those of you fellow slack-jawed observers who do not understand the Senate process as well as Heller, perhaps this will help: He is seriously arguing that a non-binding resolution would have prevented the Senate from approving a conference report, which is what the skinny repeal was designed to result in, if it contained Medicaid cuts?
Heller, who may be the only senator to tout the benefits of the skinny repeal -- most saw it as a vehicle to get the House on board and make changes -- also bragged about his influence there. Notice the pronoun usage:
"I also eliminated the mandate and some of the taxes through the skinny bill," he told Walker. "At the end of the day, low-income families still have health care, and the reason that they do, and the reason that it was eliminated from the skinny bill was because of me."
Let's be clear on a few points here, as Messerly pointed out in her story:
----Gov. Brian Sandoval and other governors were opposed to the skinny repeal bill:
"The Senate should also reject efforts to amend the bill into a 'skinny repeal,' which is expected to accelerate health plans leaving the individual market, increase premiums, and result in fewer Americans having access to coverage," the governors wrote. "Instead, we ask senators to work with governors on solutions to problems we can all agree on: fixing our unstable insurance markets."
----The skinny repeal would have resulted in the health insurance rolls dwindling:
Though the skinny repeal did not touch the Medicaid expansion funds Heller sought to protect for the roughly 210,000 Nevadans covered by them, the nonpartisan Congressional Budget Office estimated that the skinny repeal would result in 15 million Americans losing insurance and premiums that are 20 percent higher than they are. Heller's statement did not address the dissonance between voting for the skinny repeal and Heller's statement made at that press conference in late June that he wouldn't support a bill that resulted in millions of Americans losing insurance.
----There is a lot of dispute over what the Graham-Cassidy-Heller bill would do, as Messerly pointed out in another story. Heller insists that it would give states more flexibility and not result in cuts, but even the governor's chief of staff was skeptical:
"One of the things we always have concerns about with block grants is how they grow in the future," said Mike Willden, the governor's chief of staff, in an interview last month. "The medical inflation typically grows faster than other inflation, so it's really important that if you have a block grant, you have an inflation rate that meets your need."
As Messerly also wrote: Under the current proposal, the block grant funding would grow only by 2 percent annually. The general Consumer Price Index rose 2.5 percent between 2016 and 2017, while the medical care index rose 3.9 percent over that timespan, according to the U.S. Bureau of Labor Statistics.
The other difficulty for states is that funding received won't adjust for recessions, increases in prescription drug costs, demographic changes or other changes in costs states can't anticipate.
Finally, Heller told Walker that he is hoping the Senate finds a 50th vote to repeal Obamacare. "I hope we do," he said. "No one was more disappointed than myself."
Comment Policy (updated 4/20/2021): Please keep your comments civil. We reserve the right to delete comments or ban users who engage in personal attacks, use an excess of profanity, make verifiably false statements or are otherwise nasty. Comments that contain links must be approved by admin.