Heller pushes for tax overhaul, appears to back Trump travel ban in radio interview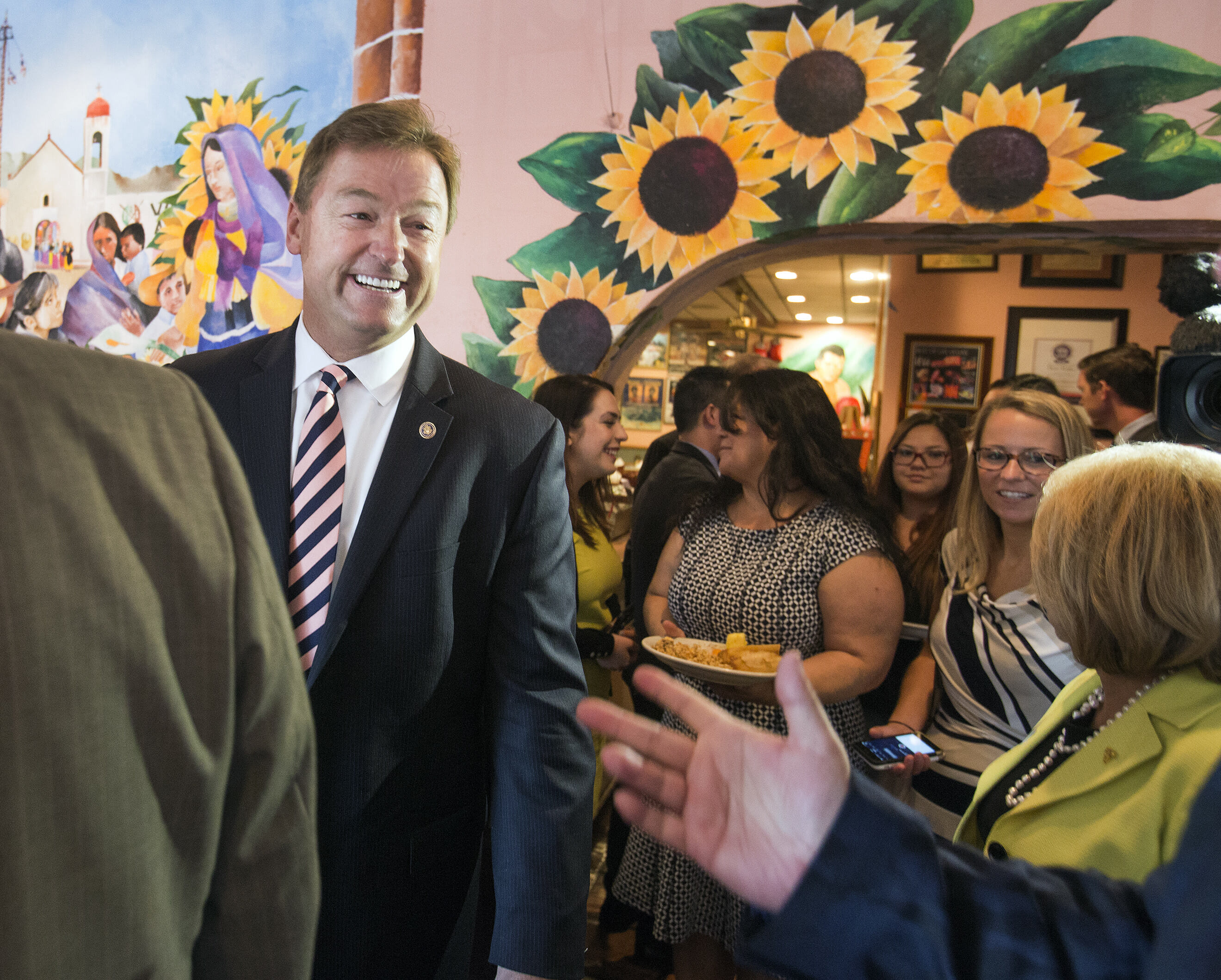 Sen. Dean Heller is staunchly promoting Republican-led efforts to overhaul the tax code a day before the release of a major bill, while also appearing to implicitly endorse one of President Donald Trump's most contentious proposals — a broad travel restriction of several predominantly Muslim countries.
In an interview with conservative talk show host Dan Mason on Wednesday, Heller — widely considered one of the most vulnerable senators up for re-election in 2018 — made the pitch for Republican-led efforts to overhaul the tax code and institute a variety of tax breaks for wealthy and middle-income people.
Acknowledging that "a little give and take" would likely happen on the tax bill, which is scheduled to be released Thursday, Heller nonetheless said that the party would ultimately produce a tax bill that "most of America really likes."
"This is very different than health care," he said. "We have Republicans on both sides of the capitol right now working together on the same music sheet, with the White House in the same place."
Heller also appeared to indirectly back the foreign country travel restrictions proposed by President Donald Trump, connecting the ban — which has been blocked in federal court several times — with this week's terrorist attack in New York that left 8 people dead.
"Well you saw what happened yesterday up in New York, and the question you have to ask yourself: do you want terrorists coming into this country?" he said. "And three times the president has tried to stop it, and three times Obama-era judges have allowed these people into our country. So do you want conservative judges or do you want liberal judges? Because it's the liberal judges that are making us less safe in this country."
Heller previously tweeted in January that the initial executive order proposed by the president that would bar admission of refugees and citizens of seven majority Muslim countries was "overly broad." He sharply criticized Trump's proposed ban on Muslims entering the country in December 2015, saying that Trump "habitually crossed the line with his divisive statements, and these latest antics should not be tolerated."
The president has proposed three iterations of the proposed restrictions on travelers from a handful of predominantly Muslim countries, and federal district court judges have blocked all the three — the most recent in mid-October.
Heller spent the bulk of the interview promoting the tax plan, which has left many analysts — including the Urban Institute and Brookings Institution's Tax Policy Center — estimating that most of the benefits would accrue to wealthy individuals.
But Heller has been a vocal proponent of attempts to change the tax code, appearing at a press conference with Ivanka Trump last week to tout proposed expanded child tax credits and relentlessly promoting it on social media. Heller told Mason that he had lunch with White House National Economic Council head Gary Cohn who assured him Trump had two goals on any tax bill — to make America "globally" competitive and cut taxes for the middle class.
"That's what he wants to accomplish, and he made sure that every senator on our side of the  aisle knew that's exactly what his goal was," he said. "And I support it 100 percent, and do believe that both of those things have to happen."
The Republican senator also attempted to downplay concerns that the tax plan would lead to a massive increase in the federal deficit, with many analysts saying that the bill could add up to $2 trillion to the nation's deficit.
"We're going to be able to overcome any deficits that are out there just through pure economic growth," he said. "We're going to cover most of the deficits out there, but we're going to leave room for economic growth to help relieve some of the deficits that we get out of this package."
Heller also said he didn't expect any large immigration reform package to be passed before the midterm elections, saying that Congress would probably only take up smaller issues like the Deferred Action of Childhood Arrivals program that the Trump administration plans to end by March.
"You can imagine in an election year how immigration is going to play out," he said. "That's kind of difficult."
The Nevada Independent is raising $200,000 by Dec. 31 to support coverage of the 2024 election.
Tax-deductible donations from readers like you fund this critical work.
If you give today,your donation will be matched dollar-for-dollar.
Give + Get Matched
Featured Videos