Heller's GOP Senate colleagues signal support for him to be nominated as Interior secretary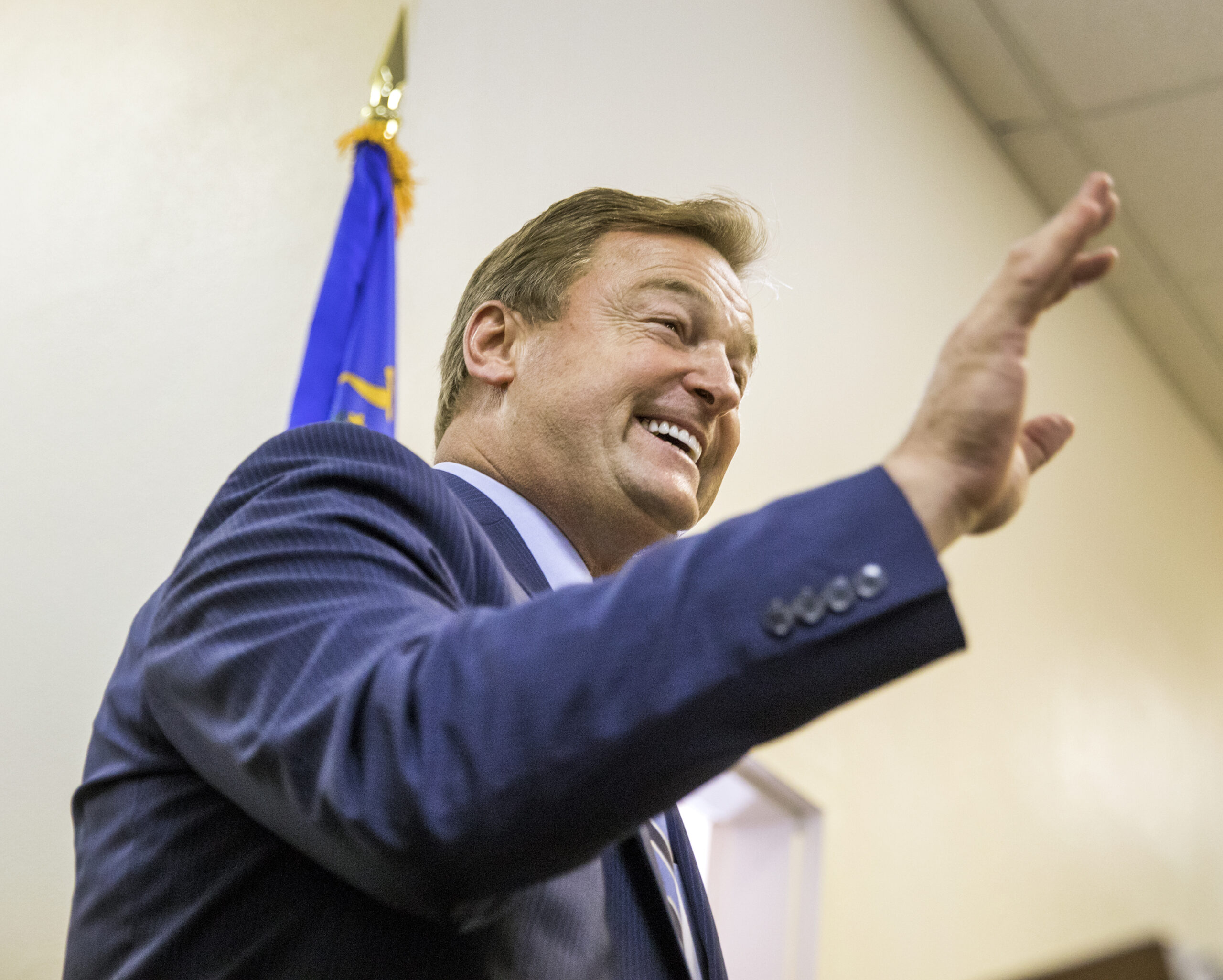 Many of Sen. Dean Heller's Republican colleagues voiced support this week for him to be nominated to lead the Department of the Interior following the announcement that Secretary Ryan Zinke plans to leave at the end of the year.
Among Heller's strongest supporters is South Dakota Sen. John Thune, who next year will serve as majority whip, the number two Republican in the Senate.
"A guy like Dean Heller would be great, if he's interested," Thune said.
Sources tell The Nevada Independent that Heller, who lost his re-election bid last month to Democratic Rep. Jacky Rosen, does want the job. Heller's office did not respond to an inquiry seeking comment. President Donald Trump said he plans to announce Zinke's replacement as soon as this week.
Many senators asked about Heller's potential nomination pointed to his experience and familiarity with those issues, but some also pointed to his relatively scandal-free tenure in Congress, a departure from the outgoing Zinke who has been under several investigations for, among other things, allegations that he blocked two Indian tribes in Connecticut from opening a casino after being lobbied by Las Vegas-based MGM Resorts International, which owned a facility 12 miles away.
"He'd be great," said Sen. Orrin Hatch, a Republican from Utah who is retiring at the end of the year. "He understands all the issues. He's a very fine man. He's honest. I think he has the respect of everybody here."
Alabama Republican Sen. Richard Shelby, who is the chairman of the Appropriations Committee, also cited Heller's "good, clean reputation."
"He'd be an excellent candidate," Shelby noted. "Heller is experienced, he's a congressman, he's got a good, clean reputation."
"Would I support him, absolutely," Shelby said.
Heller is one of several candidates who have been floated to replace Zinke. Rep. Jeff Denham, a Republican from California, has talked with the White House about the job, according to ABC10 in Sacramento.
Thune, who is the Republican conference chair, the third most senior position in the Senate GOP leadership, indicated that he has spoken to Heller about taking the post, but declined to provide any details about "private conversations."
"I think he would be somebody that the administration ought to consider," Thune continued. "He's got great experience, he understands the issues. I think he'd be a strong advocate for a lot of the federal lands issues. He gets the various dynamics at work in those issues. They are complicated and you have to have come from that part of the country to understand the impact of the federal lands and private ownership and all that goes with it."
"I would think that he would be very easily confirmed," Thune said, adding "and he's got the right kind of temperament and I think that he'd be very good at it."
A few Democrats also said they would not rule out supporting Heller, including Sen. Jon Tester of Montana. "I haven't talked to Dean about that, but I certainly would love to visit with him about it," Tester said. "He's a good guy."
Tester, who is the ranking member of the Veterans' Affairs committee, developed a working relationship with Heller on the panel. But under current Senate rules, Heller would not need any Democrats to vote for him to be confirmed if he secured 51 Republican votes.
Citing a desire to wait to see who is actually nominated, a spokesman for Nevada's Sen. Catherine Cortez Masto's office declined to comment on whether she would support Heller. But she told E&E News Monday that she and Heller have always had a good working relationship.
"There's no doubt he knows the Department of Interior, and from my perspective he also knows all the issues that are important for Nevada," said Cortez Masto.
Cortez Masto is a member of the Energy and Natural Resources Committee, which will hold confirmation hearings on Trump's Interior Department nominee.
Rosen's office said that she plans to do her due diligence before weighing in on the issue, which will likely be taken up by the Senate early next year.
"The Senator-elect will be evaluating all cabinet nominees based on whether their agenda is right for the state of Nevada," her office said in a statement.
The veterans' committee's chairman, Johnny Isakson, of Georgia, also spoke highly of Heller for Interior.
"He's a great guy," said Isakson. "He knows his stuff. He was a great committee member on my committee. I'd be for him in a heartbeat."
"He comes from the West too, that's important," Isakson continued. "That's where most of the interior is."
Sen. Lisa Murkowski, chairman of the Energy and Natural Resources Committee, said that she would also like a westerner to be nominated and signaled Tuesday that she was open to Heller's nomination. The Alaska Republican is an important vote on federal lands policy. In addition to being chairman of the energy committee, she also oversees the Interior Department's budget as chairman of the Appropriations Committee Interior and Environment Subcommittee.
The federal government owns roughly 640 million acres, heavily concentrated in 12 western states, according to the Congressional Research Service. These states are Alaska, Arizona, California, Colorado, Idaho, Montana, Nevada, New Mexico, Oregon, Utah, Washington, and Wyoming. About 80 percent of Nevada is made up of federal lands.
Four agencies—the National Park Service, Fish and Wildlife Service, and Bureau of Land Management in the Department of the Interior, and the U.S. Forest Service in the Department of Agriculture—administer about 95 percent of those lands.
Managing the tension that exists between and economic development and conservation with regard to the federal lands is among the among biggest jobs of the next head of the Department of Interior.
Comment Policy (updated 4/20/2021): Please keep your comments civil. We reserve the right to delete comments or ban users who engage in personal attacks, use an excess of profanity, make verifiably false statements or are otherwise nasty. Comments that contain links must be approved by admin.