Metro Police applicants run during a physical training class in Las Vegas on Thursday, April 20, 2017. Photo by Jeff Scheid.
Help wanted: Metro Police faces recruiting challenges amid hiring spree
April 22nd, 2017 - 2:30am
Lying flat on her stomach, 36-year-old Mandie Webb eyed the orange cones dotting the pavement in front of her and waited for the cue.
"Ready. Set. Go!" yelled a man with a stopwatch.
With that, she was off. Webb thrust herself up from the ground and sprinted forward, zig-zagging her way through the cones as part of an agility test. It wasn't even 9 a.m., but Webb already had logged nearly two hours of exercise — complete with distance running, sit-ups, push-ups and vertical jumps — to help prepare her for a physical fitness exam.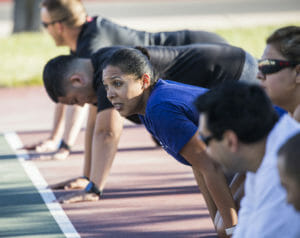 Webb, whose extended family recently bid farewell to Alaska and moved to Las Vegas, wants to join the city's police force, which has embarked on a hiring spree. Metro Police hopes to add 667 commissioned officers to its ranks within the next two years, filling positions lost through attrition and years of minimal hiring. Recent sales tax increases are helping fund some of the positions.
"The job is very dynamic," said Webb, explaining her desire to become a police officer. "I think this is a great time in Las Vegas."
The department wishes more people shared Webb's opinion of the law-enforcement profession. Despite heavily promoting all the open positions, including through digital billboards on the Las Vegas Strip, Metro no longer has thousands of applicants clamoring for the jobs as it did when money was scarce and the department couldn't fill vacancies or beef up staffing.
Metro Sgt. Jose Hernandez, who oversees the department's six recruiters, said he expected to receive about 1,400 applicants by the time the most recent recruitment window closed.
While that may sound like a lot, hiring police officers is a detailed process that can take four to six months, with a lot of candidate eliminations at multiple points along the way. Candidates must pass an initial written test, physical fitness test and oral interview, followed by a thorough background investigation, polygraph test, psychiatric evaluation and medical physical.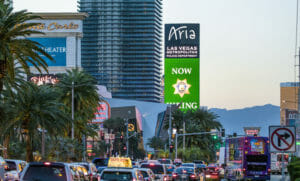 "It isn't a Las Vegas problem," Hernandez said. "It's a nationwide problem. Everyone is finding it really difficult to recruit police officers."
Terrence Cunningham, deputy executive director of the International Association of Chiefs of Police, said recruitment and retention generally surface as the top concern when he speaks with police departments across the country.
It isn't necessarily a surprise given simmering tensions among police and the communities they serve in recent years. Events that made national news headlines have stigmatized the profession. Thousands of people took to the streets in various cities, protesting what they perceived to be unjust police shootings, often against black men.
As the movement played out across the country, police also became the targets of violence. Suspects apparently angered by police shootings gunned down officers in Dallas and Baton Rouge last year, killing eight officers total.
"Folks do feel like they're under attack," said Donald De Lucca, the president of IACP and chief of the Doral Police Department in southeast Florida.
Add in pension reforms and the job's heavy tilt toward providing services for homeless people or those with mental illnesses nowadays, and that has been enough to dissuade would-be candidates from joining the applicant pool, De Lucca and Cunningham said. The conditions have soured some existing officers as well, motivating them to retire at their earliest possibility or, in some cases, change careers.
There's a feeling among law enforcers that if they make one split-second mistake, they could be fired or criminally charged, Cunningham said. Undoubtedly, the recent pressures and stigma surrounding officers have led to a plummeting interest in the career, he said.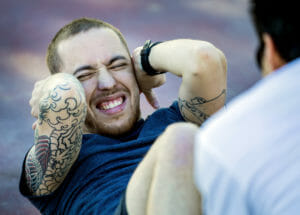 "Over the last 18, 36 months, it's been a really difficult time for law enforcement," Cunningham said. "Why would you subject yourself to that?"
To combat those concerns and spark interest in the field again, IACP officials said police agencies need to share the good aspects of their work, actively recruit at schools and career fairs and implement creative advertising strategies. For instance, De Lucca once saw a flier in the men's restroom at Fenway Park in Boston advertising a signing bonus for joining the Phoenix Police Department.
What police agencies shouldn't do: Lower their standards.
A lot of us believe this is a calling," Cunningham said. "This job is 365 days a year and 24 hours a day. You have to believe you can make a difference … It has got to be the right fit for the right people."
Despite the challenges, Hernandez said he's confident Metro can achieve its hiring goals over the next two years. That's in part because the department, which offers a $51,000 starting salary, has made a concerted effort to assist applicants through the hiring process.
Metro offers workout sessions — like the one Webb attended — on Thursday and Sunday mornings at Police Memorial Park, where applicants can practice the physical feats they'll be required to perform for the fitness test. As Recruitment Officer John Fullington put it, the sessions are "like getting the answers for the test."
In addition, the department launched a seminar earlier this month geared toward women that included a question-and-answer session and demonstration of the fitness test. Metro also offers mock oral board interviews for anyone interested, Hernandez said.
"We do it because we understand it can be an intimidating process," he said. "It's not your typical job interview."
Metro also blasts recruitment-oriented messages out via its social media channels, hoping to catch the eye of people here and elsewhere. Hernandez estimates that about 80 percent of job candidates are local, but the department recruits outside the state, especially in southern and central California.
Recruiters don't ignore the East Coast, though. Metro recently shared a video on its Facebook recruitment page that featured several native New Yorkers, who are now Las Vegas officers, talking about their decision to head west. The first line: "When was the last time you wore a winter coat?"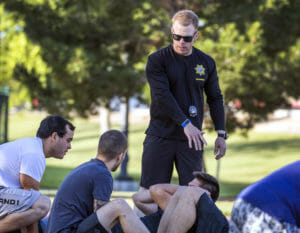 Hernandez said Metro hopes to run about eight police academies this year, with 40 to 45 recruits per academy. The rigorous hiring process tends to weed out candidates who wouldn't be able to succeed, he said, leading to a failure rate of roughly 5 percent at the academy.
The new hires will help the department achieve a ratio of 2 officers per every 1,000 residents — up from 1.8 officers per every 1,000 residents, which was the ratio last fall when the department lobbied lawmakers to pass the sales tax increase. The national average is 2.2 officers per every 1,000 residents.
People interested in applying for a police or corrections officer position must be U.S. citizens and at least 21 years old with no felony convictions and a high school diploma or GED, Hernandez said.
The negative publicity surrounding law-enforcement work hasn't dashed Efrain Marenco's dreams of becoming an officer. In fact, it has further motivated the 25-year-old Army vet to start the process. He begins his initial tests May 3.
On a recent morning after completing a workout session, he posed this question: "What better time to serve the community than when they need you the most?"
Feature photo caption: Metro Police applicants run during a physical training class in Las Vegas on Thursday, April 20, 2017. Photo by Jeff Scheid.
Comment Policy (updated 10/4/19): Please keep your comments civil. We reserve the right to delete comments or ban users who engage in personal attacks, use an excess of profanity, make verifiably false statements or are otherwise nasty.