How a UNLV professor's #MeToo moment sparked her involvement in harassment prevention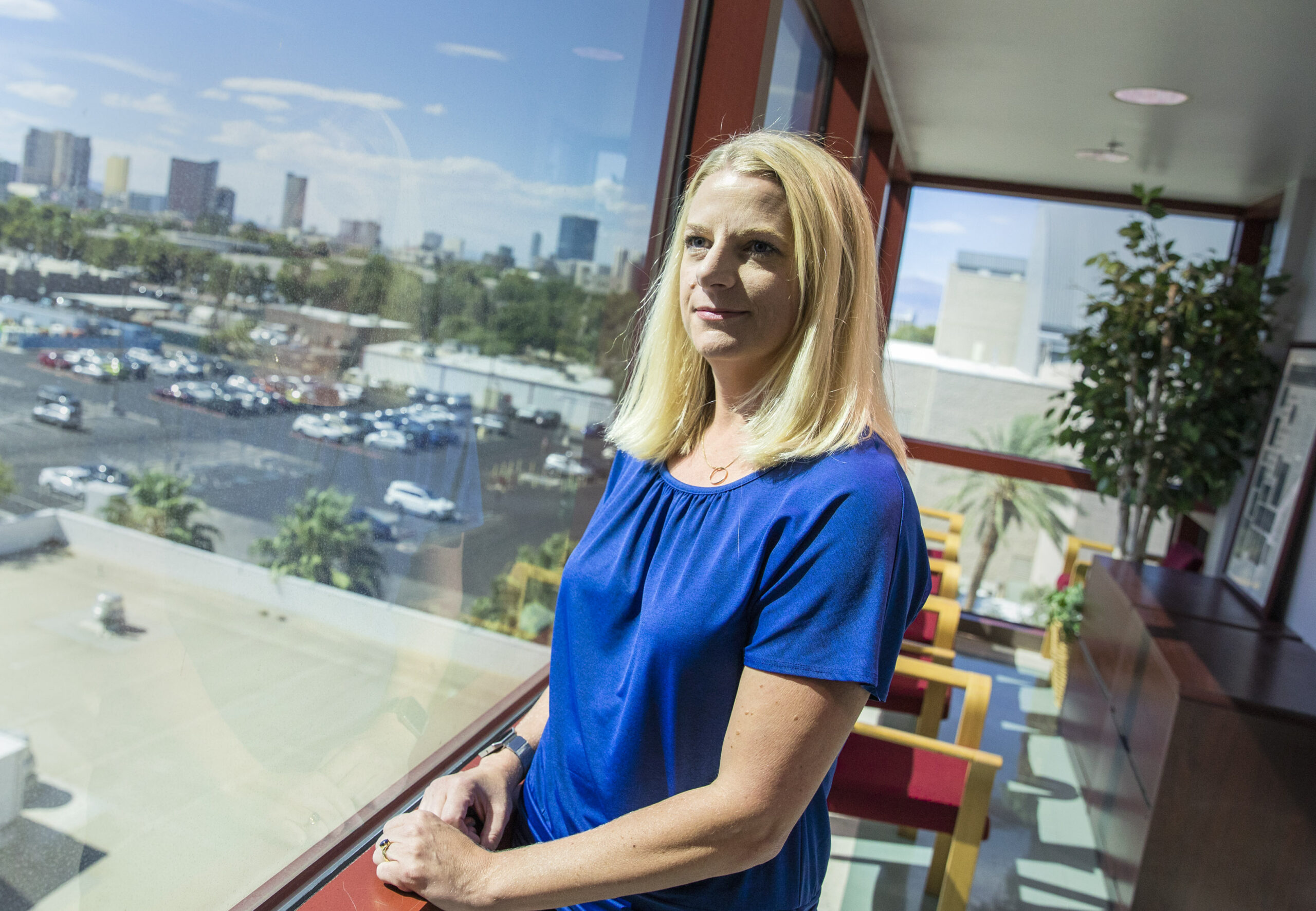 When Rebecca Gill spoke publicly in January about her #MeToo moment as a graduate student studying political science, she didn't expect it to make a big splash.
After all, the movement credited with empowering victims of sexual harassment or misconduct to speak up was already well underway at that point. Multiple allegations against longtime Hollywood producer Harvey Weinstein set off a flood of other revelations, which toppled the careers of former Today show host Matt Lauer, Alabama Senate candidate Roy Moore and radio personality Garrison Keillor, among others.
Gill, an associate professor of political science at UNLV, decided to share her story while serving as a panelist at a professional conference. The topic: mentoring across genders. It hit close to home. Her experience involves a professor whose interest ended up going beyond her academic work.
"I was absolutely astonished by how much attention my story got," said Gill, who described her experience as "relatively mild."
After the panel discussion, Gill typed her experience in a Twitter thread, which has been shared more than 250 times and has received nearly 500 likes.
This afternoon at #SPSA2018, I was on a #CWC panel about mentoring across genders. Below, I'll include my comments from the panel. In it, I speak candidly about my #gradschool #metoo moment. @SPSAwomen @SPSAwomen 1/n

— Rebecca Gill (@msGSXR) January 4, 2018
Her story starts in 2002, when Gill was pursuing a doctorate in political science at Michigan State University. She enrolled in a summer program at the University of Michigan focused on quantitative methods of social research — in other words, a course that could sharpen her analytical skills. The uncomfortable encounter happened in a pub after the final day of class.
Gill said a senior professor, who was joining the staff at Michigan State, spent the evening talking to her. The conversation, she said, eventually "veered off course" when the professor described her as mysterious and then suggested they have an affair.
"I was incredibly shocked," she said. "We had been talking that evening about my research, and I really felt like I didn't see it coming at all."
A friend overheard the conversation and escorted a stunned Gill out of the pub. But the encounter continued to haunt her. Gill, who was in her 20s at the time, said the situation made her question her intellectual merits and worthiness of being in a graduate program. Her productivity slowed — a symptom she later attributed to her unsettled feelings.
"I had this professor who was well-known and powerful showing an interest in my work," Gill said. "It kind of led me to believe that maybe I do deserve to be here. And then this proposition sort of made it clear that, no, that's not why he's interested in your work. But it wasn't something I would have been able to articulate at the time. We didn't really have the language for that."
Aside from sharing her experience with a handful of people, including her mother, Gill didn't publicly discuss that night in the pub for more than 15 years. But her disclosure during the panel discussion ignited a conversation about sexual harassment and misconduct within her own field.
Now, Gill and a team of political scientists around the country are tackling gender discrimination within political science via a $25,000 grant-funded project. The group — which includes political scientists from Purdue University, Princeton University, Menlo College, University of Massachusetts Amherst, Worcester Polytechnic Institute and University of California, Riverside — was awarded the grant by the American Political Science Association.
For starters, they're hosting a pre-conference workshop on the topic at their annual association meeting later this month. Gill, who's also director of the Women's Research Institute of Nevada, said she hopes the group can start answering some fundamental questions about the problem:
"How common are these problems among political scientists?" she said. "Where do they tend to happen? How do they tend to happen? What impact do they have? And how can we start figuring out ways to kind of help these victims and also to help improve the culture and climate in our discipline?"
Even so, Gill is quick to point out that sexual harassment occurs across disciplines and industries. The #MeToo movement solidified that fact as accusations fell on everyone from actors and politicians to media members and business leaders.
Gill theorizes that the structures that guide power and hierarchy play a significant role in sexual harassment by creating environments where that behavior is deemed acceptable. Unfriendly environments, in turn, force the victims to reconsider their education or career choices, she said. The domino effect can mean fewer women working in certain fields or holding leadership positions.
The online conversation, at least, doesn't show much sign of slowing down. Click on the #MeToo hashtag, and new posts — some more serious than others — pour in by the second.
As for how the movement might affect upcoming midterm elections, Gill said that's difficult to predict. But she has noticed one trend.
"I think we are seeing a lot more women run for office," she said. "I don't know if this will be just a blip or if this will be something sustainable over time."
In any case, Gill said she empathizes with those who have also come forward and shared their stories. The experience, she said, has been more emotionally exhausting than cathartic given an aftermath filled with inquiries, some of which are related to investigations her comments triggered.
(Gill said she never filed a formal complaint about the professor, although she did confront him several years later. He said he didn't remember the exchange.)
"I certainly want women to feel that they can come forward," she said, "but I also don't want to be in the business of encouraging people to re-victimize themselves."
The Nevada Independent is raising $200,000 by Dec. 31 to support coverage of the 2024 election.
Tax-deductible donations from readers like you fund this critical work.
If you give today,your donation will be matched dollar-for-dollar.
Give + Get Matched
Featured Videos