How COVID-19 is compounding mental health struggles on Nevada's college campuses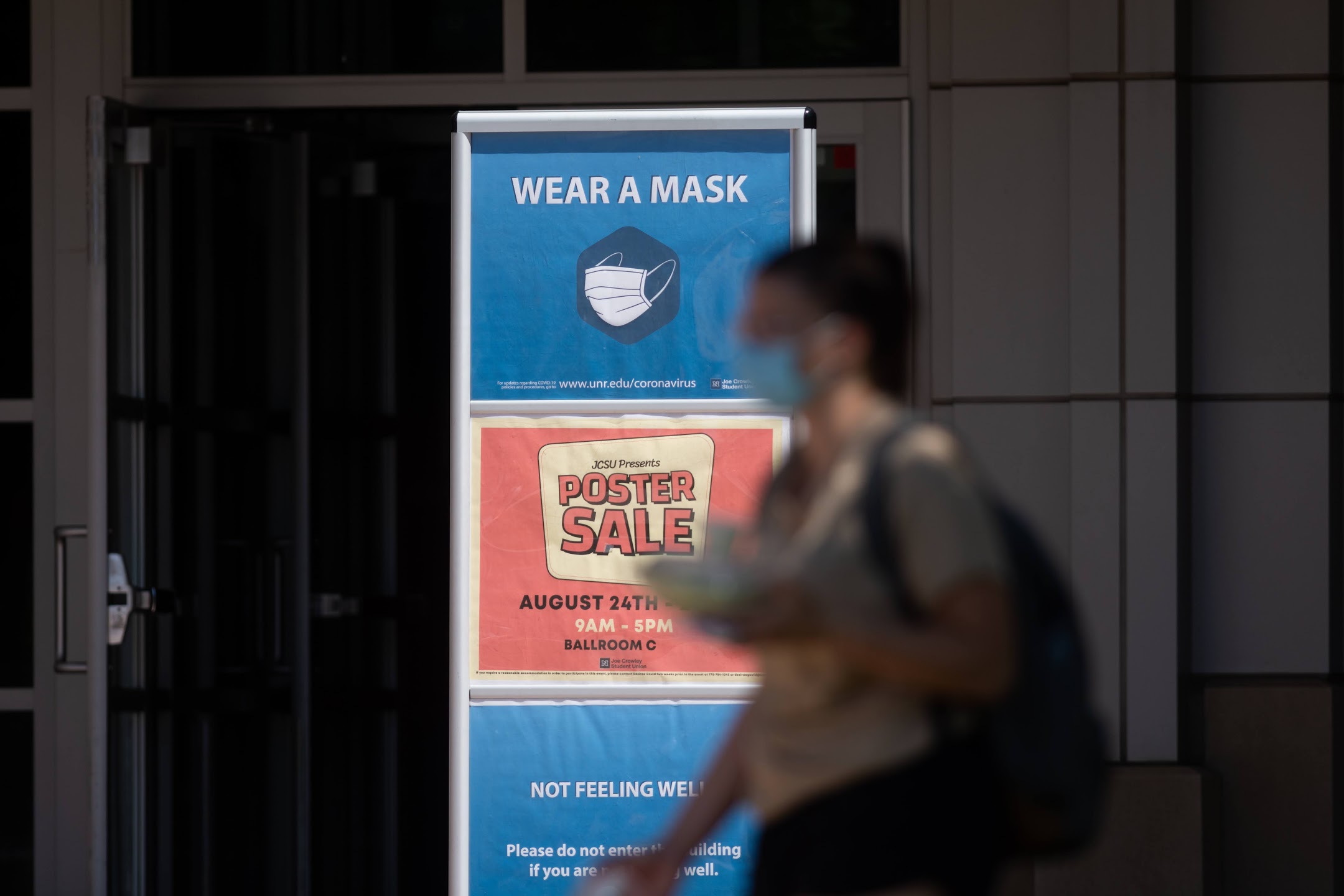 This spring, Olivia Rothe was putting the finishing touches on her undergraduate degree at Montana University. As the rapid spread of the coronavirus shuttered the country in a matter of weeks, she was planning her big move: She was going to law school, and she had picked UNLV's Boyd School of Law.
She had seen the school as a good fit. It promised an environment that was understanding and supportive, and she was heartened by conversations with students there who confirmed as much. Still, law schools are a notoriously intense academic environment, and she tempered her expectations as her thoughts moved away from Montana and toward Las Vegas.
"I knew it was gonna be really hard," Rothe said. "I knew it was gonna be especially hard once I started hearing about COVID, before it was actually in the U.S."
Buoyed by optimistic timelines and expectations of at least some in-person learning, she packed up her bags and moved southwest. Just days later, she learned that instruction would be moved online, an environment with which she was unfamiliar and unprepared for — and now is largely without a support network.
Though she's since found a group of fellow law students to study and commiserate with, the virtual barriers made necessary by COVID have built up an isolation that's fed her anxiety and depression.
"Now I'm just alone through it all," Rothe said. "Even if there are people on the screen, and we can text each other and support each other virtually — but it's so different. And it really compounds all of the kind of existing struggles that I have to deal with in order to just, like, literally get out of bed."
When classes are in person, the drive to leave bed is tangible, "a necessity," she said. You leave bed, or you miss class. Now, all it takes is a computer, where you can lounge, "feel horrible about the state of the world," and go right back to "whatever feelings I'm feeling that day."
Rothe's story, while unique, is still one among thousands of students and faculty at Nevada higher education institutions who have found a new and intense strain on their mental health as the pandemic has worsened.
Rodrigo Vazquez is a graduate student in economics at UNLV. He said he has long struggled with mental health issues, but he's also frequently sought out and received the help he needs. But as the pandemic has continued, finding a therapist or a psychiatrist meant days or weeks of wading through online portals and phone calls to finally secure an appointment.
"I was fortunate to be kind of in a situation where I was like, 'Okay, well, you know what, this is something that I've been meaning to address for a really long time and I finally have the time to do it,'" Vazquez said. "But that's not the reality for everybody. And just the fact that some people might need it more immediately than me and it's not an option, or it isn't always available to them, or isn't right now."
Mary Miller, a freshman at UNLV, moved — briefly — to Las Vegas to study criminal justice. When her class load switched online, she went home to California, where she says online classes have become less about learning new material and more about going through the motions.
"That is the hardest, you know, it's kind of like I'm just trying to pass this class, not [that] I'm actually trying to learn," Miller said.
Sarah Kimball Stephenson, another first-year student at UNLV's Boyd School, said her own semester was derailed just last week as she lay bedridden for three days just ahead of her first final exam. Nauseous and dizzy for the duration of that test, Stephenson said was still awaiting the results of a COVID test when she spoke to The Nevada Independent.
"It's hitting its stride the night of my first exam," she said. "And so I sit down to take my exam, I open my laptop, I try to download the test questions and my laptop just crashes. I had four hours to take this exam, and I waited for 40 minutes for the file to load."
Stephenson called it a worst-case scenario, so bad she had to call the dean to ask for extra time. That request was granted, and so with her extra time, she abandoned her computer and took to taking the test on her phone instead.
"So I was laying in the fetal position on my bed, typing out the test answers on my phone," Stephenson said. "And that, I don't know, whatever, I just hit send … I was very resigned."
These are just a sample of the many stories told by students still wading through an ocean of mental stresses, all piling one-on-top of the other like never before.
As all the old pressure points of the college experience remain — worrying about grades, finances, even finding a job — the pandemic has created new, often all-consuming anxieties; what of the health and well being of students, faculty and their loved ones? What of the jobs they have lost, and the worries that there may not be jobs to gain? And what of the loneliness that comes with the lockdowns, shutdowns and pauses that have become so key to governmental responses to the virus?
For Rothe, the widespread trauma of the pandemic and everything that's come with it has come with at least one silver lining: solidarity.
"Before the pandemic, I didn't feel like mental health and self-care was something that people valued," Rothe said. "And I didn't feel like it was something we could be so open about meeting with everyone. But I do think that since the pandemic, I have found a group of people who are— we're going through it together. And even those of us who are maybe the most fortunate in these circumstances are still going through a pandemic."
The institutional perspective
At the institutional level, mental health professionals at both UNLV and UNR said that the pandemic had not necessarily surfaced new trends in the way that students had utilized services, and that there has been no general "peak" use of mental health services as the conditions of the pandemic have waxed and waned.
"I think it seems like it's affected different students at different times, depending on their unique circumstances," UNLV Director of Student Counseling Shauna Landis said. "So we haven't had a noticeable peak of a, let's say, emergency crisis appointments anywhere along the way. It's been kind of about even."
Jacqueline Pistorello, director of UNR's Counseling Services, said that even before the pandemic struck, a long-term success story over the past decade has been a broad reduction in the stigma tied to mental health issues among college students, in particular.
"The rate of which the increase in the numbers of students seeking help is by a multitude of, I think, four [times] greater than the number of students being enrolled at university," Pistorello said. "So basically, although more students are enrolling, many, many more are willing to seek mental health [help]."
But, Pistorello said, the key to providing services can't stop with only the students seeking out help on their own. Roughly 1,100 college students die by suicide each year in the U.S., she said, and among them, 80 percent "have never set foot [in] the college counseling center."
In the time since the COVID-19 pandemic emerged, that mission has become only more complicated, as students have moved en masse away from the traditional in-person resources normally available through the course of the semester.
Still, one benefit to the conditions created by the pandemic, Pistorello said, was the rapid expansion of teletherapy services that had been long in the making.
"I had been asked to provide teletherapy to students [last year] … but I was like, 'Oh my God, it is going to be so complicated — we'll try it, but it'll take a year,'" Pistorello said. "And then when COVID happened in a matter of a couple of weeks, we had teletherapy up and running, and it's going really well."
Pistorello called herself a "convert" to teletherapy, adding that early student satisfaction surveys conducted by counseling services showed roughly one-third of students said teletherapy was an acceptable alternative to traditional therapy, while another third said they preferred it.
At UNLV, students were similarly in favor of access to telehealth appointments. Landis said 100 percent of students surveyed said they were comfortable accessing those services remotely, though roughly 40 percent still preferred the in-person counseling experience.
Changing course from the top
At the highest levels, there still remains a broader question of how to systemically tackle mental health on campus.
It came as something of a surprise in November when dozens of students wrote to the Board of Regents requesting the return of a pass-fail grading option (referred to as Satisfactory/Unsatisfactory or S/U grading). In more than an hour's worth of public comment, most of these students cited mental health as their number one concern in requesting the change.
Now helmed by new leadership at the highest levels, Nevada's higher education system has signaled a renewed push to expand or adjust mental health resources for students, faculty and others struggling to find the help they need, though largely in the form of a proposed task force.
Chancellor Melody Rose, new to the system's top job as of this summer, said the issue of mental health has been "top of mind" since before she arrived in Nevada.
"We should not assume that the students returning this fall, or their faculty and staff for that matter, are unchanged by this experience," Rose said. "We should not assume that they enter into our classroom spaces, and onto our campuses, unaffected by COVID. And we need to be proactive in thinking about the ways in which we'd have all been indelibly changed by this experience."
Rose said the assembly of the task force is already under way, and that it should meet for the first time in early January. From there, the chancellor said she expects the task force to produce "a series of recommendations" that, ideally, can be scaled across the entire Nevada System of Higher Education.
But the implementation of those solutions will come in the context of a system hobbled by tens of millions in revenue shortfalls and budget cuts, and one where the financial future of the entire system — let alone the state — remains in limbo ahead of next year's Legislative Session.
Gov. Steve Sisolak already requested 12 percent budget cuts from state agencies earlier this year. At NSHE, those cuts have taken the shape of an $84 million reduction per fiscal year through 2022 and 2023, in addition to more than $135 million in cuts made through the end of fiscal year 2021.
Rose said she expected that budget constraints will present a problem, though one that may be able to be mitigated through the use of partnerships with nonprofit organizations, health departments or other outside resources.
Still, the chancellor pointed to such mental health issues as a key issue not only in and of themselves, but also as a key component in improving student success and closing broader achievement gaps across different student groups.
"I guess I'm saying that mental health is so fundamental to our success in every other way, as a public system of higher education, that we absolutely must act now," Rose said.
The Nevada Independent is raising $200,000 by Dec. 31 to support coverage of the 2024 election.
Tax-deductible donations from readers like you fund this critical work.
If you give today,your donation will be matched dollar-for-dollar.
Give + Get Matched
Featured Videos