Third-graders at Pinecrest Academy Inspirada read during class on Sept. 18, 2018. (Jeff Scheid/The Nevada Independent)
How one charter network achieved five-star ratings for every school
September 16th, 2018 - 2:10am
Seventh-grade teacher Tim Johnson says he witnessed a pleasant surprise in his English Language Arts class last school year.
His students — both boys and girls — were so eager to read, they hurried through class assignments so they could bury themselves in books. Johnson wasn't necessarily keen on them racing to complete assignments, but their excitement about reading heartened him.
"Trying to get middle school boys to read books is not an easy task," he said.
Staff at Pinecrest Academy Inspirada, where Johnson teaches, point to reading enthusiasm as one of the many reasons their students performed well on statewide standardized tests in the spring. The increases led to good news this week for the Pinecrest network of charter schools: Its four elementary and four middle schools all received five-star ratings from the Nevada Department of Education.
Across the state, only 108 of the 678 schools rated received five stars, the highest designation within the Nevada School Performance Framework, which is the state's accountability system for public schools. Twenty-nine of the five-star buildings are charter schools, a growing segment of Nevada's education portfolio that serve roughly 10 percent of the student population.
Charter schools are public schools that operate under a performance contract issued by a public entity — either a local school district or the State Public Charter School Authority — and receive greater autonomy in exchange for heightened accountability. They receive state funding but not as much as traditional public schools.
This is the first year each charter school campus received a star rating as opposed to an overall rating for its network. Officials from the State Public Charter School Authority praised the expanded ratings, saying they add a level of transparency to the system.
After all, charter schools haven't always received positive attention in Nevada. Fiscal mismanagement led to a few closures, and the virtual charter schools have faced ongoing criticism for lackluster student performance.
The new star ratings, however, paint a more nuanced portrait of charters' quality levels. Three-fourths of state-sponsored charter schools that received a rating got three stars or higher, indicating that their students are meeting or exceeding the state's academic expectations.
So what's one charter network's secret to success?
For Pinecrest Academy of Nevada, it started with a proactive, deep dig into student data.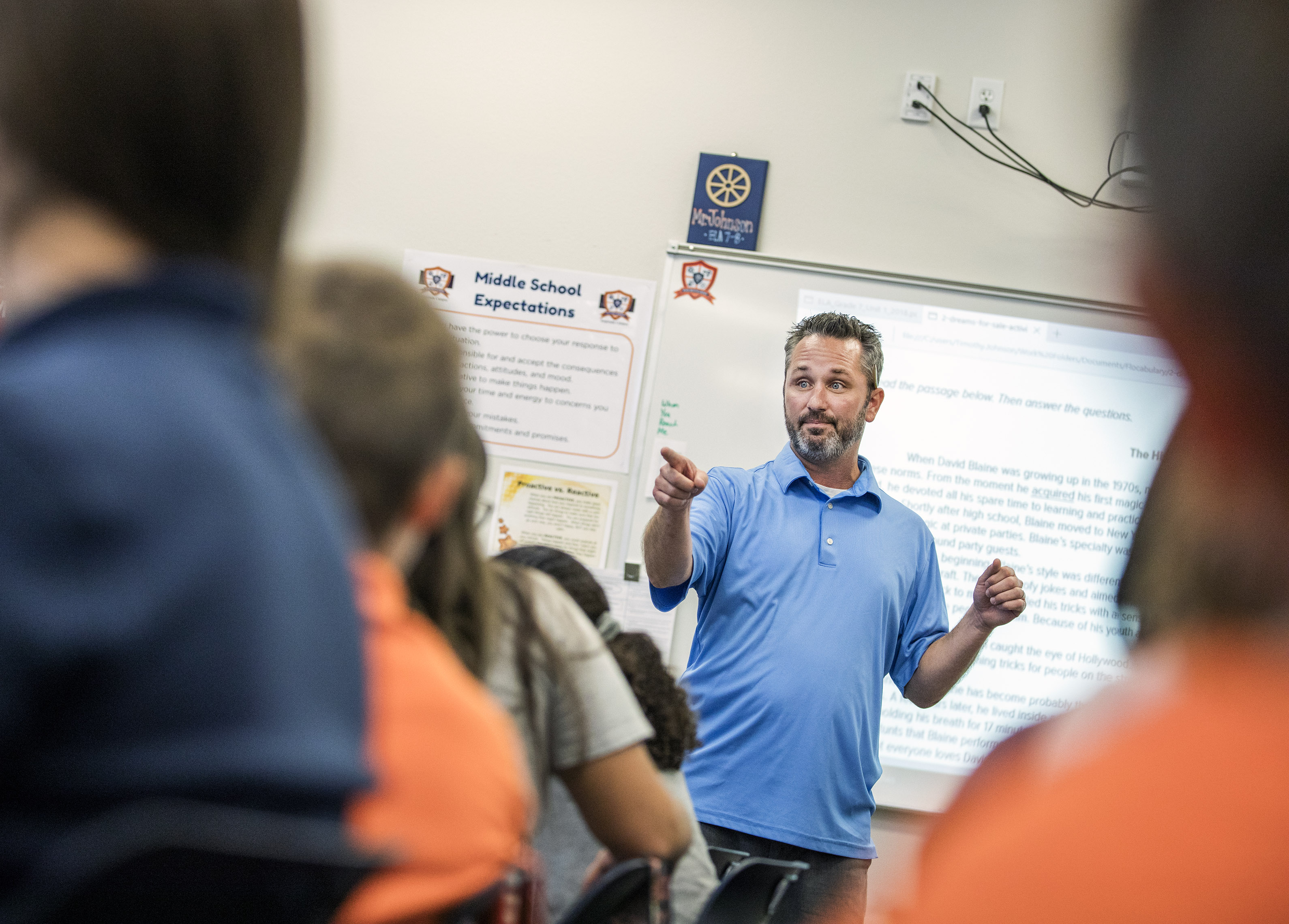 ***
Jessica Barr's job title is executive programs director for Pinecrest Academy of Nevada, but she easily could be called the network's data guru.
Barr spent weeks last year sorting through school data showing student proficiency levels, opportunity gaps between subgroups, absenteeism and student growth. The goal: Give every Pinecrest campus a star rating a year before the state did.
Using the Nevada School Performance Framework, which provides the measures for grading schools, Barr calculated star ratings for Pinecrest's four Henderson campuses. She discovered that the elementary and middle schools at the Cadence and Horizon campuses would have received three stars last year, while the schools at the St. Rose and Inspirada campuses — which sit in slightly more affluent areas — would have achieved five stars.
"We self-monitor," said Carrie Buck, the executive director of Pinecrest Academy of Nevada. "We want all five-star schools."
So the staff set to work to make it happen. Buck and Barr met with the administrative teams at each Pinecrest campus to share the results, with a focus on the areas that needed the most help. The conversations led to changes such as shifting teachers to new grade levels, altering schedules to better suit instruction, adding intervention time to help struggling students or mentoring for certain teachers.
Whatever the plan, it was laser-focused on the student data.
"We gave them the road map," Barr said. "The teachers, the principals, the students — they're the ones who actually have to get to the destination."
Ask the principals their methods for success, and they largely echo a few key terms. They talk about having the education equivalent of a business plan and emphasizing transparency, accountability, high expectations, consistency and incentivization. What that means in practical terms:
They don't sugarcoat students' academic progress. If children are struggling, they alert the parents and form an action plan.

They monitor student data and the children do the same. For students, it's not focused on their ability level but rather about their progress in reading, math or other subjects.

They expose every child to grade-level material regardless of his or her ability level.

They aim to create a curriculum that's the same in each grade level across campuses and classrooms.

They recognize and reward high-achieving teachers, while trying to replicate those practices among other staff members.
But there's another element that Lucy Keaton, principal of Pinecrest Academy St. Rose, deems crucial to student success, and it's not as easily tracked in a spreadsheet. It's a positive school climate.
"When the kids are happy and coming to school, it increases attendance," she said.
And, as educators often say, kids can't learn if they don't go to school. More than half of the Pinecrest campuses boast a chronic absenteeism rate that's lower than the Clark County School District rate.
But Buck says any comparisons with the school district, where she previously served as the principal of Sewell Elementary School in Henderson, need to be in the vein of friendly competition. All schools can and should learn from each other, she said.
"We're all public, and we all want what's best for Nevada's kids," she said. "That's really what it boils down to."
That's why she sent a team of Pinecrest teachers last year to visit Bracken STEAM Academy, a high-performing elementary school in the district overseen Principal Katie Decker. Pinecrest then adopted one of her programs, which encourages students to read a series of books such as "Harry Potter," "The Hunger Games" or "I Survived."
Pinecrest staff say the reading program was a hit among students, who couldn't wait to get their hands on the next book in the series.
If English Language Arts (ELA) test scores are any indication, the program is paying off. ELA proficiency rates ranged from 64.5 percent to 88.1 percent across the Pinecrest campuses. Statewide, the ELA proficiency rate is 50.1 percent for elementary schools and 47.8 percent for middle schools.
***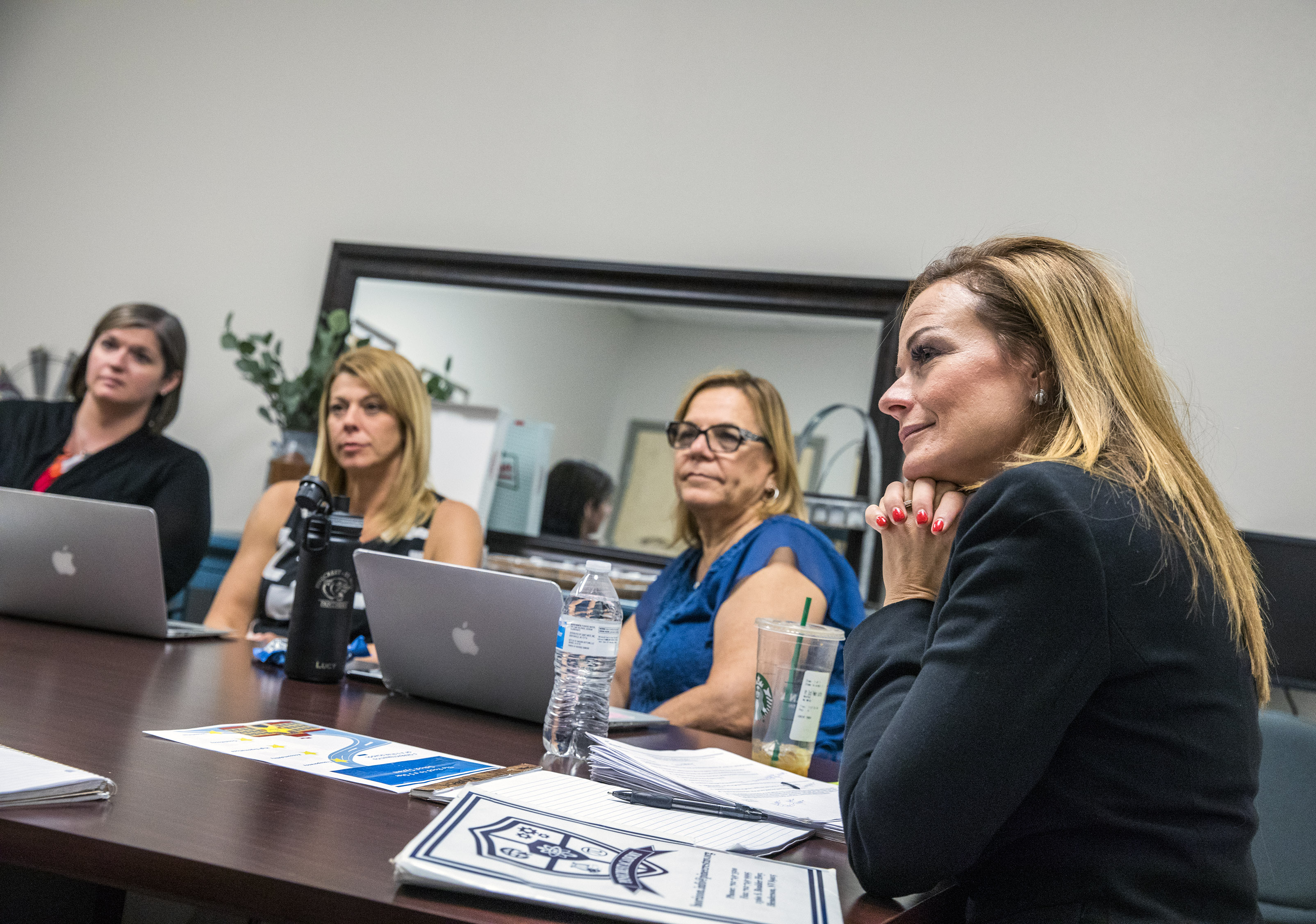 The number of students attending charter schools in Nevada has more than doubled in the past four years.
In 2014, about 16,000 students attended a school under the umbrella of the State Public Charter School Authority. Now, more than 46,000 students attend a state-sponsored, district-sponsored or Achievement School District charter school — and many schools have waitlists, said Patrick Gavin, executive director of the authority.
Charter school officials attribute the growth to the expanding population as well as the positive reputation of some charter schools. This year 29 state-sponsored charter schools earned five stars, 15 achieved four stars, 19 received three stars, 12 received two stars and 8 received one star.
It's not a perfect system. The overall graduation rate for the state-sponsored charter schools is 65 percent — well below the state average of nearly 81 percent.
Charter leaders acknowledge the graduation rate is a problem, but they think that will improve over time as more brick-and-mortar charter high schools open. (The largest charter high school is Nevada Connections Academy, a virtual program with a one-star rating and a 45 percent graduation rate.)
The Cadence campus of Pinecrest has started a high school and is adding a new grade level each year. Right now, it only serves students through 11th grade, which is why it hasn't received a star rating yet.
"There's a lot of really promising data that we're seeing that is not yet incorporated into that number," Gavin said. 'But it's absolutely an area we need to improve."
Gavin said the "promising overall results" highlight the work charters have done to add a quality option to the state's K-12 landscape.
Even so, the mere mention of charter schools can incite tension in some education circles. The Clark County School District has blamed some of its financial troubles on the number of students who left traditional public schools to attend a charter school, taking their per-pupil state funding with them. The school district even recently created a marketing position to curb the charter-related departures by highlighting its own successful schools and programs.
Charter officials, on the other hand, say they're demonstrating that more can be done with less money. Unlike school districts, charters do not receive any state funding for facilities.
The per-pupil funding that charters receive through the Distributive School Account — the state's main pot of money for education — must cover the cost of operations, salaries and facilities, said Ryan Reeves, the chief operating officer for Academica Nevada, an education-management company. Academica Nevada services more than a dozen charter schools in Southern Nevada, including the Pinecrest network.
"The (Distributive School Account) is intended to go into the classroom, and right now, we are using it to create the classroom," he said.
Buck said the leases for the Pinecrest buildings chew through money that could otherwise be funding higher teacher salaries or classroom materials. As a result, Pinecrest schools rely on grants from crowdfunding sites like DonorsChoose to secure certain curriculum-related materials, she said.
Since 2014, Pinecrest Academy of Nevada has brought in $8 million from grants or donations, Buck said.
"That's the nature of charter school people," Reeves said. "They find a way."
But Reeves hopes the Legislature considers creating a revenue stream that would help fund charters' facility needs. He said the charter community isn't asking for an identical bonding program that funds traditional public schools' facilities — just some form of monetary help.
Lawmakers are facing a bevy of education requests heading into the 2019 legislative session, given the calls to reform the state's K-12 funding formula and bolster school security. Reeves acknowledged that reality but said charter students make up a significant — and growing — segment of the population and deserve more-equal footing.
He also pointed to Pinecrest Academy of Nevada as evidence of the quality that exists within the charter system.
"Think how much more we could do," he said.
This story has been updated to clarify that the charter enrollment number includes students who attend state-sponsored, district-sponsored and Achievement School District charter schools.
Stories
Candidate Trackers
Endorsements, Ads, Policies, Visits
& More
visit now
Comment Policy (updated 10/4/19): Please keep your comments civil. We reserve the right to delete comments or ban users who engage in personal attacks, use an excess of profanity, make verifiably false statements or are otherwise nasty.